— -- The Sacramento Police Department has released video in connection to an officer-involved shooting of a man in July, which resulted in his death.
On July 11, emergency dispatchers received a 911 call at 9:25 a.m. indicating a man had a gun in his waistband and a knife in his hand, police said in a news release. Another witness called in at 9:30 a.m. describing the same thing.
Three minutes later, Joseph Mann, 50, was "squaring off" with officers, the knife still in his hand, according to the news release. Police described him as "hostile" and said he was throwing things at them.
At 9:36 a.m., officers fired 18 shots, 14 of which struck Mann, Sacramento Police Department Public Information Officer Bryce Heinlein told ABC News today.
A gun was never found on Mann, Heinlein said, but authorities found a knife at the scene, police said.
Mann was pronounced dead at a hospital, Heinlein said. The officers who discharged their weapons are on modified duty, meaning they are not on patrol but working in the office, police said.
Dashcam video shows Mann zig-zagging in the street and performing karate moves in the middle of the street. Officers are heard yelling at Mann to "get on the ground," and he walks away, turning around twice to look at the officers as he moves away from them.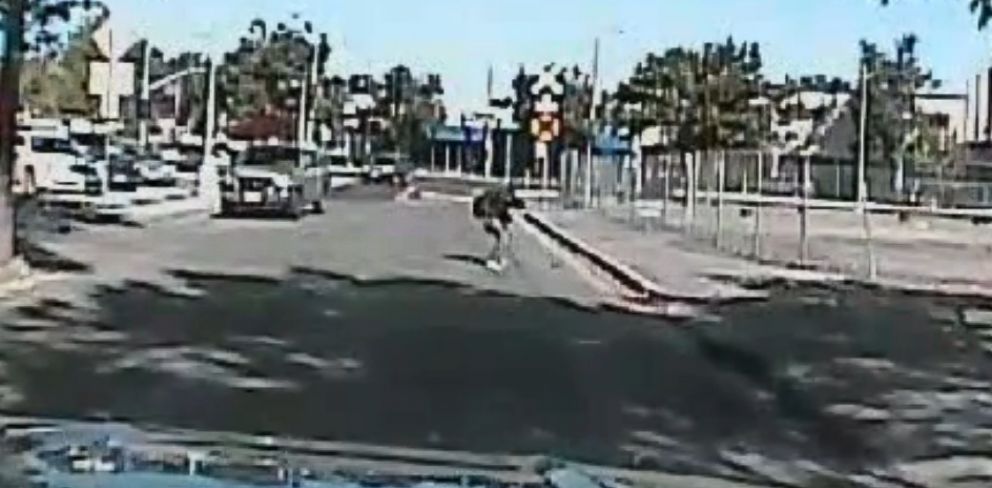 An officer then announces over the loudspeaker of his patrol car: "Sir, with the black backpack, stop, put your hands in the air, and drop the knife."
"We will not hurt you. Drop the knife," the officer later says over the loudspeaker.
Mann then stops in the middle of the street and crouches while the officer continues to tell him to drop the knife, the video shows.
More squad cars with their sirens on arrive at the scene, and Mann begins to run. He stops behind a building, appearing to lean over to catch his breath, and continues to run as police yell at him to drop the knife.
Two officers on foot can then be seen with their guns out, pointing them in Mann's direction. Several gunshots can be heard, but neither the officers nor Mann are visible. Several officers can then be seen running over to Mann.
In surveillance video taken from a nearby building, Mann can be seen falling as two officer point their guns at him.
The police department released four videos -- three dashcam videos and one surveillance video, which all show different perspectives of the incident -- in response to pressure from the Sacramento city council and mayor to provide more information about the shooting, The Associated Press reported. The investigation is ongoing. The surveillance video was first published by The Sacramento Bee Tuesday.
Sacramento Police Chief Sam Somers said in a news conference Tuesday that a specialized team that is able to assist officers with mentally ill subjects was not called out, according to the AP. Somers said a toxicology screening showed that Mann also had methamphetamine in his system, the AP reported.
The Sacramento County coroner would not release the autopsy or toxicology records because it has classified Mann's death as a homicide, the coroner's office told ABC News.
Last month, attorneys filed a federal civil lawsuit on behalf of Mann's family against the city of Sacramento and the two officers who discharged their weapons, saying that police should not have used lethal force because Mann displayed "overt signs of being in the midst of mental crisis" during the incident.
The lawsuit says Mann's civil rights were violated when officers used deadly force against him and deprived family members of their constitutional right to a familial relationship with him.
Mann's family is seeking both survival and wrongful death damages as well as the "reasonable value" for funeral and burial expenses and loss of financial support.
The officers "violated their training" and engaged in "poor tactics," which effectively squandered their ability to bring the situation to a conclusion without the use of deadly force, the lawsuit alleges.
The Sacramento Police Department declined to comment on the lawsuit because it is pending litigation. The Sacramento Police Officers Association and office of Sacramento Mayor Kevin Johnson did not immediately respond to ABC News' request for comment.
Family members described Mann as a college graduate who loved politics and economics before deteriorating from his mental illness about five years ago, according to the AP.