The national board of the Screen Actors Guild-American Federation of Television and Radio Artists (SAG-AFTRA) voted Thursday to go on strike, summoning its 160,000 members to hit the picket lines, union officials said.
The national board voted unanimously to proceed with a strike, said Duncan Crabtree-Ireland, national executive director of the union and the chief negotiator. He said union members will go on strike at midnight Thursday and called on members to join picket lines Friday morning.
Crabtree-Ireland said the Alliance of Motion Picture and Television Producers (AMPTP) "remains unwilling to offer a fair deal," and so the SAG-AFTRA board of directors decided to issue the strike order against studios and streamers.
"Despite our team's efforts the AMPTP has remained steadfast in its commitment to devaluing the work of our members," Crabtree-Ireland said of the weeks of negotiations that began on June 7.
Fran Drescher, president of SAG-AFTRA, said "the eyes of the world and particularly the eyes of labor are upon us."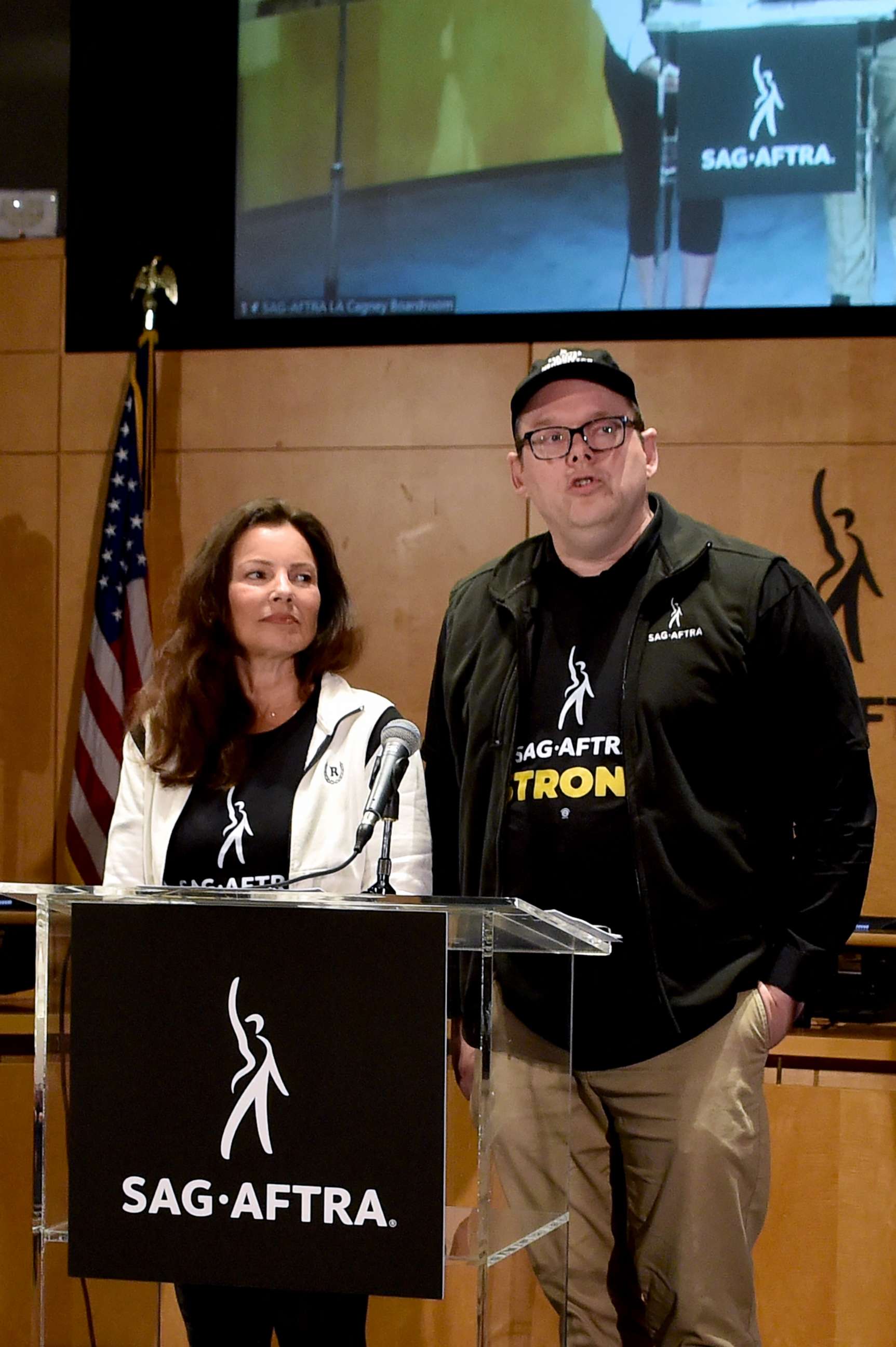 "What happens here is important because what's happening to us is what's happening across all fields of labor by means of when employers make Wall Street and greed their priority and they forget about the essential contributors that make the machine run," Drescher said.
It will be the first time since the 1960s that both SAG-AFTRA and the 11,000-member Writers Guild of America will be on strike at the same time.
George Clooney, who has won Academy Awards both as an actor and film producer, issued a statement Friday morning in support of the SAG-AFTRA strike, hours before union members are expected to begin picketing.
"This is an inflection point in our industry. Actors and writers in large numbers have lost their ability to make a living," reads the statement provided to ABC News by Clooney's representative. "For our industry to survive that has to change. For actors that journey starts now."
Clooney, who co-produced the 2013 Best Picture Oscar-winning "Argo," is one of the highest-profile actors yet to speak publicly in support of the SAG-AFTRA decision to go on strike.
"A strike is certainly not the outcome we hoped for as studios cannot operate without the performers that bring our TV shows and films to life," the AMPTP said in a statement in response to the union's strike order. "The Union has regrettably chosen a path that will lead to financial hardship for countless thousands of people who depend on the industry."
The SAG-AFTRA board of directors' strike vote came after the union's negotiating committee voted unanimously to recommend a strike in a move that is expected to incapacitate Hollywood productions and derail promotions by actors of major summer movies such as "Barbie" and "Mission Impossible: Dead Reckoning Part One."
The union's contract expired at 11:59 p.m. PT Wednesday. The contract was originally going to expire on June 30 but was extended after SAG-AFTRA and the AMPTP reached an agreement.
The labor stoppage was called after union leaders and the AMPTP agreed on Tuesday to meet with federal mediators to possibly hammer out a deal, but failed to do so before the contract expired, according to SAG-AFTRA.
In June, 98% of the union's members agreed to authorize a strike if an agreement wasn't reached, SAG-AFTRA said.
Drescher said she entered the negotiations thinking the union would be able to avert a strike.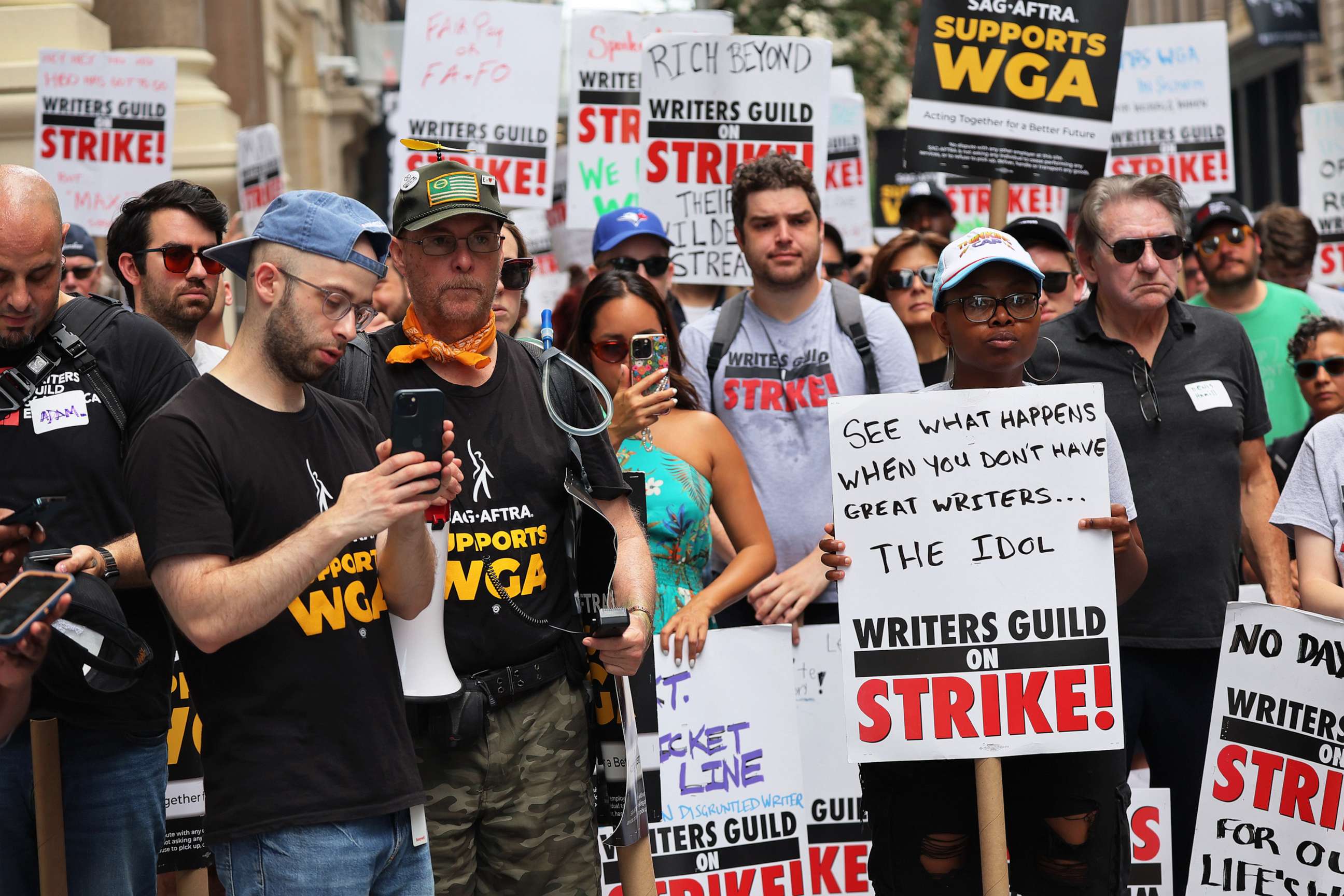 "The gravity of this move is not lost on me or our negotiating committee, or our board members who have voted unanimously to proceed with a strike. It's a very serious thing that impacts thousands if not millions of people all across this country and around the world, not only members of this union but people who work in other industries that service the people that work in this industry," Drescher said. "And so, it came with great sadness that we came to this crossroads, but we had no choice. We are the victims here. We are being victimized by a very greedy entity."
The biggest roadblock in the negotiations are concerns over streaming residuals, the impact of AI technology, and union member earnings.
Crabtree-Ireland said the current streaming model has "undercut performers' residual income and high inflation has further reduced our members' ability to make ends meet."
"To complicate matters further, actors now face an existential threat to their livelihoods with the rise of generative AI (artificial intelligence) technology," Crabtree-Ireland said. "We proposed contract changes that addressed these issues, but the AMPTP has been uninterested in our proposals."
The AMPTP, however, accused SAG-AFTRA of walking away from the negotiations.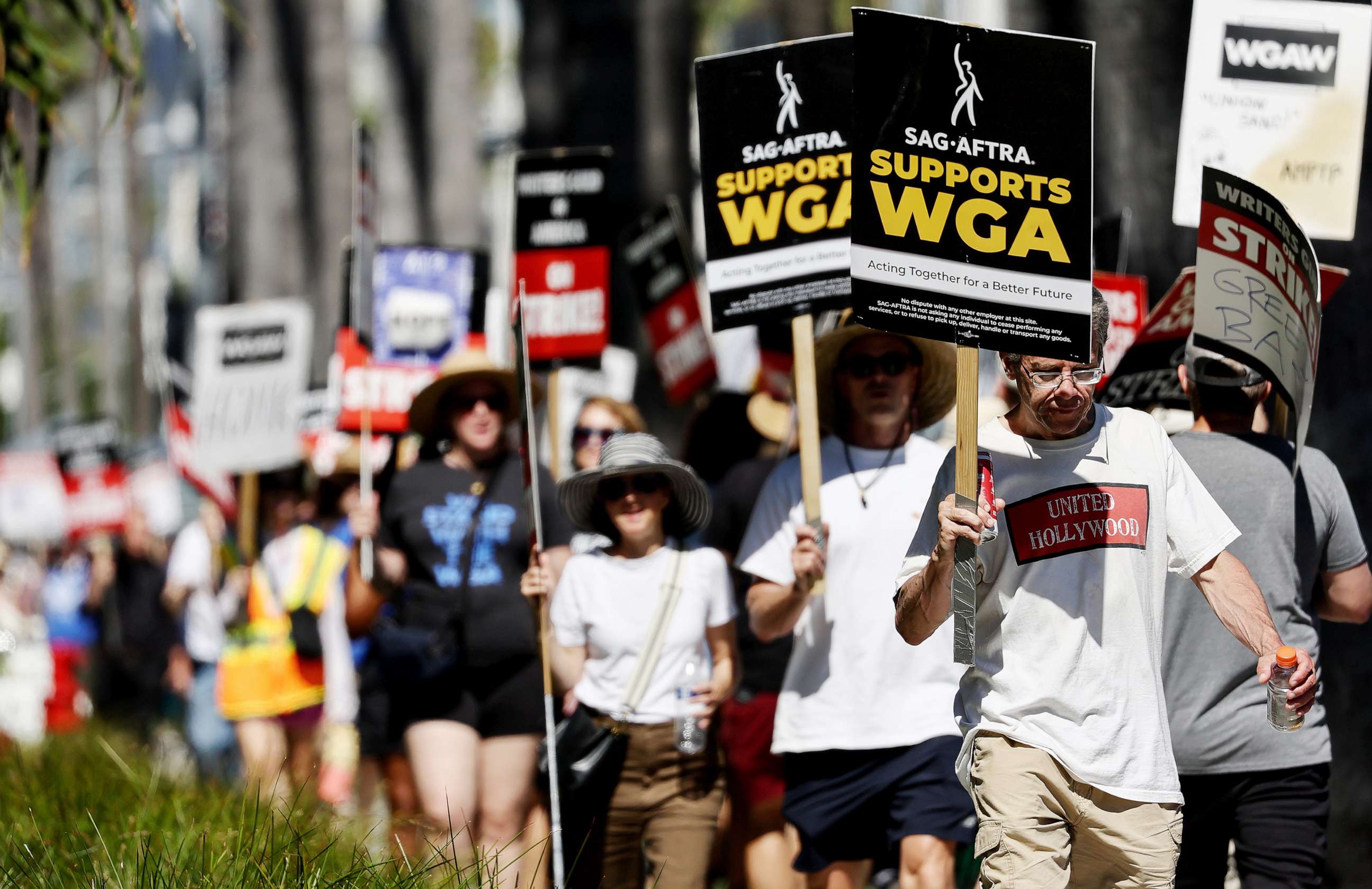 In its statement, the AMPTP said it presented a deal that offered "historic pay" and the highest residual increases in 35 years. The AMPTP, according to the statement, also offered substantially higher caps on pension and health contributions, audition protections, shortened series option periods, and "a groundbreaking AI proposal that protects actors' digital likenesses for SAG-AFTRA members."
In a statement prior to the announcement of the strike, the AMPTP said, "Rather than continuing to negotiate, SAG-AFTRA has put us on a course that will deepen the financial hardship for thousands who depend on the industry for their livelihoods."
Earlier Thursday, Bob Iger, CEO of The Walt Disney Company, the parent company of ABC News, said in an interview on CNBC's "Squawk Box" that the expectations of the writers and actors' unions "are just not realistic."
"It's very disturbing to me. We've talked about disruptive forces on this business and all the challenges we're facing, the recovery from COVID, which is ongoing, it's not completely back. This is the worst time in the world to add to that disruption," Iger said. "I understand any labor organization's desire to work on behalf of its members to get the most compensation and be compensated fairly based on the value that they deliver."
He added, "We managed, as an industry, to negotiate a very good deal with the Directors Guild that reflects the value that the directors contribute to this great business. We wanted to do the same thing with the writers, and we'd like to do the same thing with the actors. There's a level of expectation that they have that is just not realistic. And they are adding to the set of the challenges that this business is already facing that is, quite frankly, very disruptive."
Iger predicted that the SAG-AFTRA strike, coupled with the Writers Guild of America strike, which began on May 2, "will have a very, very damaging effect on the whole business."
"Unfortunately, there's huge collateral damage in the industry to people who are supportive services, and I could go on and on," Iger said. "It will affect the economy of different regions, even, because of the sheer size of the business. It's a shame, it is really a shame."
Kate Shindle, president of the Actors' Equity Association, a national labor union that represents more than 51,000 professional actors and stage managers in live theater, issued a statement Thursday afternoon, saying her union members "stand in solidarity with the striking SAG-AFTRA worker."
"Performers deserve to share in the success of the work we do for these global, multibillion-dollar companies," Shindle said. "Nobody should step in front of a camera fearing that today's work will be mined, manipulated or repurposed in the future without consent or compensation. And like all workers, SAG-AFTRA members deserve to have employers bargain in good faith toward a strong contract that will remain relevant in a rapidly evolving medium."