An English yachtsman who was hurled overboard into the Pacific Ocean during a storm as he competed in a round-the-world yacht race says it was his safety training and talking to himself continuously during the 90-minute ordeal that saved him.
Andrew Taylor, of London, spent an hour and a half being tossed around freezing cold waters during the sixth leg of the Clipper Round the World Yacht Race before he was rescued by teammates.
The 46-year-old just landed in South Beach Marina in San Francisco where the boat is currently docked, and told ABC News that he kept himself alert by talking to himself continually about "personal strength" to make sure he didn't "lose sight of the will to fight and survive."
Taylor, who suffered severe hypothermia and a deep bruising on his leg, said the incident occurred as he was changing the head sail near the bow of the yacht nearly two weeks ago.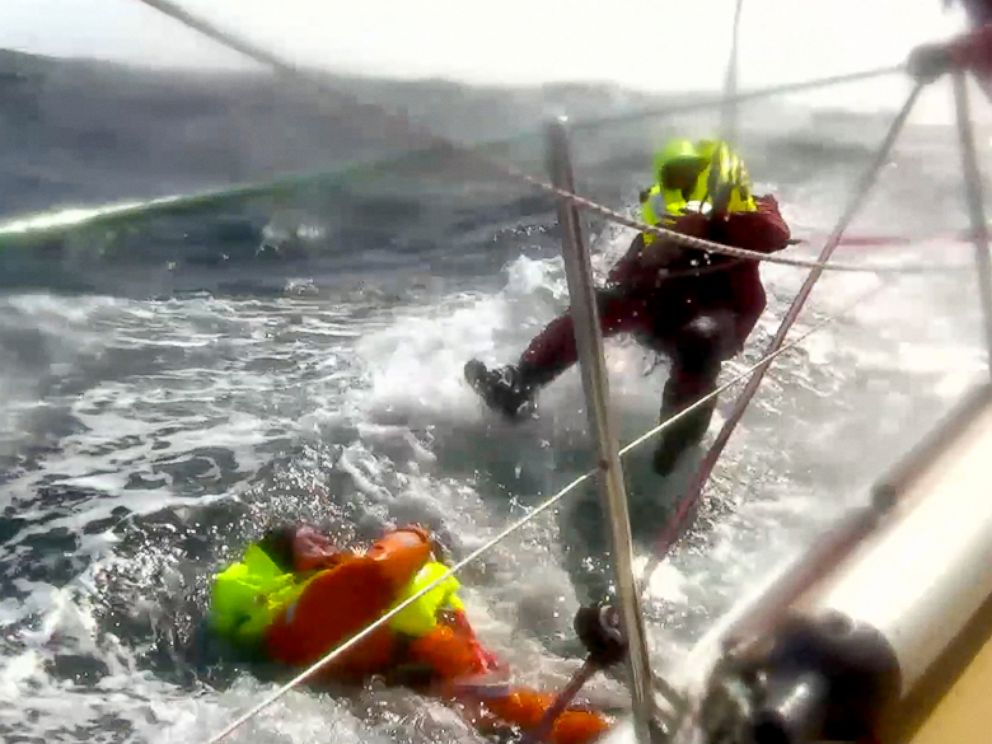 "I unclipped my safety line to get a tool and within a fraction of a second we were hit by a big wave. The boat rolled over and in a flash I was in the water," Taylor said. "One second my feet were on the boat and the next my head was in the water."
The experienced yachtsman and father to a 17-year-old said the moment he hit the water he braced, waiting for the safety line to snag, which never happened. As the boat swerved past, the rudder hit Taylor's leg, spinning him around and pulling him under the water. When he surfaced, the yacht was sailing away, he said.
Alone in the Pacific Ocean in a life jacket, Taylor's safety training kicked into action. He said he never panicked, but did feel uneasy at times.
"I knew in my mind what everyone on the boat was going to do and I knew what I needed to do to survive," he said. "I never felt scared, but there were moments I wondered."
At one point, after the storm had passed and the waters had calmed, Taylor remembers floating, with the sun shining on his face. It was quiet around him, and he felt warm and relaxed, which was not a good sign, he said.
"I knew that was a bad place to be and that was an advanced stage of hypothermia," Taylor said. "I knew I had to get cold again and so released my spray hood to let water in."
Then, "I remembered it was my mother's birthday," he said. "In my head I had already structured a diary I was writing for her on the crew blog, and I remembered feeling disappointed that I hadn't done that yet. That gave me strength, actually."
When the crew finally spotted Taylor 90 minutes later, and dragged him out of the water, the team continued immediately on the race course to San Francisco where Taylor received medical attention for his injuries.
While his leg "hurt like hell" at the time, doctors said it was not broken, just severely bruised.
Taylor, who is a project director for food and beverage at large sporting events in London when he's not racing on boats or mountaineering, said he will receive more medical checks on Monday, which will hopefully clear him to resume racing on Saturday when the team, currently in third place in the competition, sets off for Panama.
"My leg is not broken and neither is my spirit," Taylor said. "I'm desperate to get back on the boat and get back in the race. [The incident] didn't dampen our spirits in any way. One of my hopes is it made us stronger as a team."