The San Francisco District Attorney's Office has decided not to file criminal charges against a Walgreens security guard accused of fatally shooting an alleged shoplifter last month.
District Attorney Brooke Jenkins cited insufficient evidence when announcing her decision on Monday. She released surveillance video of the incident along with other footage and documents that she said support her decision, asking that the public review all the evidence.
"There will be a temptation, as human beings, to only view the video footage of this incident and nothing else," Jenkins said at a press conference. "We are accustomed to seeing videos online, and that often is what captures our attention rather than going the extra step to look deeper."
The incident took place at a Walgreens in downtown San Francisco on April 27 just after 6:30 p.m. PT, according to the police report. The surveillance video, which does not have sound, purportedly shows 24-year-old Banko Brown attempting to leave the store without paying for a bag full of items. An on-duty and lawfully armed security guard, 33-year-old Michael Earl-Wayne Anthony, stops Brown then punches him repeatedly. The two struggle for less than a minute until Anthony pins Brown to the ground, as shoppers continue to enter and exit the store.
The video then purportedly shows Anthony letting go of Brown, who picks up the bag and heads for the exit. Brown turns around and walks backward out the door then appears to step toward Anthony. Anthony lifts his gun and fires a single shot, striking Brown in the chest. Brown falls to the ground just outside the store.
Law enforcement officers and paramedics arrived on the scene and, after providing first aid, transported Brown to San Francisco General Hospital, where he was pronounced dead at 8:50 p.m. PT, according to the police report.
In an interview with police, Anthony said he told Brown to "put the items back" but that Brown "refused" and was "aggressive." Anthony said he went to take the items but that Brown fought to keep them and repeatedly threatened to stab him as a struggle ensued. Police said a knife was not found on Brown.
Anthony told police he didn't have any handcuffs and his partner was on break at the time, so he tried to hold Brown's arms back and put him in "a chokehold-type move." Anthony said he told Brown he would let him go if he calmed down. Anthony said he released Brown but drew his gun and kept it pointed at the ground in case Brown tried to stab him. Anthony said he fired the gun when Brown turned back around and advanced toward him, not realizing that Brown would just "try to spit" at him.
When asked for comment on Tuesday, a Walgreens spokesperson told ABC News: "We are offering condolences to the victim's family during this difficult time. The safety of our patients, customers and team members is our top priority, and violence of any kind will not be tolerated in our stores."
Meanwhile, a spokesperson for Kingdom Group Protective Services, which provides security for Walgreens and employs Anthony, told ABC News: "We are fully cooperating with law enforcement in the investigation of this extremely unfortunate incident and are deeply saddened by the loss of Banko Brown's life. At this time, we are not permitted to comment further."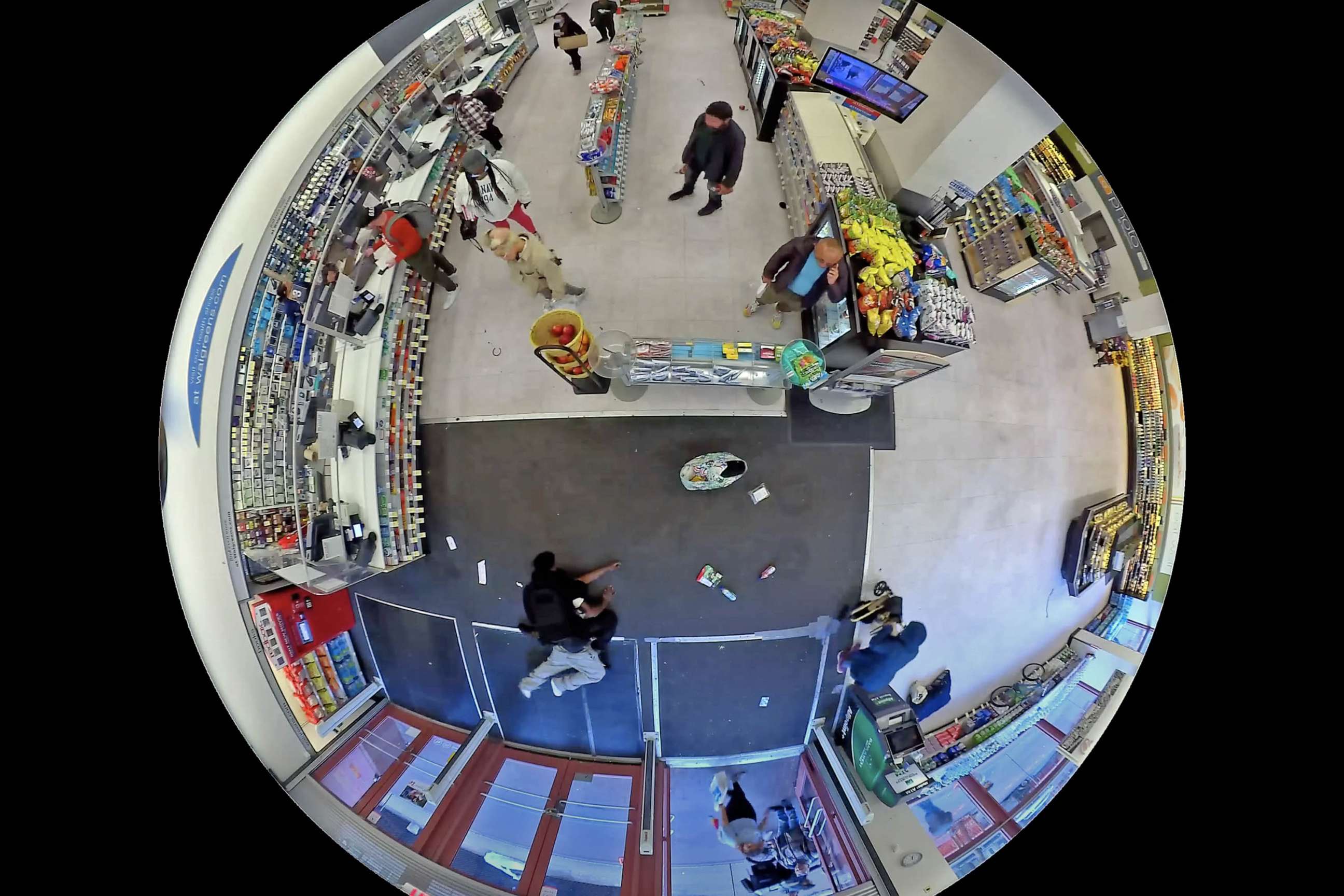 Brown, who struggled with homelessness, worked as a community organizer for the Young Women's Freedom Center, a San Francisco-based nonprofit that provides support for young women and transgender youth across California. The center's co-executive director, Julia Arroyo, described Brown as "a smart and funny young man who, though shy, made friends easily."
"We do not need to see the video to know that Banko Brown's killing was unjustified. Armed force is not a justified response to poverty," the Young Women's Freedom Center said in a statement on Monday. "We must live with the sobering reality that Banko was killed for no other cause but $14."
Aaron Peskin, president of the San Francisco Board of Supervisors, the legislative body within the city government, said he was troubled by the surveillance video and will ask California's attorney general as well as the U.S. Department of Justice to review the evidence in the case.
"This is not who we are, stealing a bag of candy does not warrant death," Peskin told San Fransisco ABC station KGO.
San Francisco Supervisor Shamann Walton said Brown was "executed."
"Jenkins' decision to not charge gives every armed security guard in San Francisco a license to have an open season to shoot and kill Black and transgender people for alleged shoplifting," Walton said in a statement on Monday.