— -- After Hurricane Maria knocked out electricity to all of Puerto Rico, residents of the United States territory are "gasping for air" in the brutal heat, says the mayor of the island's capital city of San Juan.
"What's out there is total devastation. Total annihilation. People literally gasping for air. I personally have taken people out and put them in ambulances because their generator has run out," Mayor Carmen Yulín Cruz told ABC News.
Cruz said Puerto Rico has been prepared for major storms since the end of August, when Hurricane Irma was approaching. Irma slammed into the island and caused deaths and devastation, and was soon followed by the catastrophic hit of Maria. Parts of the island have now gone several weeks without running water and electricity.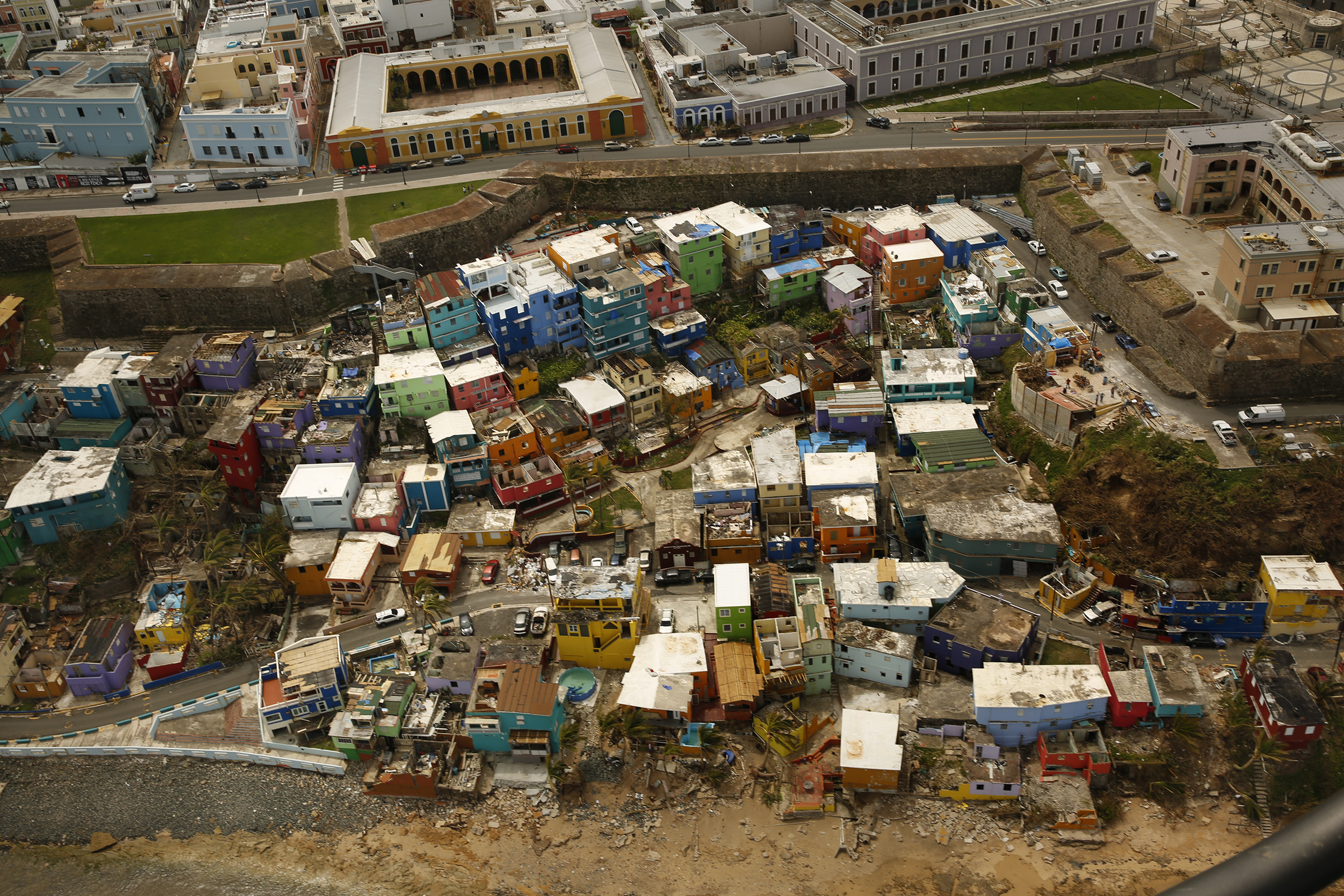 Puerto Rico Gov. Ricardo Rossello says the island is facing an "unprecedented disaster" in the wake of Maria, which tore through on Sept. 20, killing at least 16, demolishing homes and leaving long lines of residents desperate for gas. Today there are still over 11,000 people in 174 shelters, according to Puerto Rico's Secretary of Public Affairs.
Hurricane Maria pummels Puerto Rico, Caribbean
A car drives on a damaged road in the aftermath of Hurricane Maria in Humacao, Puerto Rico, Oct. 2, 2017.
Ricardo Arduengo/AFP/Getty Images
At one apartment building, the elderly and sick are trapped in the heat with no electricity, no running water and no way to get out.
"They've been in bed," said Lisbeth Vasquez, who is caring for both of her elderly parents, with "no medication, no water, no light."
Sergio Ortiz Rivera told ABC News that his apartment building has "been absolute hell."
There's no water, he said, and the power finally came back Monday.
"The administration is now starting to do things, but we were here for a long, long time ... There was no electricity, there were people stranded here," he said, including people in wheelchairs.
Without electricity, he's forced to walk 14 flights of stairs. "It's hard," he said of the climb. "I had a double bypass surgery not too long ago. It takes all my energy to do this."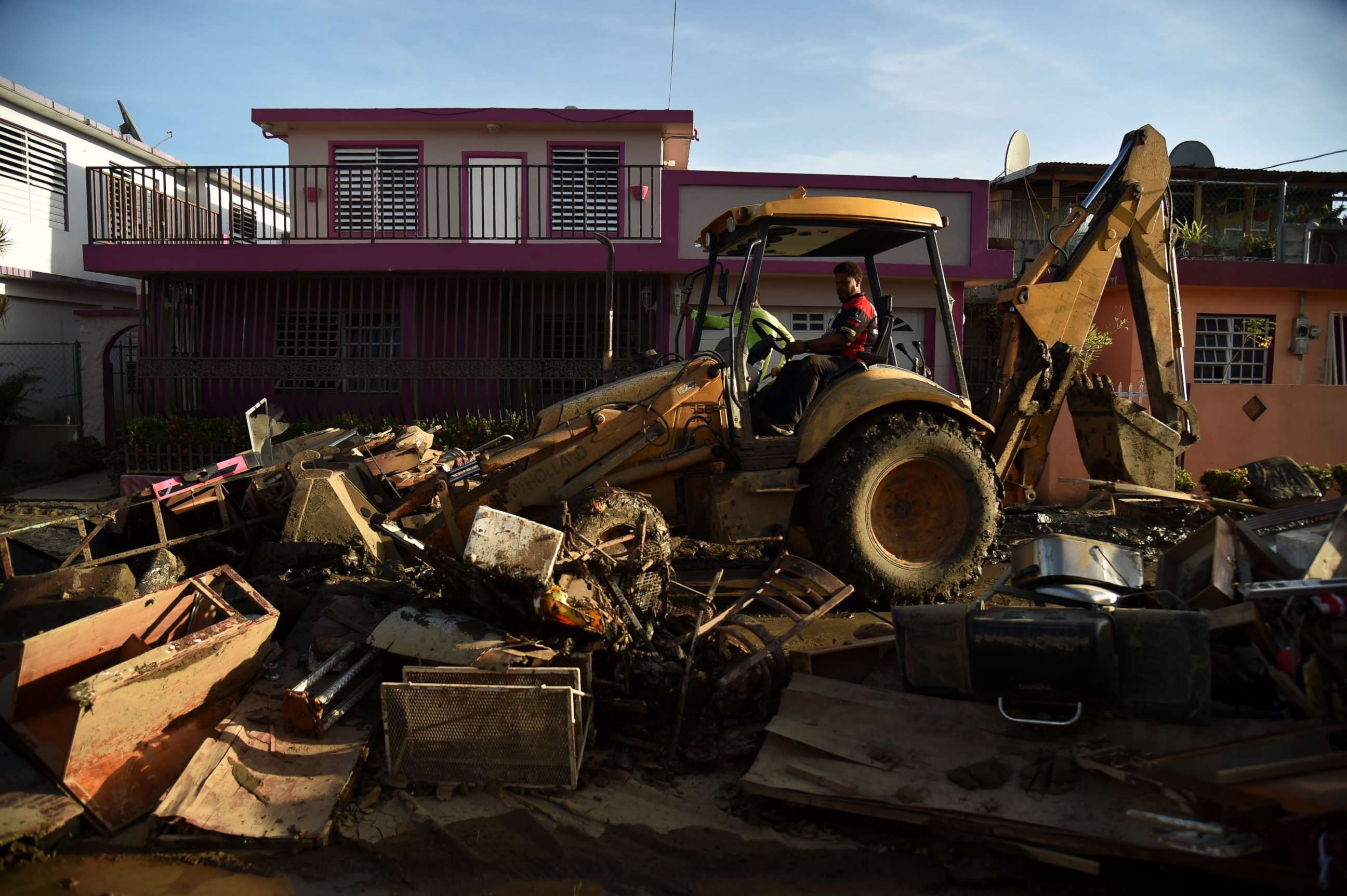 The secretary of public affairs said in a statement today that the power plant that was giving San Juan electricity has stopped working, and workers are trying to reestablish service.
As of Monday night, at least 5 percent of electricity had been restored across the island. The Electricity Subsector Coordinating Council released a statement Tuesday saying that the island must be "stabilized before full power restoration efforts can get underway."
The Department of Defense said today that power is slowly being restored to customers, including those at the Centro Medico Hospital in San Juan and San Pablo Hospital in Bayamon.
About 44 percent of the population is without drinking water, the Department of Defense said, and 58 of Puerto Rico's 69 hospitals are without fuel or power.
At one hospital, which is barely operating because of a lack of electricity, people are forced to rely on a few generators while they wait for more to arrive. There are conflicting reports on whether the deaths of two patients resulted from issues with the power.
San Juan's mayor praised the efforts of FEMA workers, calling them "good people" who "want to help," but added that, "the chain of command needs to work a little faster for the people." Cruz told ABC News that while they are getting help and "appreciate it so much," they are not getting what they need fast enough.
FEMA Administrator Brock Long said today that due to the intensity of Irma, which was followed so quickly by Maria, "This is a logistically challenging and very unique event that the United States hasn't seen in a very, very long time."
FEMA and federal partners have so far provided over 4 million meals, over 6 million liters of water, 70,000 tarps and 15,000 rolls of roof sheeting to Puerto Rico and the U.S. Virgin Islands, a FEMA spokesperson said today. An additional 7 million meals and 4 million liters of water are en route to the island, with even more federal supplies coming, the spokesperson said.
FEMA is also preparing to ship 350 satellite telephones for communications across Puerto Rico and the U.S. Virgin Islands.
Long said FEMA is also working on increasing the number of incoming flights.
Cruz said she is asking President Trump to allow FEMA to do cut the red tape.
"Let the FEMA people do what they do best," she said.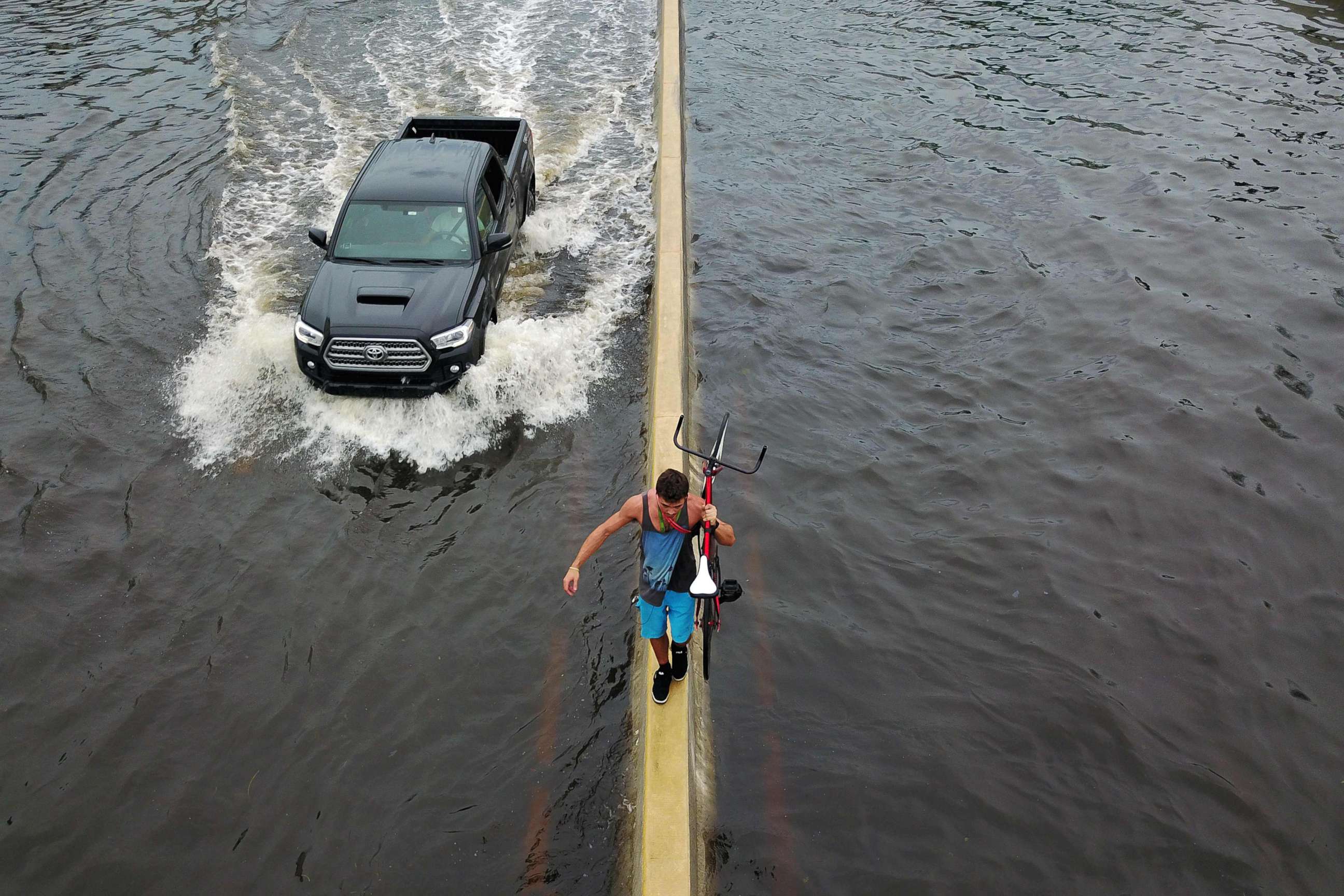 Rossello said in a statement Monday, "This is a humanitarian disaster involving 3.4 million U.S. citizens."
"Given Puerto Rico's fragile economic recovery prior to the storms, we ask the Trump administration and U.S. Congress to take swift action to help Puerto Rico rebuild," Rossello said.
Assistant to the president on Homeland Security Tom Bossert, who was in Puerto Rico Monday, said he anticipates a "very long and hard recovery" but vowed to Puerto Rico residents, "You will get what you need to recover."
Trump today praised the government's response to Puerto Rico and said he will visit the island on Tuesday.
"The recovery process will be a very, very difficult one," Trump said today. "We will get through this and we will get through it together."
ABC News' Eva Pilgrim and Brandon Baur contributed to this report.