Police questioned serial rape suspect Matthew Nilo about sexual assault during 2008 marijuana arrest: DA's office
Matthew Nilo, 35, was charged with sexually assaulting four more women.
Authorities questioned serial rape suspect Matthew Nilo back in July of 2008 about a suspected sexual assault after he was arrested for marijuana possession in Boston's North End, a spokesperson for the Suffolk County District Attorney's Office told ABC News.
Nilo was arrested July 12, 2008, around 4 a.m., according to a copy of the police report obtained by ABC News. There is no mention in the report of a suspected sexual assault. The official from the DA's Office told ABC News it was their understanding Nilo was questioned back then about a sexual assault in the area; the spokesperson gave no further comment.
Nilo, a Manhattan attorney, is accused of a string of sexual assaults against women in Boston 15 years ago. The alleged attacks occurred between January 2007 and July 2008 in the Boston neighborhoods of Charlestown and the North End, where Nilo was living at the time, according to Suffolk County District Attorney Kevin Hayden.
Nilo was ordered to pay $50,000 in additional bail Thursday, on top of the $500,000 in cash bail he already posted from a previous arraignment.
Nilo denied the latest allegations for which he was arraigned Thursday in a statement released through his attorney, Joseph Cataldo.
"I have not received any discovery on the new charges, but I have concerns the Commonwealth is piling on old unsolved matters," Cataldo said. "As for the collection of my client's DNA, we will be filing a motion to suppress the illegal seizure of his DNA, which was done without a warrant."
He was formally arraigned Thursday after being indicted by a grand jury on June 27 for multiple charges, including rape, after allegedly attacking four women in 2007 and 2008. The charges included one count of rape, one count of aggravated rape, three counts of assault with intent to rape, and two counts of indecent assault and battery.
Nilo, with his fiancée standing by him, will remain free for the time being with a GPS tracker. He can return to New Jersey where he lives.
The additional bail came after he was arraigned earlier in June for attacks on four other women in Boston. At that time, he was charged with three counts of aggravated rape, two counts of kidnapping, one count of assault with intent to rape, and one count of indecent assault and battery. He pleaded not guilty to those charges and was released on $500,000 bail on June 15.
His next court date is set for Sept. 14 and his trial is scheduled to begin on June 25, 2024.
Nilo was first arrested in May in connection with several decades-old rapes in Boston. He was identified using forensic genetic genealogy.
After Nilo was identified as a person of interest, he was put under surveillance by law enforcement and the FBI was able to obtain various utensils and drinking glasses that they saw Nilo use at a corporate event, according to the district attorney's office.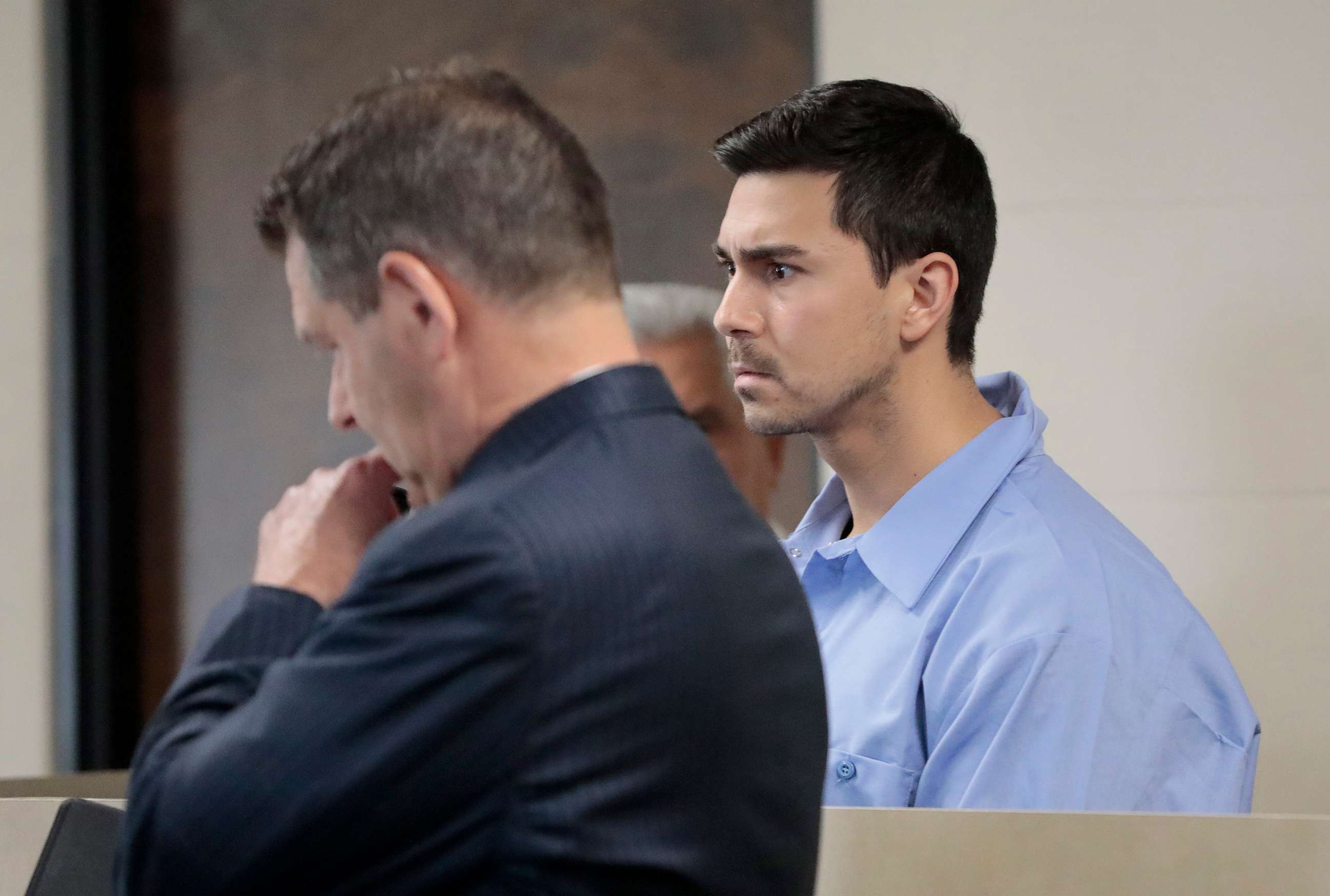 Nilo, through statements issued by his attorney, has denied the allegations.
"You can expect both a legal and factual challenge to the government's case," Cataldo previously said in a statement to ABC News.