— -- A Texas same-sex couple has sued the federal government, alleging they were denied the chance to be foster parents to a refugee child because they do not "mirror the holy family."
According to a complaint filed in the U.S. District Court for the District of Columbia on Tuesday, married couple Fatma Marouf and Bryn Esplin expressed their interest in February 2017 in fostering a refugee child to an official with the Catholic Charities of Fort Worth (CCFW). The group is an affiliate of the United States Conference of Bishops, which the Department of Health and Human Services (HHS) contracts for some of its federal child welfare duties.
The lawsuit alleges that during a phone conversation with Donna Springer, chair of the executive committee of CCFW's board of directors, they were told that foster parents must "mirror the holy family," and they would not "qualify" to foster a child.
"We were both completely shocked," Marouf told ABC affiliate WFAA.
"It was hurtful in realizing there was no overcoming that barrier," Esplin added.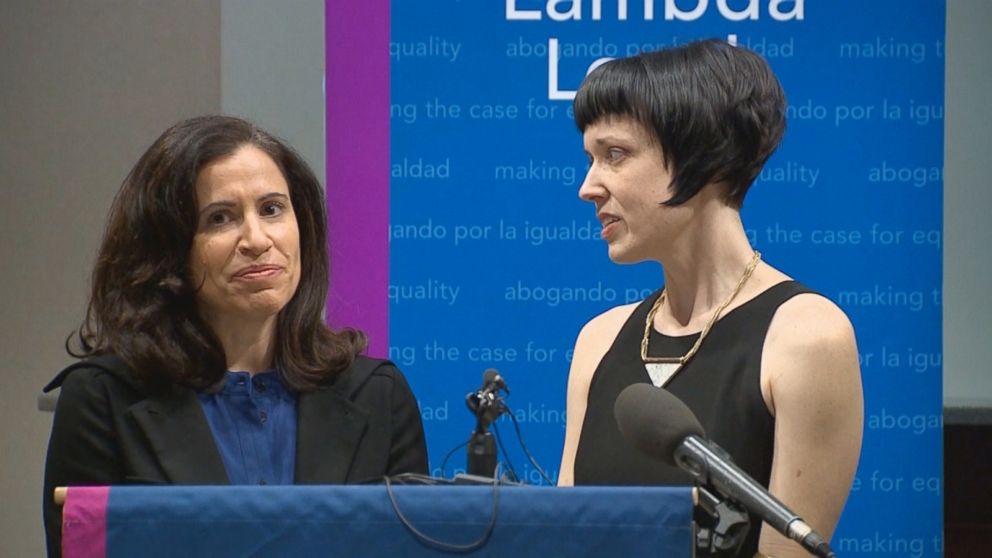 The lawsuit says the couple also asked if any of the refugee children in the program might be lesbian or gay and were told that none of the 700 children served by the program are members of the LGBT community.
Marouf immediately reported to the Office of Refugee Resettlement via email that CCFW had discriminated against her and her wife, the complaint says, but she did not receive a response for nearly two months. The couple claims they haven't received any further communication from them since, leading to this week's lawsuit.
The United States Conference of Catholic Bishops and HHS are named in the lawsuit.
HHS told ABC News, "We do not comment on pending litigation." The USCCB has not immediately responded to ABC News' request for comment.
Catholic Charities Fort Worth denies to the Dallas Morning News that the couple ever spoke with Springer — saying she "never had any contact with the couple" — but acknowledged the then-director of child welfare services talked to them over the phone. The organization also denied allegations in the lawsuit that the couple was told the agency did not have any LGBT kids among the refugee children in its care at the time.
"We do not screen or otherwise ask the children we serve to self-identify if they are LGBT," said Katelin Cortney, Catholic Charities Fort Worth's communications director told the local news outlet. "We train our foster families to accept children from all cultures and walks of life so they can be as prepared as possible to welcome someone new into their home."
The couple hopes the lawsuit will allow them to apply to be foster parents to a refugee child, as well as prevent sexual orientation-based discrimination against other prospective parents, according to the lawsuit.