The assassination of Shinzo Abe last week was a "shock to the system and a shock to the culture" of Japan, where gun violence rarely intrudes on daily life, U.S. Ambassador to Japan Rahm Emanuel said Sunday.
"It's a shock around the world, but it's clearly a shock here in Japan, not just because gun violence is so rare, but also -- this is a nation that's an island and a lot of what ails other countries, it is immune and feels immune," Emanuel, a former ABC News contributor, told ABC "This Week" anchor George Stephanopoulos in an exclusive interview.
"As an outsider, one of the things that I hope is not lost, even though the bubble has been pierced, is that level of trust in society," Emanuel added.
MORE: Former Japanese Prime Minister Shinzo Abe dies at 67 after assassination
He went on to laud Abe's historic political career as Japan's longest-serving prime minister and a "dear friend of the U.S." Emanuel credited Abe as a leading architect of a "free and open Indo-Pacific" region, with Japan as a counterweight to China.
Abe, who left office in 2020 because of chronic health problems, was fatally shot on Friday while campaigning at a political rally in the city of Nara. Japan has some of the strictest gun laws in the world and some of the world's lowest rates of gun violence -- compounding the surprise of Abe's killing. Japanese Prime Minister Fumio Kishida said it was an "unforgivable" act.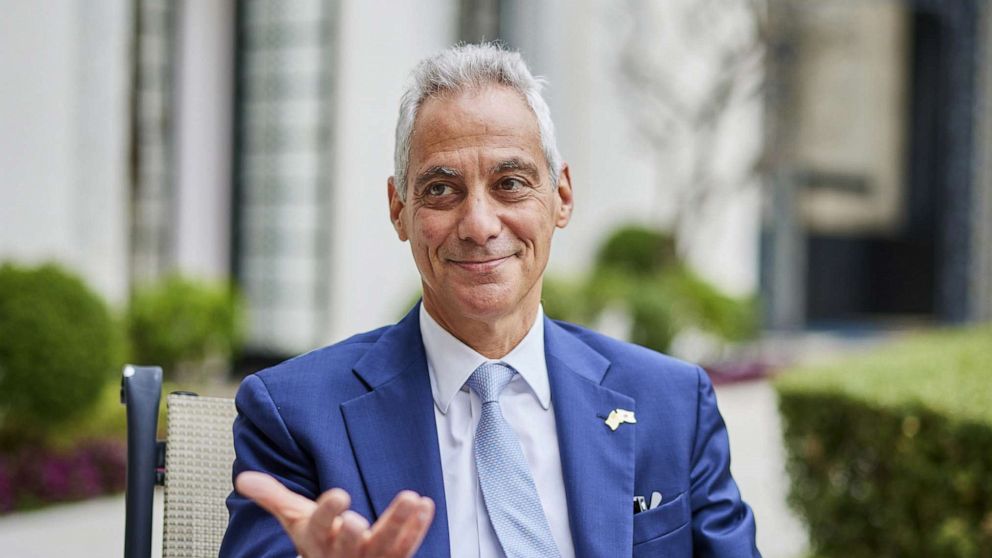 On "This Week," Stephanopoulos asked Emanuel to reflect on Abe's legacy in Japan and, more specifically, what he meant to the U.S.
"We all talk about a free and open Indo-Pacific -- that was his construct. So we are actually operating within the strategic outlook and architecture that he designed. Second, he originated the concept of a quad," Emanuel said. "The notion that India, the United States, Japan and Australia would all work together as a team; and two presidents now, of two parties, operate with that as almost if it's their own."
"He was also the author with President [Barack] Obama of the Trans-Pacific economy strategic integration of the entire region with the United States. At every level ... he is the original author of it," Emanuel said.
Abe could be "ruthless" and "tough," Emanuel said. But he pursued his idea of Japan effectively.
"He was a visionary who had a vision and a sense of where he was going, where he wanted to take Japan, where he wanted to take the region. And then he was ruthless enough, tough enough and strategic enough to see it and execute it through," Emanuel said.
Emanuel, having known Abe on a personal level, was asked by Stephanopoulos about what kind of man he was. Though Abe had stepped down as prime minister, he remained active in conservative politics.
"He had a great sense of humor. His mind was always moving. He was always moving, and he had an integrated strategic sense. And he also had a sense of, as I tried to say, when I expressed it -- he was a Japanese statesman, a world leader and a dear friend of the United States," Emanuel said.
He said that he was able on Sunday to visit Abe's family, whom he had met previously.
"He saw the United States and Japan as a partnership that was unstoppable," Emanuel said. "The relationship between the United States and Japan used to be one of alliance protection. Because of his vision, it's now a one of alliance projection into the Indo-Pacific area."