Veteran Allegedly Kills 5 at Fort Lauderdale Airport Shooting, Terrorism Not Ruled Out
The carnage occurred in the baggage claim area at Terminal 2.
— -- A military veteran opened fire in a baggage claim at the Fort Lauderdale–Hollywood International Airport in Florida Friday, killing five and wounding eight others, in a horrific scene that sent people running for their lives, officials and witnesses said.
The motive for the shooting, just before 1 p.m. in the baggage claim area at Terminal 2, remained unclear and the alleged gunman appears to have acted alone.
The airport was closed to departing and arriving flights following the shooting, but cargo and general aviation (private small planes, corporate jets) operations resumed at midnight. Commercial flights will resume Saturday, the airport tweeted Friday evening.
"We have not ruled out terrorism," FBI Special Agent in Charge George Piro said in an evening press conference.
Law enforcement officials say the suspect, Esteban Santiago, was carrying military identification. He was apprehended and placed in federal custody. He is expected to face federal charges.
Early Saturday morning, the Broward County Sheriff's Office posted his booking record, including booking photo, on its website. According to the record, he was booked on a murder charge. His "charge status" reads "Pending Trial," and "Description" reads "Hold for US Marshals Office."
According to senior officials, the suspect flew from Anchorage, Alaska to Fort Lauderdale via Minneapolis. He boarded the plane in Alaska last night. He only checked one bag -- a hard case carrying his gun, Anchorage Airport Police told ABC News. TSA regulations allow guns to be checked into baggage if they are stored in a locked, hard-sided container that cannot be easily accessed.
According to a Broward County commissioner, he allegedly loaded the gun in the bathroom and came out firing. Broward County Sheriff Scott Israel said that he fired "indiscriminately" at people in the airport.
Witness Mark Lea told ABC News he heard "what sounded like firecrackers" before people began yelling and "frantically running."
Lea said he saw then saw a gunman who was "randomly shooting people."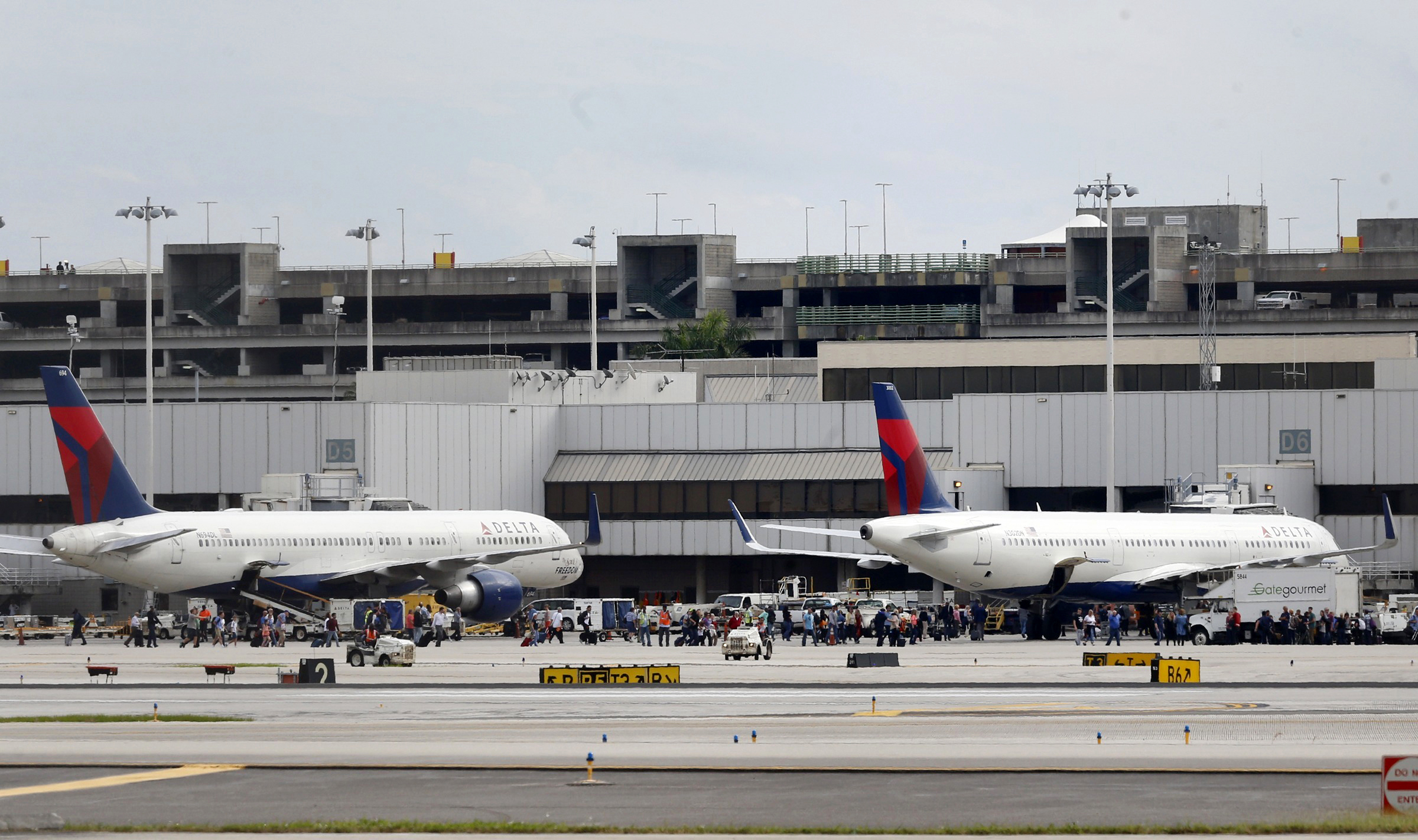 The gunman "went through a couple dozen rounds" before throwing the gun down away from him and "lying face down and spread eagle," waiting for officers to approach him, according to Lea.
These photos show the alleged gun used and the suspected shooter being led away by law enforcement, according to an eyewitness.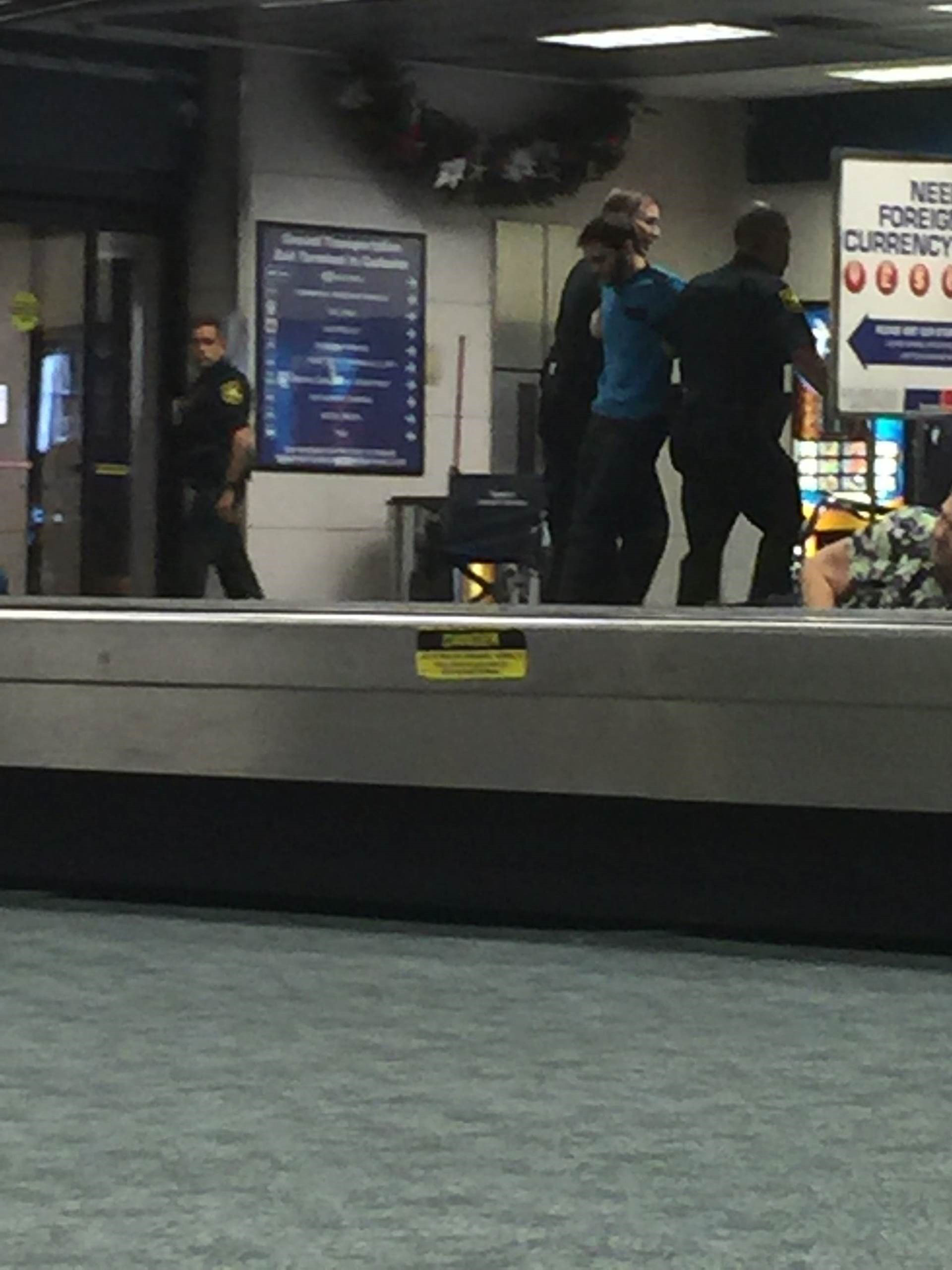 Diane Haggerty, a woman who said she works at a cruise line's kiosk at the airport, told ABC News she also heard what she thought was firecrackers but turned out to be gunfire.
Haggerty said she saw a gunman "walking up and down shooting people" and dived behind the kiosk for safety.
In addition to those injured initially amid the gunfire, 37 were injured after the incident, according to the Broward County Sheriff. Six trauma patients admitted after the shooting are in stable condition, according to the Broward Health Medical Center. Doctors would not give specifics on their injuries because of privacy laws. Multiple other patients were admitted due to minor injuries such as dehydration and heat-related issues, the doctors said.
The FBI said they were not aware of any incident on board the flight or at the baggage claim.
Friday evening, details were beginning to emerge about the suspect.
Santiago, who spent nine years in the military, was a combat engineer with the Alaska Army National Guard and left the military in August, said Lt. Col. Candis Olmstead, director of public affairs for the Alaska National Guard. He received a general discharge under honorable conditions at the rank of Private First Class.
He joined the Puerto Rico National Guard in December 2007 and was deployed to Iraq from April 2010 to February 2011.
Along the way, he earned a number of awards, including the Army Commendation Medal and the Army Good Conduct Medal, according to his service record.
A senior law enforcement official said that Santiago walked into the Anchorage FBI field office in November 2016, after his discharge from the military and said he was under mind control by a U.S. intelligence agency.
The official said he appeared incoherent and agitated, saying the U.S. government was trying to force him to watch ISIS videos.
However, he said he didn't want to hurt anyone. Still, the FBI contacted local law enforcement, which, out of caution, had him medically evaluated. The FBI closed the probe after reviewing databases and interviewing family the official said.
Sources told ABC News that Santiago had received mental health treatment after the encounter with the FBI. A person who answered the phone for Signal 88 -- a company in Anchorage where Santiago worked in a security capacity -- said it has no comment and is "currently under the advisement of federal authorities."
Authorities are "tearing apart" Santiago's service record to determine if he was suffering from PTSD, a senior law enforcement official briefed on the case told ABC News. Investigators are also digging deep into Santiago's social media and online activity, the official said.
Members of Santiago's family in New Jersey are being interviewed by the FBI, two law enforcement officials briefed on the probe told ABC News.
"God have mercy not only for us but for everyone," Santiago's aunt, Maria Ruiz, speaking in Spanish, told reporters outside her Union City, N.J., home Friday. "I am really sorry. I am so sad."
President Obama was briefed on the shooting and told ABC News that he was "heartbroken" for the victims' families.
In a press conference Friday afternoon, Florida Gov. Rick Scott vowed to hold "whoever is responsible" to the "highest extent of the law." The state of Florida "will not tolerate evil acts," he said.
"I don't ever want this to happen again," he added.
Scott said he reached out to President-elect Donald Trump and Vice President-elect Mike Pence multiple times to keep them informed on the investigation.
Trump tweeted about the incident, saying, "Thoughts and prayers for all."
ABC News' Dominick Proto and Matt Foster contributed to this report.