— -- A powerful winter storm walloping the Northeast inundated coastal Massachusetts with icy water today.
Officials posted dramatic images on social media of Boston Harbor overflowing with chunks of ice. The rising tide brought vessels up to street level and flooded parts of Seaport Boulevard, while the harbor side entrance of the Aquarium subway station was temporarily shuttered due flooding.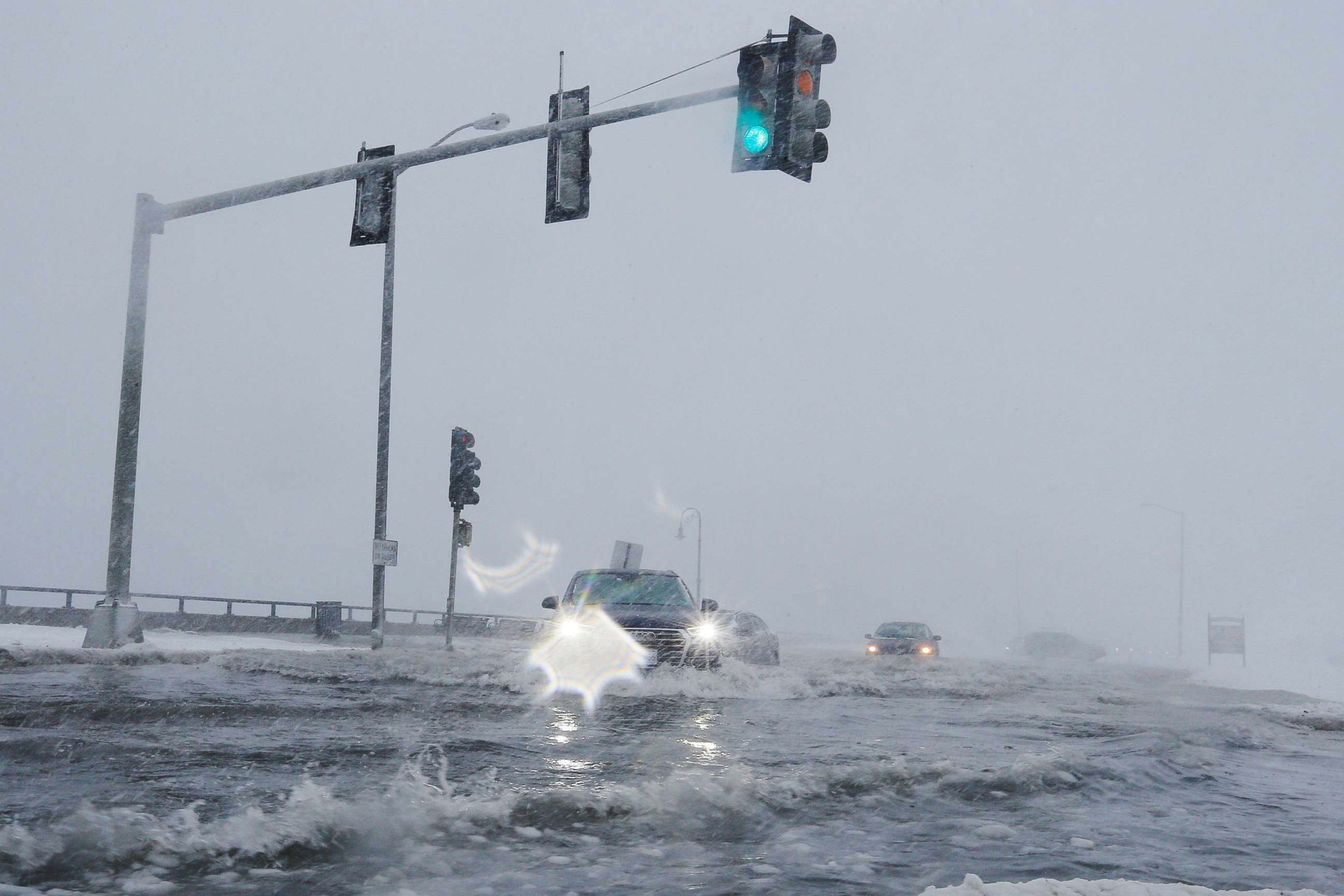 The Massachusetts Bay Transportation Authority announced via Twitter that ferry service was suspended today due to "severe weather and ice" in Boston Harbor.
The Massachusetts State Police tweeted that road closures were in effect, together with images of flooded streets.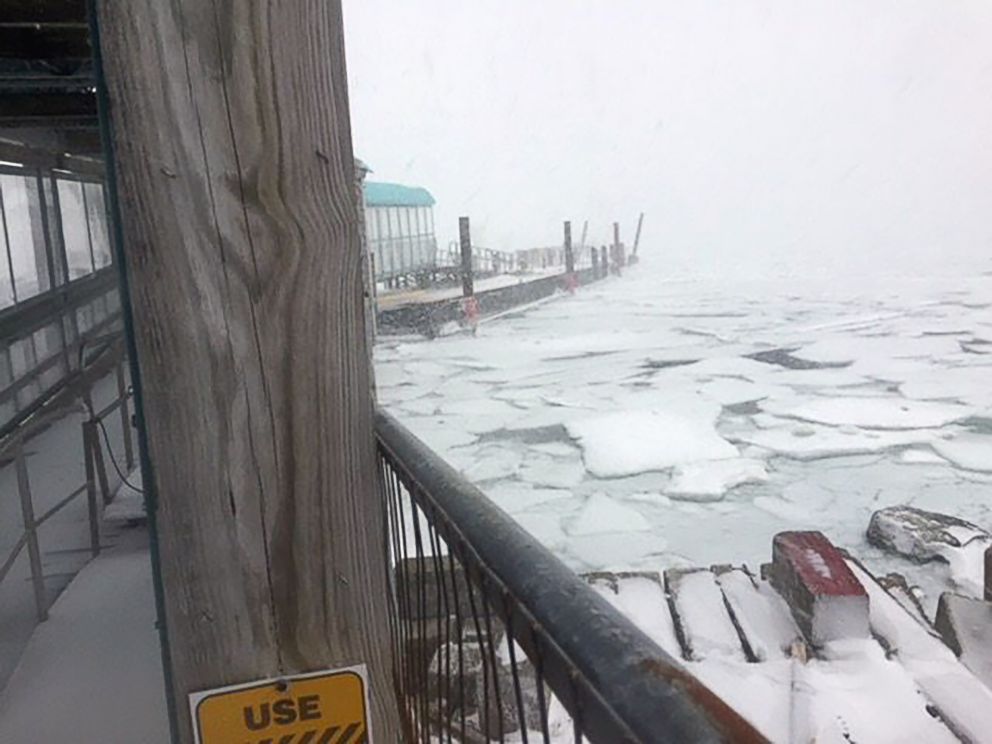 Over a foot of icy water filled the roadway of Revere Street and Winthrop Parkway, about 7 miles northeast of downtown Boston. A resident standing outside his house nearby watched as vehicles attempted to plow through the thick slush. He told ABC affiliate WCVB flooding in the area is common but the amount of snow and ice is unusual and makes the floodwater more difficult to move through.
"It's not so slushy like this, so it usually runs off more," the resident said. "I guess we'll see how it goes when we wake up in the morning."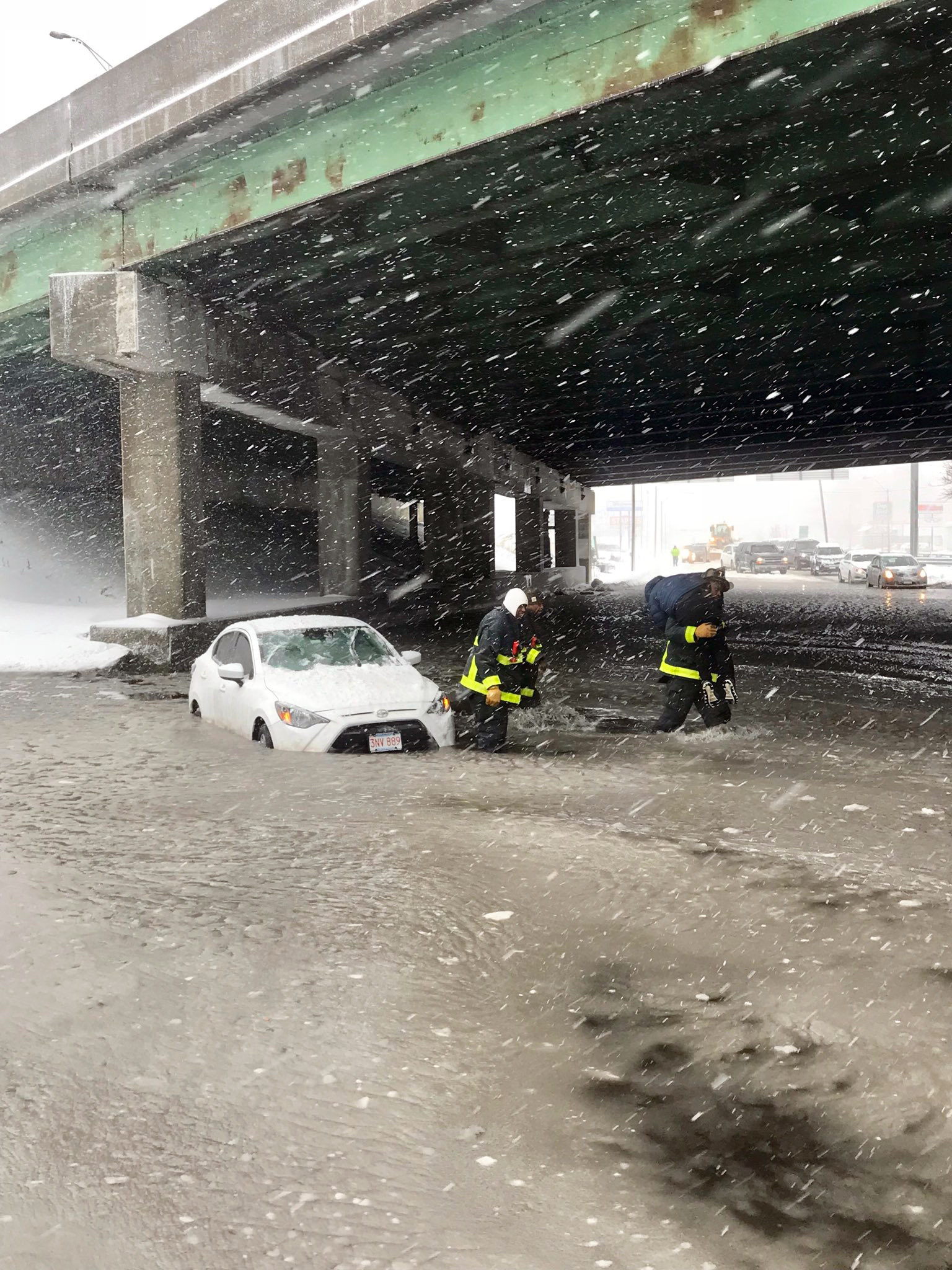 The National Weather Service said the worst of the coastal flooding is over, but warned the water would be slow to drain and said that some of the water would be likely to freeze as temperatures plunge heading into the weekend.
The next high tide will peak around midnight.
A flash freeze is of concern in the region of Cape Cod and the Islands, as well as in southeast coastal Plymouth County, the National Weather Service warned, adding untreated roads could become icy.
Across Massachusetts, more than 20,000 were without power.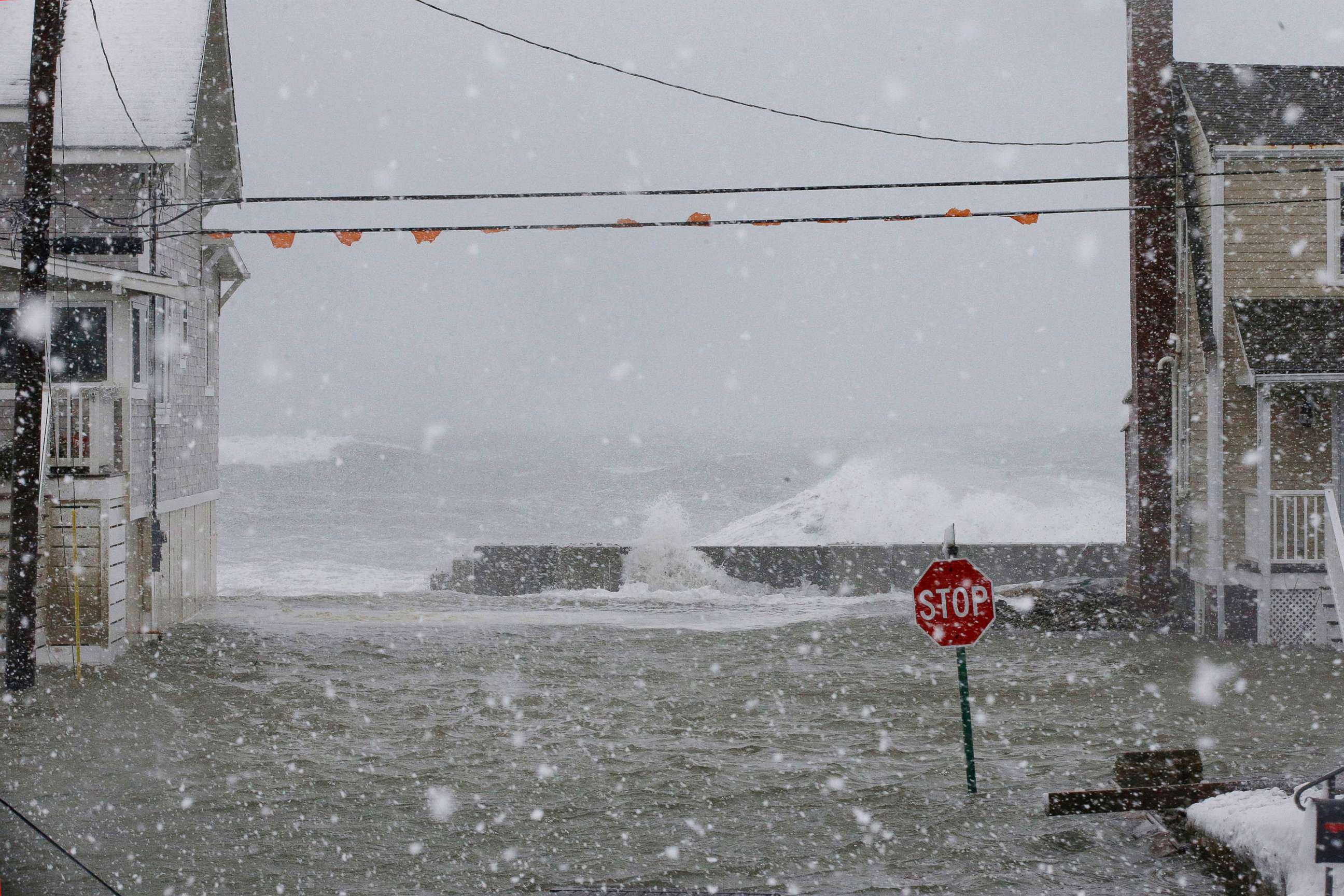 Boston Mayor Marty Walsh urged residents to stay off the streets in a press conference Thursday afternoon, adding that a number of rescues have been conducted due to stranded motorists and pedestrians.
Police have been required to drive doctors and nurses to and from hospitals, Walsh said.
Schools will be closed on Friday, and shelters are opening in case flooding continues and evacuations are necessary, Walsh said. Flooding is affecting the Seaport, Charlestown, the North End, East Boston and Dorchester, he added.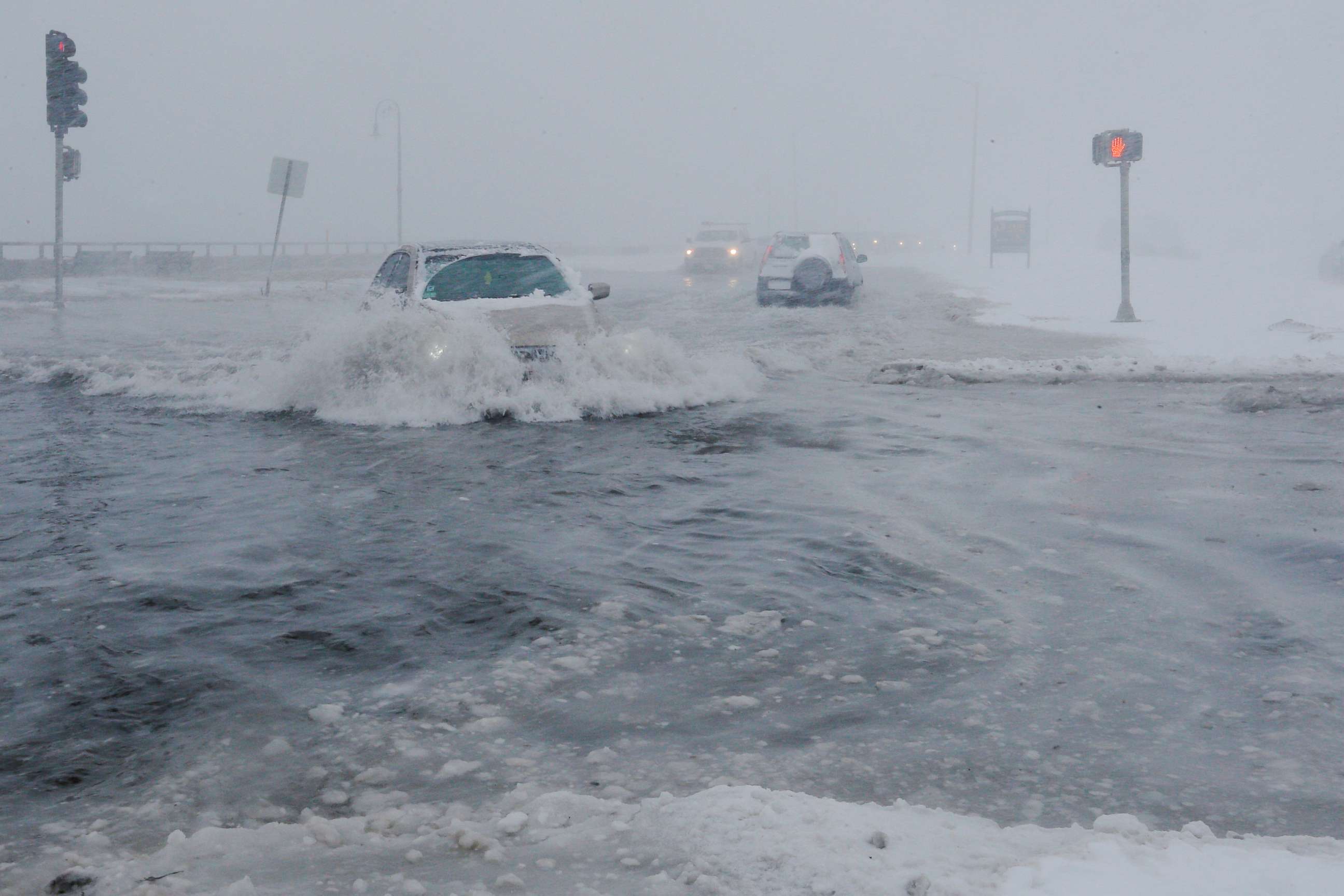 In Brighton, a senior complex was evacuated due to water damage, Walsh said, adding 89 seniors were put up in hotels.
Meanwhile, firefighters were seen rescuing a driver from a car that was stranded on a flooded underpass in Boston.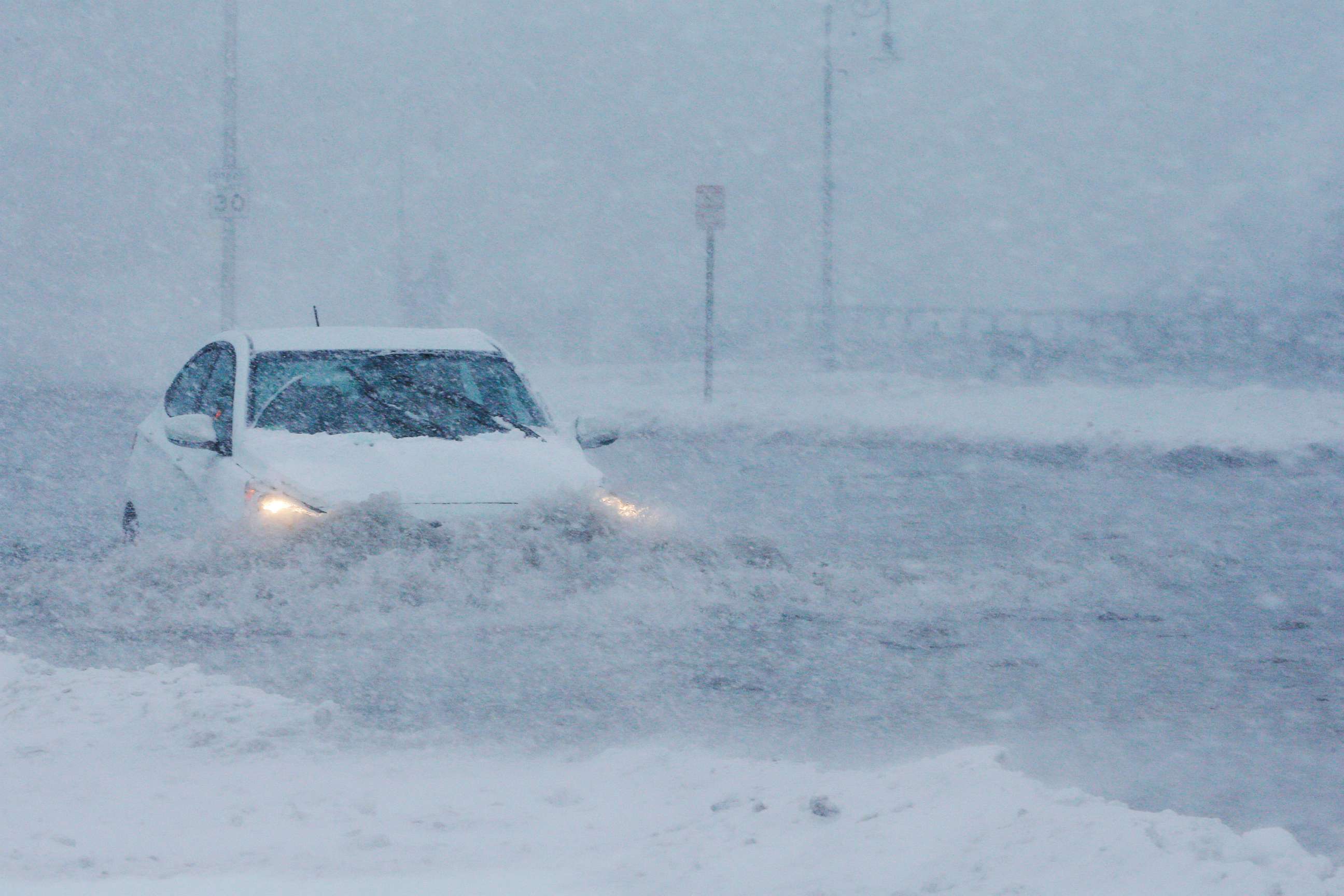 In Winthrop, one resident was seen kayaking through the streets.
The massive storm has led U.S. airlines to cancel at least 3,731 flights within, into and out of the United States today, and delay 1,401 others, according to airline tracking firm FlightAware. Many of the cancellations were in Boston.
Eastern Massachusetts, including the Greater Boston area, is expected to get buried under 12 to 18 inches of snow today, according to the National Weather Service.
In Nantucket, a peak wind of 76 mph was reported.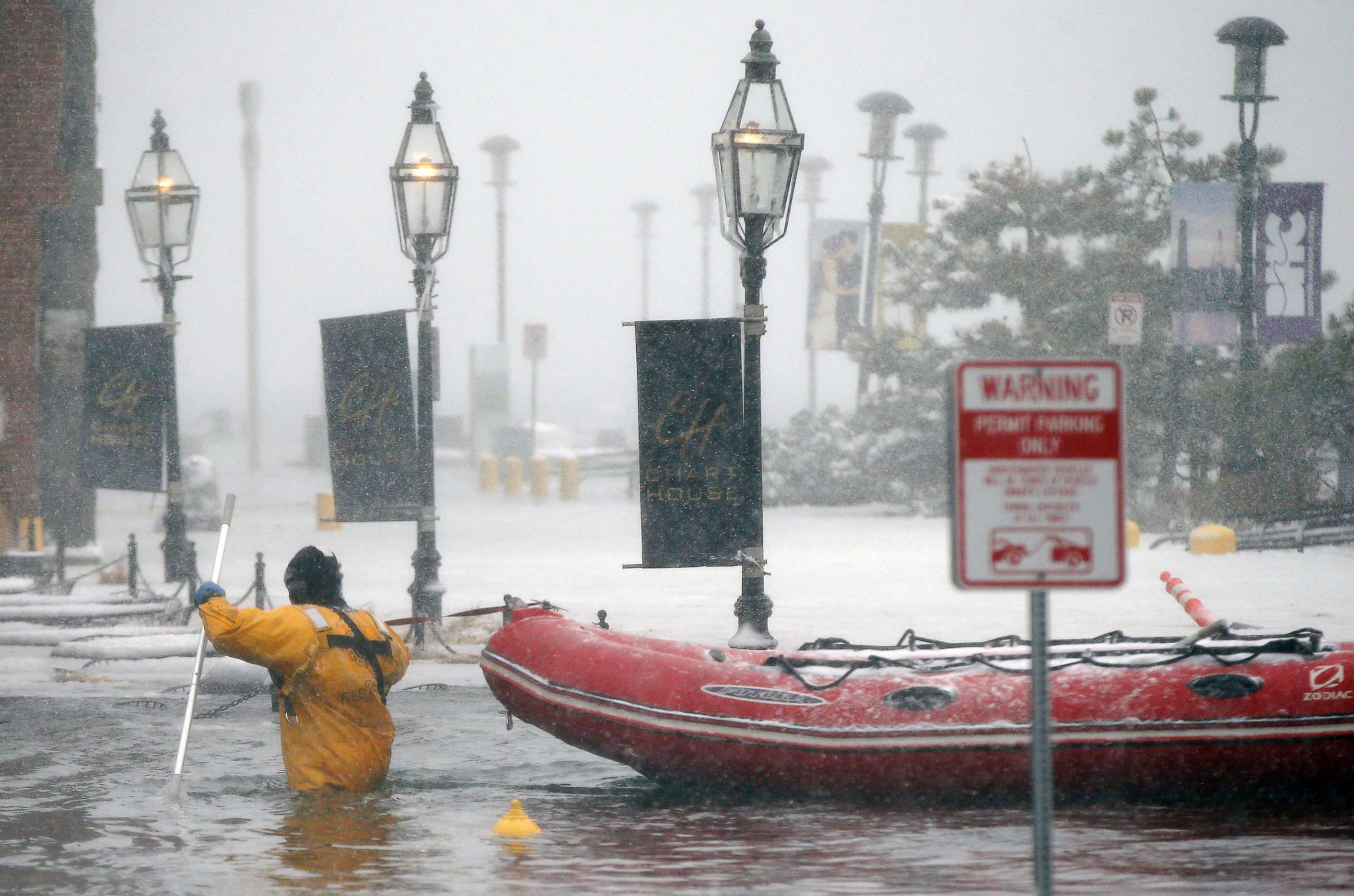 Snowfall in Boston should let up this evening, meteorologists said.
ABC News' Morgan Winsor contributed to this report.