A South Florida police union is urging its members and the local law enforcement community to boycott the Miami Dolphins football team after some players protested the national anthem at a preseason game last week.
Dolphins receivers Kenny Stills and Albert Wilson knelt, while defensive end Robert Quinn raised a clenched fist during "The Star-Spangled Banner" before their team played against the Tampa Bay Buccaneers at Hard Rock Stadium in Miami Gardens on Thursday night.
The next morning, the Broward County Police Benevolent Association called on its union members, as well as all police officers in nearby counties, to boycott any ticket sales, merchandise or products from the Miami Dolphins and the National Football League.
"Anybody that disrespects the flag during the national anthem is personally offensive to me, having spent four years of my life -- six months in the Persian Gulf -- and having friends that have died while serving in the military," Rod Skirvin, vice president of the Broward County Police Benevolent Association, told ABC News in a telephone interview Sunday. "That being said, I do not have a problem with peaceful protests, whatsoever, I also served in the military to preserve that right for people. I just feel that the forum that they are using to do that is extremely offensive to a large part of America."
Representatives for the Miami Dolphins did not respond to ABC News' request for comment.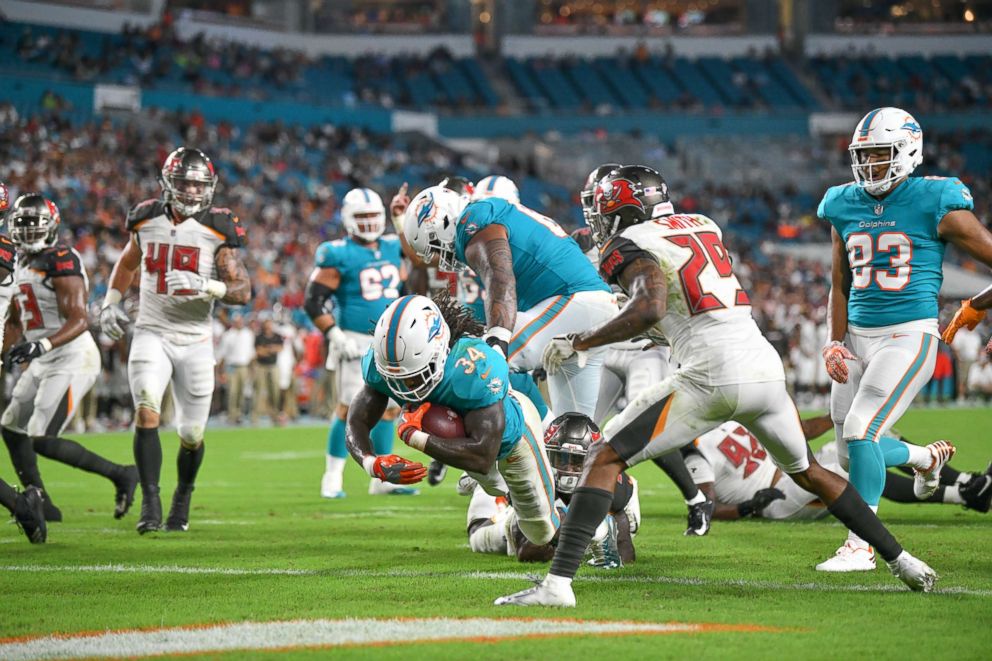 A few weeks ago, the NFL invited the Broward County Police Benevolent Association and other South Florida police unions to a Dolphins game on Nov. 4 that's slated to honor first responders. The organizations collectively decided to accept that invitation and offer its members discounts on tickets to the game, because the NFL had announced in May a new policy to fine teams for players who sit or kneel during the national anthem, according to Skirvin.
But the NFL put the policy on hold last month and said players wouldn't be penalized until it reaches an agreement with the NFL Players Association over how to deal with those who protest the national anthem.
After Thursday night's game, the Broward County Police Benevolent Association posted a statement on Facebook, asking its members and its sister organizations in Mami-Dade and Palm Beach counties to return their tickets and demand a full refund. Skirvin told ABC News he also emailed the Dolphins, saying the union would possibly reconsider if the NFL changes its policy
"We entered into this partnership with the understanding that the Dolphins organization would require their players to stand for the national anthem," the union said in the statement. "This did not happen at last night's preseason game against Tampa Bay. If you have already purchased tickets to this game, we encourage you to call the Dolphins ticket office to request a refund because this organization obviously DOES NOT honor first responders and the dangers they put themselves in every day."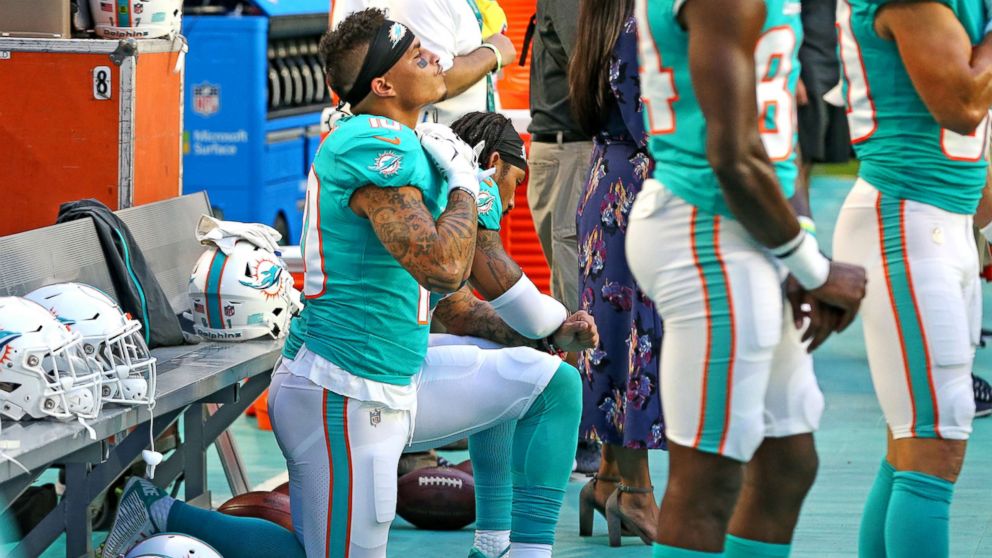 The national anthem protests began during the 2016 NFL preseason when San Francisco 49ers quarterback Colin Kaepernick started kneeling before games to raise awareness of social injustice, including police brutality against black Americans. But the protests really took off over the next couple years, with players from across the league joining Kaepernick's refusal to stand for the national anthem.
"I am not going to stand up to show pride in a flag for a country that oppresses black people and people of color," Kaepernick told NFL Media after taking a knee. "To me, this is bigger than football and it would be selfish on my part to look the other way. There are bodies in the street and people getting paid leave and getting away with murder."
Kaepernick defended the protests amid criticism that it was anti-American or anti-military.
"The media painted this as I'm anti-American, anti-men-and-women of the military and that's not the case at all," Kaepernick told reporters after a preseason game on Sept. 1, 2016. "I realize that men and women of the military go out and sacrifice their lives and put themselves in harm's way for my freedom of speech and my freedoms in this country and my freedom to take a seat or take a knee, so I have the utmost respect for them and I think what I did was taken out of context and spun a different way."
In early March 2017, Kaepernick opted out of his contract with the 49ers, making him a free agent. Kaepernick remains unsigned, and some have accused the NFL of blacklisting him, according to ESPN.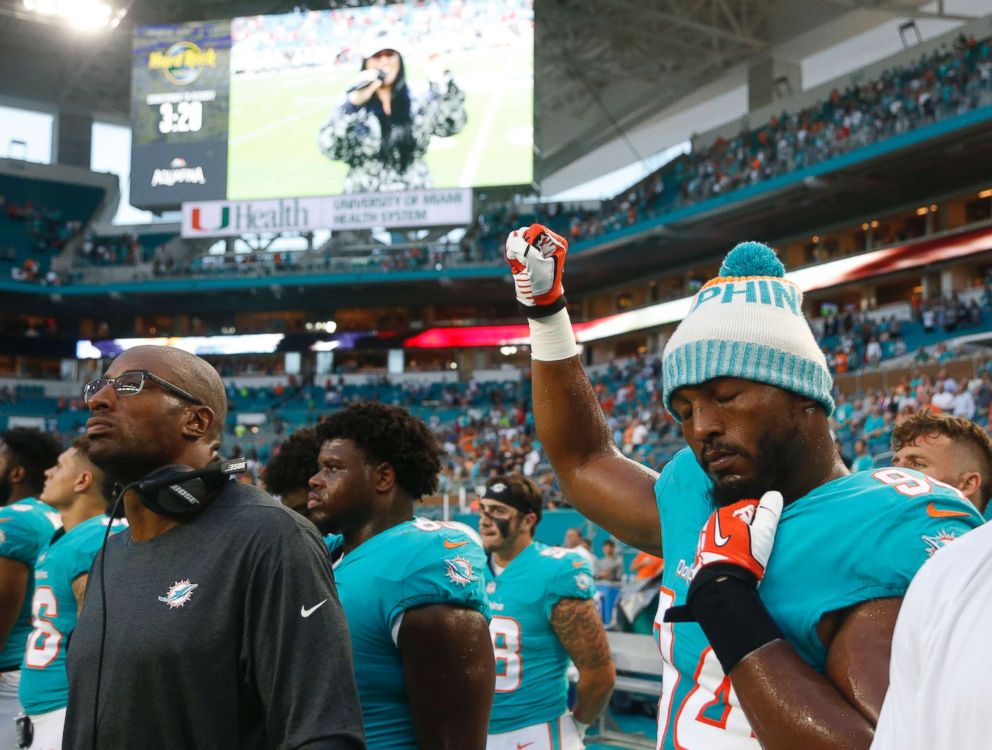 Skirin, who served in the U.S. Navy from 1986 to 1990 before joining the police force in Coconut Creek, Florida, said showing disrespect to the American flag, especially during the national anthem, is insulting to all those who serve the country and put their lives on the line, whether they are cops or soldiers.
"To have somebody as privileged as Mr. Kaepernick has been -- through his efforts of playing in the NFL -- to disrespect our national anthem to me is above and beyond," Skirvin told ABC News. "I find it personally offensive that he is protesting the police as hundreds of officers die every year to protect the citizens of their communities."
Skirvin said he and others in his community were also offended by the socks Kaepernick was seen wearing at 49ers training camp in August 2016 that depicted policemen as pigs.
"I acknowledge that not all police officers are perfect," Skirvin added. "But I do in my heart believe every police officer goes into this job with the intent of serving their community to the best of their abilities. And, ultimately, some have to give their lives to do that."