South reels from deadly tornado outbreak as new storm takes aim in the West
The same storm system is forecast to linger in the Southeast on Monday.
Communities in the South awoke Monday morning reeling from a deadly tornado outbreak and powerful thunderstorms.
Over the weekend, at least 27 tornadoes were reported across five states -- Louisiana, Mississippi, Alabama, Georgia and Tennessee. Officials said at least 21 people died in Mississippi, where one long-track twister left a trail of destruction for about 59 miles. There was at least one storm-related death in Alabama, where officials said a man succumbed to his injuries after being rescued by first responder.
President Joe Biden approved disaster relief for Mississippi on Sunday.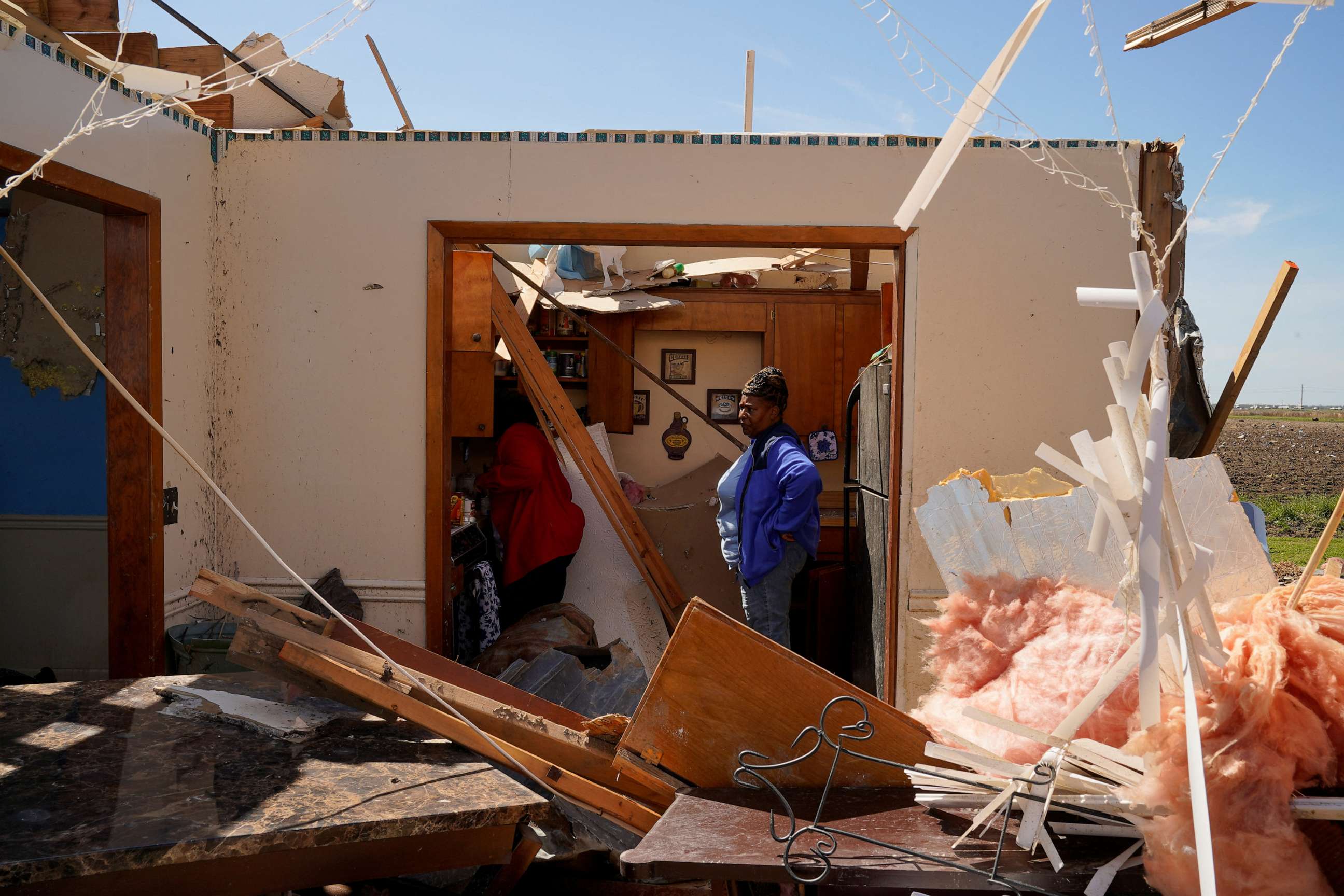 The latest forecast shows the same storm system will linger in the Southeast on Monday with damaging winds, large hail and an isolated tornado threat. Parts of southern Georgia and South Carolina will be in the bull's-eye, including the cities of Columbus, Savannah and Charleston.
Flood watches and flash flood warnings were also issued for parts of Alabama and Georgia, where up to 7 inches of rain already fell.
A new storm is set to arrive on the West Coast on Monday night, bringing heavy rain and wind along the shore and heavy snow to the mountains. The heavy rain is expected to reach the San Francisco Bay Area on Tuesday morning, but gusty winds will begin Monday. Parts of northern California could see local rainfall amounts of 2 to 5 inches.
Meanwhile, the National Weather Service has issued a winter storm warning for parts of the Sierra Nevada mountain range in Northern California, where local snowfall amounts of 2 to 4 feet is possible over the coming days.
This new storm system is forecast to sweep across the country, brining more severe weather to Texas and Oklahoma on Thursday. Areas from Texas to Wisconsin could see a major outbreak of severe weather on Friday, with threats of tornadoes, damaging winds and huge hail.
ABC News' Victoria Arancio, Dan Amarante, Matt Foster, Kenton Gewecke, Rob Marciano, Will McDuffie, Juan Renteria, Jim Scholz and Ben Stein contributed to this report.