— -- As multiple wildfires ravage Southern California this week, experts are pointing toward a dangerous combination of last winter's rain, this year's dry and hot conditions and the Santa Ana winds as a cause.
At least six fires are fanning across swaths of the southern part of the Golden State, spanning from San Diego to Ventura counties. The blazes have burned more than 141,000 acres and forced over 212,000 people from their homes.
Here is what's making this year's wildfires particularly fierce:
Heavy rain followed by hot temperatures led to dried-out vegetation
After five years of drought, California had a lot of rainfall last winter, leading to a lot of vegetation growth, said ABC News meteorologist Max Golembo. That was followed by very high temperatures in the summer and fall, including some record heat events, he said. Those hot temperatures dried out much of the vegetation that grew last winter and spring, which is now creating fuel for the wildfires, Golembo said.
That "specific sequence -- of a wet winter followed by warm, hot conditions to dry the fuel out" is what's needed to spark these larger fires, said Park Williams, a climate scientist and an assistant professor at Columbia University's Lamont-Doherty Earth Observatory.
Add to that the fact that this fall and winter "there has not yet been any precipitation," Williams said.
"Usually by now, Southern California has gotten a storm or two. And once the first rain comes that eliminates the chances of really big wildfires occurring."
Santa Ana winds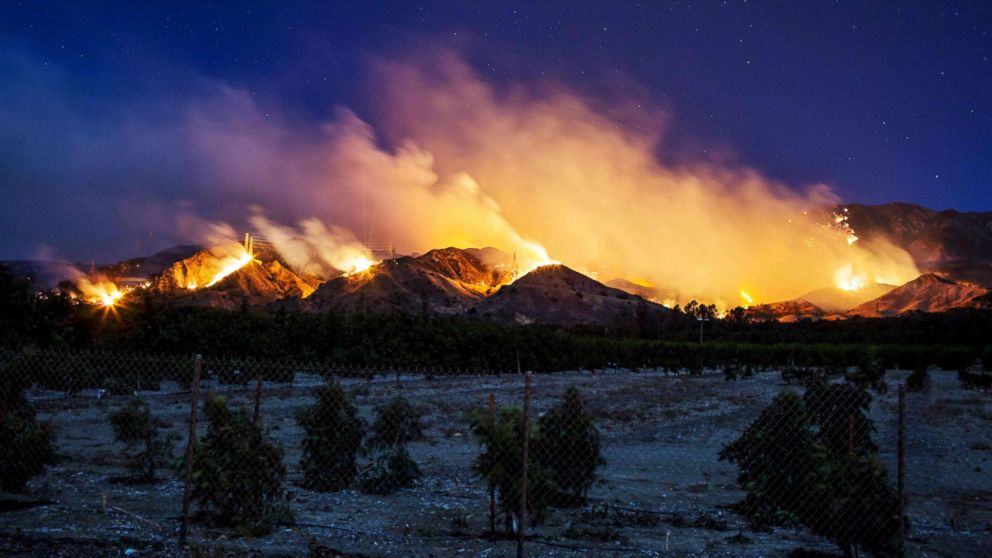 Golembo and Williams also pointed to a major Santa Ana wind event for intensifying the flames.
Santa Ana winds occur when a high pressure system over Southern California pulls air out of "the desert of the Southwest, and brings that air to the west out over the coast," Williams said.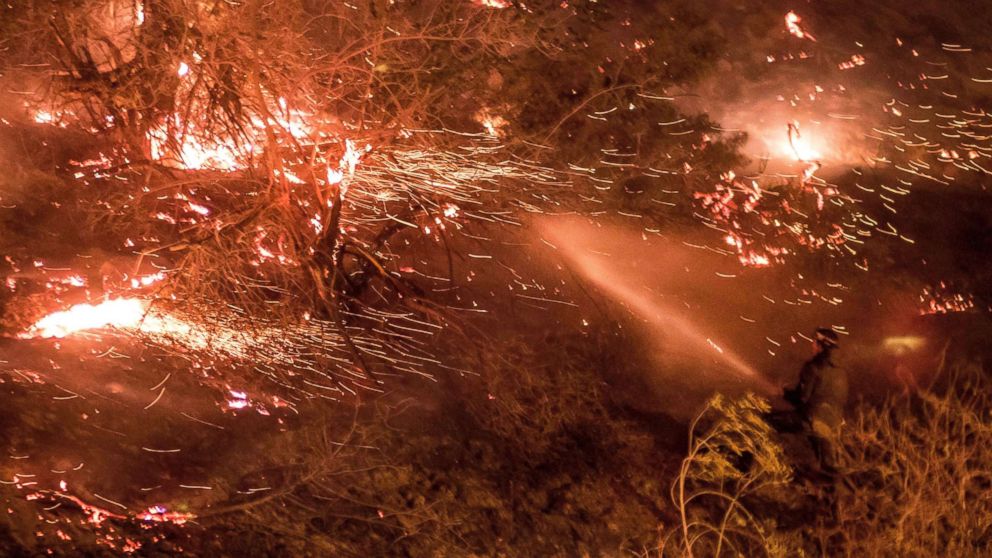 "Because it's coming from the desert, the air is really dry. Then that air has to come up and over the mountains ... and then is brought all the way down to sea level," Williams said. "When that air comes down to sea level, it gets compressed, and when dry air gets compressed, it warms. So this air that was out over the desert, when it hits L.A. and the areas around L.A., it is really warm and really dry."
That warmth and dryness is key for fueling the fires, Golembo said.
December is the prime month for Santa Ana winds in Southern California, Golembo said.