A widespread storm system in the central U.S. is bringing spring snow to the Central Plains and also the risk of severe storms in the South today. There is an enhanced risk for damaging straight-line winds and possibly a few tornadoes from east of Dallas, Texas, to Jackson, Mississippi, through tonight. Flash flooding is also possible during any heavy downpours.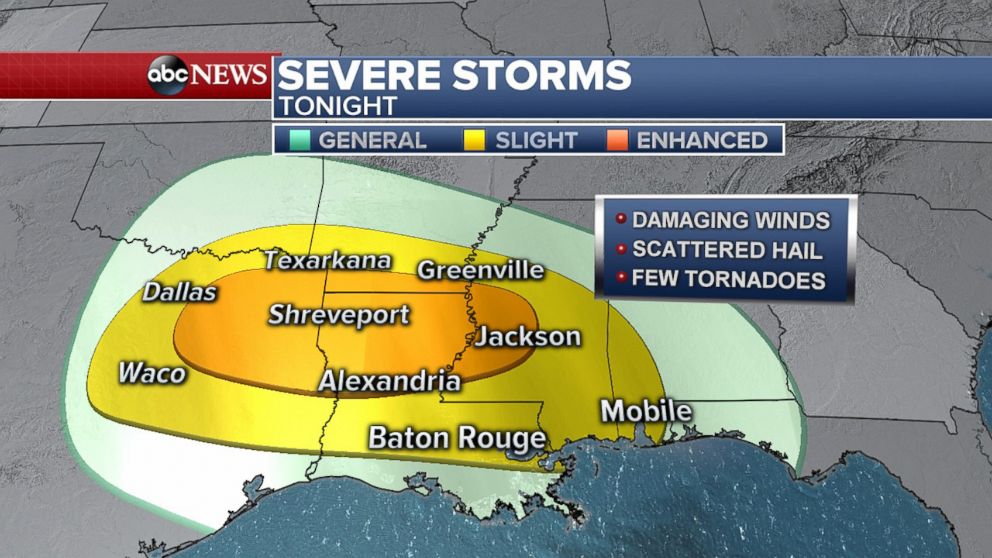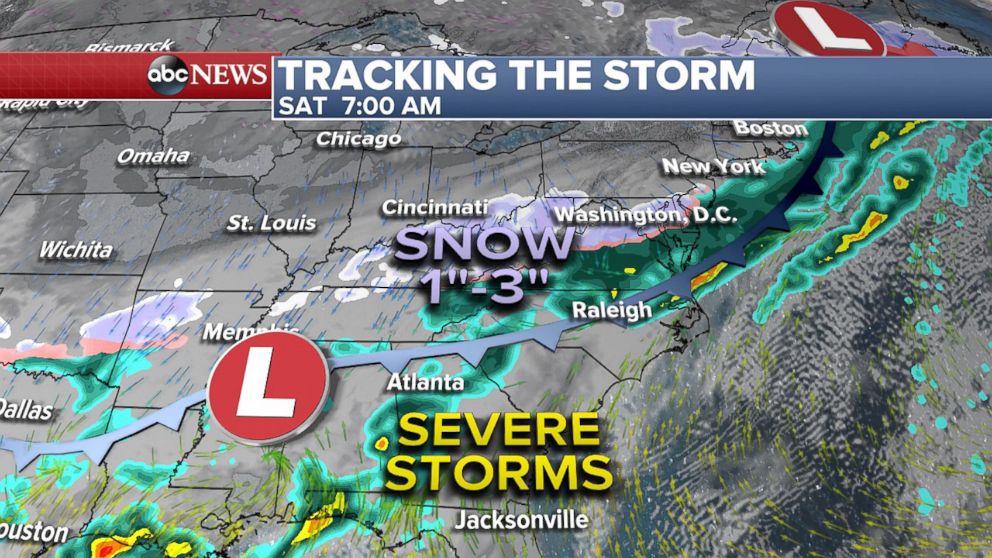 Interested in
Weather?
Add Weather as an interest to stay up to date on the latest Weather news, video, and analysis from ABC News.
By Saturday morning, there could be some lingering storms and heavy rain along the Gulf Coast, while snow is developing across parts of the Lower Ohio Valley and Mid-Atlantic. Washington, D.C., to South Jersey could see snow Saturday morning, with little to no accumulation expected.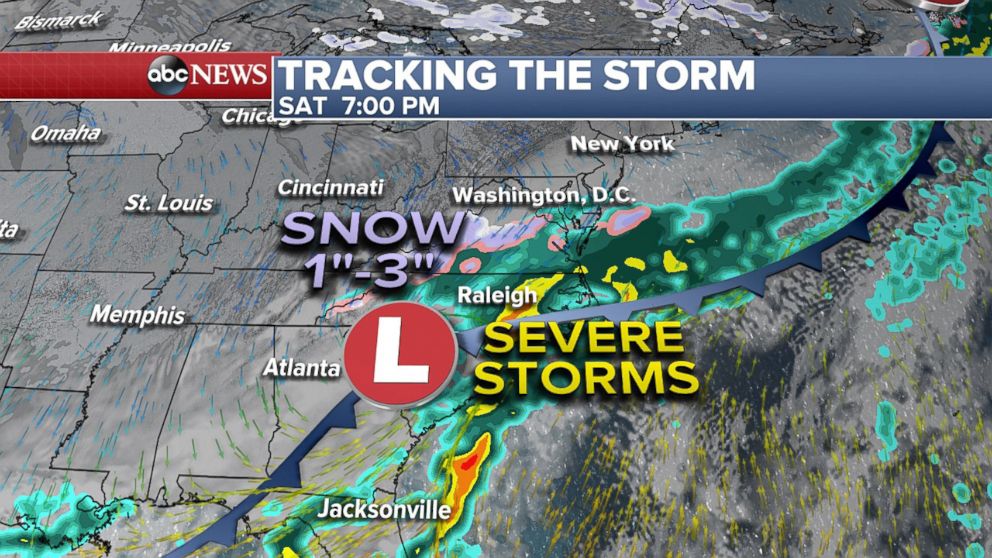 Snow accumulations of 1 to 3 inches are possible for parts of western Kentucky and West Virginia, but snow that does fall here and anywhere else will melt quickly. Severe storms are also possible along the East Coast with damaging winds from North Carolina to Florida on Saturday.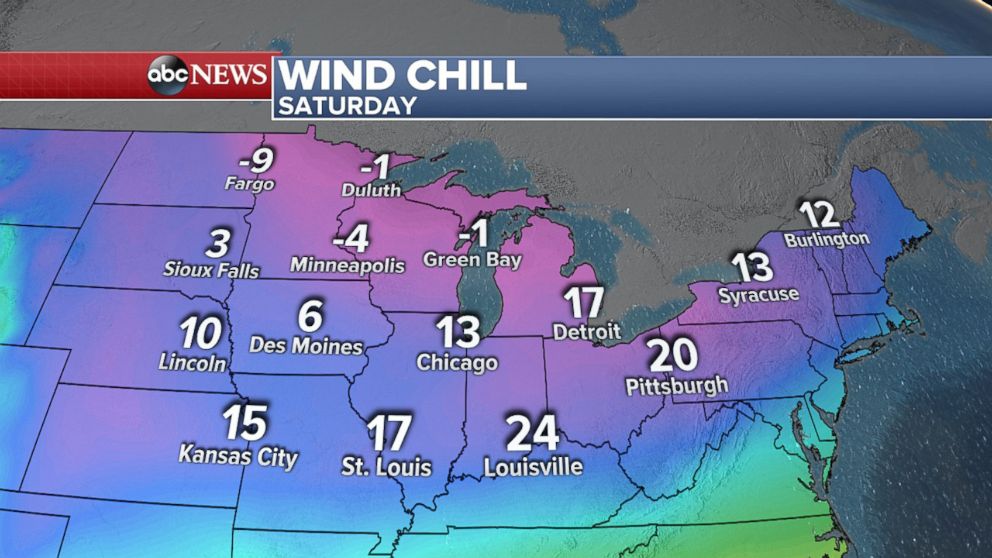 Behind the storm system temperatures will be 15 to 25 degrees Fahrenheit below normal this weekend with several daily record lows expected to fall. Saturday morning wind chills could dip below zero in the Upper Midwest and in the single digits and teens for the Plains and Mississippi Valley region. It will feel like minus 4 degrees in Minneapolis and minus 1 degree in Green Bay.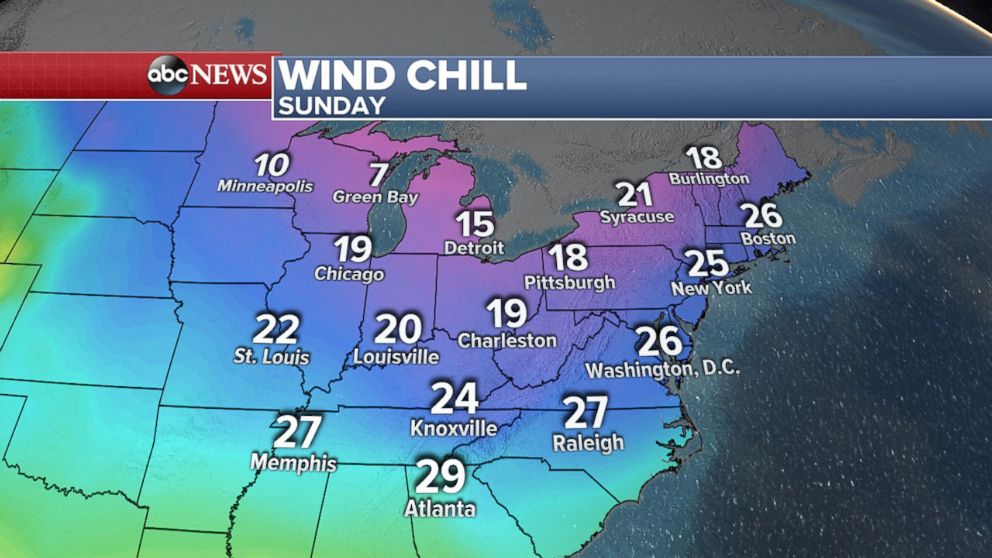 By Sunday morning, it's unseasonably cold across much of the Midwest and into the East Coast. Wind chills are in the 20s from D.C. to Boston, and it could feel like the upper 20s even as far south as Memphis and Atlanta. Several daily record lows are forecast for Sunday morning in the Upper Midwest and Ohio Valley.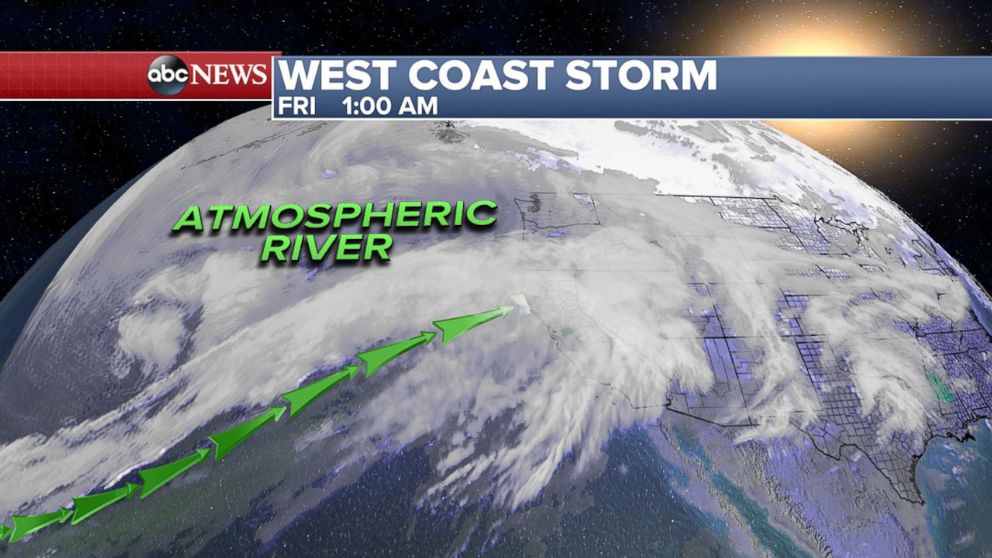 An atmospheric river, a long and narrow column of water vapor transported from a tropical region, is streaming abundant moisture into Northern and Central California with heavy rain through early Saturday. When the atmospheric river transports the moisture from the tropical Pacific near Hawaii to the West Coast, it is called a "pineapple express."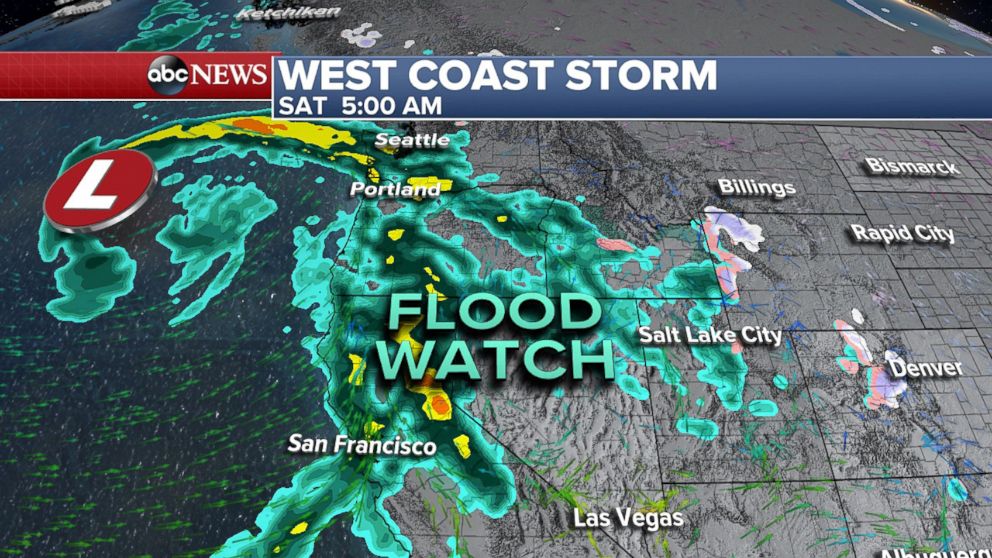 A flood watch is in effect in Central and Northern California for several inches of rain; 1 to 3 inches of rain expected for the valleys and 3 to 7 inches of rain in foothills and mountains. The wet and warm storm won't bring much snow to the mountains, but up to half a foot is expected only in the highest elevations. With the warm temperatures, snowmelt and heavy rain, the risk of flooding could increase. Travel delays, localized flooding, and rock or mudslides are all possible into the weekend. This West Coast storm will move across the country by Sunday into early next week with the potential of more spring snow in some spots.