— -- An art gallery owner in St. Petersburg, Florida, and Starbucks have resolved their differences after he was barred from all the coffee chain's locations for causing a "disruption" when he'd ask customers at one Tampa store to stop illegally parking in a spot reserved for people with disabilities.
Rob Rowen said he'd stop by this particular Starbucks in Tampa almost daily. His go-to order was a decaf non-fat mocha with whipped cream.
"All the baristas know me," Rowen, 62, told ABC News.
Rowen said the Starbucks has about 20 spots with just one accessible parking spot. And when he'd see customers illegally park in the spot reserved for people with disabilities, he'd confront them, and nicely ask them to move, he said.
For Rowen, standing up for people with disabilities hits close to home -- his son-in-law has muscular dystrophy and uses a power wheelchair, he said.
"People need that spot," Rowen said, adding that he never raised his voice to patrons.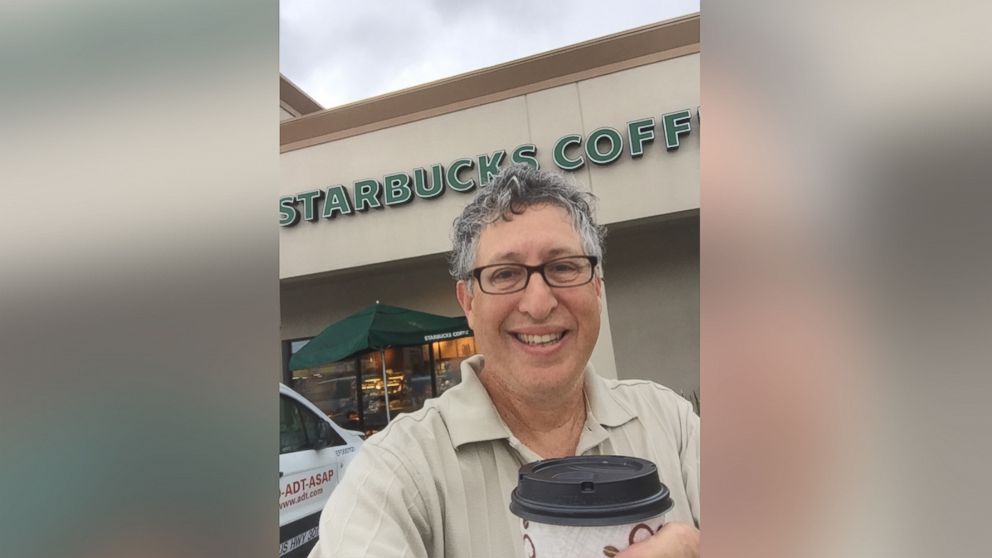 According to Rowen, some customers would agree and move, but others complained to the Starbucks manager that he was harassing them for using the spot.
"Instead of the manager supporting me ... instead of saying... 'I'm not going to take your order until you move your car,' she [the manager] would take care of them [the customers] and then tell me to leave them alone," he said.
About three months ago, according to Rowen, the manager told him, "'I don't want you harassing my customers. I don't want you to come back in this store ever.'"
Right after that interaction, Rowen said the manager walked away, and a barista came over to him and said, "'I'm so sorry, this is on me. Thank you for what you do.'" He said other baristas and some patrons have thanked him, too.
After the confrontation with the manager, Rowen said he "left it alone. Until I got a letter Thursday from a Starbucks local manger."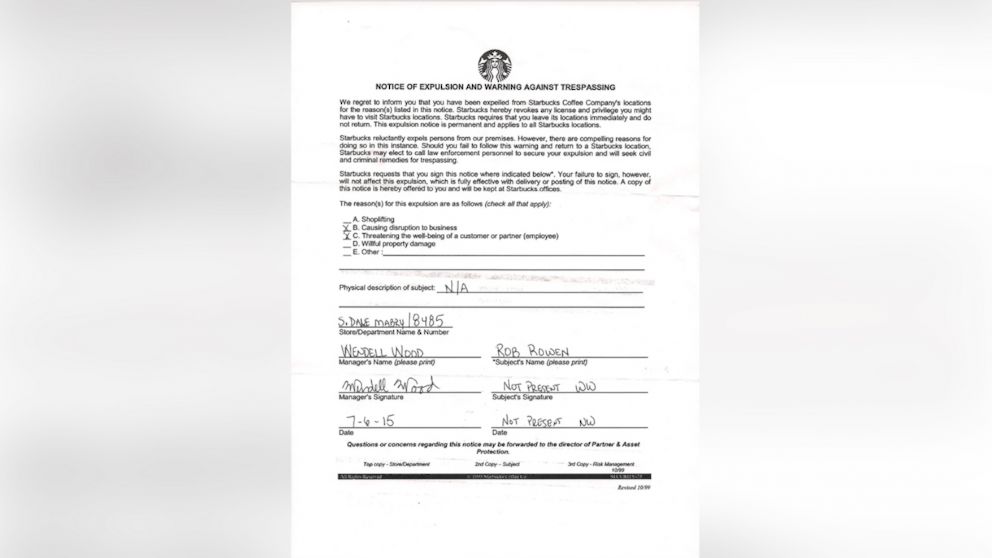 The letter, according to a copy Rowen sent to ABC News, says: "you have been expelled from Starbucks Coffee Company's locations." The reasons were listed as "causing disruption to business" and "threatening the well-being of a customer or partner (employee)."
The letter adds: "This expulsion notice is permanent."
Starbucks spokesman Jim Olson told ABC News via email: "We understand Mr. Rowen's concerns. We have been speaking with him about this and our leaders continue to try and reach out to him to resolve this matter. Starbucks is also working with the landlord of the property where this store is located to improve the parking situation. It is our goal to provide a warm, friendly and positive experience for all of our customers."
"I was shocked," Rowen said, but he also said he's "glad this is happening," because he's seen the problem at other places, too. Rowen said he hopes the coffee chain's letter will spread awareness of the lack of resources for people with disabilities.
Rowen also said he would abide by the ban.
"I'm not going to go into a Starbucks," he said. "It's not about me and Starbucks. The ban, I don't care. ... What I want them to do is take it seriously."
Olson said Sunday evening that they will do just that, and that after a discussion between Rowen and a regional executive today, they have "resolved the matter."
"Mr. Rowen is welcome at any of our stores and we will work with him to improve the parking situation at this store and create better awareness and understanding of of the parking issue," Olson told ABC News Sunday evening.