A female Fort Bliss soldier survived being beaten and stabbed during a three-day ordeal in which her estranged husband allegedly kidnapped her, taking her as far as Las Vegas before she convinced him to return to Texas to turn himself in to police, authorities announced today.
"It was the best possible case for a horrible situation," Chris Mears, a spokesman for the El Paso Police Department, said at an afternoon news conference. "You have a woman that was viciously assaulted in her apartment and taken against her will, but is here today to tell us about it and can get on with her life."
Clinton Lewis, 34, allegedly attacked his wife, 29-year-old Pfc. Jeneesa Lewis, around 5:15 p.m. Thursday as she entered her apartment near the Texas military base, Mears said.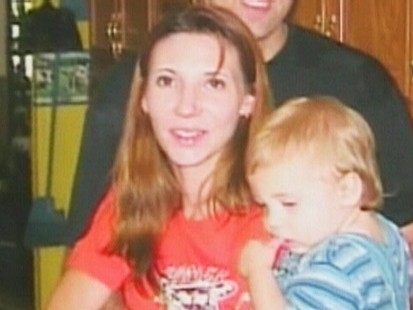 The disappearance recalled three other recent cases involving female soldiers, all of which ended tragically, but three days after she went missing, at around 6 p.m. Sunday, the pair walked into the El Paso Police Department.
"As far as coming back, she was able to convince him to come back," Mears said, describing Jeneesa Lewis as "alive and well."
Clinton Lewis was taken into custody and later charged with aggravated kidnapping. He remains held on $75,000 bond at the El Paso county jail, according to jail records. His arraignment has been scheduled for Tuesday, and it is unclear whether he has hired an attorney or whether federal prosecutors will consider additional charges against him, because he took his wife against her will across the state line.
The Associated Press, citing the charging affidavit, also reported that the soldier had been raped by her husband. In an interview with ABCNews.com after the news conference, Mears declined to discuss the reported sexual assault, citing department policy. Mears did say, however, that under Texas law, sexual and physical assaults are both possible triggers for an aggravated kidnapping charge.
Jeneesa Lewis was interviewed by authorities and then treated for injuries at the William Beaumont Army Medical Center at Fort Bliss, and released, a hospital spokeswoman confirmed to ABCNews.com.
Authorities say Lewis was waiting for his wife inside her apartment last Thursday evening and kicked her in the face as she walked through the door. He allegedly stabbed her at least twice in the legs with a kitchen knife and threatened to kill her before putting her in his truck and fleeing.
The alleged abductor then drove about 650 miles to Las Vegas, where they checked into a motel. Sometime Saturday night, Mears said, Jeneesa convinced her husband to return to El Paso, and the pair boarded a Texas-bound bus.
Jeneesa was reported missing Friday after the mother of three -- including a 4-year-old son she had with Lewis -- failed to show up for work at Fort Bliss and fellow soldiers went to her apartment to look for her. The unit was locked and police were called. Authorities forced their way into the apartment and found blood stains and evidence of a struggle.
"We were concerned on this one because of what we saw in the apartment," Mears said.
Police quickly announced that, in addition to Jeneesa Lewis, they were seeking the soldier's husband, who was already wanted in Tennessee on a warrant for not paying back child support. His criminal history there includes several assault and domestic violence-related arrests.
In the days leading up to her abduction, Jeneesa tried to find a way out of what family and police have described as a destructive marriage.
Lewis had followed his wife to Fort Bliss after she joined the military, in part, to escape the abusive relationship, Jeneesa's sister said. He moved into her apartment in Texas and even managed to get his name on her lease, according to Jeneesa's sister.
"I kept telling her, 'Go somewhere, find a police station, find a church, find a Red Cross, go to one of your superiors,'" Tammy Skelton, Jeneesa's sister, said in an interview with ABC News' El Paso affiliate KVIA before the woman was found alive. "'Someone will help you.'"
Last week, the female soldier finally confronted him, Skelton said. She confided in an Army colleague her fear of her husband and moved temporarily into a hotel to get away from him, and left behind money that he was supposed to use to leave El Paso, Skelton said.
"He pretty much held her captive in her own house," Skelton said. "All he did is sit in the apartment all day. She said he never left the apartment."
On Wednesday, Jeneesa told Skelton that her husband had sent her images that appeared to be taken inside a Greyhound bus. There were windmills in the background that suggested to Jeneesa that her husband had finally left the El Paso area for good, Skelton said.
Lewis moved back into her apartment, telling her sister that the house was "all clear" and that she was excited to resume her life without her husband's interference. Skelton also said her sister had a police escort with her the first time she returned to her apartment after she thought her husband was gone, though Mears was unable to confirm the escort at the press conference.
Skelton said that, before moving to Texas, Clinton Lewis had attacked her sister in March at another military base where she was training. "She was afraid to alert the Army about it, because she had been afraid she would get in trouble," Skelton said. The pair married two years ago after a series of breakups and reconciliations.
Mears said the Lewis case is a reminder that domestic violence victims are often most in danger when they try to end an abusive relationship.
"This is a perfect example to show what can happen when there's violence in the relationship," Mears said. "And that she was trying to leave that relationship. She had actually joined the military and came here in an effort to get away from him."
Jeneesa's three children are safe in Tennessee with the soldier's mother, where they had been living until Lewis was prepared to move them to Texas.
While Janeesa Lewis survived the alleged kidnapping, three other recent, high-profile cases involving missing female members of the military had cast a pall over the case. In each of the three, the woman reported missing ended up dead.
Earlier this month, the charred remains of Fort Bragg Army 2nd Lt. Holley Wimunc were found three days after a suspicious fire in her North Carolina apartment. Her husband, Marine Cpl. John Wimunc was later arrested and charged in his wife's murder.
In June, the decomposing body of Spc. Megan Touma, a dental specialist, also stationed at Fort Bragg, was found inside a motel room near the military base. There have been no arrests in that case.
In January, the body of Marine Lance Cpl. Maria Lauterbach, who was pregnant at the time of her disappearance, was found in a fire pit in the backyard of a fellow Marine, Cpl. Cesar Laurean. The two were stationed together at Camp Lejeune, N.C.
The fugitive managed to avoid capture for several months by living a simple life in San Juan de la Vina, Mexico, until he was arrested in April by Mexican authorities after being spotted walking on a village street. According to witnesses, he did not put up a fight.
Laurean is being held in a Mexico City prison, and North Carolina officials are working through the usual channels to extradite him.