An ordinary commute turned into a daring rescue as a massive water main break flooded a busy street in a Washington, D.C., suburb.
Ten cars were trapped as a treacherous wall of cold water carrying rocks and debris roared toward them at 135 million gallons per minute down the hilly River Road in Bethesda, Md.
Fire department and emergency rescue workers responded within minutes of the break, but the current was so strong that they could not approach the stranded commuters by foot. Instead, rescue workers had to use helicopters and boats to save those who were trapped.
Rescuers in helicopters hauled trapped commuters to safety in baskets as the waters raced below and desperate passengers pleaded for help.
911 calls captured the desperation of passengers waiting for help.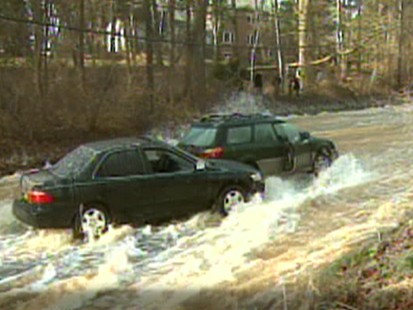 "I can't see anything," yelled one woman. "I need help."
It was not an easy rescue.
"We train for river rescues every day, and we train for flood rescues on the road but we never expected to find something like we found today with the amount of water coming down River Road with multiple cars stuck," said Capt. Frank Doyle of Montgomery County Fire and Rescue.
"[I] never saw anything like this," he said. "When we heard the first reports of a mountain of water coming down River Road, your first inclination is, that's crazy, that could never happen. When we arrived on scene, we were met with that challenge."
As if the situation were not dangerous enough, the cold and windy weather made rescue operations even more complicated.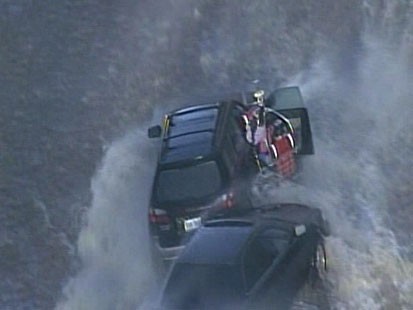 Police had difficultly getting baskets down to the victims from helicopters, which also had to dodge trees and wires, Doyle said.
One of the rescuers, 32-year-old firefighter Lt. Pat Mitchell, struggled to reach victims in a boat as the currents raged on, but after a few tense moments, he was able to rescue them and pull them to shore.
"[A] current like that can kill instantly," Mitchell said. "This is a unique, once-in-a-lifetime type of call. ... I'm glad everything was successful and nobody was hurt."
No injuries were reported, although several people were taken to the hospital to get treated for hypothermia.
Raging River
The 66-inch water main broke at about 7:55 a.m. Tuesday morning and it was unclear what caused it.
But its impact was soon felt across the area. Thousands of customers were left without water and area schools and businesses were affected.
Montgomery County public schools closed early, and several offices, including the corporate headquarters of hotel giant Marriott, sent workers home early because of low water pressure issues in the area.
Officials at the National Naval Medical Center said the facility experienced a decrease in water pressure as a result of the water main break. Officials initially sent home non-essential personnel and considered shutting down all non-patient critical functions, outpatient programs and other base functions, but in an afternoon press conference, officials said the hospital was back at full operating procedure.
Suburban Hospital also lost water pressure because of the water main break. Spokeswoman Ronna Borenstein said the hospital staff cancelled elective surgeries and procedures for the afternoon, but it turned out to be less of a disaster than they initially expected.
"This morning we were anticipating this would be a multi-casualty situation," Borenstein said. "Fortunately, it turned out that only four patients were brought here and were treated and released. But then it turned into an internal problem because we lost our water supply and still needed to be able to care for the patients that were still here."
In the afternoon, water pressure at Suburban Hospital was increasing and officials said they expect to fulfill the entire surgical schedule by Wednesday.
Esther Bowring, a spokeswoman for Montgomery County, said thousands of customers of the Washington Suburban Sanitary Commission (WSSC) either had no water or low water pressure as a result of the water main break.
As of 1:15 p.m. today, WSSC officials said they were continuing to work on repairing the water main break and that crews were able to shut down the main and begin restoring water pressure to the customers affected by the break.
As for River Road, police say it will remain closed for an extended period of time because of significant damage and erosion.
ABC News' Jack Date and Huma Khan contributed to this report