More bad news in Illinois for the families distraught by the desecration of their loved ones' graves.
Law enforcement and visitors discovered more remains at Burr Oak Cemetery in Alsip, Ill., and subsequently closed the cemetery Friday.
It has been labeled a crime scene.
"I found bones out there, I found individuals wandering aimlessly around," Cook County Sheriff Tom Dart said.
Families are allowed to file inquiries at the cemetery today where an exhumation was planned. Dart said he hopes Burr Oak will reopen to the public within a week.
Resting Place of Civil Rights Icon Ruined
The family of civil right's icon Emmett Till said they were outraged that his casket was nearly ruined as part of a money-making scheme that desecrated hundreds of graves.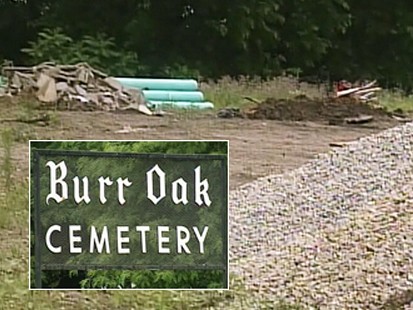 "I did view the casket and it is appalling to see how much it has decayed," said Ollie Gordon,
a cousin of Till's and an heir to the estate.
Till's casket is one of more than 300 that fell victim to a money-making scheme orchestrated by four cemetery employees who for more than four years dug up bodies and dumped them in the weeds so the plots in the historic Chicago graveyard could be resold.
Till, whose body was interred at Burr Oak, was exhumed in 2005. He was reburied in a different casket, but the original one was supposed to have been preserved by the cemetery.
Instead, Hart said Till's coffin was found "rusted and filled with wildlife in a dilapidated garage," according to ABC News' Chicago affiliate WLS.
The grave site where Till was reburied has not been disturbed, Hart said.
Till became a rallying point for the civil rights movement when he was brutally murdered at the age of 14 for allegedly whistling at a white woman in a Mississippi store.
Gordon, who said that family plans to move Till's original casket and have it restored "as much as possible," said that she had spoken frequently to Carolyn Towns, 49, the woman who is now suspected to be the ring-leader of the devastating scam.
"I worked and spoke with Miss Towns several times to make sure everything was in order," said Gordon. "It's [the casket] part of history. It's part of trying to put our family member to rest. When will Emmett finally be allowed to rest?
"How could anybody allow this to happen to something that is so pertinent to history," said Gordon. "How can you disregard the family in such a way?"
In addition to not taking care of his original coffin, Hart said Towns set up a faux memorial fund for Till.
"[Towns] had also set up an Emmett Till Memorial Fund where she took money from that and apparently pocketed that money," said Cook County Sheriff Tom Hart.
He did not specify how much money had been collected before Town's arrest Thursday.
The Rev. Jesse Jackson was also on hand at a press conference Friday, and urged families who are planning to bury their loved ones at the famed cemetery to boycott the grave site.
"This cemetery, it is not a secure place," said Jackson.
Comptroller Daniel Hynes, the state official responsible for regulating cemeteries, said that he was revoking the three licenses that cemetery has in order to perform so-called "pre-burial needs" for clients.
"While the owner apparently is cooperating with the investigation, I also believe he has to be held responsible for what his employees did," said Hynes.
The cemetery's owners, Arizona-based Perpetua, Inc., did not return calls made by ABCNews.com.
Class Action Lawsuit Filed Over Alleged Cemetery Scam
ABCNews.com learned that a class action will be filed on behalf of at least eight families who claimed the bodies of their loved ones were wrongly disinterred.
Attorney Louis C. Cairo told ABCNews.com that the lawsuit will be filed in the circuit court of Cook County, Ill., and is likely to grow in size as more families learn that the Burr Oak Cemetery gravesites have been tampered with or destroyed.
Cairo said that one of his client's, who declined to be named, went to visit her mother's grave site in February and could not find it.
"She found a mound of fresh dirt and a completely different gravestone," said Cairo. He said the client realized this week that her mother had likely fallen victim to the grave digging scheme.
Cook County authorities said Friday they believe at least 300 graves were disrupted by the four individuals who have since been arrested and charged in connection with the crime. The workers may have made as much as $300,000 off their scheme.
The suspects besides Towns include 45-year-old Keith Nicks, 39-year-old Terrence Nicks and 61-year-old Maurice Dailey are all being held in protective custody at the Cook County Jail.
Each are charged with one felony count of dismembering a body and if convicted could face up to 30 years in prison. Bond was set at $250,000 for Towns, the cemetery's manager, and at $200,000 for the other three.
Hart said that Towns is suspected of being the ringleader in the elaborate operation.
"Individuals who worked at this cemetery had an arrangement where an individual in the front office would take cash payments and then give an unsuspecting individual a deed for a plot," Hart said.
"After they did that, they'd get a gravedigger to disinter a grave and take the remains from that grave and dump them in a back area of the cemetery," said Hart. "Then they'd use the grave, and the person would be none the wiser that it was a used grave."
Hart said that the he was "horrifically" sorry for families whose relatives had been treated horribly by cemetery employees.
"This was not done in a very, very delicate way, folks," said Hart. "They would excavate a grave and an entire site, then they'd proceed to dump the remains wherever they found a place to do it in the back of the ground."
'We Don't Know What We Have'
FBI Special Agent Tom Troutman said Thursday that his agency is working to map out the cemetery and will use thermal imaging to find relocated bodies.
"Right now we don't know what we have," said Troutman. "We don't know if these people were all dumped together and co-mingled."
"We don't know what we have back there," he said.
Blues singers Willie Dixon and Dinah Washington are also buried at the cemetery.
Several families with scheduled burials Thursday showed up to the cemetery only to find that the plot they had anticipated using for their family members was already taken.
Diane Eewbru hoped to bury her aunt at Burr Oak Cemetery, but when she was taken to a plot different from the one she was promised, she knew something was wrong.
"When we first arrived ... we were taken to a backup cemetery to a different plot, and I immediately jumped out of the car and said this is not the spot. And they told me about the situation, and they wanted to bury her there. And I said no," Eewbru told ABC News' Chicago affiliate WLS.
Eewbru was reportedly told that the plot she had purchased was unavailable because someone was already buried there.
"This is unreal. I get out here and I can't bury my aunt," said Eewbru.
The Associated Press contributed to this report.