Nicknamed "Kangaroo" for her quick footwork, 4-year-old Mia Lines has come from Australia to the elite Rick Macci Tennis Academy, with big dreams of becoming a future champion.
When asked which tournament she wanted to win, the pony-tailed brunette piped up, "All of them."
Mia trains for three hours a day in searing 95-degree Florida heat with legendary coach Rick Macci. who is known for turning small players into big stars -- including Jennifer Capriati, Venus and Serena Williams, and Andy Roddick.
Mia is the youngest charge Macci has taken on, first coming to his attention last year.
"I've never seen anybody that's bringing this genetically to the table. It's a journey," said Macci. "We'll know in about 10 years from now just where this is gonna go, but I definitely think there's a place for her on the pro tour."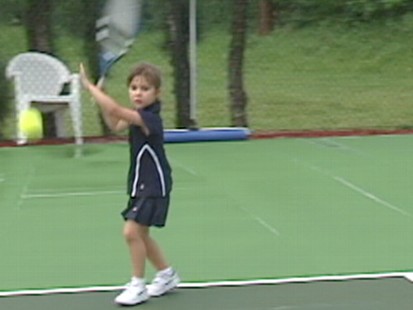 Mia's father, Glenn Lines, introduced her to the game the day she was born, waving a tennis ball back and forth just above the infant's head to establish early eye-ball coordination.
He continued to cultivate her budding talent and thought enough of what he was seeing to bring Mia stateside for an expert's opinion.
"It was only last year when I came to Rick Macci that he said, 'Man, you've got something special,' and then I thought whoa -- she may be good," Glenn Lines said. "Because I think every parent thinks their kid is special."
A life-long tennis fan, Lines has invested everything in Mia's future, even quitting his job as a day trader to devote himself full-time to his daughter's development.
He is following in the footsteps of other famous sports dads like Earl Woods, who first appeared on "The Mike Douglas Show" with his son, Tiger, when the future superstar was just 2 years old.
The promise of big earnings and major endorsements has many parents starting their children's athletic careers earlier and earlier. One must look no further than YouTube to see the next generation of potential Michael Jordans.
While some accuse such parents of being too pushy and living out their dreams through their children, Lines insists that Mia is the driving force behind the commitment to her game.
"I just let Mia decide how she goes," Lines said. "People say three hours is too long but a lot of people are letting their kids play six hours on Playstations, eating junk food, drinking cans and cans of soda."
Lines also denies that he is motivated by fame and fortune.
"At the end of the day, if you do something for just money, it's a job," he said. "You know what I mean? So once something becomes a job, she's gonna hate it."
Mia still gets to be a kid, her father said, but she's a kid with an agent who's already a veteran of interviews.
She demonstrates her media savvy and perfectionism by asking reporters to re-ask questions when she's not content with her responses. Playful and at ease in the presence of cameras, she is clearly used to being the center of attention.
While it is impossible to predict if Mia's passion for tennis will endure, her father maintains that even if she does not become a successful tennis professional, his vast investment in time and money will still have been worth it.
"At the end of the day, she drives the bus. She's gonna decide what she's gonna do," Lines said. "Of course if she won Wimbledon or wanted to play Wimbledon, I would love it. But I just want her to be happy at the end of the day."