The suspect in a deadly shooting at an LGBTQ nightclub in Colorado will continue to be held without bond, a judge ruled during their first court appearance on Wednesday.
Five people were killed and 17 others wounded by gunfire in the mass shooting at Club Q in Colorado Springs late Saturday night. Police are investigating the incident as a hate crime.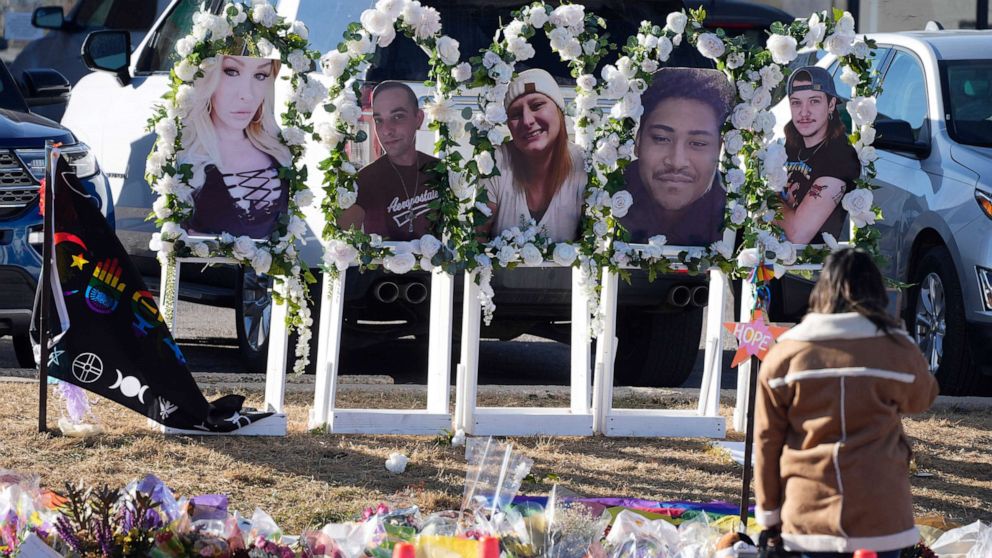 The suspect, 22-year-old Anderson Lee Aldrich, appeared in court virtually from jail for Wednesday's advisement hearing, slumped over in a wheelchair wearing a yellow sleeveless jumpsuit and in handcuffs with apparent bruises on their face.
El Paso County Court Judge Charlotte Ankeny said she found there is "legal authority" to hold Aldrich without bond at this time.
She scheduled the suspect's next court appearance for Dec. 6 at 8:30 a.m. local time, though that may be changed due to a scheduling conflict with the defense.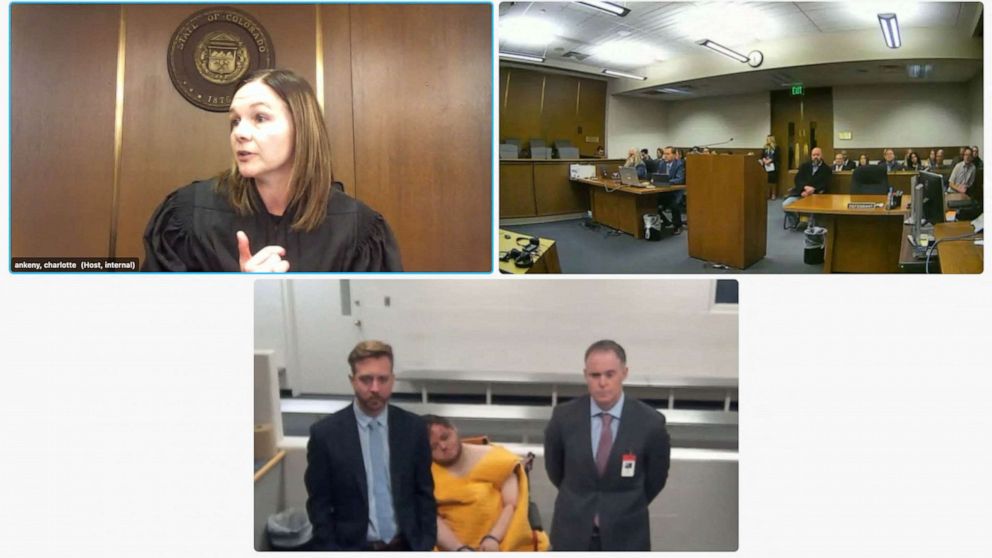 President Joe Biden and first lady Jill Biden called the two owners of Club Q, Nic Grzecka and Matthew Haynes, to offer their condolences on Thursday, according to the White House.
The Colorado state public defender wrote in court filings released Tuesday that Aldrich is nonbinary. They are being held on 10 "arrest only" charges: five counts of first-degree murder and five counts of committing a bias-motivated crime causing bodily injury, according to online court records.
The district attorney's office expects to file formal charges by the next court date, Colorado's Fourth Judicial District Attorney Michael Allen, who serves El Paso and Teller counties, told reporters during a press briefing following Wednesday's hearing. There may be more charges than what was initially included in the arrest warrant, he has previously said.
The El Paso County District Court has sealed the arrest warrant and supporting documentation connected with Aldrich's arrest. According to the motion by prosecutors, if the records were released, "it could jeopardize the ongoing case investigation."
During Wednesday's hearing, the defense requested an unsealed copy of the arrest warrant to review in advance of the next court date. The judge granted that request, with a protective order in place that it not be released any further.
The shooter used a long rifle and was injured in the shooting, according to police. Two "heroes" -- identified as Thomas James and Richard Fierro -- confronted and fought with the shooter, police have said. Officers responded to the scene and detained Aldrich just after midnight and transported them to a local hospital, where they had been in custody in the days following the incident.
On Tuesday, the Colorado Springs Police Department said it had turned over custody of the suspect to the El Paso County Sheriff's Office at the jail.
Colorado Springs police said Tuesday they do not expect to provide additional updates on the case until Monday.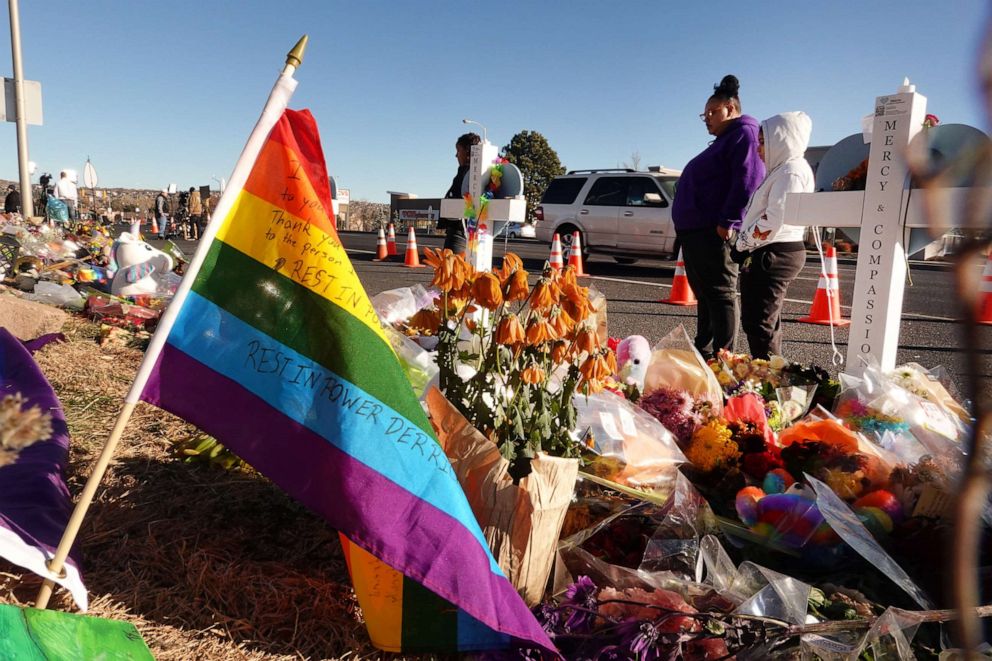 Colorado Springs Mayor John Suthers told ABC News that the suspect "had considerable ammo" and "was extremely well armed." While a motive remains under investigation, Suthers said "it has the trappings of a hate crime."
Allen would not comment on a possible motive on Wednesday.
"I know those are things that people want to hear that about, but in order to protect this prosecution and make sure that we have the best effort going forward in this case and to bring justice to the victims in this case, we have to be very careful about the things we say," he said.
When asked how the suspect being nonbinary may affect potential bias charges, Allen said, "I'm looking at evidence, evidence of what occurred here. That's what we look at when we make filing decisions."
Hundreds gathered at Colorado Springs City Hall on Wednesday for a ceremony in honor of the victims of the shooting.
The city displayed a 14' x 25' flag on loan to the city from the Sacred Cloth Project "as a gesture of love, solidarity and healing in the wake of the Club Q shootings," the city said. The flag was also displayed in downtown Orlando after the deadly Pulse nightclub shooting in 2016 and has returned each year on the anniversary of the massacre.
"What does the future look like for Colorado Springs, and especially for the LGBTQ+ community? There is so much love and support for you here today," City Council member Nancy Henjum, who represents the district where the shooting occurred, said in remarks to the crowd gathered. "We must continue that for days, weeks, years and the lifetimes to come."
"We heard from many of you yesterday in this very building, in the chambers upstairs in this historic City Hall, that you don't feel safe, that you don't feel respected, that we must do better," she continued. "Yes -- we must do better. We will do better."
Among those in attendance were Club Q co-owners Grzecka and Haynes.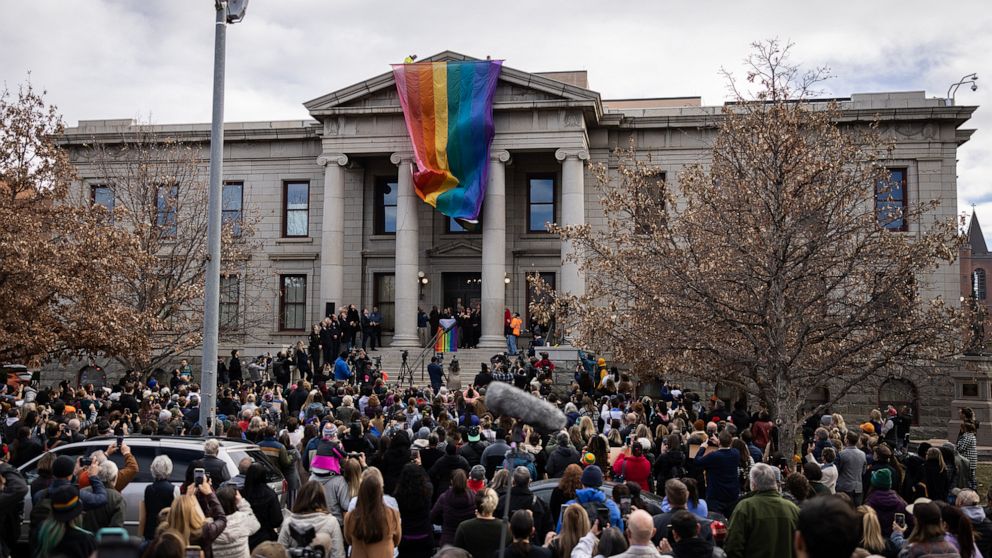 More details are emerging about the suspect in the wake of the shooting.
Aldrich was a gun enthusiast, according to friends who have spoken to ABC News.
In June 2021, Aldrich was arrested in an alleged bomb threat incident after their mother alerted authorities that they were "threatening to cause harm to her with a homemade bomb, multiple weapons and ammunition," according to a press release posted online last year by the El Paso County Sheriff's Office. While no explosives were found in their possession, Aldrich was booked into the El Paso County Jail on two counts of felony menacing and three counts of first-degree kidnapping, according to the sheriff's office.
Aldrich's 2021 arrest may not have appeared on background checks because the case does not appear to have been adjudicated, officials briefed on the investigation have told ABC News.
ABC News and other news organizations have petitioned the court in Colorado to unseal the records regarding Aldrich's 2021 arrest.
Allen told ABC News on Tuesday that after the suspect has their first court appearance, the DA will appeal to have Aldrich's sealed 2021 records opened next week.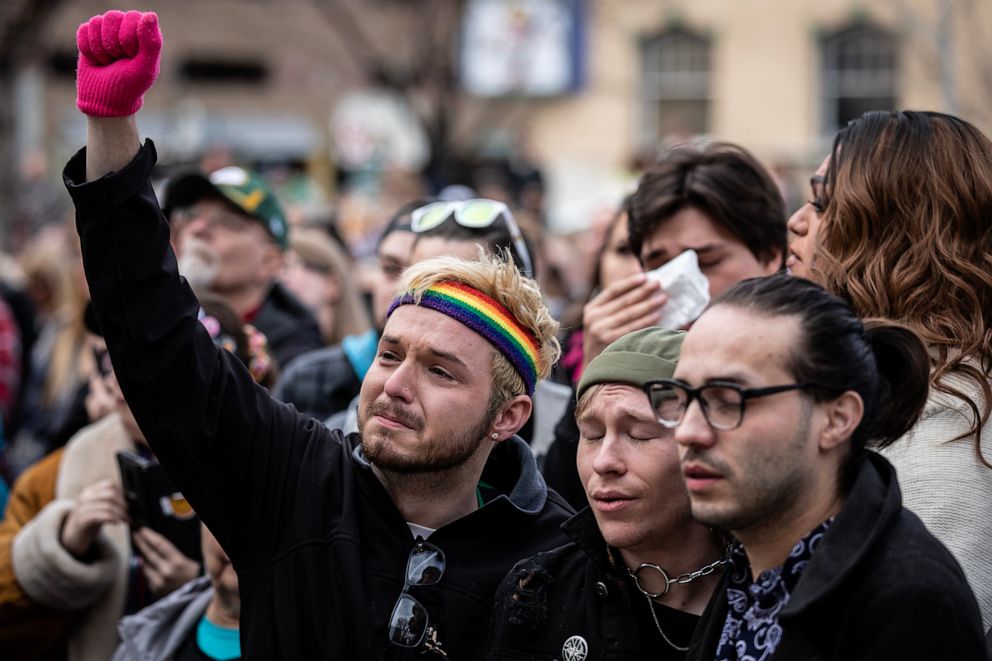 Speaking to San Diego ABC affiliate KGTV on Wednesday, Aldrich's estranged father, Aaron Brink, said that "words can't describe" how he felt when he found out that his son was the suspect in the Colorado Springs mass shooting.
"I failed him," Brink told KGTV. "If I got to go fight somebody, I'm going in there with my fists. Fight like a man, then shake hands afterward and then you're done. That's it. You don't go out there, you don't kill people,"
"My heart goes out to any victims," he added.
Brink, a San Diego-based MMA trainer and former porn star, said he regrets not being more involved in his son's life and still loves him.
"I hope that things work out," he said. "I love you unconditionally. You're my son,"
ABC News' Morgan Winsor, Matt Gutman, Stephanie Wash, Robert Zepeda and Ashley Riegle contributed to this report.