A U.S. Army veteran who stopped a suspected gunman from fatally shooting more people at an LGBTQ nightclub in Colorado said he'd never been in a situation like that before, despite his years in the military -- but that everyone in the club that night was in the foxhole together.
Richard Fierro spoke about confronting and stopping a suspected gunman after he allegedly killed five people at Club Q in Colorado Springs on Saturday night.
"So everyone in there has their own individual heroic stories," he told ABC News' Matt Gutman. "And why I say combat is because that's the same thing when you go downrange. Everyone has a part to play."
"And in that moment, everybody in that club was in your foxhole," Gutman said.
"Everybody. And we were all diving for cover," Fierro said. "You take cover and then you respond. You respond to action."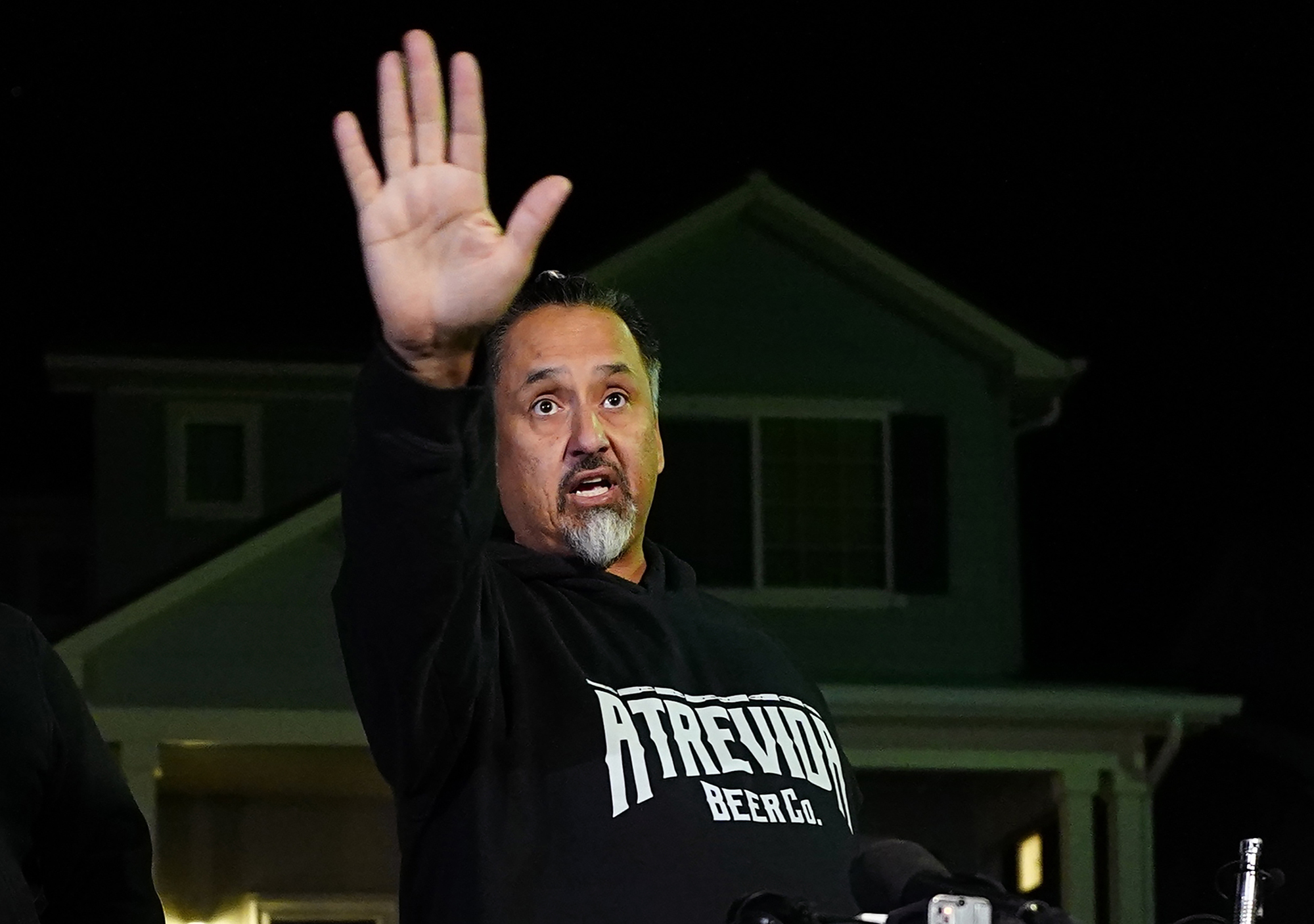 Fierro said he yanked the suspected gunman, Anderson Lee Aldrich, from behind and he fell backward.
A source who watched the surveillance video from the club told ABC News that Fierro was on top of the suspect for about three minutes.
Fierro said he didn't want to see the video, but that he told his daughter they might see "something we don't want to see" if the case goes to trial.
"But I told her, we're going to court. If this kid goes to trial, we're going to see something we don't want to see. But we're going to do it because that's what you do as an American. You serve and you do your thing for justice. That's it. You just do," he said.
Many have called Fierro a hero, a description he rejects, as he mourns the people who died, including his daughter's boyfriend.
"There are five people I could not help, one of which was family to me," he said during a press conference outside his home Monday night.
"I feel no joy. That guy is still alive... and my family is not," he said, referring to his daughter's boyfriend, Raymond Green Vance, who was among those killed in the shooting.
In addition to the five people killed, 17 others were injured from gunshot wounds after the 22-year-old suspect allegedly began shooting as soon as he walked into Club Q, according to police. The suspect is being held without bond on 10 "arrest only" charges: five counts of first-degree murder and five counts of committing a bias-motivated crime causing bodily injury, according to online court records. However, those charges "are only preliminary," according to Colorado's Fourth Judicial District Attorney Michael Allen.
Fierro and another person, Thomas James, a Navy veteran -- both of whom authorities have described as heroes -- confronted Aldrich and fought with him, ultimately saving more lives, police said.
"You know, nobody here is like the Hulk," Fierro told ABC News on Tuesday. "I'm not here to do damage, you know, and do all that stuff. I'm just a dude who's trying to keep his kid alive. And apparently at that moment, me, Thomas, ... we're all trying to keep everybody alive. And they were all trying to keep each other alive. So [...] everybody was a hero that day."
Fierro told reporters that he and his family were at the club to watch his daughter's junior prom date perform in the drag show that night.
He said he grabbed the suspect's pistol from him and began "wailing" on him and beating him while telling a bystander to get the gun the suspect had been using away. The suspect used a legally purchased assault-style rifle, according to officials briefed on the investigation
"I told him I was going to kill him," Fierro said. He asked another person to kick the suspect, adding that she stomped the suspect's face with her high heel. Club owner Nic Grzecka told ABC News that other person was a transgender woman.
After police arrived, Fierro began helping the victims, putting tourniquets and battle dressings on those who were wounded, he told ABC News.
A bloodied Fierro was detained by police in a cruiser for more than an hour because they initially believed he was the suspect. He said he was not happy about being held at the time, but that he understands why law enforcement took that step.
"So I'm a dude [who] is running around. You got to get out of the way so we can get people in here. Be safe. So I understand that initially, I was very angry, but at the end of the day, I understand it," he told ABC News. "Same thing I would have done if I was in."
Fierro said it was an "honor" to receive a call from President Joe Biden after the shooting.
"And I don't care who the president would have been. It's an honor to speak to a president," he said. "My whole life, I would have never thought I'd speak to the president."
While Fierro may reject the hero label, others have praised his "heroic actions."
"Richard actually was able to take a handgun from the waist of the suspect and use that to hit him and immobilize him and disable him," Colorado Springs Mayor John Suthers told ABC News Live Prime's Linsey Davis on Monday. "And in doing that, I am absolutely confident, and I think most people so familiar with this incident are confident that he saved numerous lives."
Fierro said his daughter was injured in the incident and is recovering from her injuries while grieving for Vance.
Fierro was in the U.S. Army for 14 years and served in Iraq three times and Afghanistan once, Army spokesperson Sgt. Pablo Saez told ABC News.
Fierro said he left the military because he was "physically broken," but that his Army training kicked in when the shooting began.
"I got into [a] mode and I needed to save my family," he said Monday. "It's the reflex. Go to the fight. Stop the action. Stop the activity. Don't let no one get hurt."
ABC News' Stephanie Wash, Robert Zepeda, Ashley Riegel, Marilyn Heck, Luis Martinez and Nick Kerr contributed to this report.