A bizarre attempted credit union robbery involving a man being strapped with a possible explosive was foiled in Connecticut this morning, authorities say.
Police in New Britain have assured the public the "threat is over," but the suspects remain at large, according to law enforcement sources.
The mayor and police chief held a news conference this afternoon but left many questions unanswered because the investigation is ongoing.
The situation unfolded in the early hours today when two men allegedly broke into a home in Bristol, strapped an elderly woman to a bed with a device they claimed was explosive.
Police say the two suspects then strapped another such device to the woman's son, who lived with her and who worked as a manager of the local Achieve Financial Credit Union. The suspects then forced the man to drive to the credit union, threatening to explode the device under his mother's bed if he did not comply.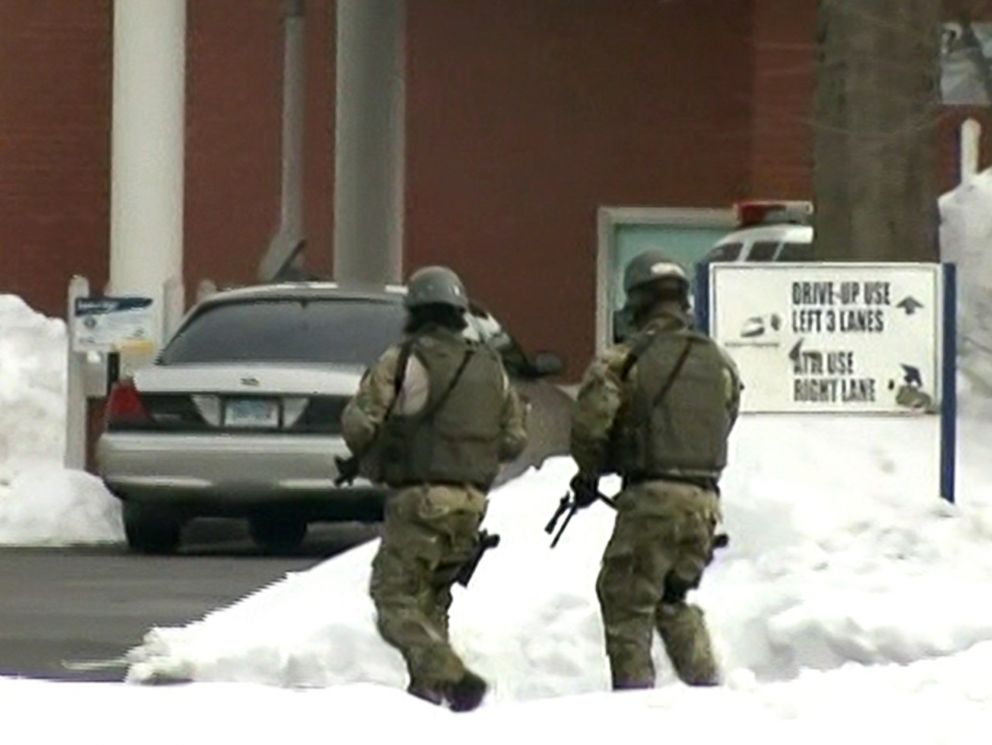 At some point during the drive, sources told ABC News, the man was able to call his colleagues and alert them to what was happening. They, in turn, were able to call police, who swarmed the credit union before his arrival. The suspects escaped and the man and is mother were uninjured, officials said.
The devices were removed from them and the scenes were secured by officials. It was unclear whether the devices were actually explosives, and the FBI was running more tests.
New Britain Mayor Erin Stewart called it a "very fluid and dangerous situation" but thanked the various law enforcement agencies involved, as well as residents who were called to evacuate their homes.
Police have confirmed to ABC News that they are actively searching for "more than one" suspect.