— -- When Dr. Muhamad Moustafa got wind of a possible executive order on immigration, he said he called his wife and told her to change her flight and come back to Virginia as soon as possible. The two of them are Syrian nationals, living in the U.S. on J-1 and J-2 visas as he finishes a medical residency program in Washington, D.C.
His wife, Nabila Moustafa, traveled to Qatar a few weeks ago to visit her mother, who they said recently finished breast cancer treatment.
Nabila Moustafa changed her flight and flew back to the U.S. as soon as she could, but it was too late: The details of the new executive order came out in the news while she was still in the air.
She landed at Dulles International Airport around 8:00 a.m. Saturday. She was one of the first travelers to arrive at the airport that morning with a passport from one of the seven countries listed on President Donald Trump's new order and she said she was met with confused border agents still trying to make sense of the action.
The agents pulled her aside in the customs line, Nabila Moustafa told ABC News in a written exchange about her ordeal. They told her visa was no longer valid. J-1 visas are issued for people in exchange program, normally advanced education programs, such as in Muhamad Moustafa's case. He came to the U.S. in 2013 to finish medical school and training. J-2 visas are issued for spouses or dependents of a J-1 visa holder.
"He replied saying, 'You are not American and you cannot say 'my visa,' because this visa belongs to the United States, not to you," she wrote to ABC News about the agents.
"Seriously? Talking about semantics and syntax?! That was all I could think about," she continued.
Nabila Moustafa said she argued with them, trying to get them to allow her to see her husband or a lawyer. She said she was not granted either and was even denied a translator.
Dulles did not immediately respond to ABC News' request for comment on the interaction that Nabila Moustafa described.
"I was filled with dread and fear, not knowing what is going to happen to me, nor knowing what to do or think about any of this. I was at loss and seconds away from breaking down, and I desperately needed just one person to make sense of all this," she said.
"I wanted to see my husband so badly and I asked them to just give me that simple thing, but they outright refused. I had been keeping myself together throughout the whole procedure, but I could not do that any longer. The tears I was holding came rushing."
Nabila Moustafa said she was deported within two hours of landing, put on a flight back to Doha, Qatar. She said she was beside herself and had to be treated with a ventilator before takeoff.
"She was crying, she was, like, short of breath ... I was so depressed, so anxious, I didn't know what to do," Muhamad Moustafa told ABC News. He was at the airport waiting to pick his wife up when he learned that she would be deported.
"It's really scary, because, like, I can't leave [the U.S.]," he continued. "If I leave, I won't be able to come back and I have training here. This is my future. I tried to build my future."
He added: "I have no place to go right now. The only place I can go to is Syria, and it's terrible there now."
During an interview Monday with MSNBC, White House adviser Stephen Miller defended the rollout of the executive order, saying that criticisms have been mostly "false and in some cases ... hysterical."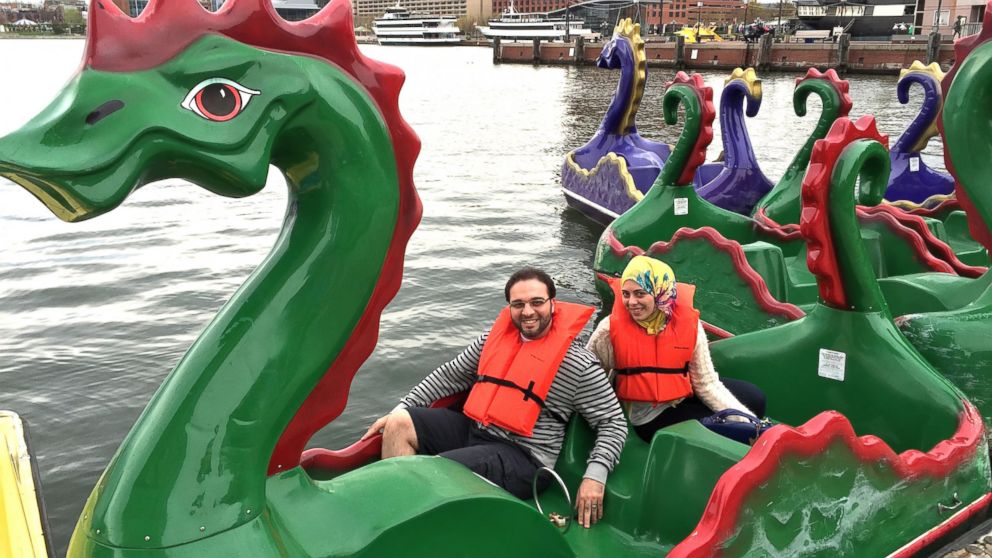 Rob Robertson, an immigration attorney in Washington, D.C., who is representing a friend of Muhamad Moustafa's in a similar situation, said he fears Nabila Moustafa's options are limited. It will likely be hard for her to board a plane back to the U.S. in the next 90 days, the specific time frame of the executive order.
Robertson's client, Dr. Said Hajouli, is a student in the same residency program as Muhamad Moustafa. The two practice internal medicine. His wife, who also has a current J-2 visa, was in in Turkey visiting her family when rumors of the order first surfaced. She, too, boarded a plane back to the U.S. quickly.
But her story ended differently. Hajouli's wife landed at Dulles eleven hours after Nabila Moustafa at 7 p.m. Saturday night. She was detained that evening but eventually released to her husband. (Hajouli asked that ABC News not publish his wife's name.)
By the time Hajouli's wife landed, there were protesters at Dulles and other airports across the country, and federal judges had sprung into action, issuing last-minute rulings blocking parts of Trump's order.
Robertson advised her to formally seek asylum. It was a risky move, but it worked ... for now.
Normally, asylum-seekers are sent to detention centers, and Hajouli feared for hours that that may be the case for his wife. He said he did not make the decision to go that route lightly.
"Whether she goes back to Turkey and she will be an emotionally destroyed person, or she applies for asylum and then she goes to jail, and she will come out an emotionally destroyed person," he said in an interview before his wife's plane landed.
Robertson said her outcome was likely due to a mix of factors: her visa status, the media attention and political pressure.
"It's amazing how fast immigration [officials] will respond with reason when the media watching," he said. "Press coverage really does help."
Hajouli's wife will now likely be interviewed by an asylum officer in the coming weeks, Robertson said. The officer will determine if she has a valid claim before her case is referred to an immigration judge.
Meanwhile, Muhamad and Nabila Moustafa are still processing the turn of events over the weekend and trying to decide how to move forward.
"In a short hour and 55 minutes, I was faced with a nightmare, humiliated, yelled at for no reason, and was taken away from the life I built with my husband in the place I had come to view as my home," Nabila Moustafa told ABC News from Doha. "In a short hour and 55 minutes, I was forced to leave the country with nothing but a broken heart and a lump of fear and loneliness in my chest, and panic on the outskirts of my mind."