— -- A surveillance video of a boy with a toy gun being shot by a police officer has been shown to representatives of the slain boy's family, Cleveland police said today.
The family of Tamir Rice, 12, declined the police offer to watch the video themselves, police told a news conference today.
Police said that the officer who shot Rice Saturday at a recreation center was 10 feet from the boy, but said the toy was "indistinguishable" from a real weapon. The toy gun, which a 911 caller said the boy was waving around, was an "airsoft" gun and the orange tip at the end of the gun to indicate it was a toy had been removed, police said.
"Guns are not toys, and we need to teach our kids that," Cleveland Police Chief Calvin Williams said. "Our community needs to understand that."
Police said they offered to show Rice's family surveillance video of what happened when the boy was shot. The family declined, but representatives for the family viewed the footage. That video will eventually be released to the public, police said.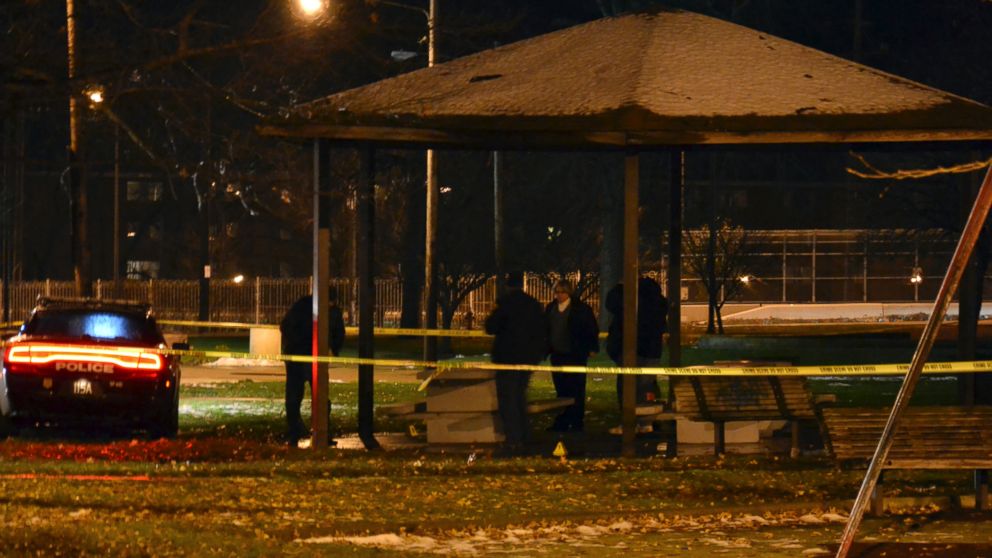 "Our concern is the family," Deputy Chief Ed Tomba said. "We've got a police officer that's also involved that is obviously very distraught over the situation."
"It's very complicated," he added.
Police said they are reviewing the video, interviewing witnesses and consulting with the medical examiner's office to process evidence as the investigation continues.
"A tragedy like this effects the entire community," Williams said. "Our officers at times are required to make critical decisions in a split-second. Unfortunately, this was one of those times."
He urged parents to teach their children that "guns are not toys," and to understand that police are "part of this community."
Cleveland Mayor Frank Jackson also spoke at the press conference, apologizing to the boy's family.
"I know there's nothing that I can say that will be adequate in terms of the pain and suffering that they're going through now," he said.
The officer who shot Rice has not yet submitted a formal statement, but was interviewed after the shooting.
Williams said he spoke to the officer last night.
"[He is] holding up pretty well but is broken up about this," Williams said, adding that the officer "didn't want to do this, but had to protect himself."