Terence Crutcher's Family Calls for National Day of Justice
Terence Crutcher's twin sister said he had just enrolled in community college.
September 21, 2016, 2:41 PM
— -- The last time Tiffany Crutcher spoke with her twin brother, Terence Crutcher, was through a text message last week, she said. He had just enrolled in classes at Tulsa Community College, and he told his sister he loved her and he was going to make her proud.
"But because of a senseless error in judgment, he won't get that chance," Tiffany Crutcher said at a news conference in New York City today.
Terence Crutcher, 40, was fatally shot by a police officer after his SUV stalled on a road in Tulsa, Oklahoma, on Friday. Dashcam video of the incident released by the Tulsa Police Department on Monday appears to show the unarmed Crutcher, who is black, with his hands in the air moments before the officer, who is white, fired her weapon.
Now the Crutcher family is calling for a National Day of Justice on Sept. 27.
Tiffany Crutcher was joined by her family's attorneys and the Rev. Al Sharpton at his National Action Network headquarters in Harlem. They called for immediate charges against the officer who shot and killed Terence Crutcher. They also called on Tulsa officials to implement mandatory body cameras for its police officers.
Police have identified Betty Shelby as the officer who fired the fatal shot. She is on administrative leave with pay.
Shelby's attorney, Scott Wood, told ABC News that she was responding to another call when she saw Terence Crutcher's SUV parked in the middle of a two-lane road. As she was looking inside the vehicle, she turned around and saw Crutcher approaching, Wood said, adding that she became concerned when Crutcher didn't respond to her repeated commands and he put his hand in his pocket.
"She is so concerned at this point, she now pulls her gun and has him at gunpoint and is giving him commands to get on knees," Wood said.
As she yelled at him repeatedly to stop, Crutcher walked toward the SUV and reached inside through the driver's side window, Wood said. That's when she fired one shot and another responding officer simultaneously discharged his Taser.
Shelby believed Crutcher was acting "strange," as though he was under the influence of drugs at the time, Wood said. She also believed Crutcher was reaching into the car to retrieve a weapon, Wood said.
"It is very rare for the police to have someone at gunpoint and totally ignores them and not do what they are told to do," Wood said. "She said the other day in her interview with homicide detectives, 'I was never so scared in my life as in that moment right then.'"
U.S. Attorney Danny C. Williams said there will be a Department of Justice civil rights investigation into the shooting, separate from one conducted by local authorities.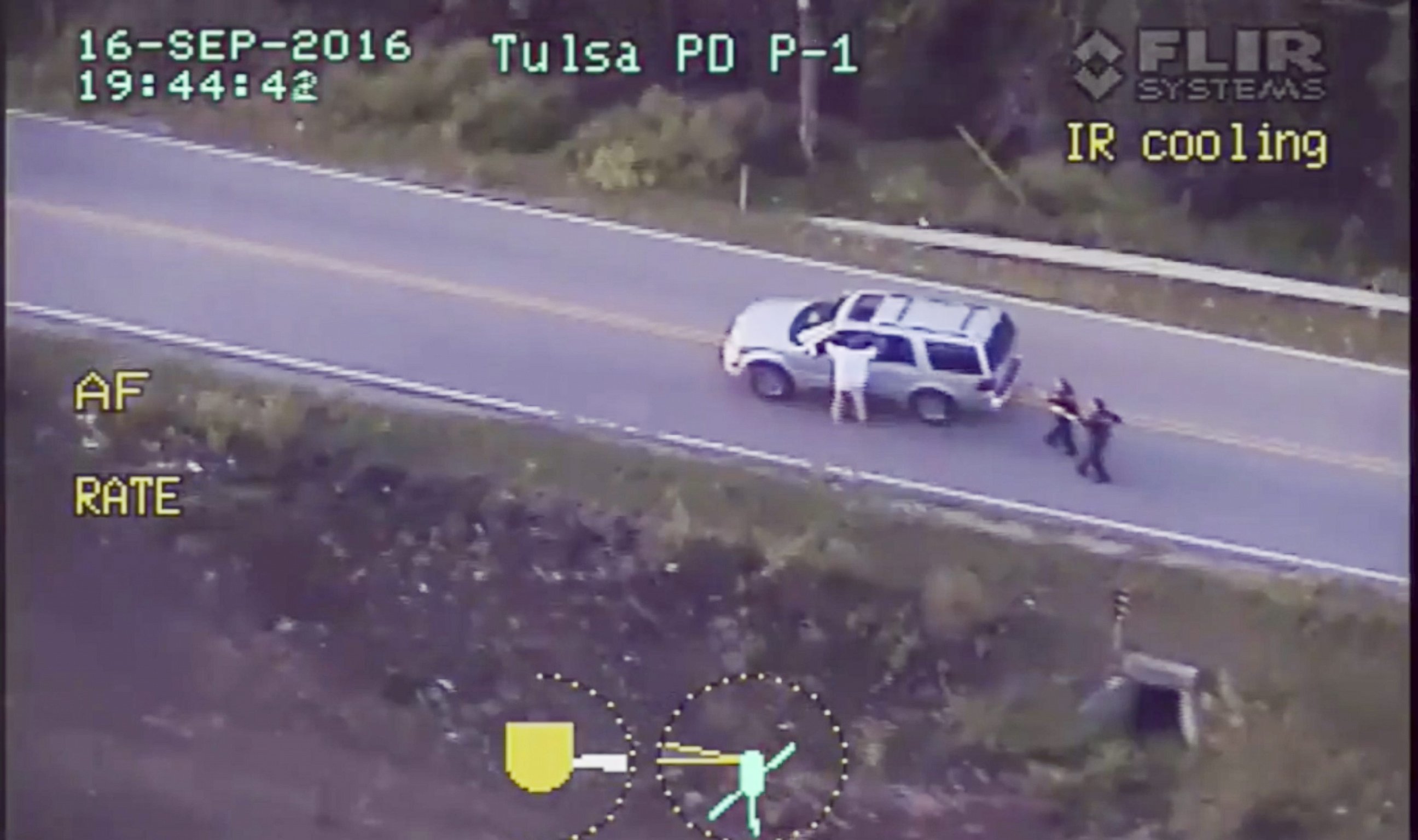 The Crutcher family, however, maintains that the video footage shows the car windows were closed.
"This is what we know. We know that there was no gun in the car. We know that he was unarmed. We know he was moving slow. We knew he didn't commit a crime," Tiffany Crutcher said at today's news conference. "We know all of those things, but my brother is dead."
She described her brother as a churchgoing family man who was excited about starting at Tulsa Community College. Before he was killed Friday, he walked around the campus and talked with professors, she said.
"They were the last to actually interact with my brother," Tiffany Crutcher said.
This is a developing news story. Please check back for updates.