— -- When Albuquerque, New Mexico, police officer Lou Golson first spotted the speeding silver SUV in the middle of the night, he figured he had a drunk driver on his hands.
"He came to a screeching halt at a green light, which is not uncommon for drunk drivers," Golson said.
After pulling over the car early on the morning of Jan. 3, Golson walked up to the driver's-side window. The SUV was stolen, he would later learn.
The body camera attached to the front of Golson's uniform caught every terrifying second of what happened next.
"He was trying to start the car. It wasn't starting and I told him to turn it off," Golson recalled. "And when I opened the driver's door he spun sideways in his seat. He had the gun in his hand and he fired."
Five rapid shots rang out, with four bullets slamming into Golson, knocking the officer to the ground. The 31-year department veteran drew his gun and fired back.
"I needed to protect myself, need to return fire, because at this point even though the door is closed he's still trying to start the vehicle," Golson said, speaking publicly about the incident for the first time to ABC News.
"My biggest fear is that he's going to get the vehicle started and run me over," he said.
The video shows Golson firing all eight shots into the side of the silver SUV. The officer tries to reload his weapon, but the fall has broken his right wrist.
"I knew something was wrong with my right hand and so I switched the gun to my left hand, and as he's getting out of the vehicle I take aim," Golson said. "The gun didn't fire, but I wasn't going to advertise the fact that my gun wasn't working properly. So I kept my gun trained on him."
Golson could only watch as the driver got out of the vehicle and ran away, leaving the officer lying in the street. The officer radioed for help, telling the dispatcher he'd been shot and giving a detailed description of the shooter. His training and experience, he said, helped keep him calm.
"If you yell and scream on the radio no one is going to understand what you just said," he said. "Just because you get shot doesn't mean you're going to die."
Fellow officers arrived a few minutes later.
"Do you see any blood?" he can be heard asking the officers.
Golson was rushed to a hospital. Nearly three weeks and two surgeries later, the married father of five is now recovering at home.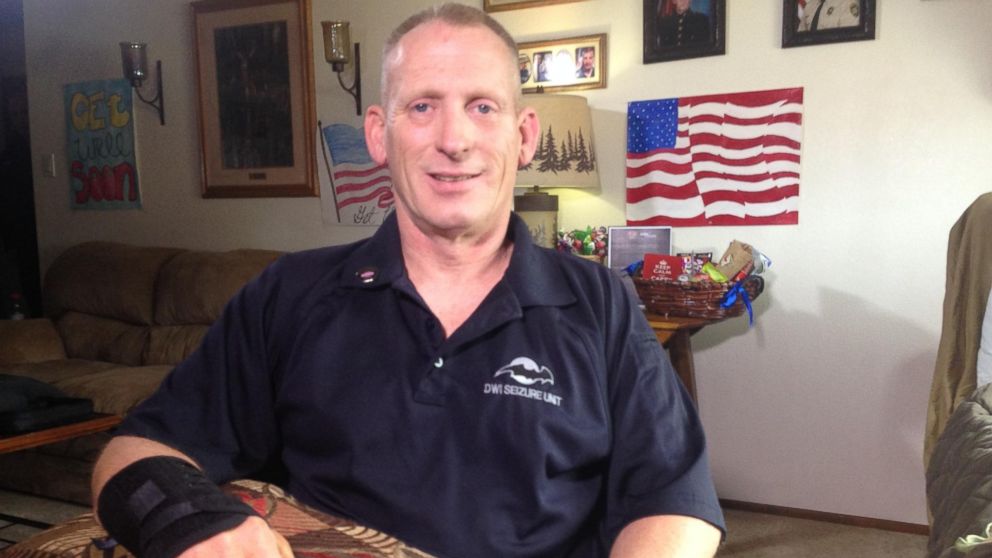 Fellow officers built a ramp at his house to make it easier to get around in a wheelchair.
One of the bullets traveled across Golson's abdomen, breaking the femur bone in his right leg. Three other rounds were stopped by his bulletproof vest.
"I'm not saying I'm superhuman by any stretch of the imagination," he said. "I just referred to my training, knew what I needed to do and did it."
His police department identification card now has a bullet hole near his picture. The card was in a uniform pocket directly over his heart.
"My family, my friends, everybody says, 'You probably ought to hang it up,'" Golson said. "I'll be back. It won't be tomorrow but I'm of the mind I'm going to heal, I'm going to be back to work."
The man accused of shooting Golson, 36-year-old Christopher Cook, has pleaded not guilty to first-degree attempted murder and allegedly stealing a car and a motorcycle.
Golson said he's not giving the man who allegedly tried to kill him much thought.
"He did what he did. I think he was wrong but I can't hold any animosity -- because then that would make me not the professional I am," Golson said.
Golson added that his recent experience hasn't made him any more worried for three of his children now following in his law enforcement footsteps. One son recently graduated from a local sheriff's academy. Another son and a daughter are applying to be police officers.
"I can't think of a more honorable career to choose. Yes, there is risk involved, but there is risk involved with crossing the street," he said.
Golson hopes his body camera video gives the public a better appreciation for what officers face every day.
"It actually captured something that the public doesn't see a lot," he said of the roughly 20-second confrontation.
"They see in real time how violent our job can turn, and how quickly it can turn," he said.