— -- The Houston area is on edge over uncertainty about a nearby chemical plant compromised by Hurricane Harvey's disastrous flooding, as a company official today declined to say definitively that the smoke emanating from burning substances on the site is nontoxic.
Authorities first notified Arkema Inc., which runs the plant, at around 2 a.m. CT today about a pair of apparent explosions heard and plumes of black smoke seen rising from the facility in Crosby, Texas, which produces organic peroxides used in a variety of products, including construction material.
At a news conference later this morning, Arkema executive Richard Rennard said the smoke and loud "popping" noises came from one of nine containers on site holding liquid organic peroxides that must remain cold, or the chemicals will become unstable and will start to break down as they warm up.
The plant lost its ability to keep the product refrigerated because of to the storm's floodwaters and power loss.
"When they decompose, they will generate heat; and when they generate heat, there's a possibility of a fire and an explosion," Rennard told reporters. "This is a very serious issue and we know that."
Rennard said officials of the French company don't believe an explosion has occurred at the plant yet, but that the "popping" is the sound of pressure building up inside the container, exceeding the safety valve and then being released.
"We believe it's just been these vapor relief valves that have been popped," he told reporters. "Certainly, these things can burn very quickly and very violently, and it would not be unusual for them to explode."
Arkema anticipates the same product stored in the other eight containers will also degrade and combust; it's just a question of when.
"We totally expect the other containers will start to do the same thing," Rennard said. "Whether it's today, tomorrow, we just don't know. ... It's not over."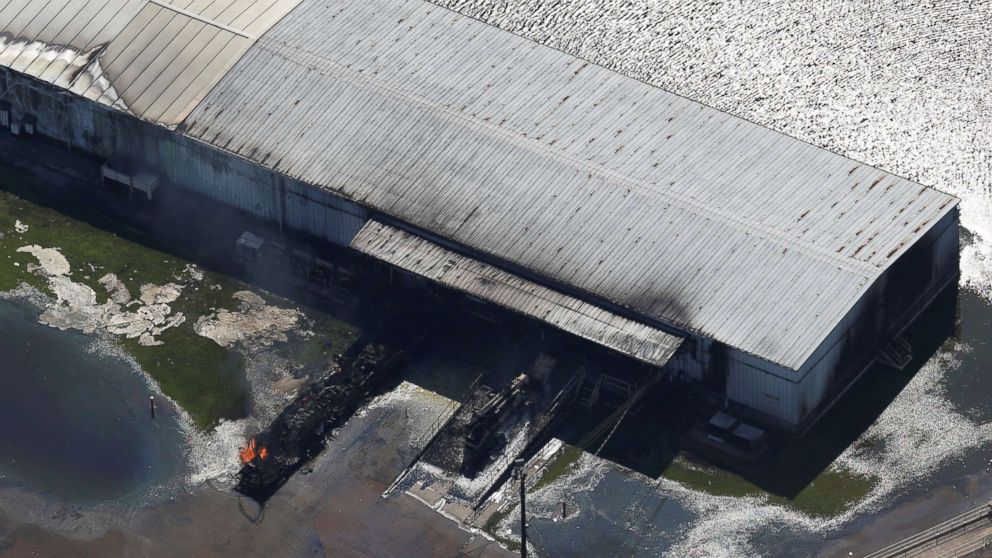 Rennard assured reporters that the containers were situated in a "remote area" of the chemical plant and that Arkema doesn't anticipate any other areas or buildings to be affected.
The smoke coming from the container will irritate the eyes, lungs and potentially skin, according to Rennard. Arkema encourages anyone who has been exposed to the smoke to contact their doctor or seek medical advice, Rennard said.
The Harris County Fire Marshal's Office has urged residents within a 1.5-mile radius of the facility, which is about 27 miles east of Houston, to evacuate the area.
The Harris County Sheriff's Office said on Twitter that 15 deputies "complaining of respiratory irritation" after monitoring the "incident" at the Arkema plant were taken to the hospital. All are "healthy and have been released, the sheriff's office said.
At this morning's news conference, Harris County Sheriff Ed Gonzalez likened the smoke emanating from the facility to "standing over a barbecue pit or something like that, when you get smoke in your eyes."
Arkema initially said it believes the smoke inhaled by the officers is a "non-toxic irritant." But when pressed repeatedly by reporters this morning on whether the fumes are definitely not toxic, Rennard wouldn't say.
"The smoke is certainly noxious," Rennard concluded, defined as harmful and capable of causing injury.
But toxicity is "a relative thing," he told reporters, citing the fire's apparent absence of plant chemicals.
"It's not a chemical release that's happening and I want to be clear about that," he added. "What we have is a fire."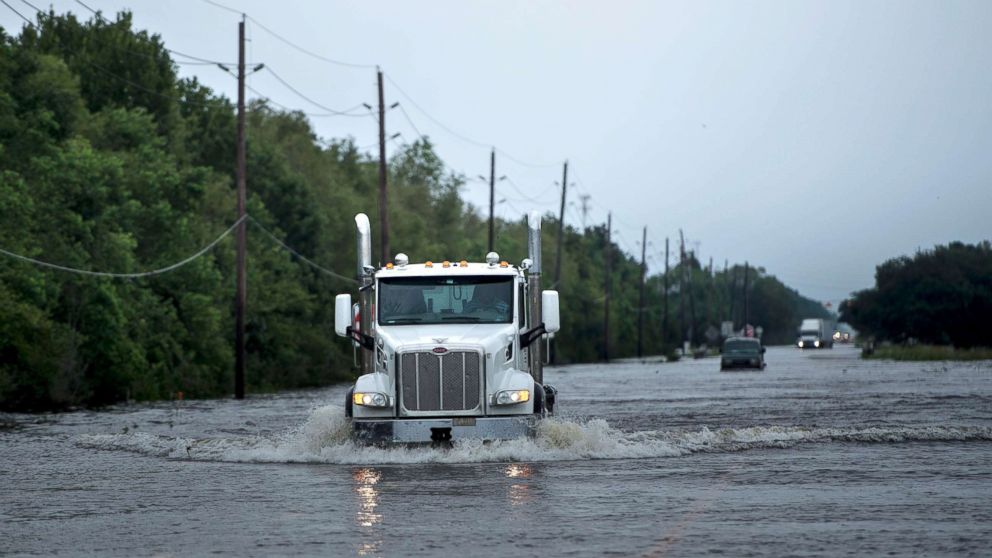 The Texas Commission on Environmental Quality, which is helping to monitor the situation at the chemical plant, said the immediate concern for nearby residents is smoke.
"Smoke is a complex mixture of pollutants that can be irritating to the eyes, nose, and throat, that can decrease lung function, and the odors can cause headaches. The smoke from the fire is especially acrid and irritating. Those with heart problems or respiratory conditions, such as asthma or emphysema, may be particularly sensitive," the agency's spokesperson, Andrea Morrow, said in a statement this morning. "Because the fire will be extinguished as soon as possible, there is minimal risk of long-term health problems."
Arkema's facility has been without power and inundated by more than 40 inches of rain as a result of Hurricane Harvey, which made initial landfall in southeastern Texas on Friday night as a Category 4 storm. It has since been downgraded to a tropical depression.
The company said it began taking several measures to safely shut down the chemical plant ahead of time, but multiple layers of protection to refrigerate the organic peroxides on site failed.
"We have an unprecedented 6 feet of water at the plant," Arkema President and CEO Rich Rowe said in comments made Wednesday. "We have lost primary power and two sources of emergency backup power.
"As a result, we have lost critical refrigeration of the materials on site that could now explode and cause a subsequent intense fire. The high water and lack of power leave us with no way to prevent it," he added. "We have evacuated our personnel for their own safety. The federal, state and local authorities were contacted a few days ago, and we are working very closely with them to manage this matter. They have ordered the surrounding community to be evacuated, too."
Rowe said there was "no way to prevent" a possible explosion at the plant.
Arkema executives today said water had started to recede slightly but they won't put anyone in harms' way to restore refrigeration measures as long as floodwater remain and chemicals are potentially decomposing on site.
"We believe the safest thing to do is to allow the other eight containers, the product in those, to degrade and burn," Rennard told reporters. "I'm not sure what more we could have done."
Arkema is continuing to work with authorities to monitor the ongoing situation at its Crosby facility.
Rep. Ted Poe, R-Texas, who represents the district that includes the chemical plant, called the situation "very dangerous."
"The worst-case scenario is that this chemical plant could explode," he told ABC News.
The U.S. Environmental Protection Agency is supporting local agencies in dealing with the situation.
"EPA has emergency response personnel on the scene and the Agency is currently reviewing data received from an aircraft that surveyed the scene early this morning. This information indicates that there are no concentrations of concern for toxic materials reported at this time," EPA Administrator Scott Pruitt said in a statement this morning. "We will consider using any authority we have to further address the situation to protect human health and the environment."
The U.S. Chemical Safety Board -- the federal agency that investigates and helps clean up chemical accidents -- also said it "is aware of the situation."
"We don't have any other information other than what we are gathering from news reports," the agency said in a statement. "We are prepared to deploy to any incident that might result from Hurricane Harvey."
ABC News' Anna Maria Gibson, Lauren Pearle, Jessica Puckett and Clayton Sandell contributed to this report.
Take part in Disney's Day of Giving: To support people impacted by Hurricane Harvey, call 1-855-999-GIVE, donate at www.RedCross.org/ABC or text "HARVEY" to 90999 to make a $10 donation.