— -- A massive fire has broken out once again at a chemical plant owned by Arkema Inc. in Crosby, Texas, that was flooded by Hurricane Harvey earlier this week.
The chemical plant has lost power and refrigeration capabilities due to Harvey and its aftermath, causing organic peroxides stored in containers at the facility to become unstable and break down as they are exposed to the Texas heat.
Around 5:05 p.m. local time, workers at the Harris County Emergency Operation Center observed "multiple dark plumes of smoke" coming from the plant, Arkema said in a statement.
Today's incident occurred as a result of "extremely high water and power loss" in the aftermath of the storm, Arkema said.
Local officials are maintaining a 1.5-mile perimeter around the plant, Arkema said, urging people not to return to the area in the evacuation zone until emergency response authorities announce that it is safe to do so.
"We continue to work closely with public officials to manage the implications of this situation, and have communicated with the public the potential for product to explode and cause an intense fire," Arkema said. "Organic peroxides are extremely flammable and, as agreed with public officials, the best course of action is to let the fire burn itself out."
A fire ignited at the facility Thursday, prompting the U.S. Chemical Safety and Hazard Investigation Board to announce it was launching an investigation. Arkema announced Thursday afternoon that the flames from that blaze had burned out.
Gulf Coast residents struggle to recover after Hurricane Harvey
Members of First Baptist Church of Loeb chain saw pews and clean up the church on U.S. 69 that had eight feet of water in it due to Hurricane Harvey flooding in Lumberton, Texas, Sept. 7, 2017.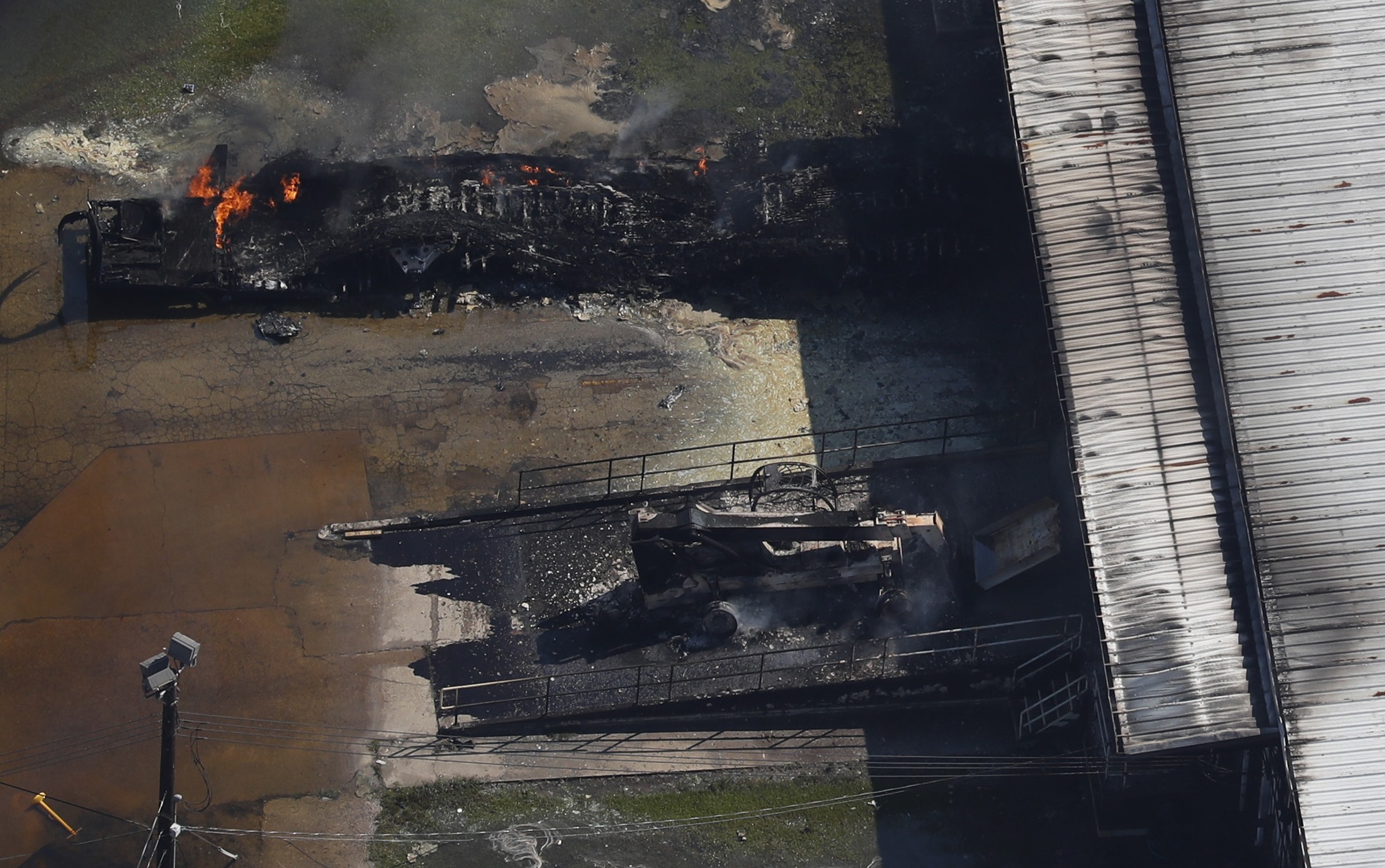 In a conference call with reporters earlier Friday, Arkema President and CEO Rich Rowe said there were currently no reports of additional fires at the plant. But he said eight other containers on site could burn and combust in the coming hours and days. It's the "only plausible solution," Rowe said.
The containers were situated in a remote area of the facility, which produces organic peroxides used in a variety of products, including construction material. Arkema doesn't anticipate any other areas or buildings to be affected.
The Harris County Fire Marshal's Office has urged residents within a 1.5-mile radius of the chemical plant, which is about 27 miles east of Houston, to evacuate the area.
"The only recourse is to let the eight containers burn out," Rowe told reporters. "It's 500,000 pounds of material; let that material burn out."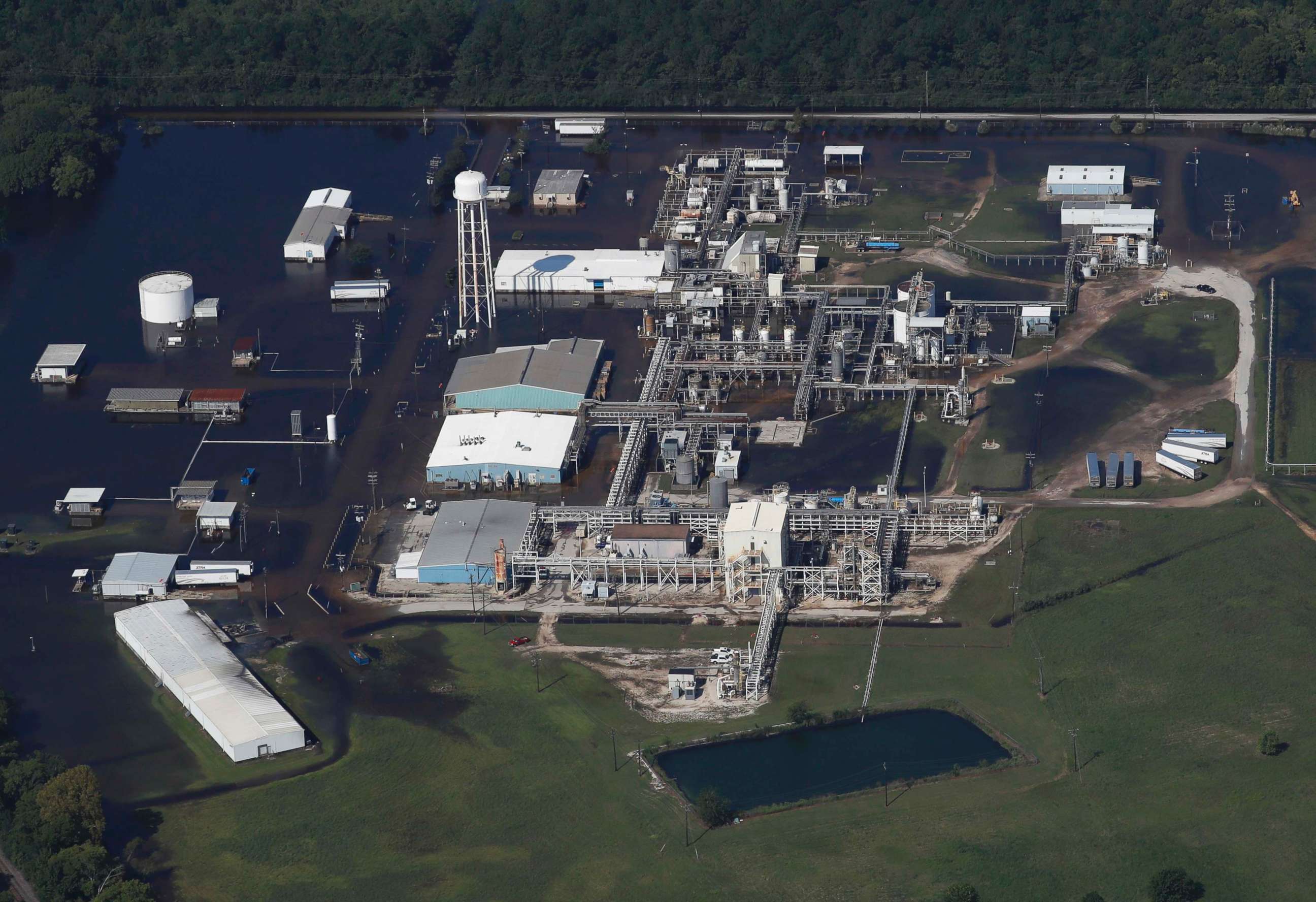 There wasn't a clear timeline on how long it'll take for the other containers to catch fire, Rowe said, but added it might happen as early as this evening. Residents should not return to the evacuated area until authorities give the all clear, he added.
Arkema's facility has been inundated by more than 40 inches of rain as a result of Hurricane Harvey and its remnants, which made initial landfall in southeastern Texas on Friday night as a Category 4 storm. The company said it began taking several measures to safely shut down the chemical plant ahead of time, but multiple layers of protection to refrigerate the organic peroxides on site failed.
"Clearly that wasn't enough," Rowe said. "By the time we expected this to be a once-in-a-lifetime event, we thought the right strategy was to leave the materials on site."
He said the Crosby facility has never had its critical infrastructure, including backup measures, compromised and that this is the "worst-case scenario."
Plumes of black smoke were seen rising from an area of the facility where flames bellowed in the early morning hours of Thursday.
"It's not a chemical release that's happening and I want to be clear about that," Arkema executive Richard Rennard said at a press conference Thursday. "What we have is a fire."
There were also reports of explosions at the chemical plant. Arkema is still unsure whether the noise was, in fact, an explosion or pressure building up inside a container, exceeding the safety valve and then being released.
"We haven't figured out what we're hearing," Rowe told reporters Friday.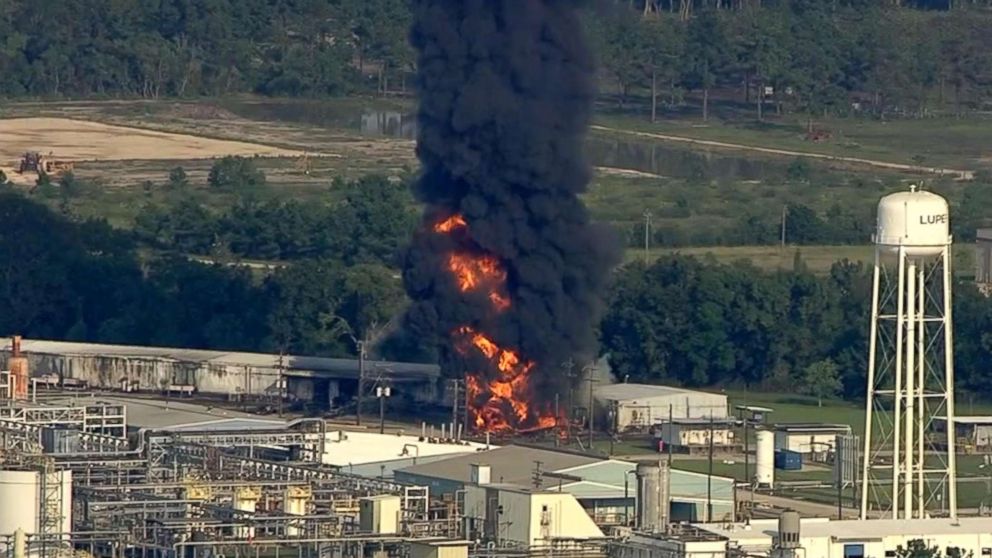 Rowe said any smoke coming from the containers will irritate the eyes, nose and lungs, and may cause nausea or drowsiness, the same health effects "as you would [have] with any other smoke."
Arkema is encouraging people to avoid the smoke and to seek medical attention if they are exposed.
The Harris County Sheriff's Office on Thursday wrote on Twitter that 15 deputies "complaining of respiratory irritation" after monitoring the "incident" at the Arkema plant were taken to the hospital. All are "healthy and have been released, the sheriff's office said. In addition, three EMS first responders were sent to the hospital as well, ABC Houston station KTRK reported. All three were also released.
At a news conference Thursday morning, Harris County Sheriff Ed Gonzalez likened the smoke emanating from the facility to "standing over a barbecue pit or something like that, when you get smoke in your eyes."
Some of the first responders exposed to the smoke are still being monitored, Rowe told reporters Friday.
Arkema initially said it believes the smoke inhaled by the officers is a "non-toxic irritant." At the press conference Thursday, Arkema executives said the smoke from the burning substance is "noxious" but would not respond to questions as to whether the smoke was toxic.
The Environmental Protection Agency said in a statement Thursday night that the best course of action was to allow the containers holding organic peroxides to burn out instead of putting emergency responders in harm's way. The agency noted that its aerial surveillance aircraft did not detect toxic concentrations of chemicals at the plant.
"Following this fire, EPA sent aerial surveillance aircraft to test resulting smoke and did ground-level air quality monitoring," according to a statement from the agency. "EPA's plane instrumentation is capable of measuring 78 different chemicals, including peroxides. Neither testing methods found toxic concentration levels in areas away from the evacuated facility.
"We don't have any other information other than what we are gathering from news reports," the agency said. "We are prepared to deploy to any incident that might result from Hurricane Harvey."
In the telephone conference with reporters Friday, Rowe described Hurricane Harvey and its aftermath as an "unprecedented, unpredictable event."
Rowe said the floodwaters have finally begun to recede from the Crosby facility and Arkema is continuing to work with authorities to monitor the "ongoing" and "active" situation there.
ABC News' David Kerley and Lauren Pearle contributed to this report.