— -- At least 26 people were killed and 20 others were injured when a gunman stormed a church in rural Texas with a rifle this morning, Wilson County Sheriff Joe Tackitt and the Texas Department of Public Safety said.
Victims' ages range from 5 to 72, authorities said. Texas Gov. Greg Abbott called today's shooting in Sutherland Springs, about 40 miles southeast of San Antonio, the largest mass shooting in Texas history.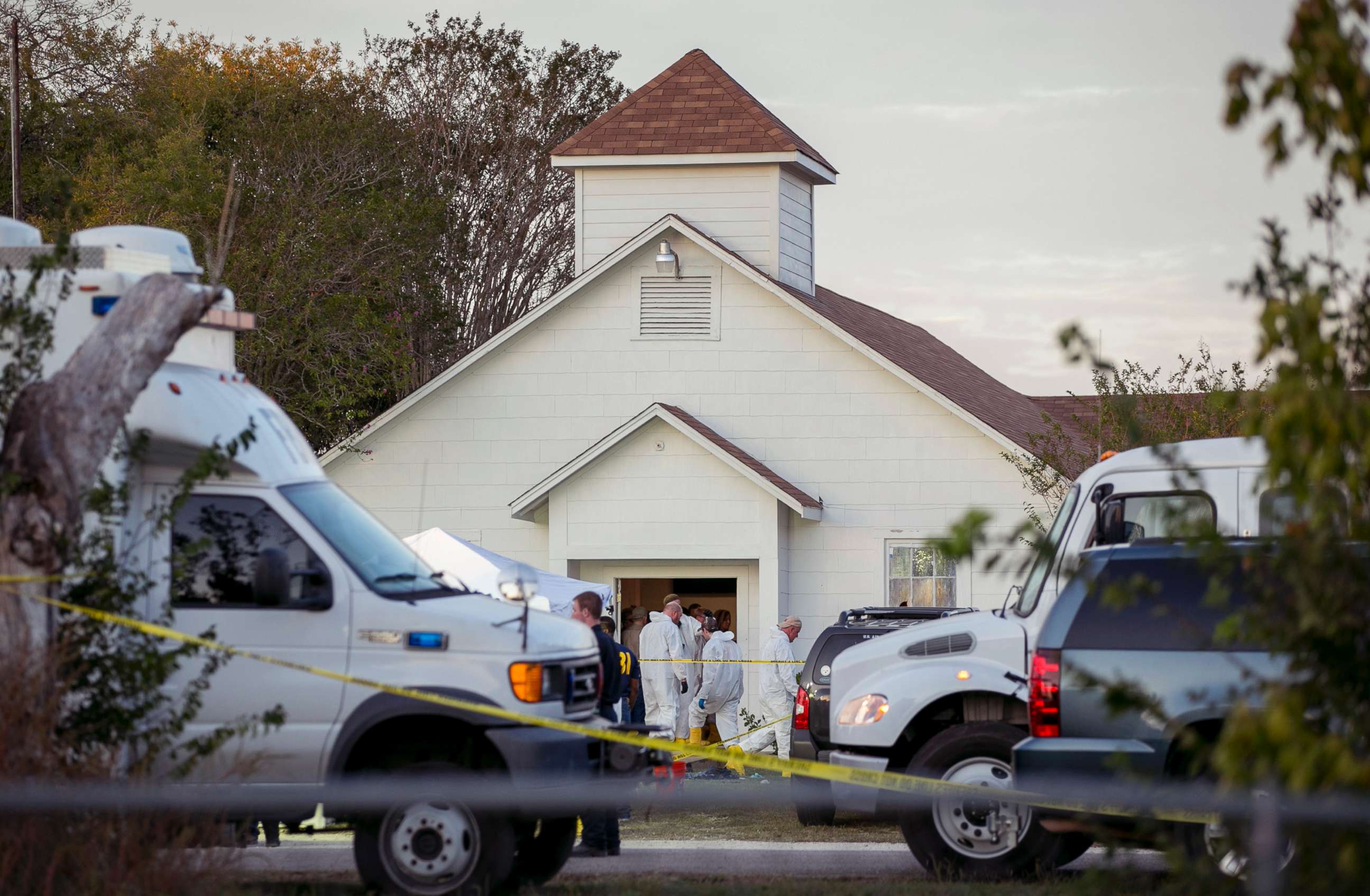 The alleged shooter, a 26-year-old man, is also dead after the massacre at First Baptist Church, bringing the total number of fatalities to 27, authorities said.
Here's what we know about the shooting:
Tragedy at church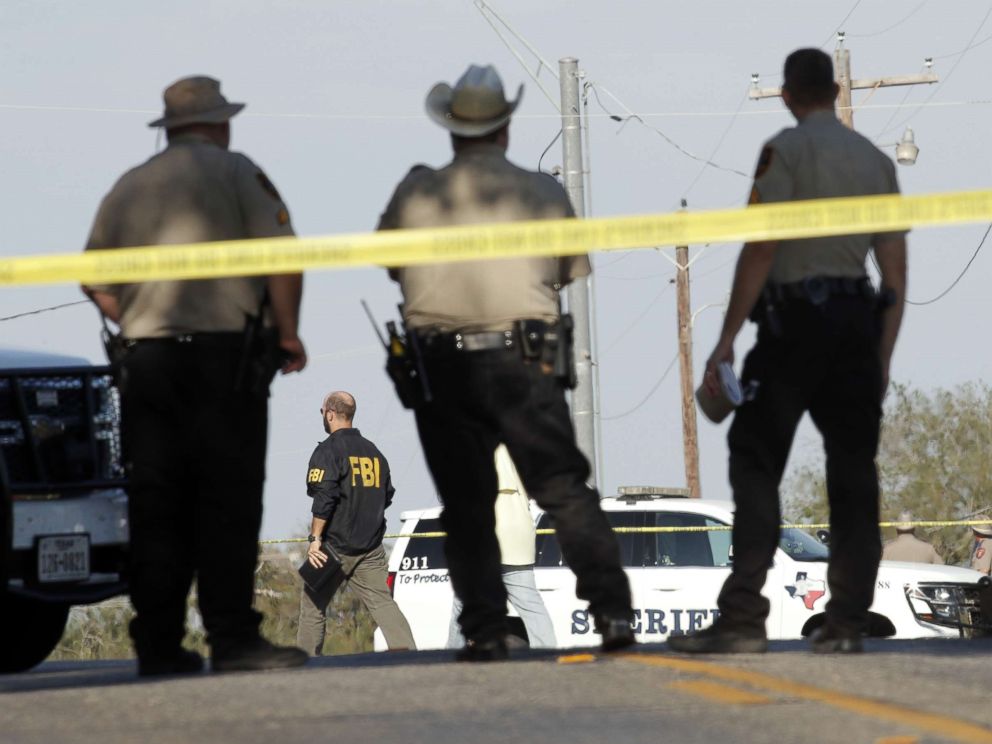 The attack began at about 11:20 a.m., after a suspect was seen at a Valero gas station in Sutherland Springs, dressed in all black, the Department of Public Safety said. The suspect crossed the street to the church, got out of his vehicle and began firing at the church, authorities said.
The suspect then moved to the right side of the church and continued to fire, before entering the church and shooting more, authorities said.
Texas church shooting
Community members gather for a vigil across the street from the First Baptist Church in Sutherland Springs where a gunman killed 26, according to police, who have included an unborn child in the death count, Nov. 5, 2017.
Courtney Sacco/Caller-Times via USA Today Network
As the suspect exited the church, a local resident grabbed his rifle and engaged the suspect, after which he dropped his assault-type rifle and fled, authorities said.
A citizen pursued the suspect, authorities said.
The suspect, who fled in a car, crashed and was later found dead in his vehicle in Guadalupe County, according to the sheriff and the Department of Public Safety. It's unclear whether he died from a self-inflicted gunshot wound or whether he was shot by another person, officials said at a news conference this afternoon at Stockdale City Hall, near the church.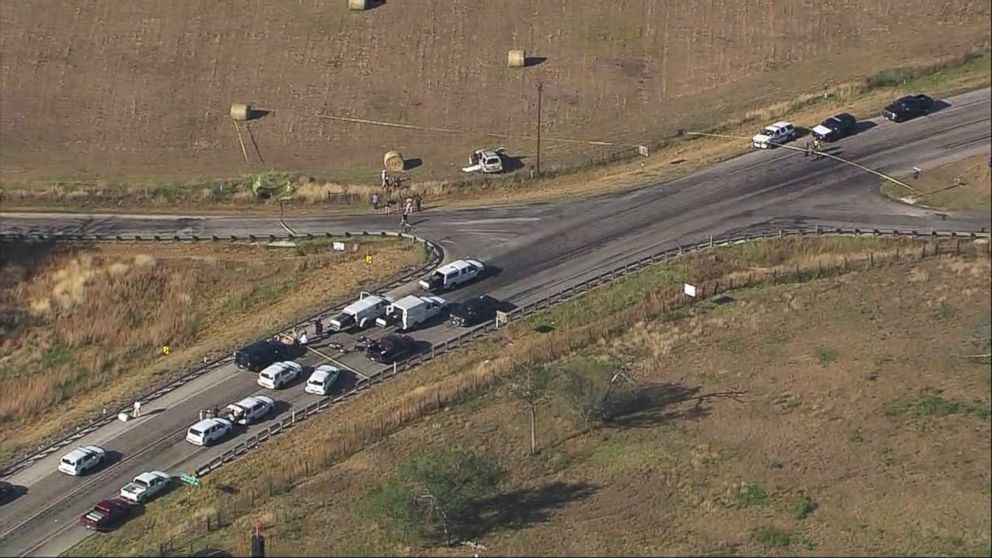 Multiple weapons were found in the vehicle, authorities said, adding that the suspect had tactical-type gear and was wearing a ballistic vest.
The threat is believed to be over, Wilson County District Attorney Audrey Gossett said.
Authorities did not discuss a motive at this afternoon's news conference.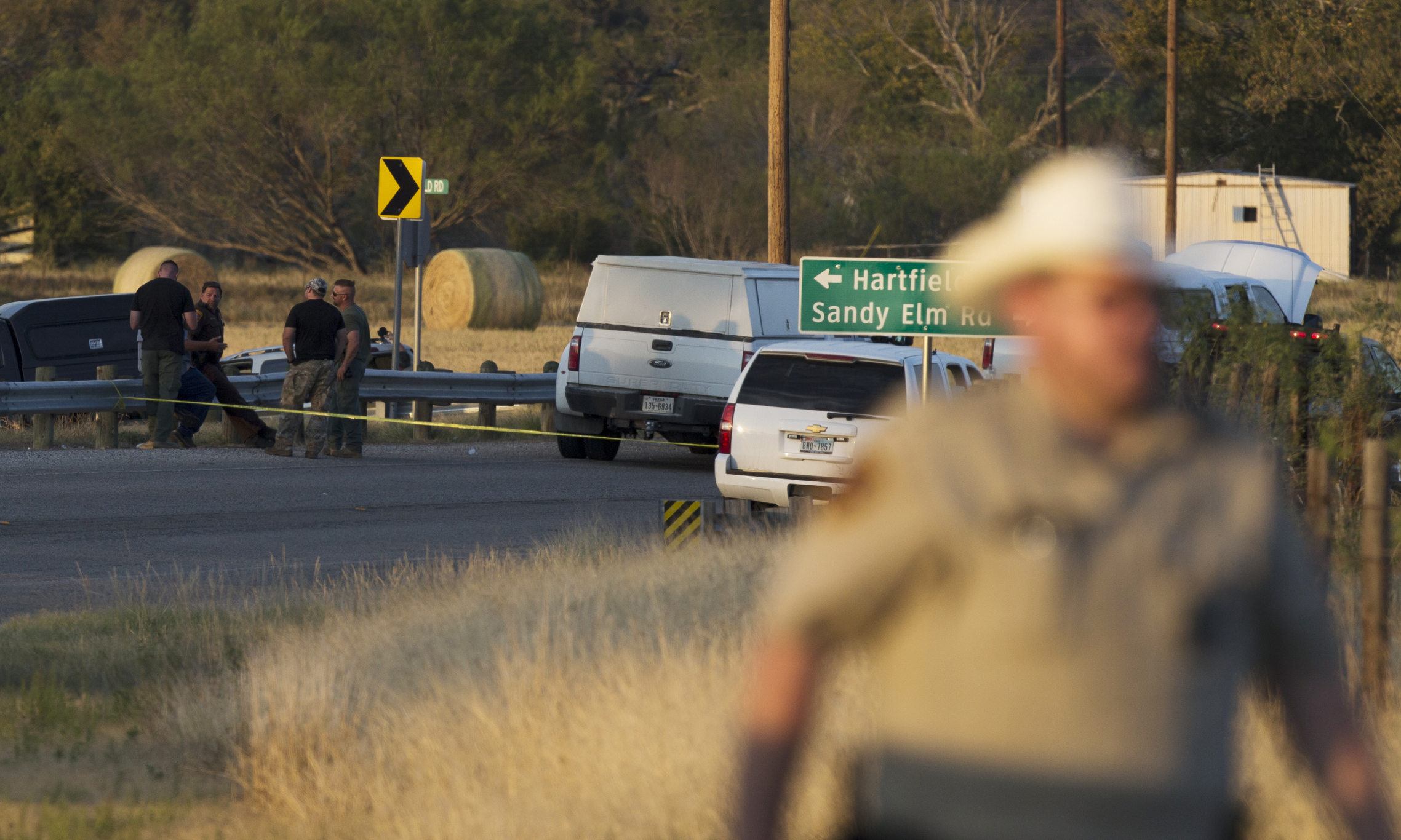 14-year-old girl among the victims
Among those killed was a 14-year-old girl named Annabelle Renee Pomeroy, according to her father, Frank Pomeroy, who is a pastor at the church.
Annabelle "was one very beautiful, special child," Pomeroy told ABC News by phone.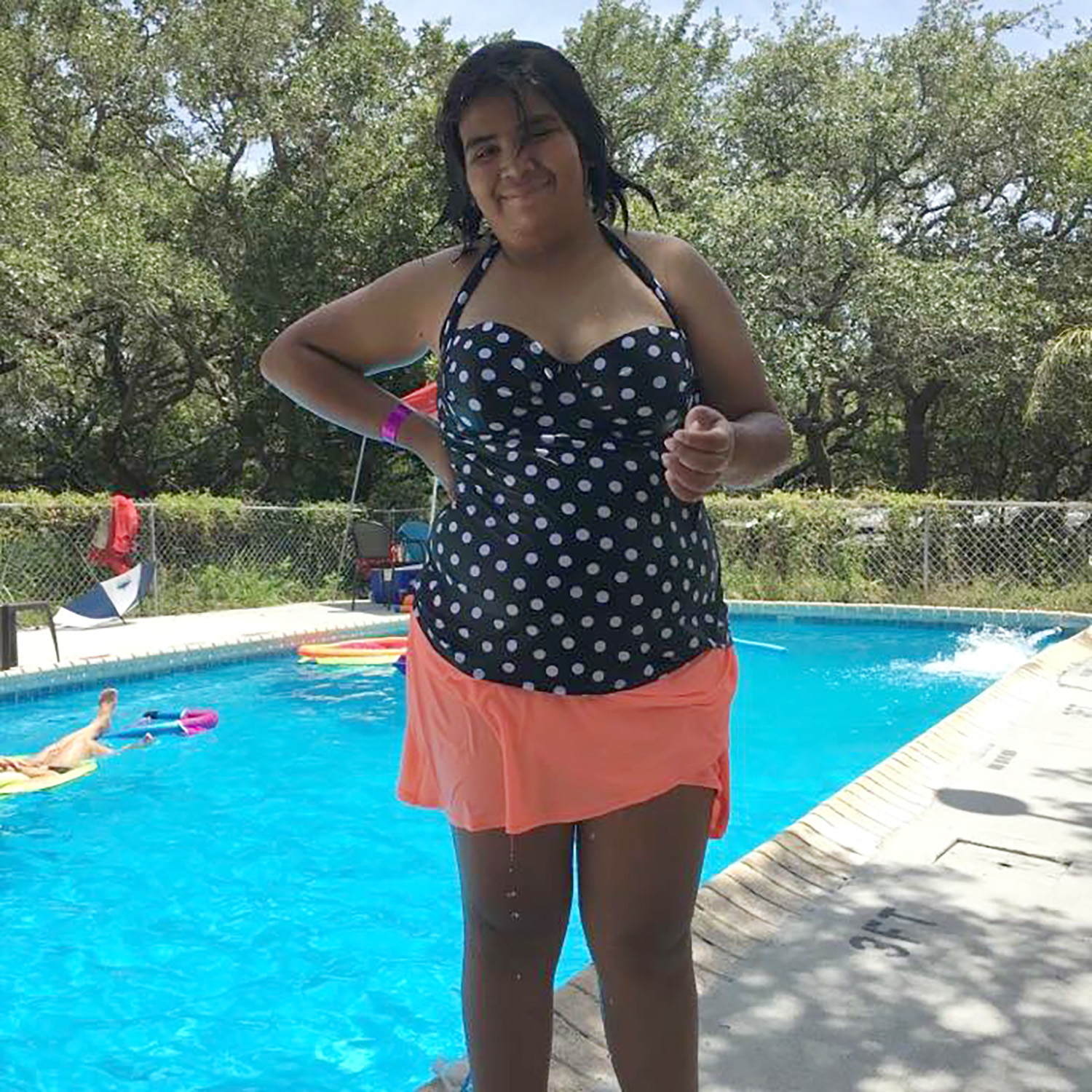 Pomeroy said he was in Oklahoma this morning, a rare weekend that he wasn't at the church.
The other victims are all close friends of his, he said.
Last Sunday, Pomeroy delivered a sermon at the church, encouraging parishioners to "lean on the Lord," even when circumstances don't make sense.
"Trust in the Lord with all your heart and do not rely, or lean, on your own understanding," he said. "You see God's understanding is far greater and there may be things that are taking place that you don't understand but you still need to do what God's calling you to do."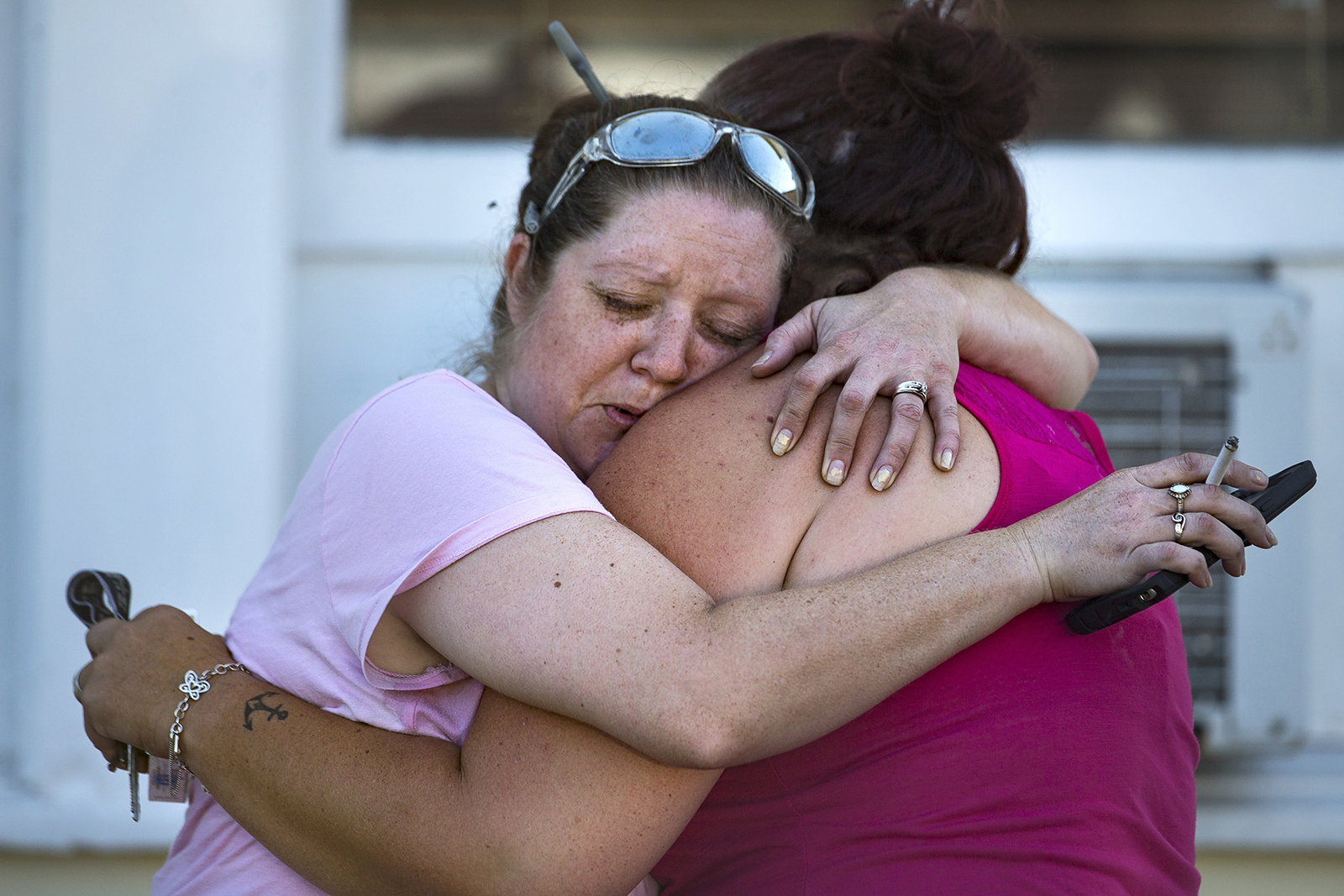 'We heard several shots and we all started running'
A woman who said she works at a gas station across the street from the church told ABC News she heard rapid gunfire around 11:15 a.m.
Congregants fled the church and ran to the station cowering for cover, she said.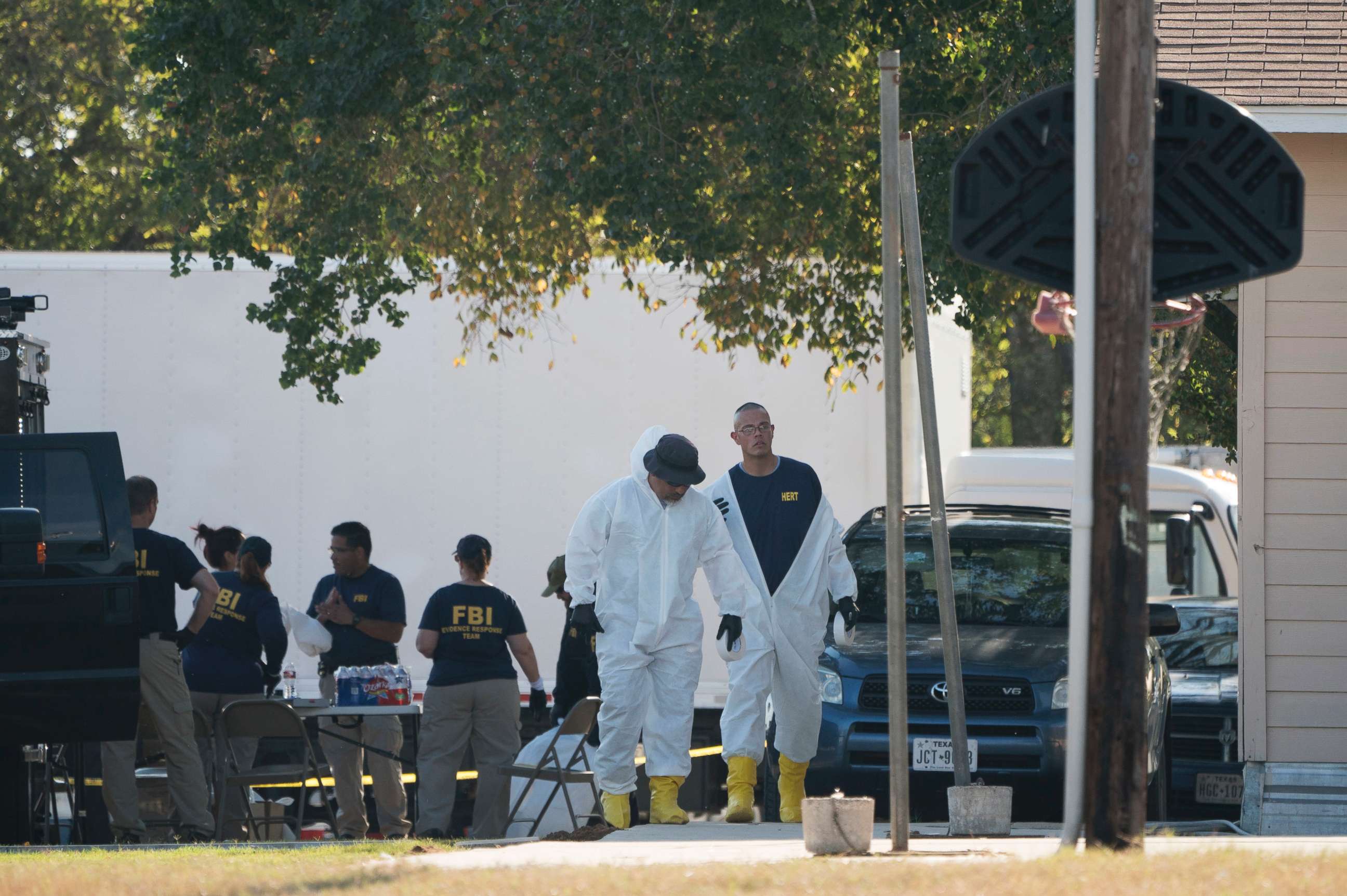 "We heard several shots and we all started running inside the store," said the woman, 49, though but declined to give her name.
"It lasted about 15 seconds," she said. "I yelled, 'Get down, get inside,' and we all went into hiding."
Within minutes of the gunfire, emergency personnel arrived at the scene, she said.
A church turns into a crime scene
Police formed a perimeter around the First Baptist Church and flooded its grounds with emergency and police vehicles, according to ABC San Antonio affiliate KSAT-TV. Agents from the FBI and the federal Bureau of Alcohol, Tobacco, Firearms and Explosives have responded to the scene.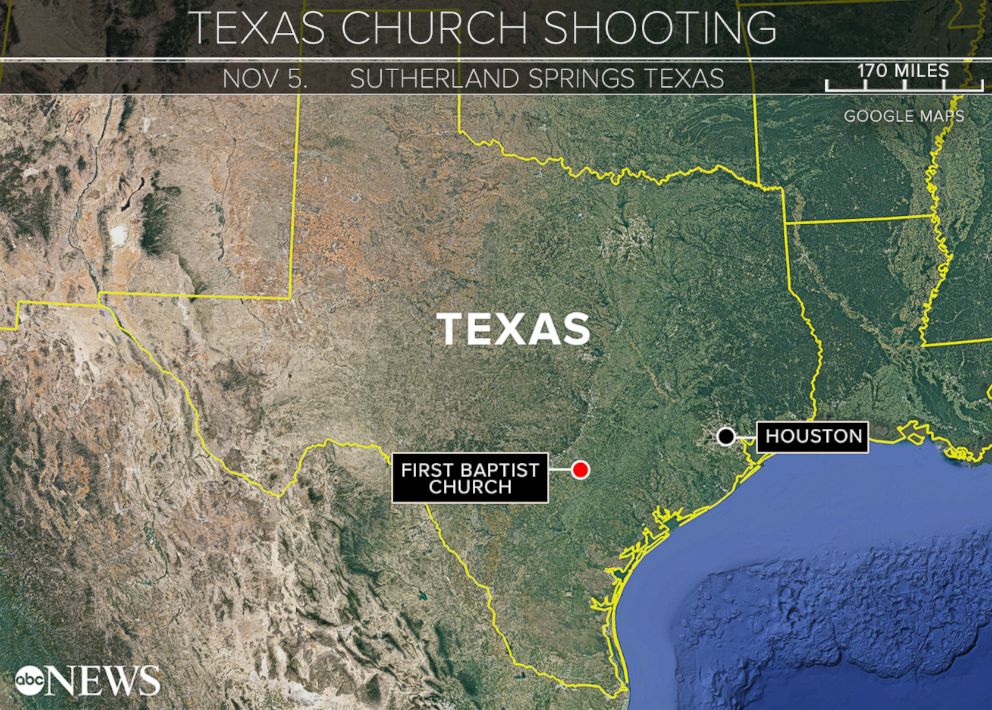 A small group of people were seen clustered together outside the small, white church, holding hands and attempting to pray, a KSAT reporter said.
Paul Buford, a pastor at another church in Sutherland Springs, told KSAT his congregation was in the middle of their service at River Oaks Church when they started getting calls about the shooting.
Members of his church who are first responders rushed out while the rest of the congregation immediately started praying.
A portrait of the shooter emerges
The shooter was identified as Devin Kelley, 26, of New Braunfels, Texas, which is about 35 miles from Sutherland Springs, federal and state law enforcement sources told ABC News.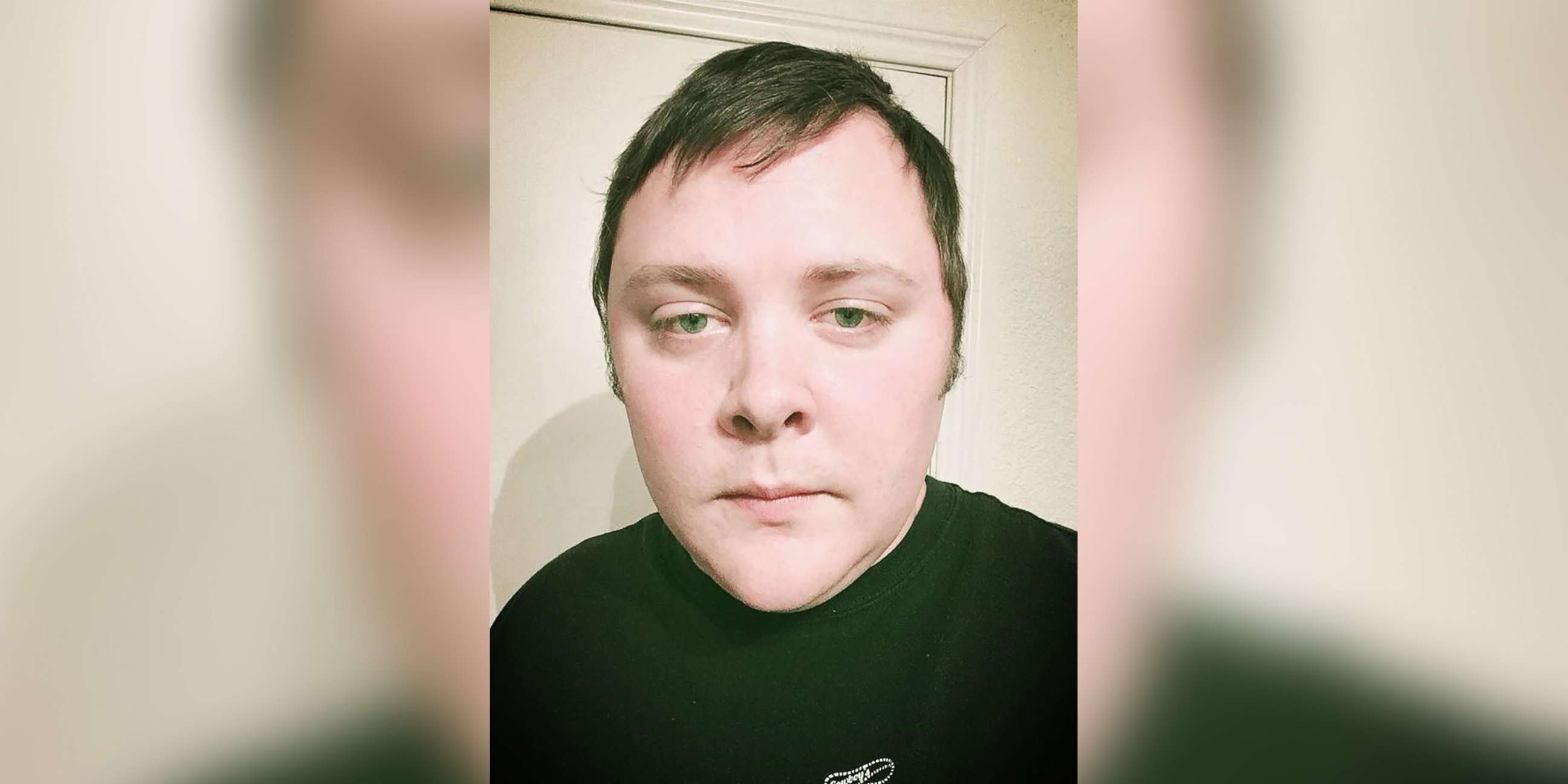 The investigation into his background is unfolding. The suspect's Facebook profile appeared to show a picture of an AR-15–style gun. The U.S. Air Force confirmed Kelley served from 2010 until his discharge, which the Department of Defense's service verification website reports was in 2014. Ann Stefanek, an Air Force spokeswoman, said records confirmed Kelley served in the logistics readiness department at Holloman Air Force Base in New Mexico.
Trump and Texas officials react
President Donald Trump, who is in Japan, began his remarks to business leaders in Tokyo by addressing the shooting as "an act of evil" in a "place of sacred worship."
"Together we join hands we lock arms and through the tears and through the sadness we stand strong," Trump said.
He tweeted earlier, "May God be w/ the people of Sutherland Springs, Texas."
Trump has been briefed "several times" and is continuing to receive regular updates, White House Press Secretary Sarah Sanders said.
"This will be a long, suffering mourning for those in pain," Abbott said at this afternoon's news conference. "We ask for God's comfort, for God's guidance and for God's healing for all those who are suffering.
"As governor I ask for every mom and dad at home tonight, that you put your arm around your kid and give your kid a big hug and let them know how much you love them knowing that we support each other."
Abbott said earlier in a statement, "Cecilia and I want to send our sincerest thoughts and prayers to all those who have been affected by this evil act. I want to thank law enforcement for their response and ask that all Texans pray for the Sutherland Springs community during this time of mourning and loss."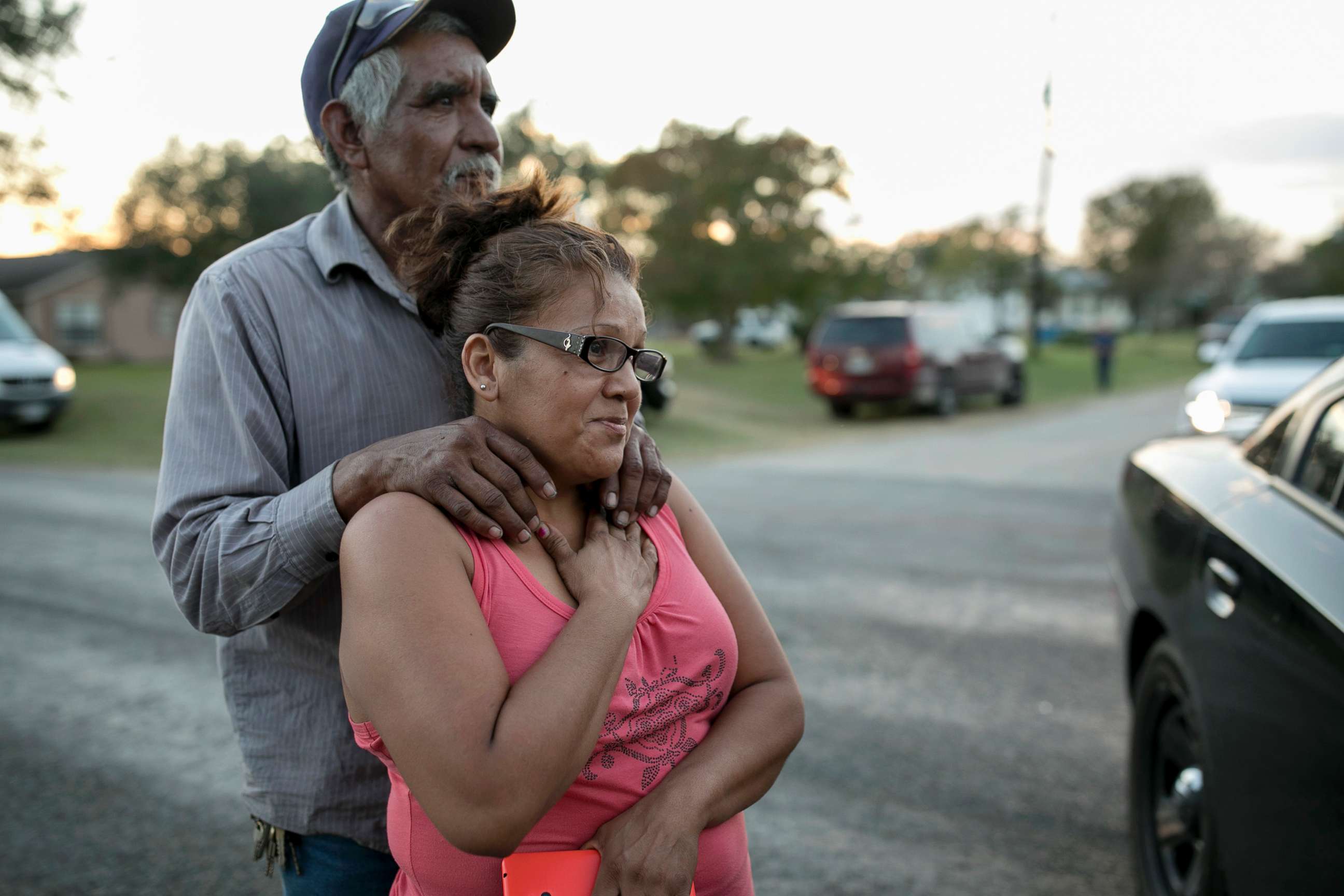 Texas Attorney General Ken Paxton said in a statement, "The thoughts and prayers of all Texans are with the people of Sutherland Springs as tragic reports come out of First Baptist Church."
"Please join Angela and me as we pray for those impacted by this horrific shooting," Paxton said.
3 church shootings in 3 years
The massacre in Texas is at least the third deadly shooting at a U.S. church in the past three years.
In June 2015, white supremacist Dylann Roof shot and killed nine black churchgoers during a Bible study at the Emanuel AME Church in Charleston, South Carolina. Roof was sentenced to death this January.
In September 2017, a gunman allegedly stormed the Burnette Chapel Church of Christ in Antioch, Tennessee, fatally shooting a woman in the parking lot before entering the church sanctuary, shooting and wounding six people.
ABC News' Jack Date, Pierre Thomas, Mike Levine, Aaron Katersky, Meghan Keneally, Michael DelMoro, Katherine Faulders and Joi-Marie McKenzie contributed to this report.