— -- A 20-year-old is one of the slowest at a nursing home in Florida.
Shelly — an African spur thigh tortoise — has roamed the halls of the Chautauqua Rehabilitation & Nursing Center in DeFuniak Springs, Florida, for the past two years.
"He's quite the anomaly here. He'll always make himself known and do anything he can to get his neck scratched," occupational therapist Brandy Meredith told ABC News today.
"We joke that when our residents can outrun Shelly, then they can move out," she added.
Shelly was rescued four years ago when a passerby noticed him walking down the road, presumably after he got too large for his owner to take care of him. He was taken in as a rescue and Meredith said the nursing home began fostering him two years later.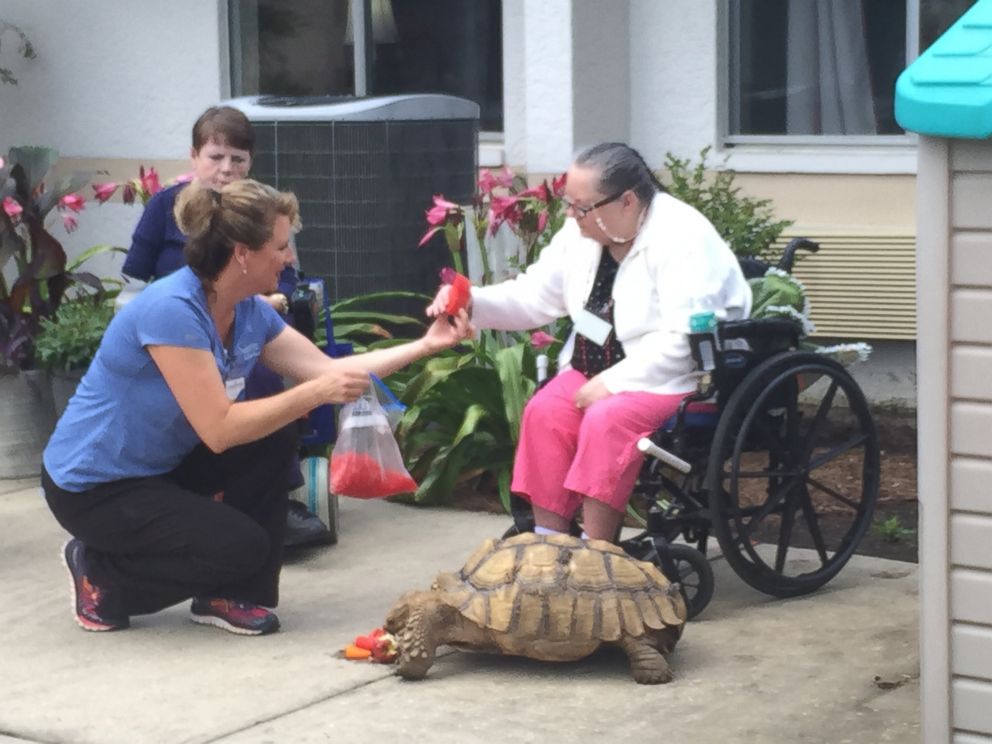 Shelly lives in a temperature-controlled hut on the patio and is a constant therapy animal for all the residents at the 180-bed nursing center.
"We'll have therapy dogs come in, but they go home at the end of the day. Shelly is our full-time therapy pet and will be there come rain or shine," she said.
Meredith — who is the nursing home's unofficial "tortoise wrangler" — said Shelly helps especially when resident's grandchildren or preschoolers come to visit and are uncomfortable with being at the nursing home. Shelly bridges the gap between the generations and makes the young visitors more comfortable.
"He's a visual stimulant and he's very engaging for everyone that spends time with him," Meredith said. "It truly takes a village to raise a tortoise."