— -- The Department of Justice is looking into whether "prosecutable civil rights violation occurred" when Baltimore police officers apprehended a man who later died with an unexplained spinal injury, the latest development in a series of events that began more than a week ago.
"The Department of Justice has been monitoring the developments in Baltimore, MD, regarding the death of Freddie Gray," a Justice Department spokesman said in a statement to ABC News. "Based on preliminary information, the Department of Justice has officially opened this matter and is gathering information to determine whether any prosecutable civil rights violation occurred."
Police have not clarified why Freddie Gray, 25, was arrested or how he suffered the injury that his family says occurred in police custody and resulted in his death a week later.
The investigation into the arrest and Gray's death is ongoing as more information continues to be released by Baltimore police, who agree with Gray's family that the man suffered a spinal injury but don't know how or when.
Here is a timeline of Gray's interaction with the responding officers as compiled from police news conferences and information released in the past few days.
Sunday, April 12
8:39 a.m.: Police said officers were working in a West Baltimore area with a history of violence and drug deals, and a man, later identified as Gray, was seen at the corner of North Avenue and Mount Street.
The officers approached the man, who then fled on foot, but the reason for the approach remains a part of the ongoing police investigation, police said.
8:40 a.m.: A police officer was heard telling dispatch that officers had one person at 1700 Presbury Street, two blocks south of North and Mount, police said.
8:42 a.m.: A "wagon," or van, was requested for transport, according to Baltimore police, and that Gray asked for an inhaler.
8:46 a.m.: The driver of the van believes Gray is acting "irate," police say. An officer asks the van to stop so the paperwork can be completed, according to Baltimore police. At this point, Gray is taken out of the vehicle, placed in leg irons and then put back in the van, police said.
8:54 a.m.: The vehicle cleared Mount Street, heading toward central booking, police said.
8:59 a.m.: A request was made by the driver of the van for an additional "unit" to check on Gray, police say. There was some undisclosed communication with Gray at this point.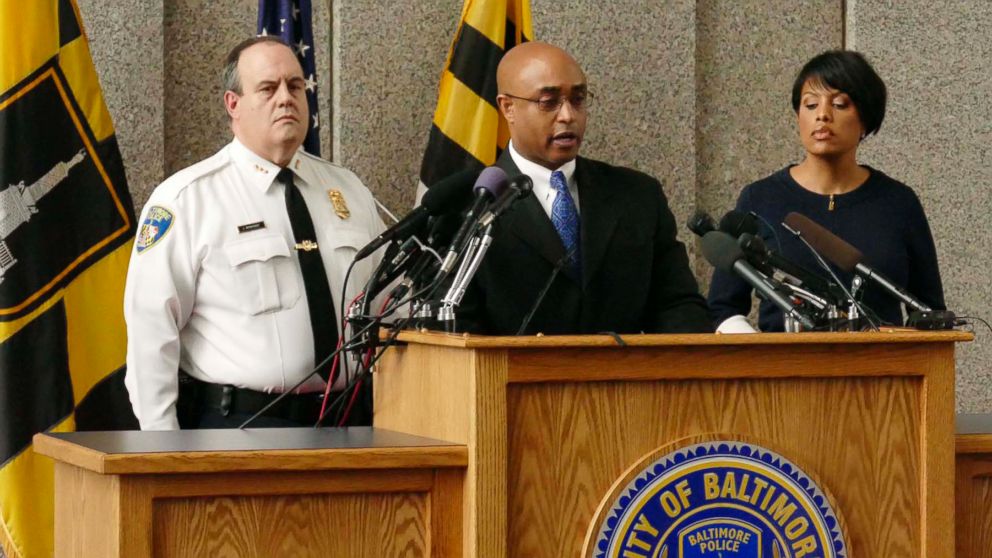 9:23 a.m.: Emergency medical services directed a technician to respond for an injured patient, as heard on a recording of the call that was publicly released.
9:24 a.m.: Police officers requested paramedics to the Western District to transport the man to an area hospital. In a subsequent charging document, police said, "During transport to Western District via wagon transport the Defendant suffered a medical emergency and was immediately transported to Shock Trauma."
9:37 a.m.: On-scene medical responders said Gray was not breathing, according to EMS reports.
Thursday, April 16
Gray was said to be in a coma by his attorney.
Sunday, April 19
7:00 a.m.: Gray died. A vigil has been scheduled for this evening and the six officers involved have all been placed on paid leave.
ABC News' Meghan Keneally contributed to this report.