Fatality confirmed in Vermont flooding amid extreme weather nationwide
Extreme weather continues to affect most of the country.
At least one person was killed by the raging floodwaters in Vermont this week, state authorities announced Thursday.
Stephen Davoll, 63, of Barre City, Vermont, died Wednesday as a result of a drowning accident in his flooded home, according to the Vermont Department of Health. It's the first confirmed fatality related to this week's storms and flooding in the Green Mountain State.
On Friday, President Joe Biden approved a disaster declaration for the state. The action frees up federal funding to affected the counties of Chittenden, Lamoille, Rutland, Washington, Windham, and Windsor, according to the White House.
The disaster declaration also provides federal funding to the local governments in Addison, Bennington, Caledonia, Chittenden, Essex, Franklin, Grand Isle, Lamoille, Orange, Orleans, Rutland, Washington, Windham, and Windsor counties, the White House said.
The grim announcement came as extreme weather continued to batter the United States, with severe storms and heat waves across the country.
Storms spawned multiple twisters across northern Illinois on Wednesday evening that knocked down trees, ripped off roofs and disrupted hundreds of flights in the Chicago area. At 11 tornadoes were confirmed to have touched down in the Chicago area alone, including some near the city's main international airport, according to the National Weather Service.
More than 170 flights departing O'Hare International Airport were canceled while over 500 were delayed on Wednesday, according to the flight tracking service FlightAware.
There were two other reported tornadoes in Iowa and Michigan that night, with reports of damage in the latter, as well as damaging straight-line winds over 70 miles per hour recorded from Texas to Michigan. There were also numerous reports of golf ball-sized hail in Missouri, Nebraska and Kansas.
The dangerous weather on Wednesday evening was part of a storm system moving through the Midwest. The severe threat shifted back into the Northeast on Thursday, stretching from Kentucky to Vermont.
Damaging winds, large hail and even tornadoes were possible along the storm system's projected path, which includes the cities of Cincinnati, Ohio; Charleston, West Virginia; Pittsburgh, Pennsylvania; Binghamton, New York; Albany, New York; and Burlington, Vermont.
A flood watch was issued for parts of New York, Vermont and New Hampshire. Vermont's capital, Montpelier, was already hit by historic rainfall and flooding earlier this week.
Thursday's threat of heavy rainfall and flooding will persist into the weekend for the Northeast, including the Interstate 95 travel corridor. The latest forecast shows an additional 3 to 5 inches of rain is possible across northern New England, including Vermont, New Hampshire and Maine.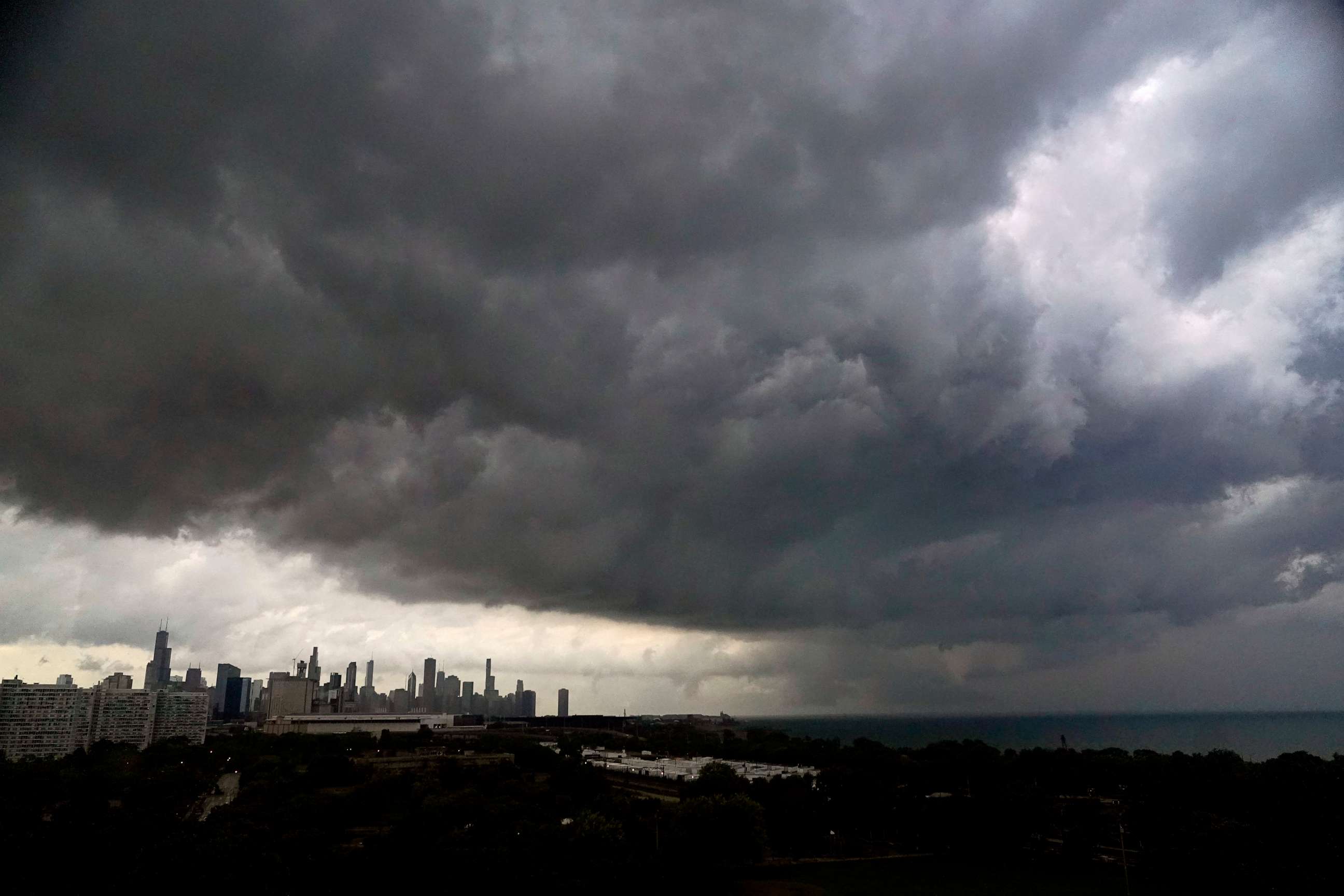 Meanwhile, millions of Americans across 15 U.S. states were under heat alerts for Thursday, from Washington to Florida. The heat index was expected to surpass 115 degrees Fahrenheit in the mid-South, the Gulf Coast and Florida, with potentially record high temperatures from Houston to Miami.
On Wednesday, temperatures in Phoenix reached 110 degree Fahrenheit for the 13th straight day, putting Arizona's capital on track to break the record 18-day streak that was set in 1974.
The latest forecast shows the heat is only going to get worse and won't ease for at least another week, with temperatures across the Southwest expected to peak over the weekend. An excessive heat watch will be in effect for Burbank, California, from Friday through Monday as temperatures could top 100 degrees Fahrenheit.
Hospitals nationwide have seen emergency department visits for heat-related illness more than double over the past month, according to the Centers for Disease Control and Prevention.
ABC News' Youri Benadjaoud contributed to this report.