Vermont grapples with historic flooding as more rainstorms head for Northeast
It's the worst flooding to hit Vermont since Tropical Storm Irene in 2011.
Flood-ravaged areas in the Northeast could see even more rainfall on Thursday as communities in Vermont and New York try to recover from a historic deluge.
In Vermont, some areas had recorded up to 9 inches of rain over a 24-hour period by Tuesday afternoon as small creeks turned into raging rivers that swallowed roads in the worst flooding to hit the Green Mountain State since Tropical Storm Irene in 2011.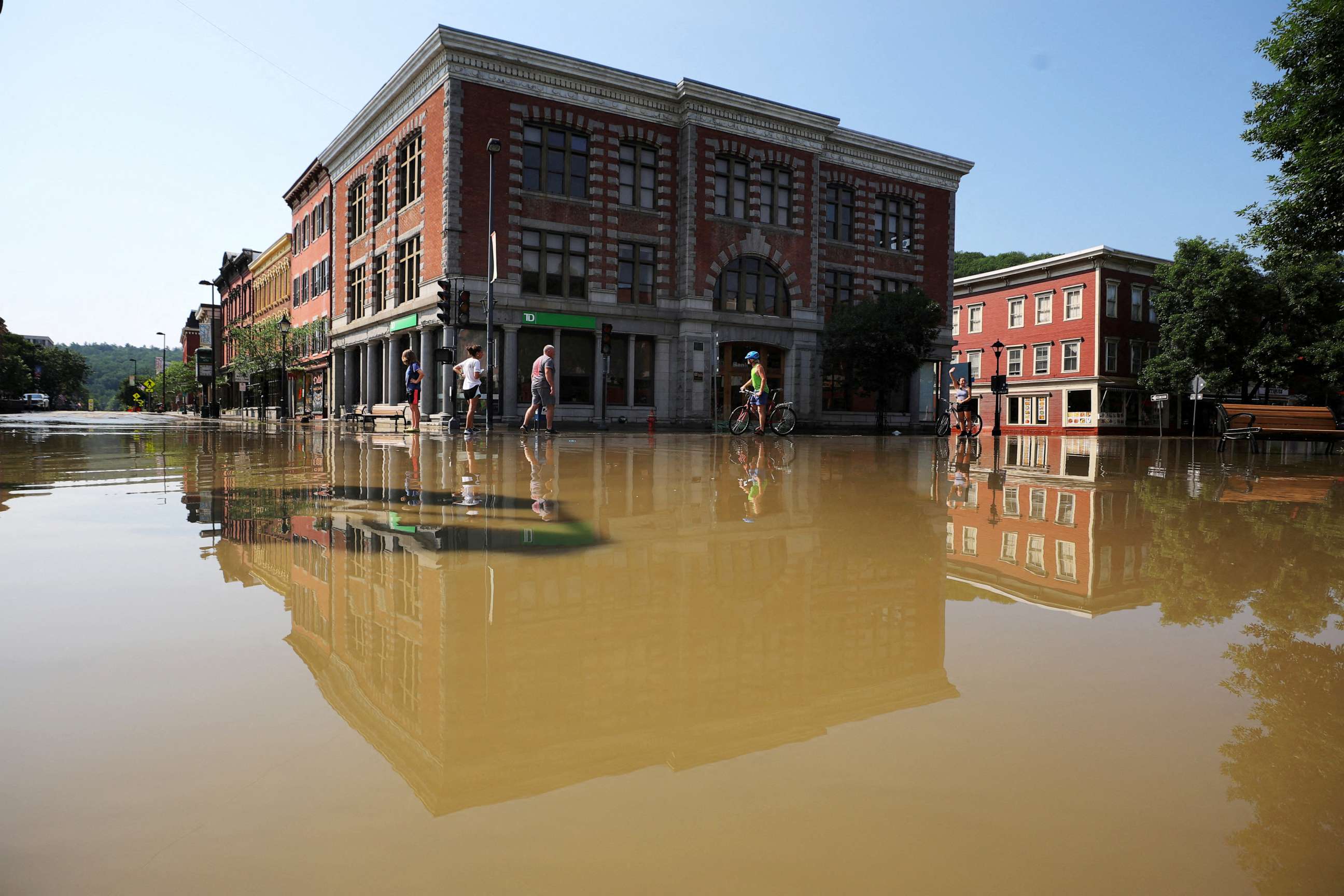 Over 200 people have been rescued in Vermont since the flooding began, including 32 people who were rescued in hard-hit Lamoille County Tuesday night, officials said.
No injuries or deaths have been reported in the state.
Vermont Commissioner of Public Safety Jennifer Morrison said the state is in much better shape Wednesday than it was Tuesday, but rescues are still ongoing.
The Winooski River, which runs through Vermont's capital, crested at 21.02 feet in Montpelier on Tuesday, its highest level since 1927. The river gradually receded, dropping below flood stage by Tuesday evening. The Wrightsville Dam, which forms a reservoir just outside Montpelier, was also beginning to recede and was not expected to breach the spillway, officials said.
The Lamoille River, running through northern Vermont, reached its highest level on record at 455.13 feet in the village of Jeffersonville on Tuesday.
River flooding should remain calm for the rest of Wednesday, officials said.
Meanwhile, at least one person was killed in floodwaters in upstate New York. More than 500 homeowners have reported damage in the Empire State's hard-hit Orange County so far, according to officials.
The extreme weather began on Sunday, affecting much of the Mid-Atlantic and Northeast regions, prompting flash flood alerts in parts of New York. The storm system pushed north on Monday, with the heaviest rainfall hitting Vermont.
A new severe weather system moving through the Plains and the Midwest is forecast to reach the Northeast by Thursday evening with scattered storms. That means potentially more rain from New York to Vermont, areas where the ground is already so saturated that it won't take much to cause more flooding.
ABC News' Victoria Arancio, Peter Charalambous, Alexandra Faul, Matt Foster, Max Golembo, Melissa Griffin, Dan Peck and Darren Reynolds contributed to this report.