Torrential rains wreaking havoc on California communities proving beneficial for state's forests
The heavy inundation of rain is likely preventing mass die-offs in forests.
California's precious trees are receiving a much-needed reprieve from the extreme drought conditions they have been experiencing for several decades.
The same atmospheric river storm system that is bringing devastating flooding to communities all over California is providing relief to the state's forests, according to experts.
Data released last week by the U.S. Drought Monitor shows that regions in California and Nevada that were previously in "exceptional drought" status the week before -- the highest level of concern -- have been alleviated as a result of the rounds of heavy rain that have been walloping the coast. The plethora of extra moisture is likely to stave off a mass die-off of trees in the West, Jim Randerson, a professor of earth system science at the University of California Irvine, told ABC News.
It is extremely important for the health of forests that water to seep deep into the ground, even into the weathered bedrock, Nate Stephenson, a scientist emeritus at the U.S. Geological Survey's Western Ecological Research Center, told ABC News.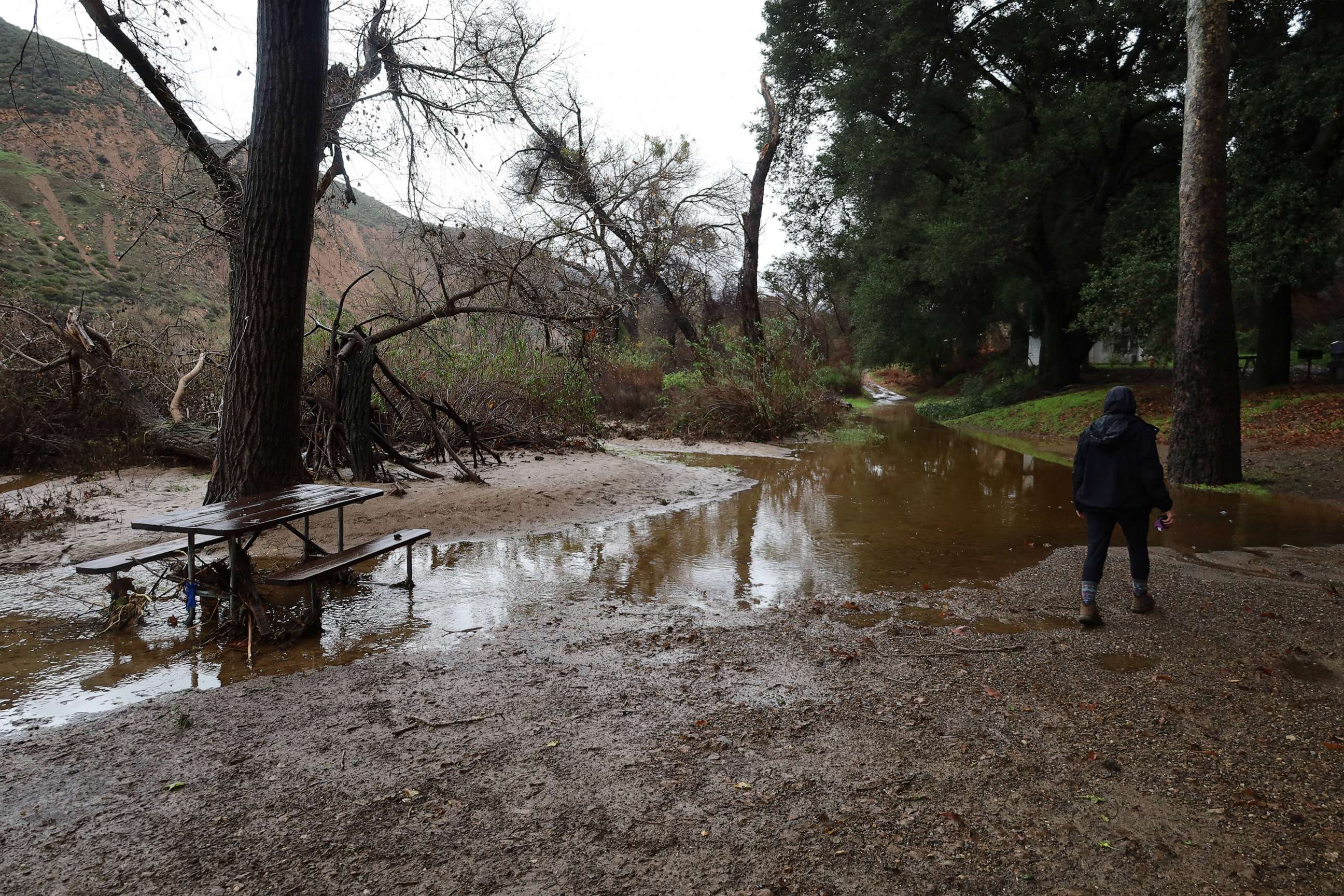 The roots can go down anywhere from 5 to 10 meters, or nearly 33 feet, way into the crumbly bedrock, Randerson said.
"But during some of the severe drought we've had, a lot of that has been depleted of water," Stephenson said.
Even the southern Sierra Nevada, which has experienced widespread die-offs between 2013 and 2016 in places like the San Bernardino and Cleveland National Forests, is experiencing above-average snowfall -- about 114% of the total for the whole season, Randerson said.
"This means that there's going to be a really good water supply that's infiltrating the soil," he said. "It's moving into the root zone."
Snowfall is preferable to rainfall to replenish the soil, Randerson said. As it slowly melts as spring approaches, more moisture is absorbed by the ground and also later contributes to the "water bank" for the spring and summer, Stephenson said.
At the lower elevations, the precipitation is coming down, as rain in a lot of fire-burned areas that do not contain enough vegetation to absorb the moisture, are likely to get washed to sea as runoff or create potentially devastating mudslides, Stephenson said.
The whiplash between drought and flood could potentially weaken soils in some areas, which could then cause trees to fall over -- especially if they are diseased or have suffered severe fire damage, Stephenson said. Some of the larger trees with severe burn scars -- even from past fires from centuries ago -- could continue to weaken with each subsequent fire and then succumb to the wet soil and heavy winds, he added.
But overall, the outpour of moisture will have a positive effect on forest health and to reduce forest mortality, Randerson said. There is not really a situation in which the forests can have "too much water," unless the roots are completely saturated deeply for a long period of time, which is unlikely to happen, Stephenson said.
Warmer global temperatures will eventually lead to more frequency in atmospheric river events on the West Coast, experts say, but it will likely take years of these patterns to make up for the megadrought that has been plaguing the West for decades.
Climate change is expected to intensify drought conditions during longer and warmer summers, and create more opportunities for downpours of rain in other seasons, Randerson said, adding that trees are especially thirst-stressed at the end of September, before the October rains come.
The experts also emphasized that the rainfall has been "devastating" on communities and infrastructure.
Many regions in California do not have a "hydrologically intact" water cycle landscape -- largely caused by human development, Erin Axelrod, project director for Jonas Philanthropies Trees for Climate Health, a nonprofit told ABC News.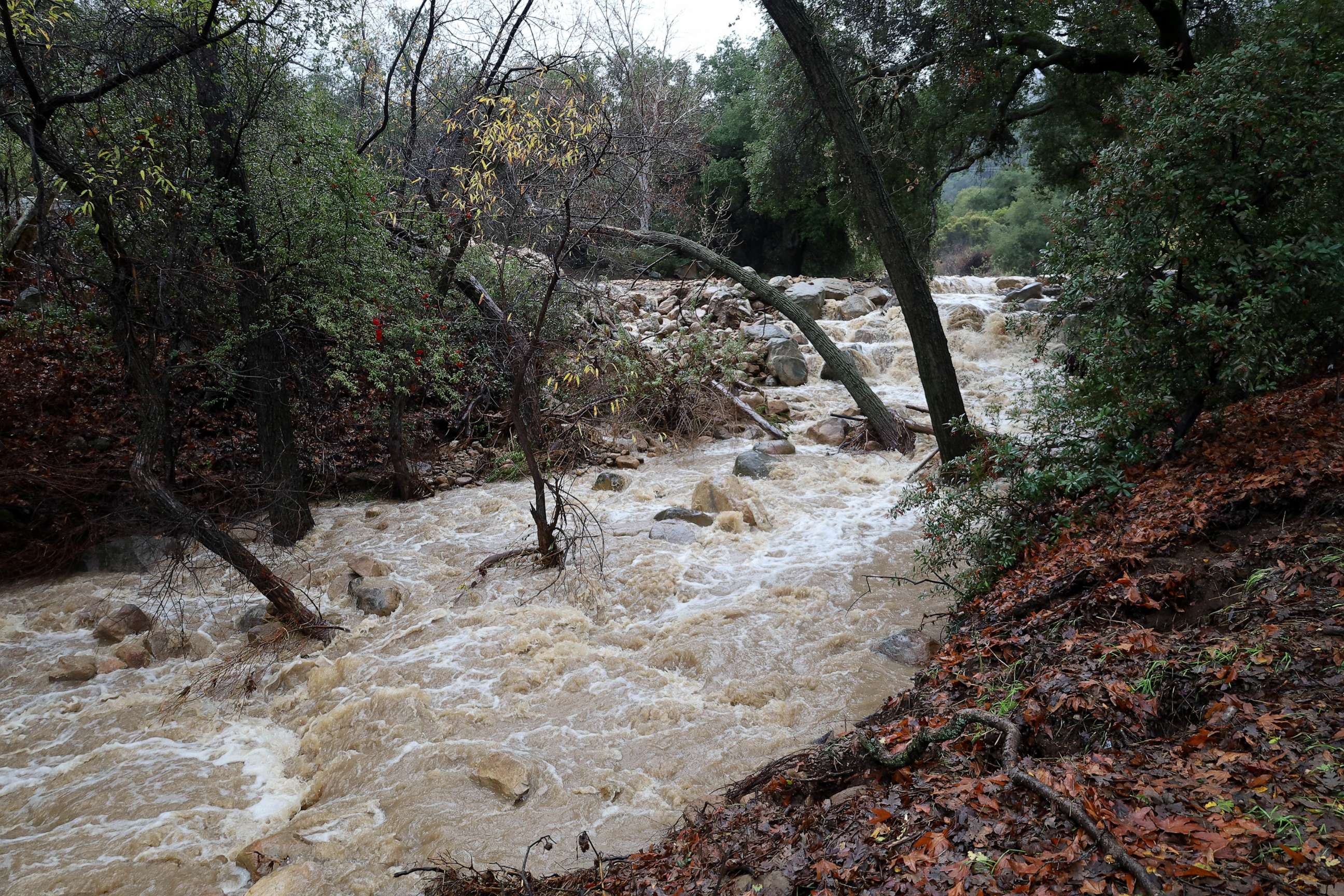 Municipalities will need to consider rebuilding and repairing the ecological relationships between landscapes and cityscapes to prevent the severe flooding that several communities along the West Coast have experienced in the past weeks, Axelrod said.
Solutions include reestablishing tree cover and oak woodland to soak up the inundations of water, as well as other practices that enhance the health of ecosystems, such as installing permeable gardens in schools, Axelrod said.