Rapper Tory Lanez was denied bond by a Los Angeles County Superior Court judge during a hearing on Thursday afternoon as his new legal team appeals his 10-year sentence in the shooting of hip-hop star Megan Thee Stallion, according to ABC station in Los Angeles, KABC who was in the courtroom.
Unite the People Inc., a social justice advocacy group, announced in a statement to KABC this week that the organization has been retained to represent Lanez. The rapper, whose legal name is Daystar Peterson, is appealing his 10-year sentence, with Crystal Morgan serving as lead attorney.
"As an organization committed to promoting justice and equality, we firmly believe in standing by our clients and supporting them in times of need," the statement said. "Mr. Peterson has been an integral part of our advisory board, contributing his time, resources, and expertise to further our cause. It is now our turn to stand by him and ensure that he receives a fair and just legal process."
"We firmly believe in the power of the legal system and the impact it can have on achieving justice, Unite the People inc will do all it can to ensure that justice prevails," the statement continued.
ABC News has reached out to Morgan for comment after Lanez was denied bond.
Ceasar McDowell, CEO and co-founder of Unite the People Inc., told reporters after the hearing on Thursday that Lanez was "disproportionally sentenced" and they will move forward with the appeal.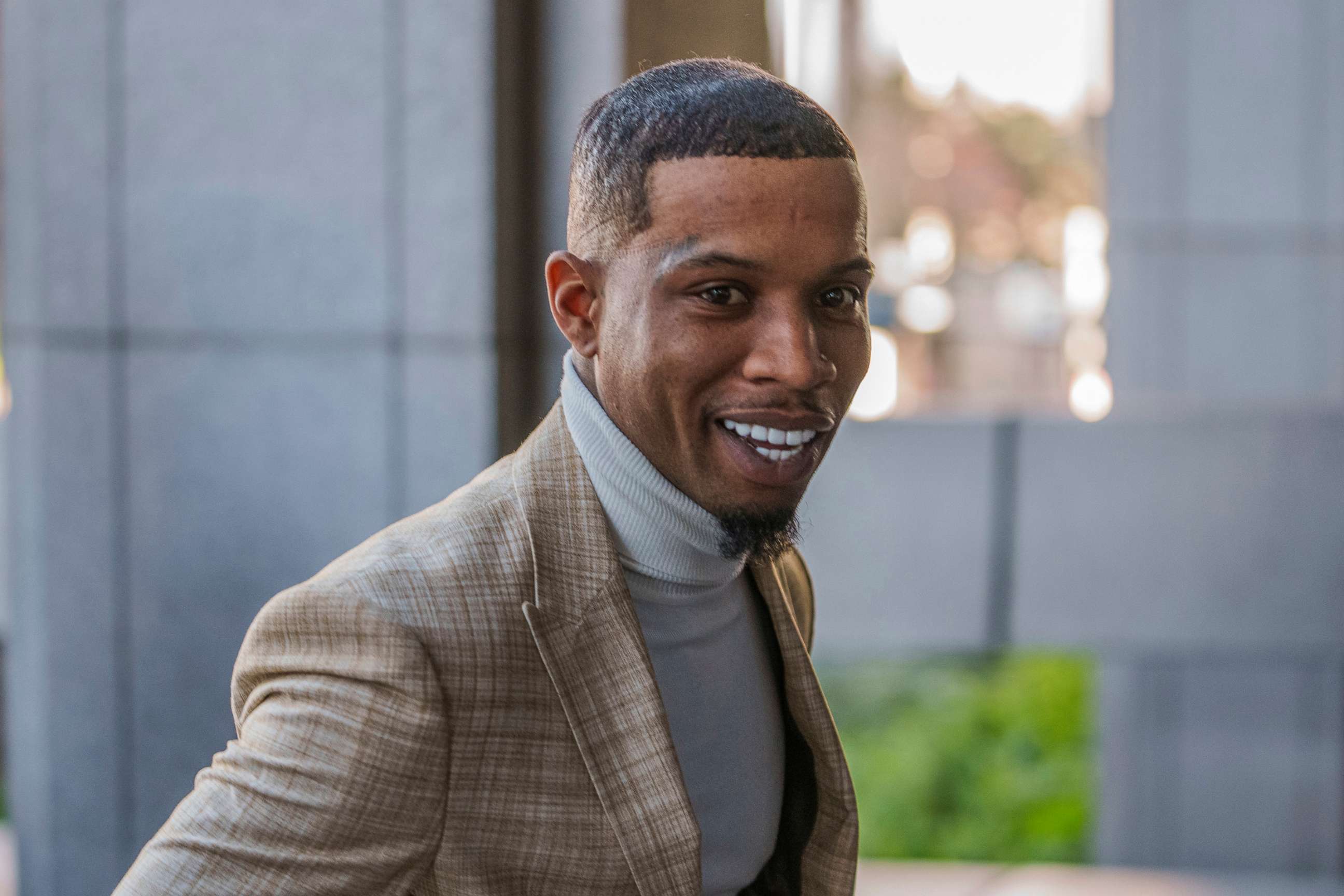 Lanez was represented by attorneys Jose Baez and Matthew Barhoma after his conviction and through his sentencing on Aug. 8. It is unclear if Baez and Barhoma still represent the rapper. ABC News has reached out to the attorneys for comment.
Lanez was found guilty by a jury on Dec. 23, 2022, of three charges for shooting and injuring Megan thee Stallion, whose real name is Megan Pete, in both feet in an incident in the Hollywood Hills on July 12, 2020.
Lanez was initially charged in October 2020 with one felony count each of assault with a semi-automatic firearm (personal use of a firearm) and carrying a loaded, unregistered firearm in a vehicle, according to charging documents obtained by ABC News. "Personal use of a firearm" is not a separate charge but a sentencing enhancement linked to the first count that could increase Lanez's possible sentence.
He was also charged ahead of his trial in Dec. 2022 with an additional felony count of discharging a firearm with gross negligence.
Lanez, who chose not to take the witness stand during the trial, pleaded not guilty to all three charges. His defense attorneys argued during the trial that Lanez was not the shooter.
The rapper has maintained his innocence in various social media posts since his sentencing.
This case has sparked intense debates over society's treatment of women, and Pete's account of the incident -- and the intense public vitriol she faced after sharing her story -- has spotlighted the Protect Black Women movement, which addresses the two-front battle of sexism and racism Black women experience in their own communities and in society at large.
Prosecutors read an impact statement from Pete during the sentencing hearing who called for Lanez to "be forced to face the full consequences of his heinous actions and face justice."
"He not only shot me, he made a mockery of my trauma. He tried to position himself as a victim and set out to destroy my character and my soul," Pete's statement said.
"Today, I beg this court to send a message to every victim of violence and fully hold the defendant accountable for his criminal conduct. This is a statement for all survivors that their lives matter and there is zero tolerance for the torture that accompanies violence," the statement continued.
ABC News' Jennifer Watts contributed to this report.