Toxic red tide blooms are creeping up Florida's west coast, killing marine life and irritating humans
The toxic blooms may get "considerably worse," according to experts.
A toxic algae bloom is creeping up the west coast of the Sunshine State, killing wildlife and keeping residents and tourists away from the acclaimed beaches along the Gulf of Mexico.
Higher than normal concentrations of Karenia brevis -- also known as red tide or harmful algal blooms -- have been plaguing southwest Florida since November 2017, discoloring the seawater and leaving piles of dead fish in its wake.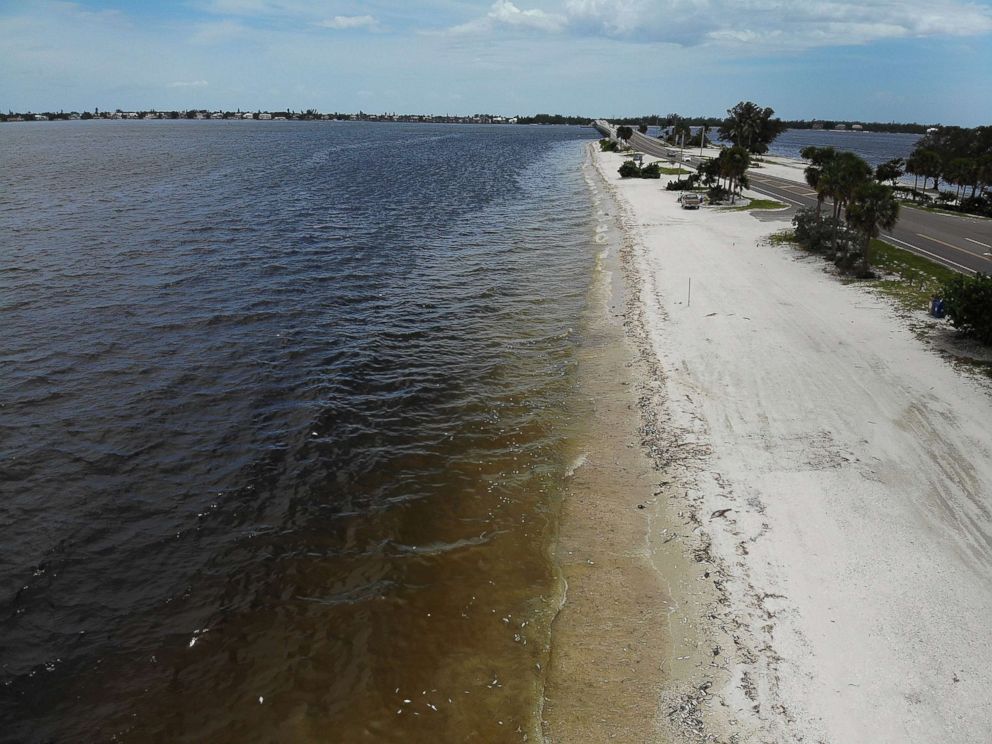 Statewide, officials are monitoring the effects of the red tide. The Florida Department of Environmental Protection, the Florida Department of Health, the Florida Fish and Wildlife Conservation Commission and the Florida Department of Agriculture and Consumer Services have created a "bloom response team" to ensure the health of humans, water quality and the environment.
Earlier this week, Florida Gov. Rick Scott called for the FWC and FDEP to "mobilize all available resources" to address the impacts of the red tide.
What is red tide?
Red tide is a natural phenomenon that has been recorded on Florida's Gulf Coast since the 1840s, according to the Florida Fish and Wildlife Commission.
A common occurrence, red tide is caused by an overgrowth or accumulation of microscopic algae and often occurs in brackish or marine water, but not freshwater, according to the FWC.
Part of the reason why red tide is so prominent this season is because there are some leftover blooms from last year, Bob Weisberg, a professor of physical oceanography at the University of South Florida's College of Marine Science, told ABC News.
Red tide occurs seasonally and typically blooms from late summer through early fall and lasts through winter, Weisberg said.
The bloom begins in the Gulf about 10 to 40 miles offshore -- near the west Florida continental shelf -- and can be transported inshore by winds and currents.
Once the red tide is inshore, the algae can grow even more using man-made nutrients, such as fertilizer.
"The increase in runoff may likely exacerbate an existing bloom, but it won't cause a bloom," Weisberg said.
Red tide can kill marine life
Red tide produces toxins that can sicken or kill fish, seabirds, turtles and marine mammals, such as manatees, according to the FWC. The animals can inhale the toxins through the air or become affected by consuming toxic prey.
More than 580 fish kills have been reported in Florida in Pinellas, Manatee, Sarasota, Charlotte, Lee, Collier and Monroe counties, the FWC reported. Species of fish killed include grouper, trout, eel, snook, tarpon, hardhead catfish and baitfish.
Ten manatees have been rescued as a result of red tide since the beginning of the year, but a preliminary report suggests that at least 92 manatees have died, according to the FWC.
"These poor manatees stick their heads up out of the water to breath, and that's where the highest concentration of the algae are," Weisberg said.
Sea turtles and dolphins in Sarasota and Manatee counties have also been affected by the red tide, ABC Tampa affiliate WFTS reported. Nine bottlenose dolphins were found dead in Sarasota County in 36 hours, and at least 60 sea turtles have been reported sick, according to WFTS.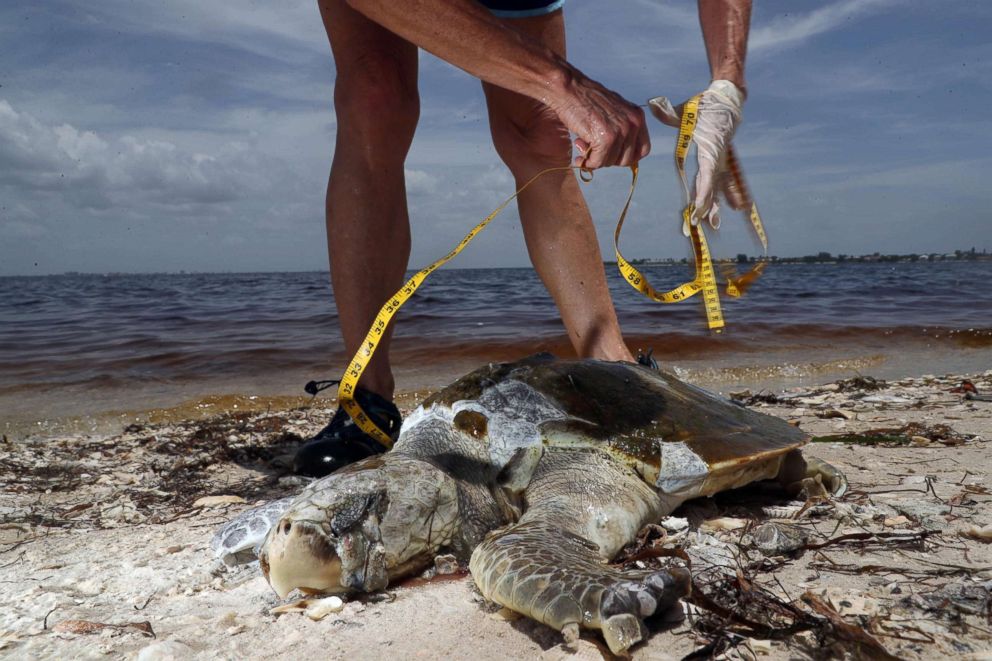 On Sanibel Island, a 26-foot whale shark recently washed up on the beach, WFTS reported.
Many fish populations in the area have evolved to be "resilient to the impact" of red tide, since it's a common occurrence, according to the FWC. Fisheries and fish populations are "bound to rebound," despite the prolonged red tide event this season.
People who see dead fish or sick or injured animals are asked to report the sightings to the FWC.
The harmful bloom causes irritation in humans
In humans, red tide causes respiratory irritation, but it's usually temporary unless the person suffers from severe or chronic respiratory conditions, such as asthma, or chronic lung disease, Weisberg said.
People in coastal areas can experience "varying degrees" of eye, nose and throat irritation, but the symptoms usually go away after a person leaves an area affected with red tide, Brad Dalton, press secretary for the Florida Department of Health, told ABC News in a statement.
Most people aren't affected by swimming in red tide-infested waters, but skin irritation may occur. The FWC recommends that swimmers rinse with fresh water if they experience irritation.
Respiratory irritation was reported in at least four counties this week, according to the FWC report.
"If you have symptoms, leave the beach and seek air conditioning," Dalton said.
Residents can help minimize blooms by reducing or eliminating fertilizer use, according to the FWC.
Pet owners are also recommended to not let their pets play with dead fish or foam on the beach and to rinse them to fresh water upon returning home.
Red tide can affect seafood
Shellfish harvesting from regulated areas is banned during red tide because clams, oysters and mussels can accumulate the toxins.
The muscles of crustaceans, including crab, shrimp and lobster, can be eaten because they are not affected by red tide toxins, the FWC said.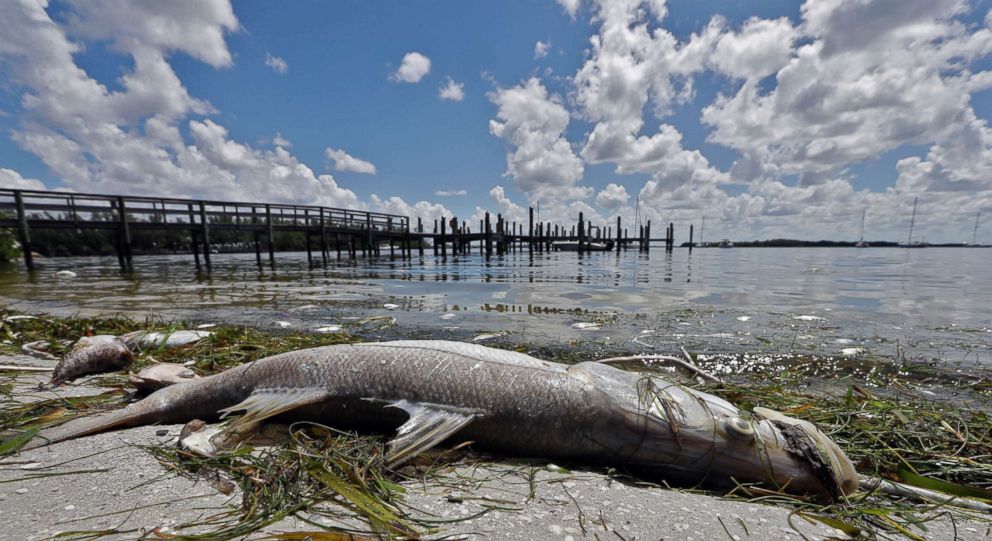 Fish are safe to eat as long as they are caught alive and only the muscle is eaten.
The circulation of ocean water determines whether red tide will bloom
The phenomenon of red tide has "as much to do with the physics of the ocean circulation as it does with the organism biology," Weisberg said, adding that not every year is the same.
High ocean circulation will often bring deep, nutrient-rich ocean water to the area, which keeps the toxins from producing.
"The faster-growing, non-toxic algae generally out-compete the red tide organism," Weisberg said.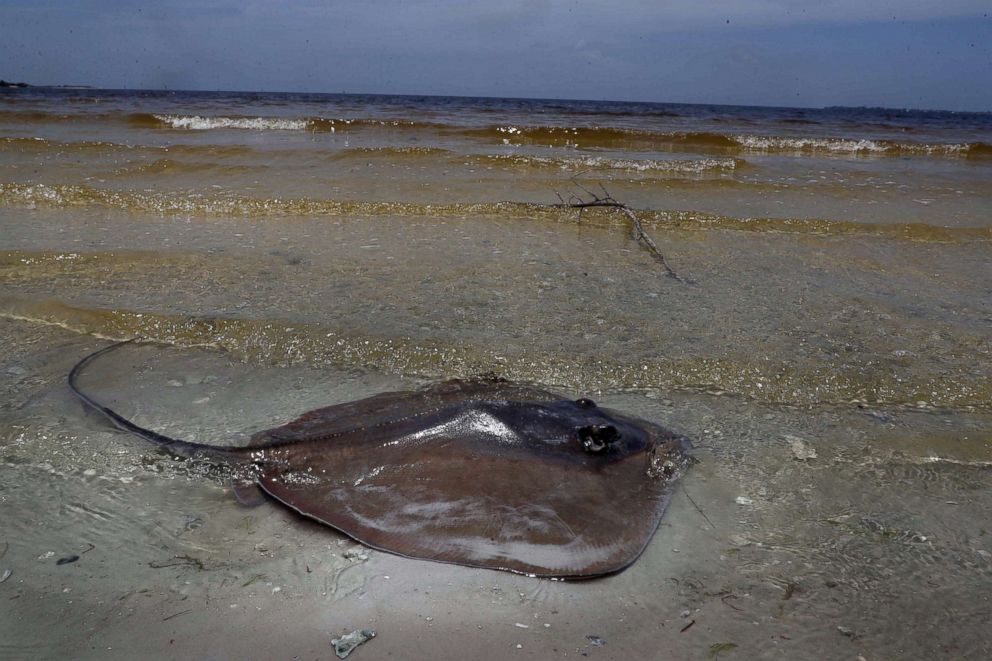 When the ocean circulation is low, less deep ocean water is mixed in the Gulf of Mexico, and the lack of nutrients allows the red tide to flourish, Weisberg said.
"When we get the deeper ocean water, those are the years we tend to not have major tides," Weisberg said.
In 2010, there was no red tide at all, while in 2012 saw a major bloom, Weisberg said.
"This year will be a substantial red tide year," he said.
Weisberg's team makes seasonal predictions of major red tide blooms or lack of based on the ocean circulation, Weisberg said. Once red tide organisms are observed near shore, they then use an ocean circulation model to forecast over a short term where those cells will go, he said.
The toxic blooms will travel north
The current red tide bloom may get "considerably worse," Weisberg said.
High amounts of red tide, meaning more than 1 million cells, are being reported in more than a dozen counties in southwest Florida, according to a red tide status report released by the FWC on Aug. 10. Respiratory irritation and "possible" fish kills are possible between 10,000 and 100,000 cells, considered a "low" amount, and "probable" fish kills are likely between 100,000 and 1 million cells, considered a "medium" amount.
While most of the blooms had been limited to coastal areas like Venice Beach, Boca Grande and Charlotte Harbor, the blooms are "steadily moving north," Weisberg said.
High concentrations are now being seen on Anna Maria Island and southern parts of Tampa Bay, and in the next days and weeks, higher blooms will start to be seen in Pinellas County in cities like St. Petersburg, Weisberg said.
The toxic blooms may be putting a damper on visitors' plans to visit Florida.
In a statement, Visit Florida, the state's official tourism management board, said that it would "be communicating with visitors just as soon as the beaches are clean and back to normal."
"For those who have already booked their vacations, it's important to keep in mind that Southwest Florida has a number of other exciting opportunities to offer outside of the beach, including dining, shopping, entertainment, museums and more."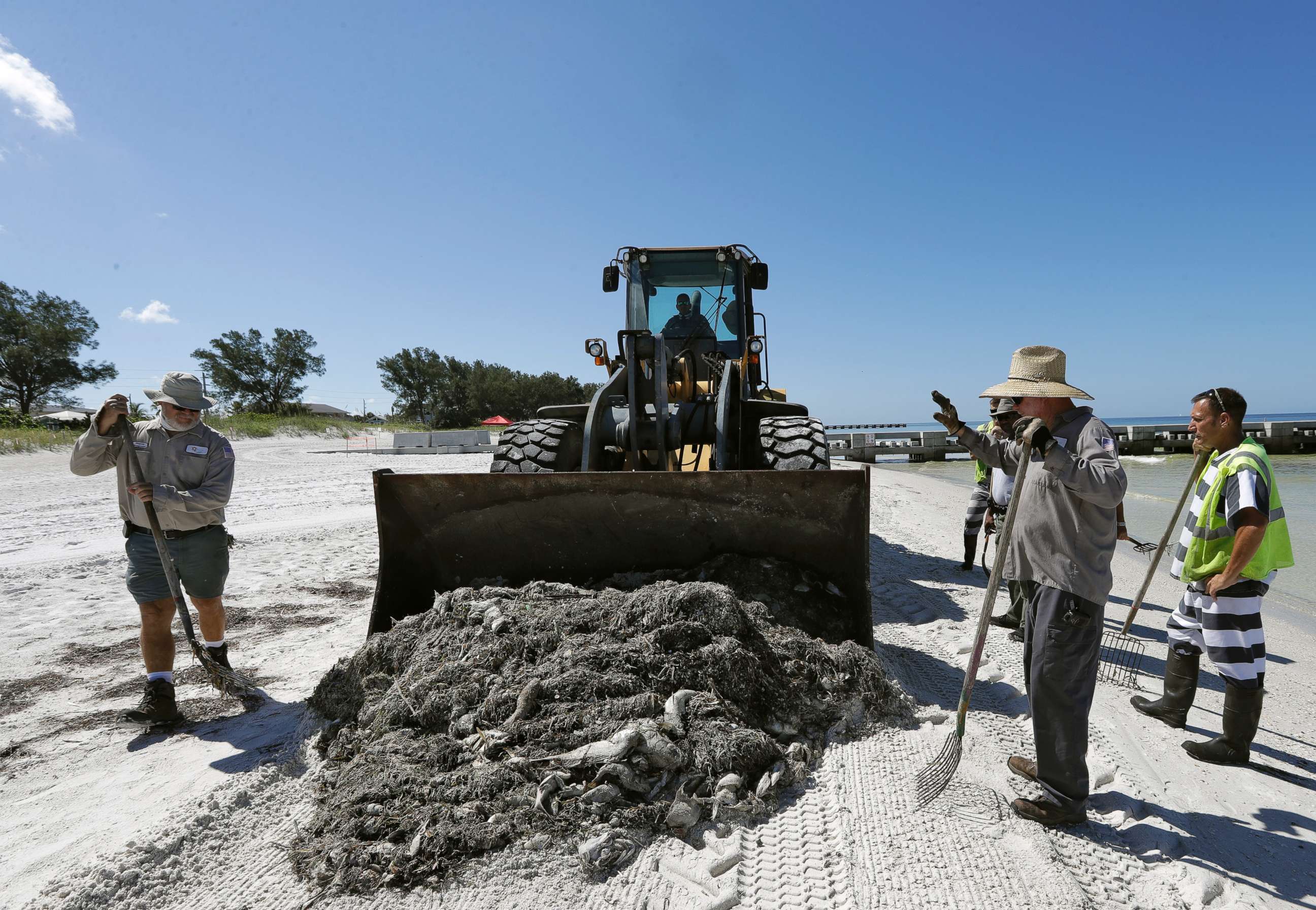 While some may call for an eradication of the harmful toxin, Weisberg said the "unintended consequences" may be severe on the ecosystem.
"There's a reason why this organism evolved," he said. "It's part of the ecosystem. It would be very difficult to get rid of. It may be much worse than what we experience."