— -- Golf courses in several states.
Glittering hotels and condominiums.
Even a share in a federally subsidized housing development in Brooklyn.
Donald Trump's business interests in the United States, while concentrated in his home state of New York, run the gamut and appear in at least 10 states and D.C. — ties that critics say could expose him to conflicts of interest when he takes office.
Trump, whose business connections are unprecedented for an incoming president, has been considering how to separate himself from his business when he heads to the White House.
He has said that the law is on his side, and indeed, federal ethics laws governing conflicts of interest contain specific exemptions for the president and vice president.
Still, some ethics watchdogs have called for him to completely divest from his businesses. On his two financial disclosure forms he filed covering 2014 to 2016, he listed more than 500 companies in the U.S. and elsewhere around the world that he owns, controls or manages, but he has said so far only that he will turn his company over to his sons, Donald Trump Jr. and Eric Trump, and that no new deals will be done while he is in office.
He promised a more detailed plan in mid-December, but the announcement was delayed. During the transition period, Trump has taken steps to cancel some business deals and shut down some foreign entities, eliminating some potentially thorny issues before his move into the White House.
Plans are expected to be detailed this week when Trump speaks at his first formal news conference since the election. On Monday he briefly addressed the subject of disentangling from his business empire, telling reporters at Trump Tower in New York City that "it's very simple, very easy" and that he would talk about it on Wednesday.
ABC News has reviewed the financial disclosure documents submitted by Trump in an attempt to illustrate the scope of his worldwide business interests as well as potential conflicts they may pose.
For instance, his new hotel in Washington, D.C., raised eyebrows because it is leased from the federal government, which Trump will soon be heading, and because the contract terms prohibit an elected official of the U.S. government from being party to the lease or receiving any benefit from it.
Here is a look at some of the business ties that Trump has across the U.S.:
CALIFORNIA
TRUMP NATIONAL GOLF CLUB LOS ANGELES: Rancho Palos Verdes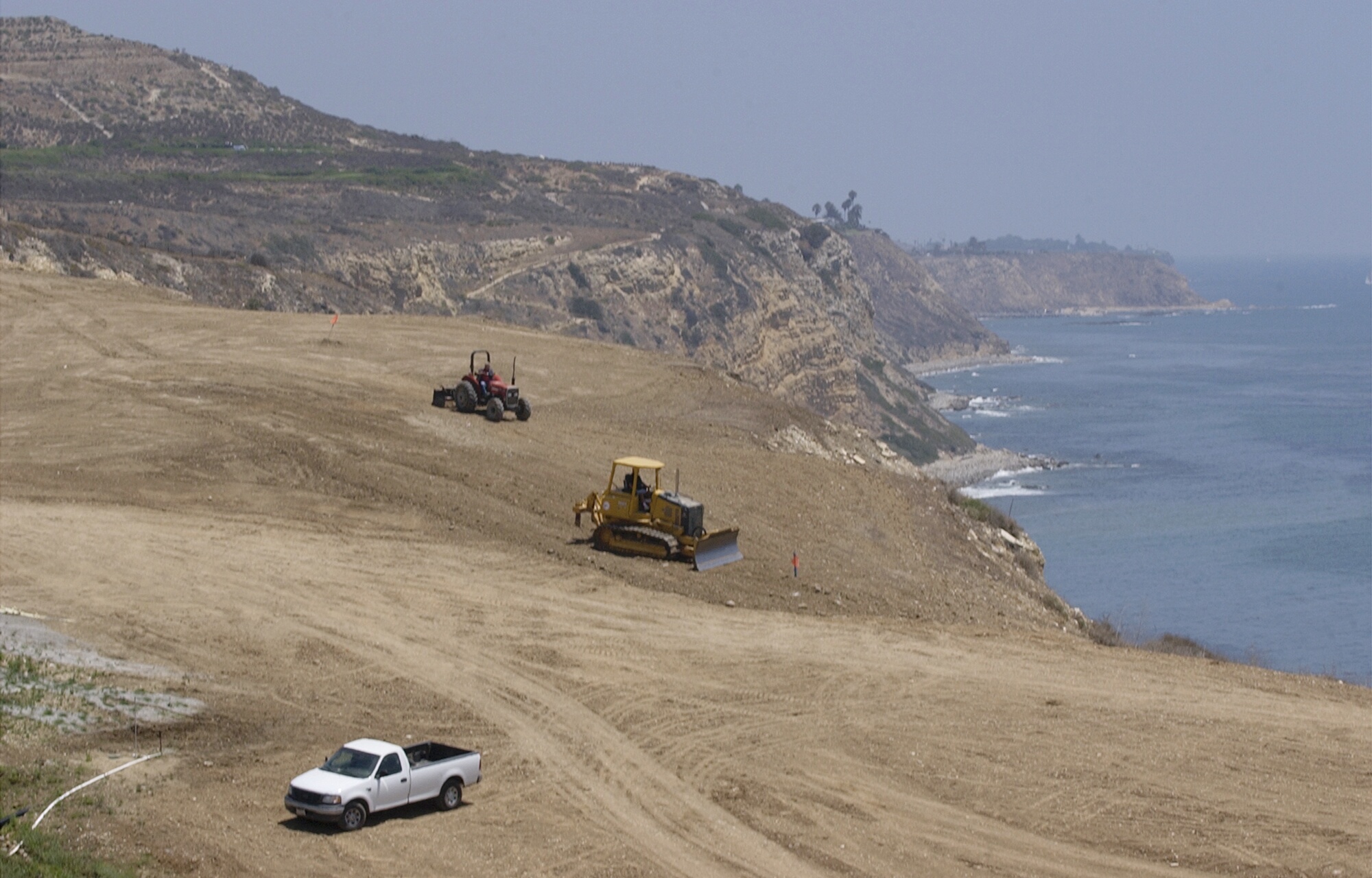 Perched atop cliffs overlooking the Pacific Ocean 30 miles from Los Angeles, the former Ocean Trails course was acquired by Trump in October 2002 for $27 million, according to The Los Angeles Times.
A few years earlier, while under previous ownership, the 18th hole had partially collapsed into the sea. Trump poured millions of dollars into redeveloping the course, along the way scuffling frequently with the Rancho Palos Verdes City Council, culminating in a $100 million lawsuit against the city in 2008. "The town does everything possible to stymie everything I do," he told The Los Angeles Times. The lawsuit was settled in 2012 for undisclosed terms.
The Pete Dye–designed course is open to the public, and it was recently ranked 90th on a Golf Digest list of the best public courses in the country.
The site of the course includes zoning for 57 single-family homes, known as the Estates at Trump National. According to Rancho Palos Verdes, 36 of those lots have been approved for development, and homes have been or are in the process or being constructed on those lots.
555 CALIFORNIA STREET: San Francisco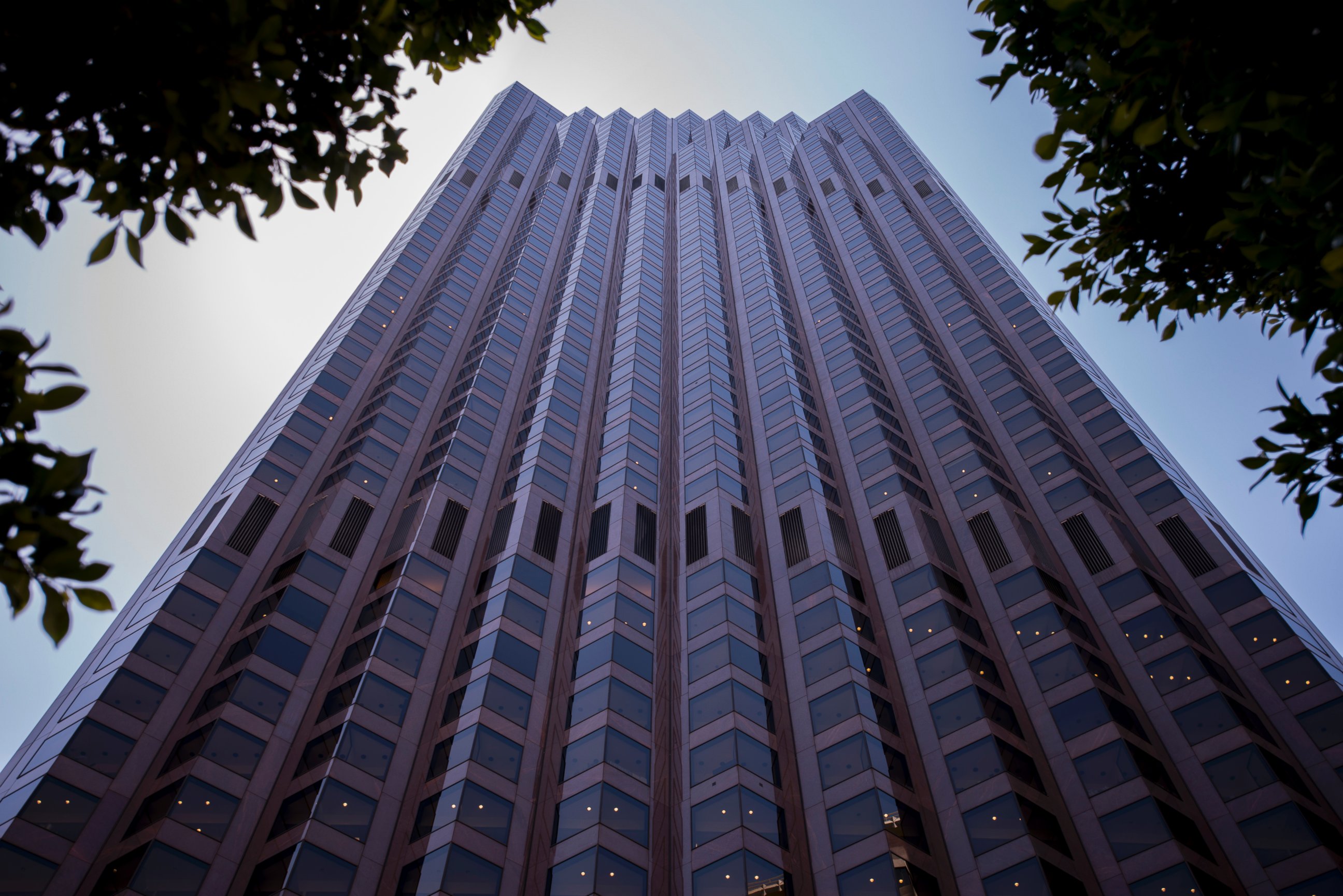 The Trump Organization holds a 30 percent interest in the iconic San Francisco skyscraper, formerly known as the Bank of America building, according to financial disclosure forms and regulatory filings. The majority owner is Vornado Realty Trust, a publicly traded commercial real estate firm that also owns buildings in Chicago, New York and Washington, D.C.
CONNECTICUT
TRUMP PARC STAMFORD: Stamford
The Trump Organization licenses its brand name to this high-end residential tower in downtown Stamford, which boasts on its website of "breathtaking views of New York City" and the "sunlit waters of Long Island Sound" from its private rooftop terrace. Before the building was complete, a model residence was used as a stand-in for a New York apartment in a scene for the crime thriller "Righteous Kill," starring Al Pacino and Robert De Niro.
FLORIDA
TRUMP GRANDE and TRUMP TOWERS: Sunny Isles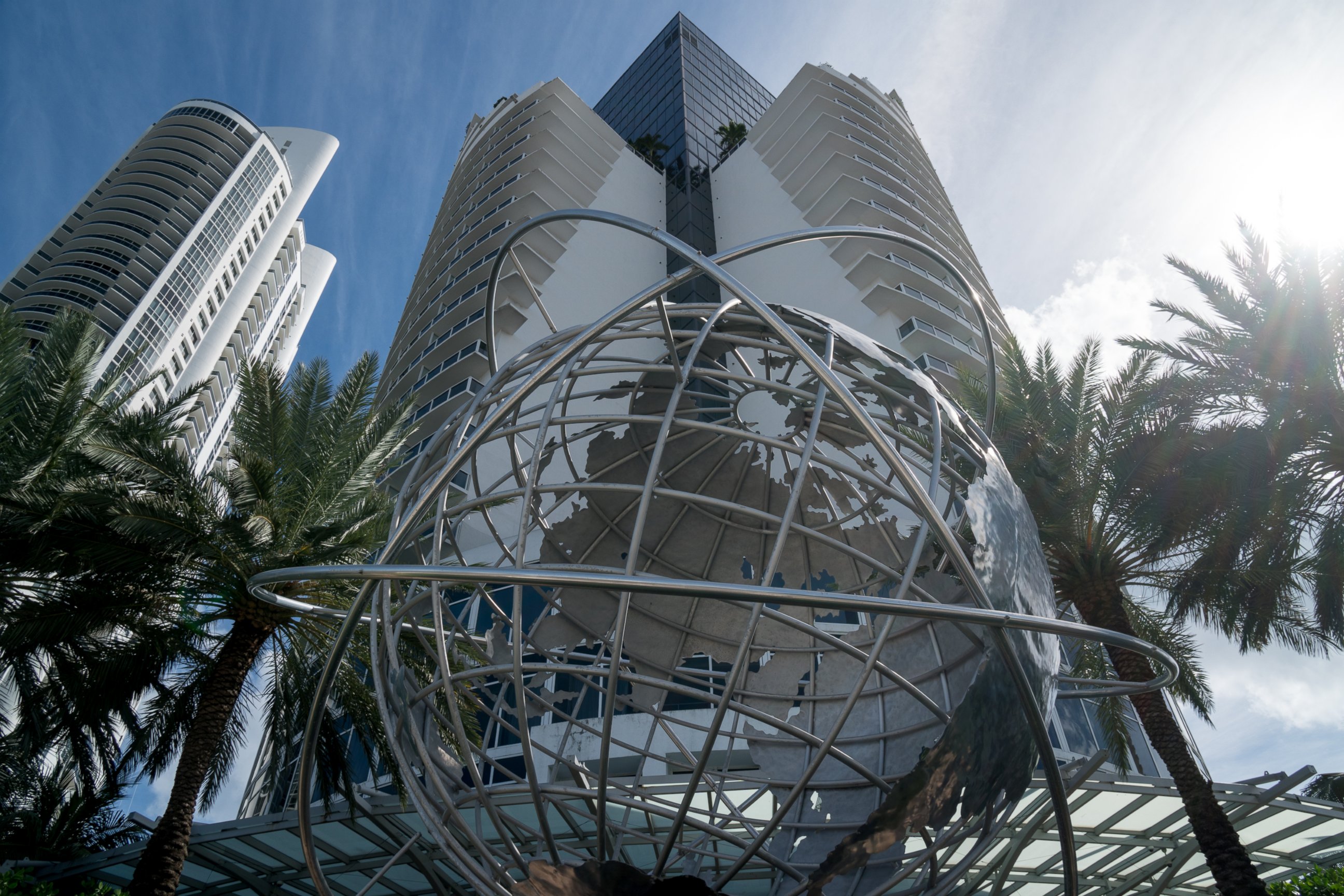 The Trump Organization does not have an ownership stake in the Sunny Isles properties but has brand licensing deals with Dezer Development on several residential towers on the barrier island, north of Miami Beach. The Trump Grande development includes a 31-story hotel, the Trump International Beach Resort. After Trump won the election in November, developer Gil Dezer told Bloomberg he expected the value of the properties to increase. "It's nice to be able to say my partner is the president-elect," he said.
The developments are notable for the interest they drew from Russians. ABC News conducted a review of hundreds of pages of property records and found that the developers of the Sunny Isles properties and other Trump-branded buildings catered to a significant number of Russian buyers throughout the 2000s — which one local real estate agent credited with turning Sunny Isles "into a Little Moscow."
Trump Organization general counsel Alan Garten told ABC News in September that the firm does not track the nationality of buyers. "This whole fascination with this connection is overblown and misleading," he told ABC News. "In a license deal we're not selling the unit," he added. "That is a contact between the developer of that project and the buyer. We're not selling anyone anything."
TRUMP HOLLYWOOD: Hollywood
A 41-story condominium tower halfway between Miami and Fort Lauderdale, the Trump Hollywood was developed by the Related Group, which contracts with Trump for the licensing of his name. Trump has no ownership interest in the project, which got off to a rocky start, as sales reportedly were slow during Florida's drastic real estate downturn in the late 2000s.
MAR-A-LAGO: Palm Beach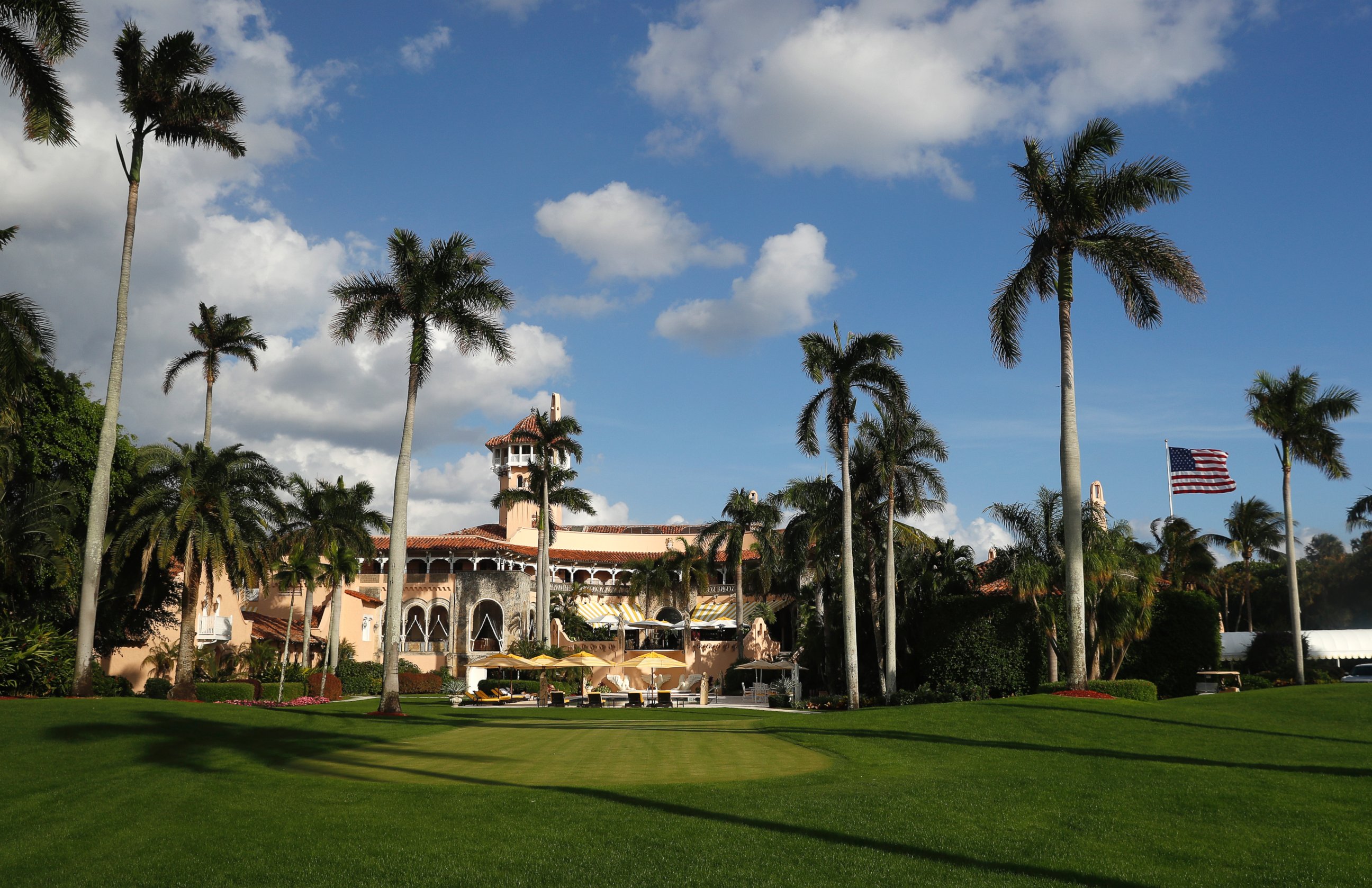 The beachfront estate that serves as Trump's Florida home is also an exclusive private club and spa. Built in 1927, it was formerly owned by socialite Marjorie Merriweather Post, the daughter of cereal magnate C.W. Post. The name Mar-a-Lago comes from the Spanish for "sea to lake." Trump celebrated his big Super Tuesday victories in the GOP primaries from the White and Gold Ballroom at the resort.
Early in the primary campaign, Trump's practice of hiring foreign workers for seasonal service positions at the resort, while done legally, came under scrutiny from the press and from his then-opponents Sens. Ted Cruz and Marco Rubio at a primary debate in Michigan. From 2013 to 2015, 250 job openings were posted for the club's eight-month peak season, yet just four of those jobs were filled by American workers, according to the U.S. Department of Labor. During the campaign, Trump defended the practice, saying it's "almost impossible" to find Americans to fill the positions.
One week after the November election, lawyers for Mar-a-Lago voluntarily dismissed a $100 million lawsuit Trump filed against Palm Beach County in 2015. Trump had alleged that the county's director of airport operations, out of personal animosity toward Trump, was intentionally and maliciously routing outgoing flights from Palm Beach International Airport directly over Mar-a-Lago. In its response to the lawsuit, Palm Beach County wrote that the claims were "utterly lacking in merit" and appeared to be designed to "create press buzz" and "cocktail party braggadocio."
TRUMP INTERNATIONAL GOLF CLUB FLORIDA: West Palm Beach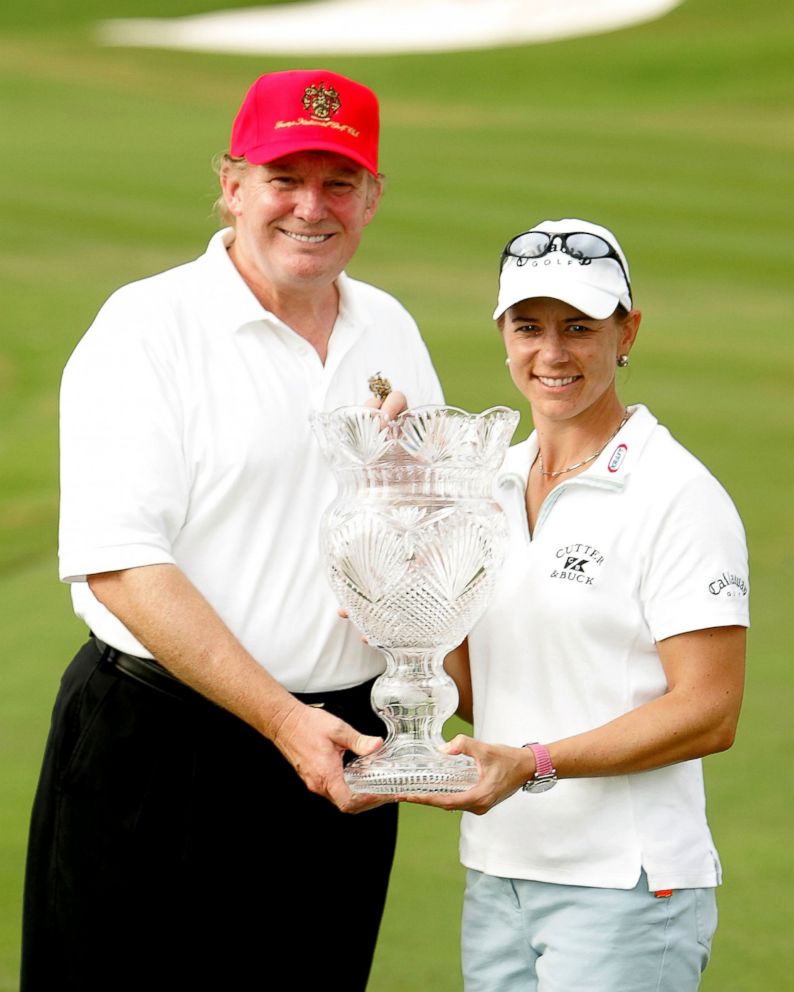 The members-only club has hosted nine LPGA championship tour events since 2001, according to the course's website. The course opened in 1999 and features rolling hills uncommon to South Florida. Architect Jim Fazio moved 3 million cubic yards of dirt to create the 7,326-yard course, according to a Sun-Sentinel report in 2001.
"When Mr. Trump builds something, he wants it the best ever built," Fazio told the paper. "He told me, 'If there's anything you want — to move more dirt, to raise something higher, anything — just do it.' As an architect, you can't ask for anything better than that."
TRUMP NATIONAL DORAL: Miami

The Trump Organization acquired the golf course and resort in 2012 for a reported $150 million. The property includes a clubhouse and hotel with 693 guestrooms, according to the organization's website.


Doral features four championship golf courses, including the challenging and famed Blue Monster, which has hosted a PGA tour event every year since 1962. But that streak will end in 2017, after the PGA decided last May to move the event to Mexico City for the next seven years.

Then–PGA tour commissioner Tim Finchem denied a political motivation for the switch but cited a difficulty in attracting sponsors after then-candidate Trump's disparaging comments about undocumented Mexican immigrants and his call to temporarily bar Muslims from entering the United States.
Trump called it "a sad day" for Miami and lumped the PGA leadership in with Nabisco and Carrier, frequent targets of his scorn, for putting "profit ahead of thousands of American jobs."

In a Fox News interview he said, "They're moving it to Mexico City ... I hope they have kidnapping insurance."
According to his financial disclosures, Trump has two mortgages on the property with Deutsche Bank: one for more than $50 million and one for $5 million to $25 million.
TRUMP NATIONAL GOLF CLUB JUPITER: Jupiter
Trump National in Jupiter was purchased by the Trump Organization in 2012 after the original owner, the Ritz Carlton Golf Club and Spa, ran into financial problems with the property. In a gated community north of Palm Beach, the resort is home to a Jack Nicklaus–designed golf course.
The club came to prominence early in the GOP primary campaign, when then-candidate Trump hosted a news conference there and laid out an extravagant spread spotlighting his past and present business ventures, including Trump-branded water, wines, vodka and steaks.
A civil lawsuit brought by some members of the club in federal court alleges that the Trump Organization changed the rules about membership refunds and club access after taking over the resort from Ritz-Carlton. A two-day bench trial was held in August, but the judge has yet to rule on the claims by the 65 aggrieved members that they are collectively owed almost $5 million. The Trump Organization has contested the allegations, arguing that "Trump Jupiter was well within its rights under the membership plan to reverse course from Ritz's prior policies."
HAWAII
TRUMP INTERNATIONAL HOTEL & TOWER: Waikiki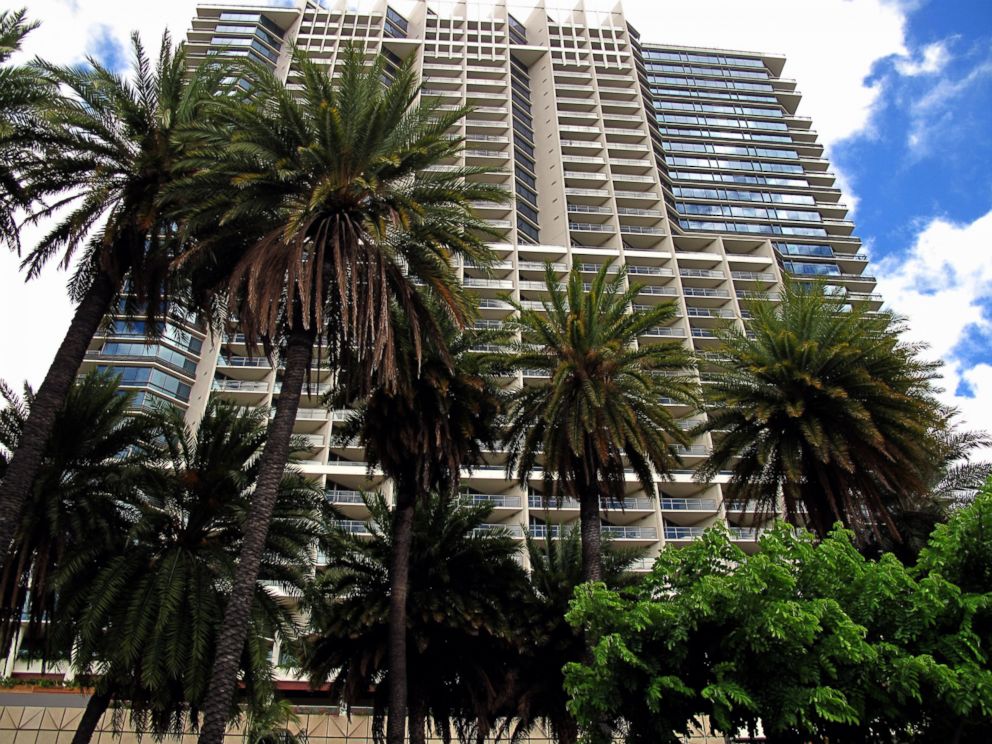 The first of two licensing deals Trump entered into with California-based real estate investment firm Irongate, this 38-story luxury condominium hotel near Waikiki Beach was promoted by Trump "as the most luxurious development in one of the most recognized resort destinations in the world."
The company marketing the property announced in late 2006 that all 464 of the residences were sold in a single day and billed the $700 million dollar haul as "the biggest one day sale in real estate history in the world." Japanese investors accounted for the largest group of buyers, the company said.
A subsequent licensing deal between Trump and Irongate in Baja, Mexico, went south and led to extended litigation after the developers were unable to complete the project.
ILLINOIS
TRUMP INTERNATIONAL HOTEL & TOWER: Chicago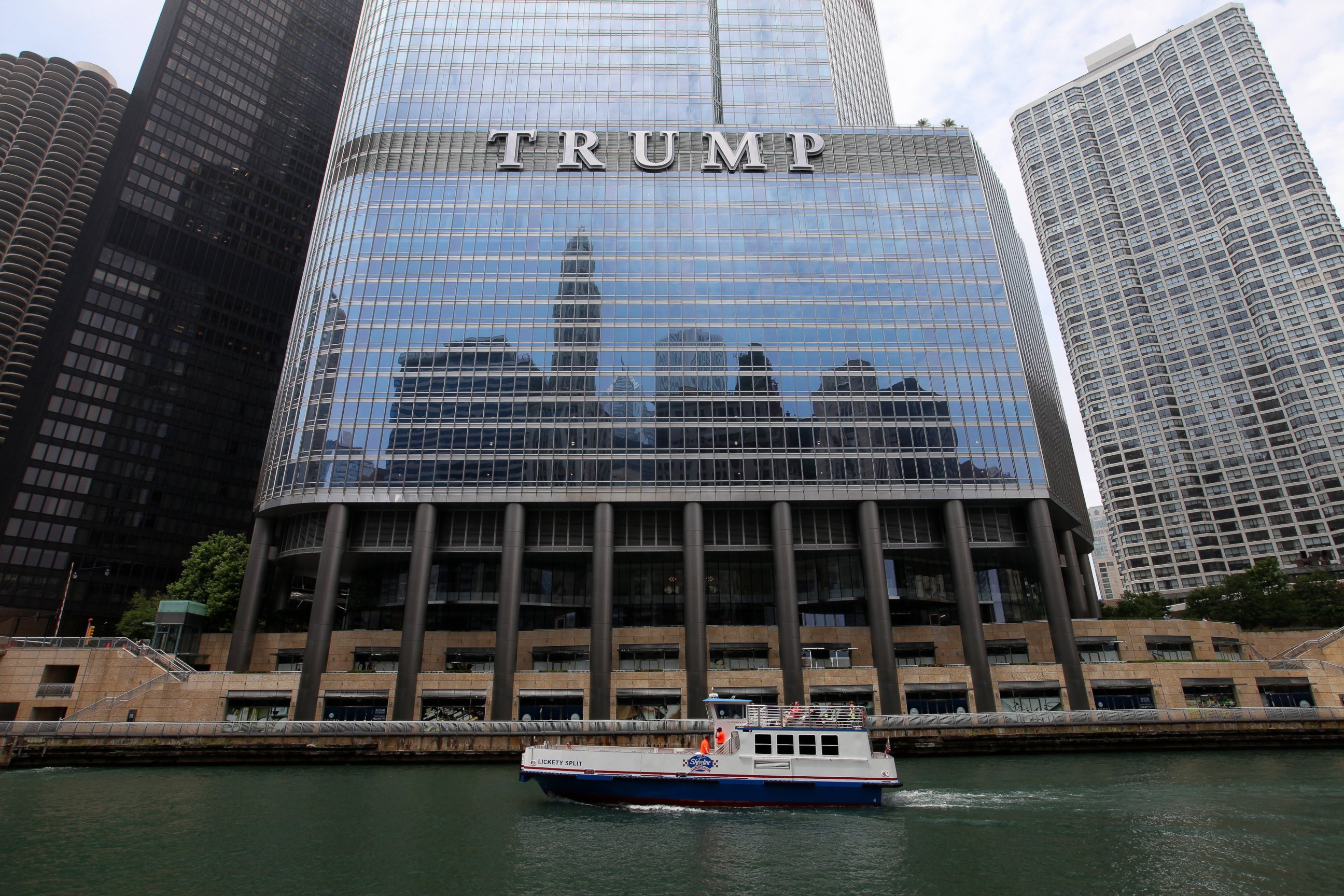 Among Trump's most ambitious construction projects in recent years, the glass and concrete hotel-condominium rises more than 90 stories above the north bank of the Chicago River and occupies a prominent position in the skyline of the Second City. The skyscraper opened in 2008 amid the financial crisis, resulting in sluggish sales and leading to competing lawsuits between Trump and the project's largest lender, Deutsche Bank, which eventually settled.
The German bank, which is the subject of two ongoing Department of Justice investigations unrelated to its dealings with Trump, has lent him hundreds of millions of dollars for a number of his recent endeavors, including the Trump Old Post Office hotel project in Washington and the Trump National Doral resort in Miami, according to Trump's financial disclosures.

ABC News reported in November on calls for an independent prosecutor to take over the investigations of Deutsche Bank in order to avoid potential conflicts of interest once the Trump administration installs new leadership at the DOJ. The department rejected the request in early December.
On Dec. 23, Deutsche Bank agreed to a $7.2 billion settlement in principle with the Justice Department, with no admission of wrongdoing, over its alleged role in the late-2000s mortgage crisis. If approved, the settlement will resolve one of two major legal issues facing the bank. The bank remains under another DOJ investigation focused on allegations that some former traders helped clients illegally move money out of Russia.
NEVADA
TRUMP INTERNATIONAL HOTEL: Las Vegas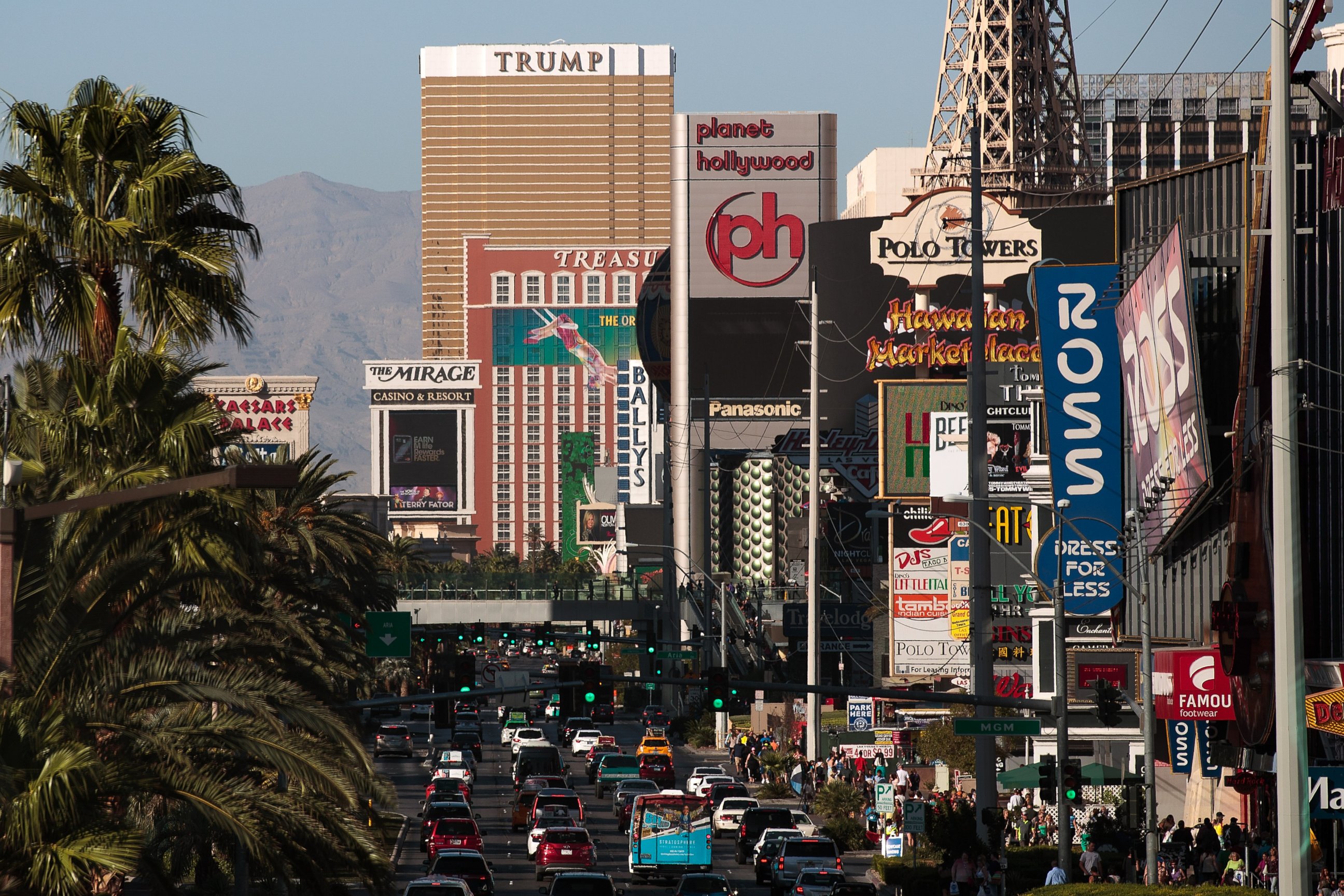 Trump owns this 64-story luxury tower just off the Las Vegas Strip with fellow billionaire Phil Ruffin.
In November the National Labor Relations Board ruled that the owners had engaged in unfair labor practices for refusing to bargain with a union representing housekeepers and other service employees at the hotel.
Trump and Ruffin appealed the ruling in federal court but in late December dropped the case. And a four-year agreement with the union was announced. After his inauguration, Trump will be in position to fill two vacant positions at the NLRB.
NEW JERSEY
TRUMP NATIONAL GOLF CLUB BEDMINSTER: Bedminster
The 600-acre upscale private golf resort a short drive from Manhattan was built on the former estate of late automaker John DeLorean. In mid-November, the property briefly occupied a spot at the center of the political universe, as Trump spent several days there meeting with candidates for positions in his administration.
The property, which is scheduled to host the U.S. Women's Open in July, was the site of the 2009 wedding of Trump's daughter Ivanka Trump to Jared Kushner, who emerged as a quiet force on the campaign and who was named this week to a position as senior adviser to the president. "Jared has been a tremendous asset and trusted advisor throughout the campaign and transition, and I am proud to have him in a key leadership role in my administration," Donald Trump said in a statement released Monday afternoon. "He has been incredibly successful, in both business and now politics. He will be an invaluable member of my team as I set and execute an ambitious agenda, putting the American people first."
TRUMP NATIONAL GOLF CLUB: Colts Neck
Trump purchased the financially troubled Shadow Isle Golf Club in 2008 and brought in one of his frequent collaborators, architect Tom Fazio, to supervise improvements to the property.

In 2012, Trump was granted approval to construct a helipad in the middle of the course. Despite the objections of Colts Neck Township, the decision was upheld by the New Jersey Superior Court of Appeals.
TRUMP PLAZA RESIDENCES: Jersey City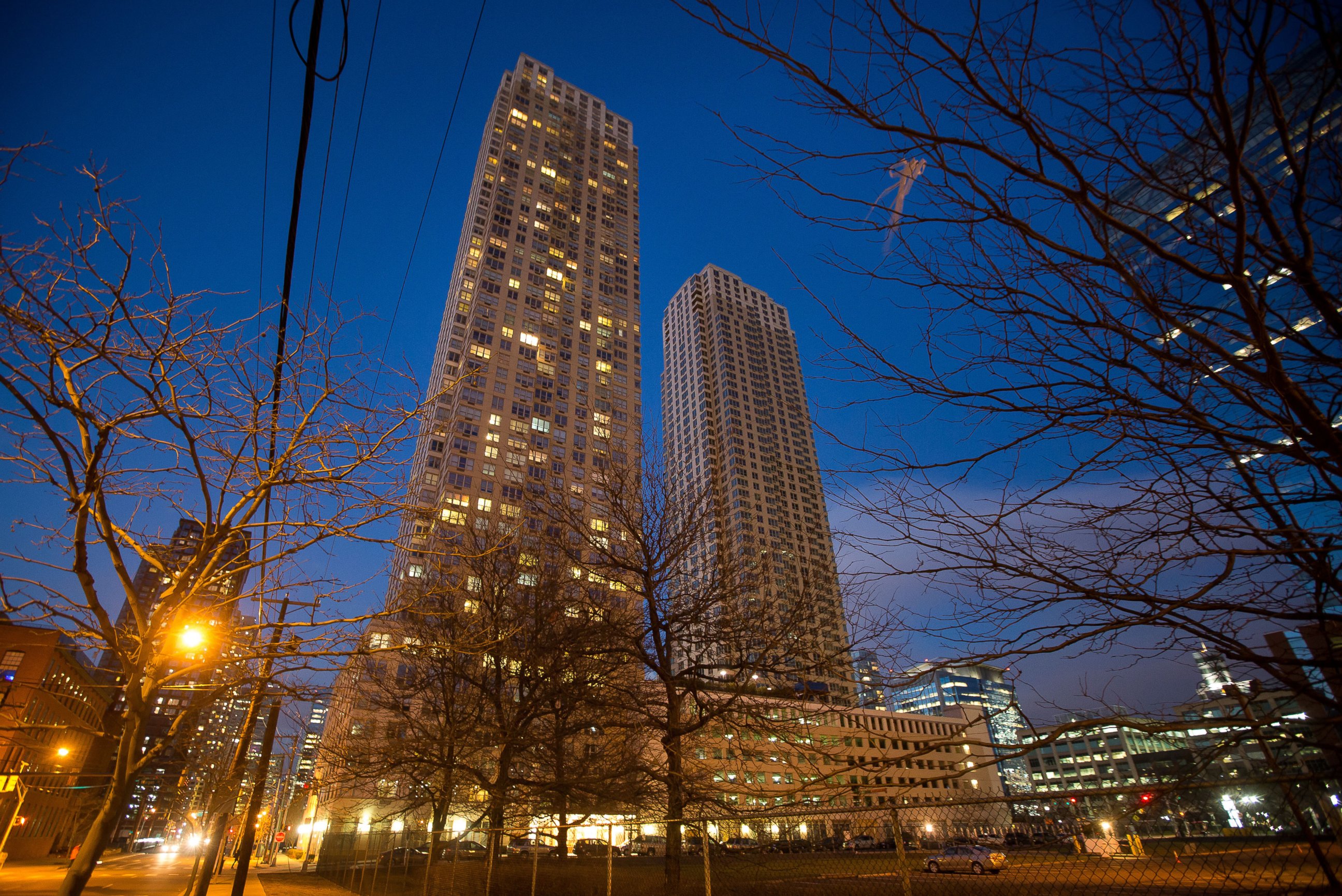 Trump licenses his name to this 55-story condominium tower near the Hudson River that boasts of "breathtaking views of the Manhattan skyline and the Statue of Liberty," according to the Trump Organization website.
According to court documents and published reports, the developer intended to build a second Trump-branded building, Trump Bay Street, adjacent to the Trump Plaza but went into foreclosure.
The Wall Street Journal reported that the mortgage on that property was purchased in 2014 by a partnership led by Kushner Companies, whose CEO is Kushner.
An attorney for Kushner told ABC News this week that he was preparing to resign from his position at his family business and would "divest substantial assets in accordance with federal guidelines."
"Mr. Kushner is committed to complying with federal ethics laws, and we have been consulting with the Office of Government Ethics regarding the steps he would take," said Jamie Gorelick, an attorney and partner at the law firm WilmerHale.
TRUMP NATIONAL GOLF CLUB PHILADELPHIA: Pine Hill, NJ
This private club about 20 miles southeast of Philadelphia was purchased by Trump just before Christmas in 2009. Its New Jersey location is just a few miles from the private Pine Valley Golf Club, an exclusive club not owned by Trump that is perennially rated as one of the finest courses in the world.
NEW YORK
TRUMP TOWER: Manhattan

The flagship property in the Trump Organization's portfolio, the Fifth Avenue mixed-use high-rise is where Trump lives and works, and it previously was the setting for his long-running NBC reality series, "The Apprentice."
On June 16, 2015, Trump and his wife, Melania Trump, rode down an escalator to the tower's atrium to declare his candidacy for the GOP nomination for president.
Trump Tower served as campaign headquarters for the candidate and is now the nerve center for Trump's transition team. The multistory atrium lobby of Trump Tower is open to the public every day from 8 a.m. to 10 p.m. under an agreement Trump reached with New York City before the building's construction in the early 1980s.
Among the tower's largest commercial tenants is the Industrial and Commercial Bank of China, a state-controlled enterprise that signed a 10-year lease in 2008 for the entire 20th floor.
According to loan documents filed with the Securities and Exchange Commission — first reported by Bloomberg — the ICBC in 2012 paid $1.95 million in rent in for just over 20,000 square feet of space. The lease expires in October 2019, according to the documents.
40 WALL STREET: Manhattan
Trump purchased the iconic office tower across the street from the New York Stock Exchange in 1995. Built in 1929, it was reported to be 89 percent vacant at the time of the sale to Trump.
In a 2015 analysis of Trump's holdings, Bloomberg rated 40 Wall Street as the single most valuable asset in Trump's real estate portfolio, with an estimated value of $550 million. According to Trump's financial disclosure form, he has an outstanding loan on the property of more than $50 million.
610 PARK AVENUE: ManhattanThe former Mayfair hotel was purchased for $15 million by investment firm Colony Capital in a foreclosure sale in 1996, according to a report in The New York Times. Colony then partnered with Trump to develop the building and convert it into 70 luxury condominiums.
Colony Capital's founder, Thomas Barrack, was a prominent advocate for Trump during the presidential campaign, and he was named by the president-elect to chair the Presidential Inaugural Committee.


1290 AVENUE OF THE AMERICAS: Manhattan

Trump has a 30 percent stake in this 2 million–square–foot office building that encompasses an entire city block on Sixth Avenue. In 2007, Vornado Realty Trust acquired a 70 percent share of the building in a purchase from a group of Chinese investors.
Forbes magazine estimated Trump's net stake in the building at more than $400 million.
STARRETT CITY: Brooklyn
Trump has disclosed that he owns a 4 percent share of this massive affordable housing development in Brooklyn with 46 buildings and more than 5,000 apartments. As ABC News reported, if Trump's pick for secretary of housing and urban development, his former campaign rival Ben Carson, is confirmed, he will soon oversee one of the largest federally subsidized affordable housing projects in the country — one that is part-owned by his boss.
Trump's financial disclosure report values his share of Starrett City, also known as Spring Creek Towers, at $5 million to $25 million, and Trump reported that it generated $1 million to $5 million in income for him last year.
TRUMP INTERNATIONAL HOTEL & TOWER: ManhattanThe 52-story hotel, with a prestigious location at the southwest corner of Central Park, was the venue for one of the more awkward moments of the Trump transition so far.
It was in the hotel's upscale French restaurant, Jean-Georges, where Trump dined with his chief-of-staff-to-be Reince Priebus and the 2012 GOP presidential nominee, Mitt Romney.
During the campaign Romney called Trump "a phony" and "a fraud," but after Trump's victory Romney engaged in talks to become Trump's secretary of state. Trump previously labeled Romney a "choke artist," but the former Massachusetts governor apparently managed to get through dinner without incident. Trump later tapped ExxonMobil CEO Rex Tillerson to lead the State Department.
TRUMP PALACE: Manhattan
The liberal political and sports commentator Keith Olbermann brought attention to this Trump-branded residential tower on Manhattan's Upper East Side when he announced in a Washington Post opinion piece last March that he was putting his two-bedroom condo in the building on the market.
"I'm getting out because of the degree to which the very name Trump has degraded the public discourse and the nation itself," Olbermann wrote.
In a retort reported by The Wall Street Journal, Trump accused the former MSNBC host of trying to invoke the Trump name to stay relevant. "When people find out he is leaving Trump Palace, prices will probably go up," Trump quipped.
TRUMP PARC and TRUMP PARC EAST: Manhattan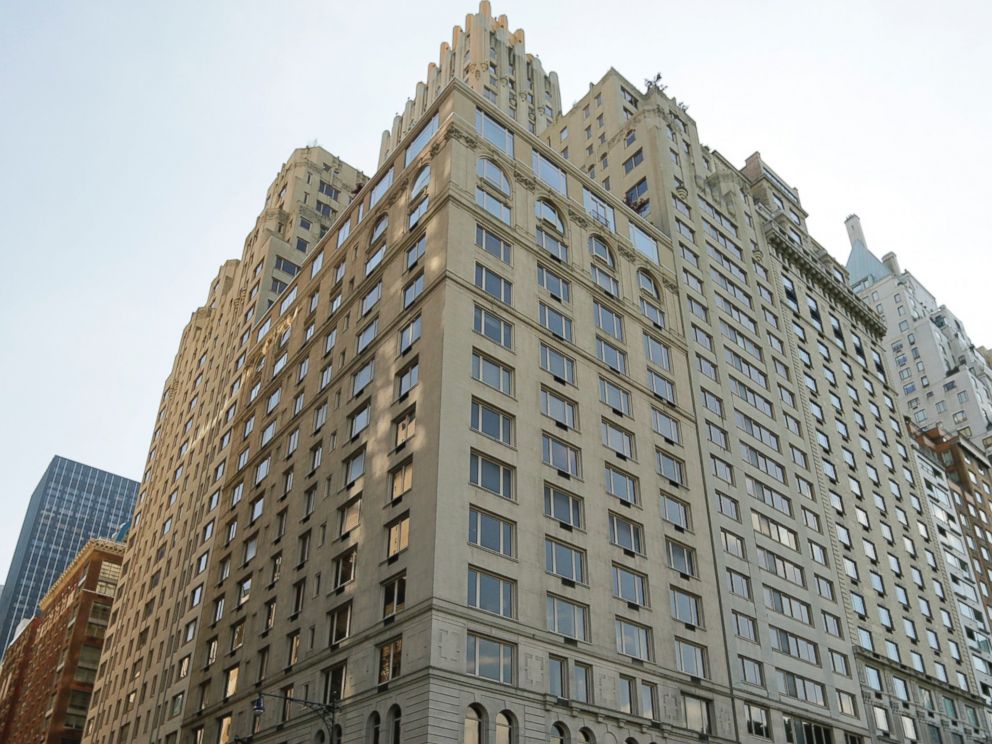 Trump bought these two buildings near Sixth Avenue across from Central Park in the early 1980s. One was a hotel, the other, an apartment building occupied by tenants with rent-controlled leases.
Trump waged a years-long battle with the city and the tenants of one of the buildings, who fought with Trump to keep their rent-controlled apartments.

Years later, after the clash finally ended, in his book "The Art of the Deal," Trump wrote admirably of the defiant New Yorkers "who fought very hard to keep me from tearing down the building they lived in and constructing a new one in its place. They succeeded. But by delaying me for several years, during which real-estate values soared, they inadvertently helped me come up with a much more profitable project."
TRUMP PARK AVENUE: Manhattan

Trump purchased the 35-story prewar building on Park Avenue in 2001 for a reported $115 million, according to The Wall Street Journal, and converted the former Delmonico Hotel into luxury condominiums.
The hotel, in the Lenox Hill neighborhood near Central Park, was said to be the site of the first meeting between Bob Dylan and the Beatles in 1964, according to legendary rock music journalist Al Aronwitz.
When reports emerged that embattled New York Yankees star Alex Rodriguez put his condo in the building up for sale in 2012, Trump couldn't resist a parting shot at the slugger, who admitted to using performance-enhancing drugs. "A-Rod was a great player when he lived at Trump Park Avenue," Trump wrote on Twitter, "even though he was on the juice!"
TRUMP PARK RESIDENCES: Yorktown TRUMP TOWER AT CITY CENTER: White PlainsTRUMP PLAZA: New RochelleThe Trump Organization licenses its name to these three residential developments outside New York City, in partnership with the Cappelli Organization. The Trump Organization says it has no ownership interest in the properties.
TRUMP PLACE: ManhattanThe Trump Organization manages these condominium buildings on the Upper West Side of Manhattan near Riverside Park. Trump developed the properties in the 1990s in a minority partnership with a group of investors from Hong Kong, who later sold the buildings over Trump's protests and a lawsuit in which he claimed his partners had failed to consider competing bids.
After Trump's election in November, the Trump Place name was removed from three adjacent apartment buildings that were sold years ago and that are now owned and managed by a Chicago real estate firm.
TRUMP SOHO: Manhattan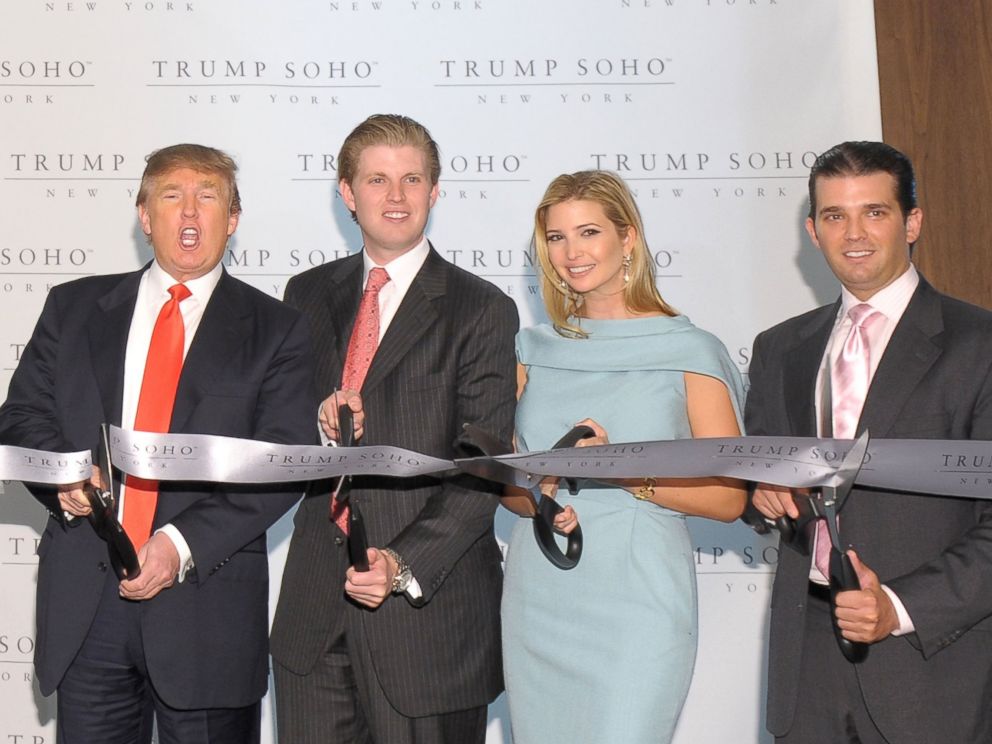 The Trump Organization operates and licenses its name to this luxury condo-hotel in one of Manhattan's trendiest neighborhoods. Opened in 2010, the project went into foreclosure four years later, reportedly because of sluggish unit sales, and The Wall Street Journal reported it was purchased by the CIM Group, a Los Angeles real estate investment firm.
TRUMP WORLD TOWER: Manhattan
The residential skyscraper, just north of the United Nations headquarters, with 363 condominiums, was completed in 2001.
New York Yankees captain Derek Jeter was reportedly among the first purchasers in the building. Years later, just a few days after it was reported that Jeter sold his 88th floor penthouse digs, he fractured his ankle in the first game of a 2012 playoff series at Yankee Stadium, ending his season. Trump couldn't help trying to connect the two events.
"Derek Jeter had a great career until 3 days ago when he sold his apartment at Trump World Tower," Trump joked in a tweet. "I told him not to sell – karma?"
TRUMP GOLF LINKS AT FERRY POINT: The Bronx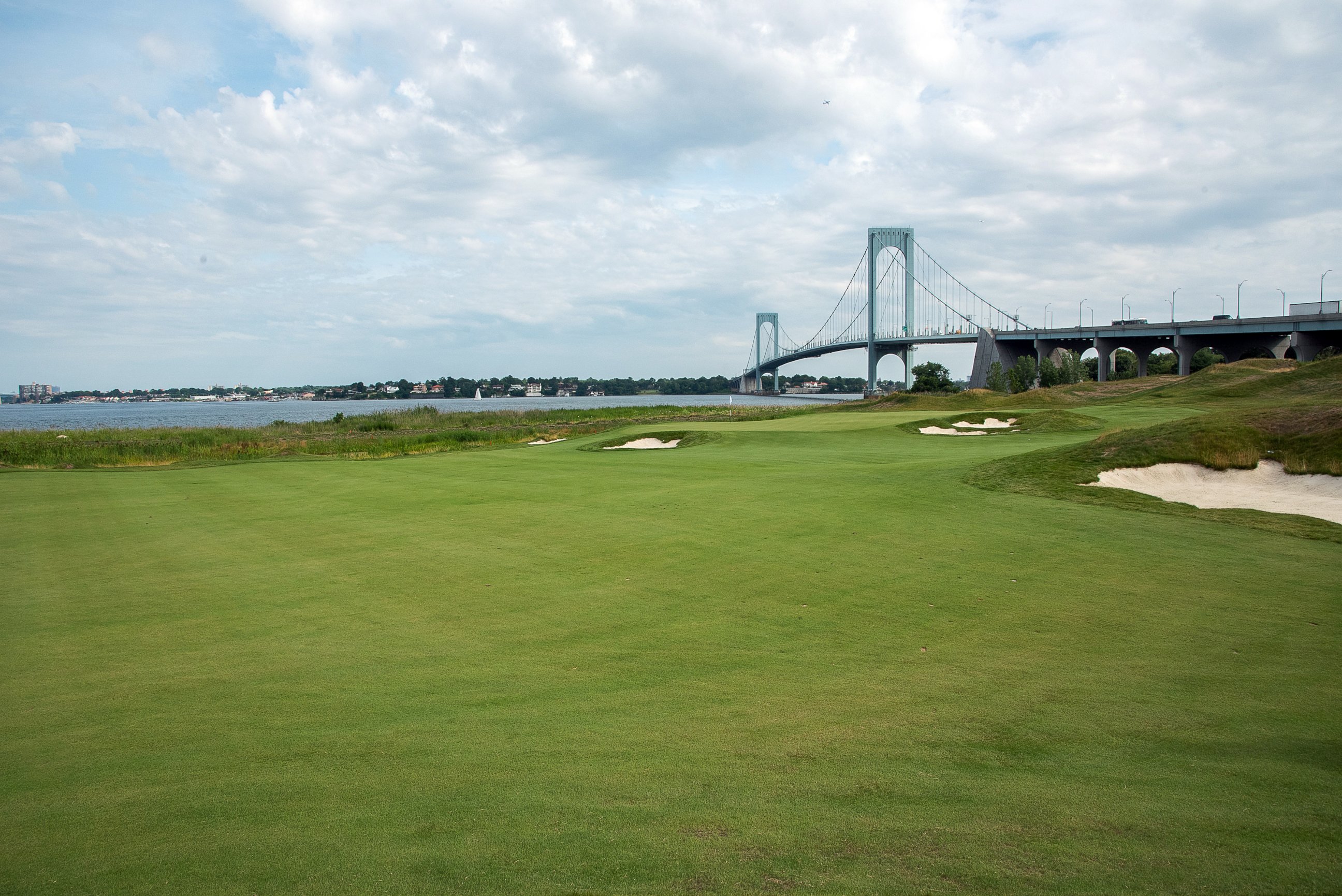 New York City taxpayers shelled out at least $127 million for the construction of this 18-hole Jack Nicklaus Signature golf course in the shadow of the Whitestone Bridge, Crain's New York reported.
Trump was not the original developer of the course, but in 2011 he negotiated a deal with then-Mayor Michael Bloomberg for the Trump Organization to step in to help complete the project, the city reported in a press release. Trump inked a 20-year contract to operate the tournament-quality public course, which officially opened for play in 2015.
The city's deal with the Trump Organization, which does not require it to pay the city licensing fees until 2019, has been roundly criticized.
According to the course's website, a New York City resident will need to cough up $172 for a weekend round of golf on the course.
TRUMP NATIONAL GOLF CLUB HUDSON VALLEY: Hopewell Junction
Trump valued this private golf resort, which he purchased in 2009, at $5 million to $25 million on his most recent financial disclosure form.
But according to The Poughkeepsie Journal, the club filed a grievance in 2015 with the town of East Fishkill, seeking a reduction in its tax assessment to just $2 million. Eventually the town agreed to reduce the club's assessment to $4.3 million, down from its previous valuation of $6 million, the Journal reported.
TRUMP NATIONAL GOLF CLUB WESTCHESTER: Briarcliff ManorThe Trump Organization website describes this course as an "extraordinary destination and luxury golf experience" and its "winding streams, stone bridges and 101-foot waterfall makes for breathtaking golf holes."
On his most recent financial disclosure forms released in May, Trump fixed the value of the course at over $50 million, even as his attorneys were arguing the property is worth just $9 million for tax purposes — an evaluation that local officials argued was meant to allow Trump to unfairly skimp on what he owes.
As shown in an ABC News investigation last year, Trump's attorneys originally claimed that the sprawling 18-hole carefully manicured Trump National Golf Club in Westchester County was worth $1.35 million. Dana Levenberg, a Democrat and the supervisor for Ossining, New York, which has jurisdiction over the property, called the figure "ridiculous."
The Trump Organization declined to comment on the controversy over the course's valuation for ABC News' report in May.
NORTH CAROLINA
TRUMP NATIONAL GOLF CLUB CHARLOTTE: MooresvilleMembers of the privately owned Point Lake and Golf Club reportedly approved a sale of the club to Trump in March 2012 for $3 million, according to the Golf Channel.
After extensive renovations, Trump returned to play the course with Australian golf legend Greg Norman, the course's designer, according to a report in The Mooresville Weekly.
VIRGINIA
TRUMP NATIONAL GOLF CLUB, WASHINGTON, D.C.: Sterling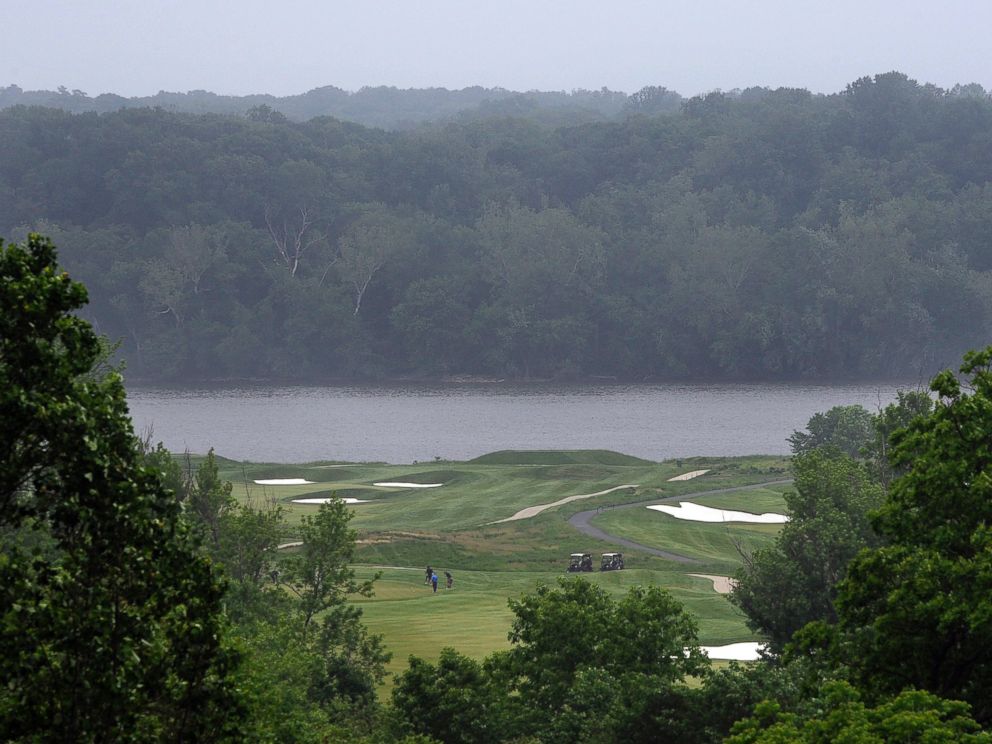 This Northern Virginia golf course on the banks of the Potomac River near the nation's capital will be the host site for the 2017 Senior PGA Championship in May. Trump purchased the property, formerly known as Lowes Island, in 2009.
TRUMP VINEYARD ESTATES: CharlottesvilleTrump swooped in and purchased the estate of the late media billionaire John Kluge and his wife, Patricia Kluge, after the couple divorced and Patricia Kluge ran into financial distress, according to The Washington Post. The property includes a vineyard, winery and 26,000-square-foot mansion, known as Albermarle House, which was converted by Trump into a 10-room hotel.
Trump Winery is operated by Eric Trump and is not affiliated with the Trump Organization, according to a disclaimer on the winery's website.
WASHINGTON, D.C.
TRUMP INTERNATIONAL HOTEL: Washington, D.C.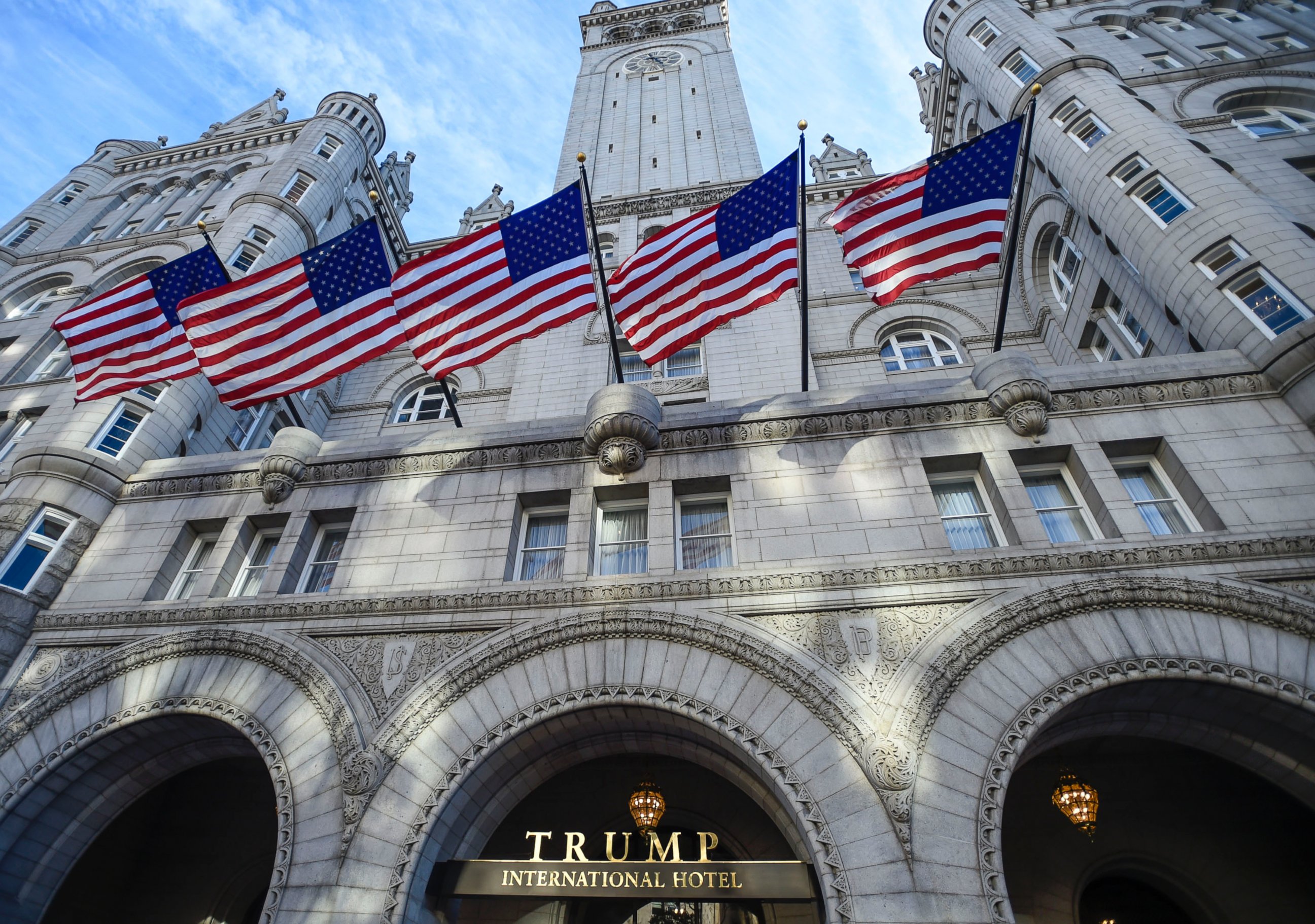 The Trump International Hotel was constructed in the landmark Old Post Office in Washington, D.C. In 2013 the General Services Administration, a federal agency, awarded Trump Hotels the right to lease the property for 60 years at a cost of $3 million a year. Donald Trump spent $200 million renovating the 117-year-old structure, on Pennsylvania Avenue halfway between the White House and Capitol Hill.
Once Trump is sworn into office, he will be both landlord and tenant of the hotel because, as president, he will oversee the GSA.
Ethics groups and Democratic members of Congress have raised concerns that foreign governments or corporations could seek to book rooms and events at the hotel in attempts to curry favor with the Trump administration.
ABC News' Meghan Keneally, Zunaira Zaki, Taylor Dunn, Jessica Puckett, Erica Scott, Matthew Mosk, Jordyn Phelps, Katherine Faulders and Lauren Pearle contributed to this report.