The video footage of Tyre Nichols' interaction with five Memphis police officers is "appalling," "deplorable," "heinous," "violent" and "troublesome on every level," Ben Crump, attorney for the Nichols family, said during a press conference Monday after viewing the bodycam video.
Nichols' family, along with attorneys Crump and Antonio Romanucci, viewed the body-camera footage Monday morning, facilitated by the Memphis Police Department and Memphis City administration.
The arrest video has not been released to the public.
"What he was in that [video] was defenseless the entire time," Romanucci said. "He was a human piñata for those police officers. It was unadulterated, unabashed, nonstop beating of this young boy for three minutes." Romanucci also mentioned that Nichols, who died January 10, was kicked during the footage.
According to Nichols' mother, Rowvaughn Wells, he was 2 minutes away from his home when he was pulled over, and less than 80 yards from the house when he was apprehended by the officers.
Rowvaughn told ABC News' Steve Osunsami that she could not watch the entire video.
"Once the video started and I heard my son's voice, I lost it. I couldn't stay in the room. All I heard him say was, what did I do? And once I heard that, I lost it," she said.
Crump and Romanucci said the footage shows that Nichols did not originally run when being approached by officers, and told them that "he was just trying to get home" from FedEx, where he worked, and yelled for his mother three times toward the end of the video.
"Our son ran because he was scared for his life," Rodney Wells, Nichols' stepfather, said. "He did not run because he was trying to get rid of no drugs, no gun, no any of that. He ran because he was scared for his life. And when you see the video, you will see why he was scared for his life."
The family said they saw the police kick, pepper spray and use a stun gun on their son all while Nichols repeatedly asked, "What did I do?"
"They handcuffed him and set him, propped him up on the car. And as he fell over they'd tell him 'sit back up,' Rodney told ABC News. "You know, and he would slump back over again and they would make him sit back up. They never rendered any aid."
Rowvaughn Wells spoke through tears at the press conference, recalling how good of a boy her son was and demanded justice following his death.
"We're going to get justice for my son Tyre if that's the last breath I take," she said.
Nichols died on Jan. 10, three days after being stopped by police for alleged reckless driving. He was hospitalized in critical condition after complaining of shortness of breath during the arrest.
The Memphis man had Crohn's disease and suffered from severe weight loss, according to his family. The appearance of Nichols at the hospital was emotional for his parents.
"When I walked into that hospital room, my son was already dead," Rowvaughn Wells said.
The Memphis Police Department announced on Friday that it fired the five police officers, all Black, involved in the incident, concluding the department's internal investigation.
The officers were identified as Tadarrius Bean, Demetrius Haley, Emmitt Martin III, Desmond Mills Jr., and Justin Smith.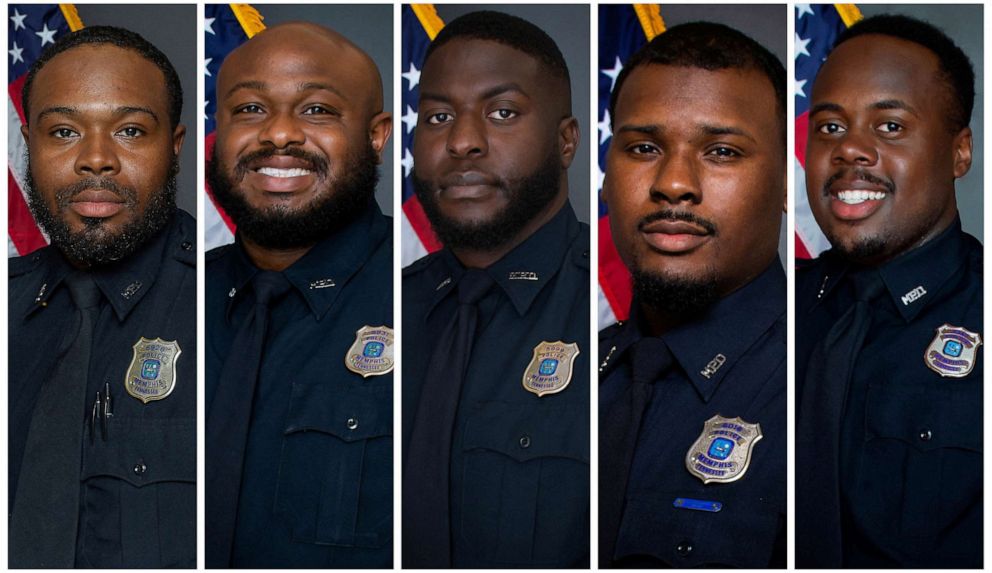 The officers were in patrol cars during the stop, although some of the vehicles were unmarked, according to the family's attorneys.
Shelby County District Attorney Steve Mulroy told ABC News that they're looking into possible criminal charges against the former officers. The family said they're hoping for a murder charge to be issued.
The video footage is expected to be released either this week or next week, according to an official statement from the Shelby County District Attorney's office released on Monday.
"Transparency is a priority for the DA's Office, and we understand the public's desire for immediate release. However, it's important that the release does not compromise the investigation," the statement said.
The FBI and the Justice Department are continuing their coordinated investigations for the death of Tyre Nichols alongside the Tennessee Bureau of Investigation and the Shelby County District Attorney's Office.
Crump and Romanucci announced they will be conducting their own civil investigation.
Nichols' death has caused the Memphis community to protest, with citizens demanding the public release of the body-camera footage.
"Whatever it takes to clear my son's name and to get justice for my son," Rodney Wells told ABC News. "If they need to keep the video for two more weeks, then let them keep the video for two more weeks."
The former police officers and the police union did not immediately respond to ABC News' requests for comment.
Nichols' family and family attorneys are expected to release the results of an independent autopsy Tuesday morning.