— -- Uber and Lyft customers might be getting a bit more than a ride home from some of their drivers.
Users of the secret-sharing app Whisper are sharing purported tales of trysts with their civilian chauffeurs -- some saying they went so far as to have consensual sex with the driver they hired.
Others -- both drivers and customers -- just say they've been tempted to hook up with someone they met through the popular ride-sharing apps.
How to Stay Safe When Riding With Uber
Uber and Lyft Face First-Ever Fines in the US
The stories are tantalizing but anonymous. Whisper officials told ABC News that they've vetted accounts of several people who said they have had sex with an Uber or Lyft driver, and of drivers who said they had sex with customers. And based on things such as geo-location of the posts and direct inquiries, they said they have no reason to believe the posts are bogus.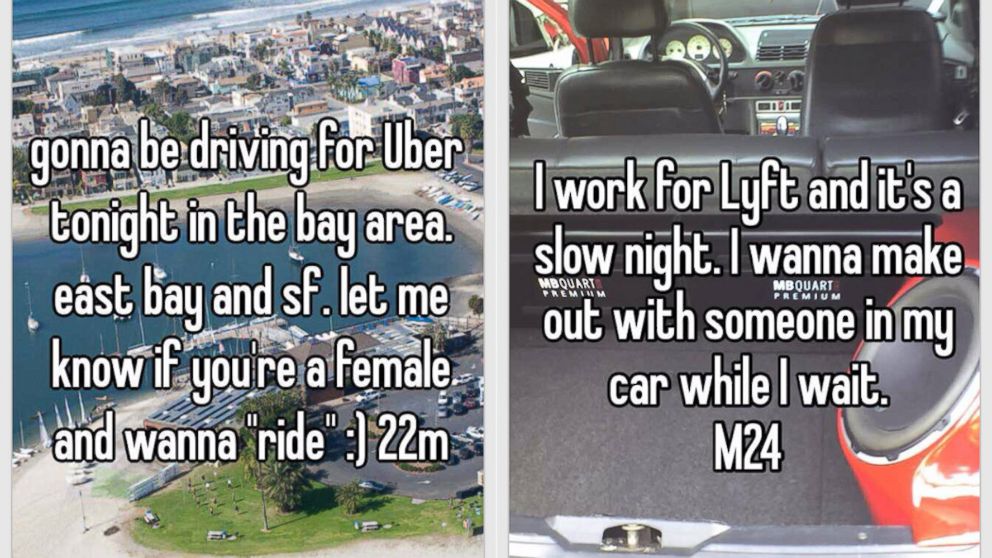 "These are legit whispers," said Slade Sohmer, head of news for Whisper.
Jennifer Mullin, a spokeswoman for Uber, said it is definitely against the company's policy for a driver to have sexual relations with a customer.
"Safety is our number one priority," Uber said in a statement. "We always follow up with allegations or complaints of misconduct and take them very seriously. We expect and require driver partners to act professionally while on the road, and hope that riders and drivers are prioritizing safety in their personal lives as well."
Uber drivers have been accused of sexual assaulting riders and even kidnapping a woman in one case in the past, and the company suspends drivers immediately after such allegations.
Lyft did not respond to ABC News' request for comment.