Five undocumented immigrants in a speeding sport utility vehicle were killed Sunday when it crashed while being chased by border patrol agents and a sheriff's deputy in a Texas town about 50 miles from the border with Mexico, officials said.
The fatal crash occurred around noon local time near Big Wells, which is about 100 miles southwest of San Antonio, Dimmit County Sheriff Marion Boyd told reporters at the scene.
Boyd said a total of 14 people were inside the SUV and several were ejected out of the vehicle when it rolled onto Highway 85.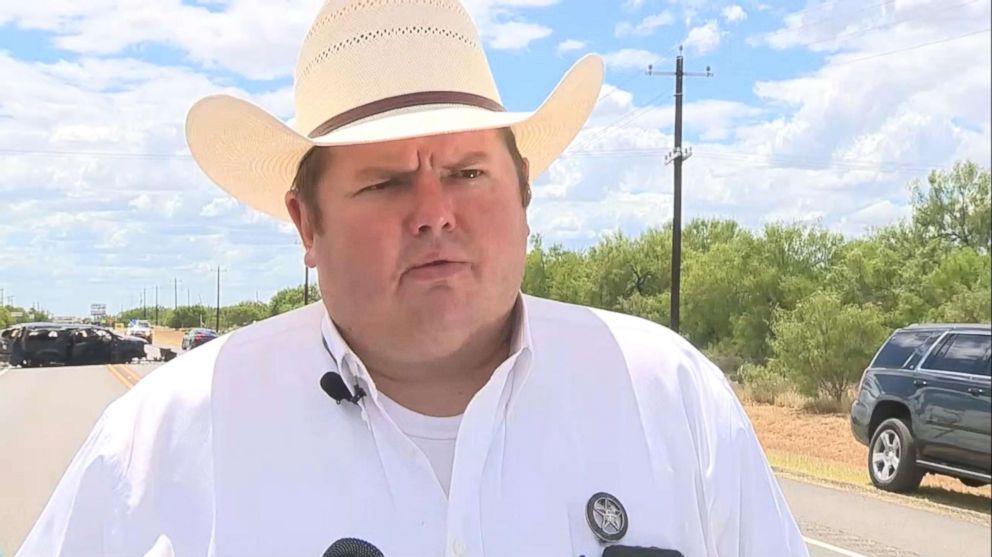 "Border patrol was pursuing a vehicle, a Chevrolet Suburban, and one of my deputies assisted and took over the pursuit just west of Big Wells," Boyd said. "The vehicle was traveling around 100 miles per hour and from what we could tell the vehicle ran off the road, caught gravel, then tried to recorrect and that caused the vehicle to turn over several times."
He said four people died at the scene, and several were flown by emergency helicopter to a hospital in San Antonio. One person died upon arriving at the hospital, he said.
The sheriff said it was just the latest in a series of police chases involving human and drug smugglers in the Big Wells area.
"This is not unusual, absolutely not," Boyd said. "We've seen this many many times, not only in this county but in other counties along the border. It's a problem. This is, I think, a perfect example of why our borders need to be secure. It endangers American lives as well as those people from Mexico and other countries coming here for whatever reasons they are coming."
The deadly wreck comes amid widespread protests over President Donald Trump's immigration policies that include separating undocumented children from parents caught sneaking them into the country.
In Sunday's crash, Boyd said the driver of the SUV survived and was taken into custody.
"The driver was not ejected. The deputy found him sitting upright in the seat. He was able to get him out of the vehicle and the driver was actually walking," Boyd said. "The deputy actually took him into custody."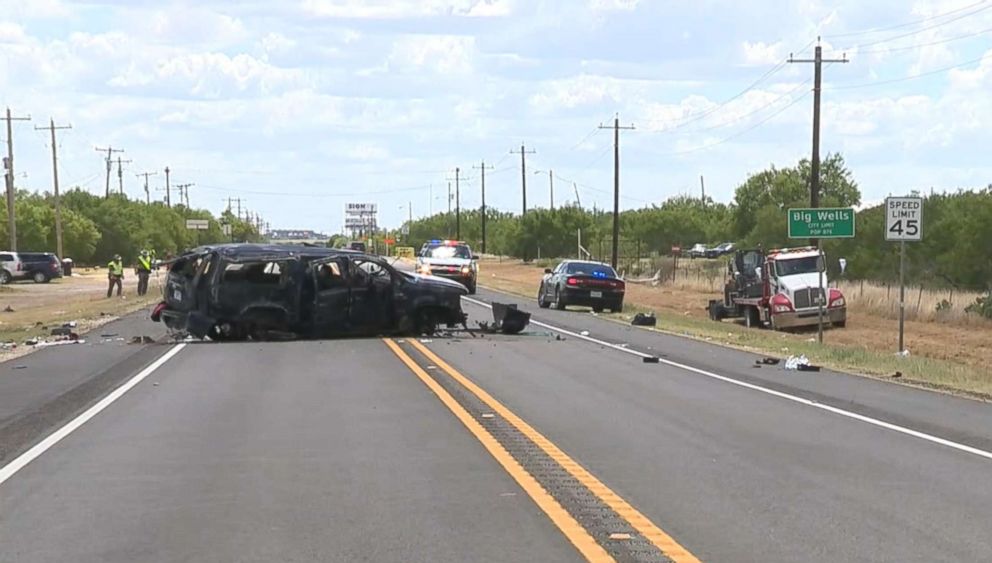 Boyd said the driver and one of the passengers were the only U.S. citizens in the vehicle.
He said the driver, whose name was not immediately released, is known to police as a human smuggler.
"The driver of this vehicle, we have handled before. We dealt with him last week," Boyd said.
The U.S. Border patrol said in a statement that the SUV was one of three vehicles spotted about 11 a.m. near Carrizo Springs, about 20 miles southwest of Big Wells.
A Border Patrol agent "observed three vehicles traveling in tandem pass his location on a rural highway and believed a smuggling event was taking place," according to the statement.
The agent stopped one of the vehicles and radioed in a description of the other two and another border patrol agent stopped another vehicle that was part of the suspicious convoy, according to the statement. Multiple arrests were made in the two traffic stops, officials said.
An agent tried to pull over the third vehicle, but the driver refused to stop, according to the statement.
"The driver did not stop and the attempt to stop the vehicle was taken over by a Dimmit County Sheriff's Office deputy. The vehicle rolled over a short distance later on Highway 85 near Big Wells, resulting in multiple injuries and fatalities," the statement reads.
Boyd said law enforcement encounters with human and drug smugglers traversing the area have become a "major problem."
"Every day my deputies are getting into pursuits, every single day. It's very rare that a day goes by where we don't get into a chase," he said. "Most of it is smuggling traffic. It's extremely busy."
He added: "We need assets down here. We have a problem. I think we need more boots on the ground. We need more patrol. I think we need a wall, in my opinion. If it can be built, it needs to be built."