What we know about the University of Illinois kidnapping case
Brendt Christensen is accused of kidnapping 26-year-old Yingying Zhang.
— -- Weeks after a visiting Chinese scholar at the University of Illinois at Urbana-Champaign disappeared, the FBI said it believes she is dead and authorities have charged a local man with her kidnapping.
Brendt Christensen, of Champaign, Illinois, was arrested on June 30 and charged with kidnapping 26-year-old Yingying Zhang, the FBI said.
The criminal complaint against Christensen, which outlines his alleged crime, does not identify Zhang by name. However, the FBI did name her in its press release.
Here is what we know about the case, according to authorities.
Taken in broad daylight
Around 1:39 p.m. on June 9, Zhang texted the manager of an apartment complex where she intended to sign a lease to say she was running late. She told the apartment manager that she planned to arrive around 2:10 p.m., according to the criminal complaint.
Surveillance video showed Zhang boarding a university bus around 1:35 p.m. and getting off about 1:52 p.m. Four minutes later, she tried to flag down another bus, but the bus did not stop, the complaint said, so Zhang walked to another bus stop.
At 2 p.m., a car passed Zhang at the bus stop and circled the block, coming back to her, the complaint said. Authorities allege that Christensen was the driver.
Three minutes later, the car slowed and pulled over to her, and Zhang was seen speaking with the driver through the passenger window for about a minute, the complaint said. At 2:04 p.m., Zhang got in to passenger seat and the car drove away, according to the complaint.
When the apartment manager texted Zhang around 2:38 p.m., she didn't respond, the complaint said. That night, an associate professor reported Zhang missing and authorities -- including the FBI, the university police and the Illinois state police -- launched a search for her.
The investigation
Christensen, who authorities allege was behind the wheel of the car that picked up Zhang, initially said he could not remember his whereabouts on June 9, the complaint said. Christensen later said he must have been sleeping or playing video games at home all day, according to the complaint. He had received a master's degree in physics from the University of Illinois earlier this year, according to the Associated Press.
Later, during an interview at the FBI's Champaign office, Christensen "admitted to driving around the UI campus when he observed an Asian female with a backpack standing at a corner appearing distressed," the complaint said. Christensen then claimed that he drove up to her and she said she was late to an appointment and that he offered her a ride. He said she got into his car and tried to show him where she needed to go, the complaint said.
According to the complaint, "Christensen claimed that he believed he made a wrong turn, because the female became panicked, at which point Christensen claimed that he let her out of the vehicle in a residential area a few blocks away from where he picked her up."
But on June 29, Christensen allegedly was "captured on audio recording while under law enforcement surveillance explaining how he kidnapped" Zhang. The complaint said Christensen admitted to bringing her back to his apartment and holding her there against her will.
The criminal complaint, filed June 30, said that law enforcement does not believe Zhang is still alive.
According to the complaint, Christensen's phone was used in April to visit a sexual fetish networking website called FetLife.com. The complaint said Christensen's phone accessed a forum on the site called "'Abduction 101,' to include sub-threads 'Perfect abduction fantasy' and 'planning a kidnapping.'"
Suspect appears in court as Zhang's supporters rally outside
This morning, several hundred students, faculty members and members of the Chinese community were outside the federal courthouse in Urbana to support the Zhang family as Christensen made his initial court appearance.
Zhang's father came to Illinois from China after her disappearance, the Associated Press reported.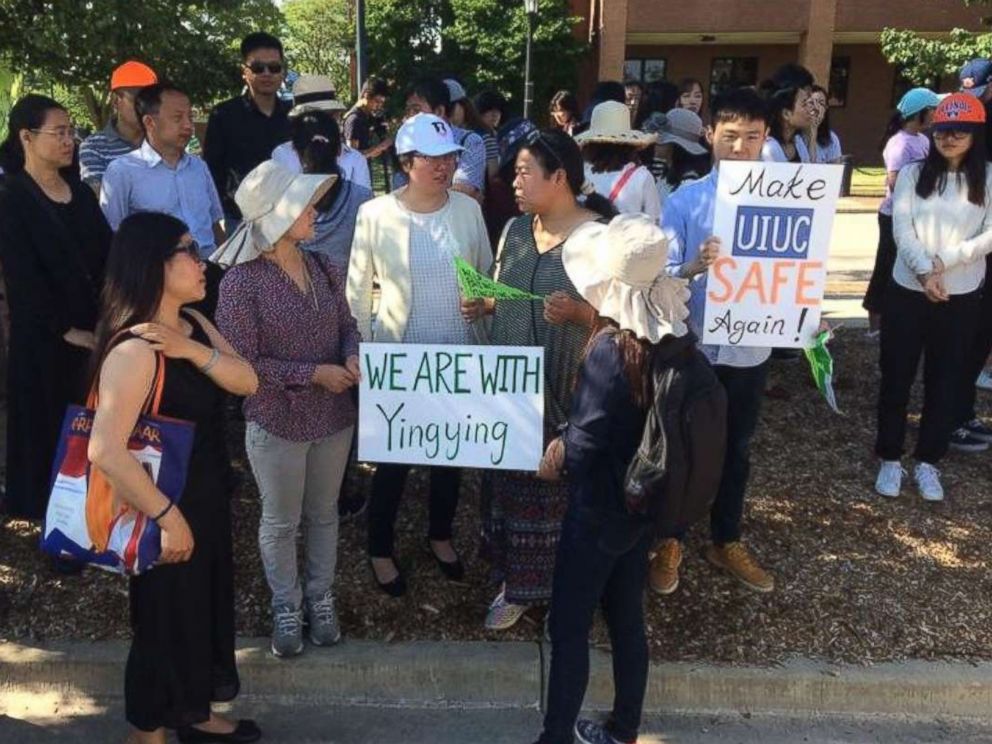 Christensen remained in custody over the weekend, according to the AP. Today, he made an initial appearance in federal court wearing a prison uniform in front of Zhang's family. Christiansen was ordered held without bond.
His defense attorney, Evan Bruno, said that people should avoid jumping to conclusions until they have all of the facts.
"My client is presumed innocent and he's maintained his innocence," Bruno told ABC News today. "There is a reason why we have a criminal justice system and it's to make sure that people have a fair process."
"A lot of the information that has been available to the media has been information that was provided in an FBI affidavit to try to establish probable cause that a crime was committed," Bruno added. "There's a lot more information out there that the public has yet to become aware of, and until the process has played out, I would caution anyone to [avoid jumping] to conclusions about what did or didn't happen."
Christensen's bond hearing is set for July 5 and his preliminary hearing is scheduled for July 14.
A school in mourning
Zhang had arrived at the University of Illinois in April or May of this year, according to the complaint. She had previously earned a master's degree in environmental engineering in China last year, the AP reported.
The university's chancellor, Robert Jones, urged the university to rally around her family and friends during this "difficult time of loss."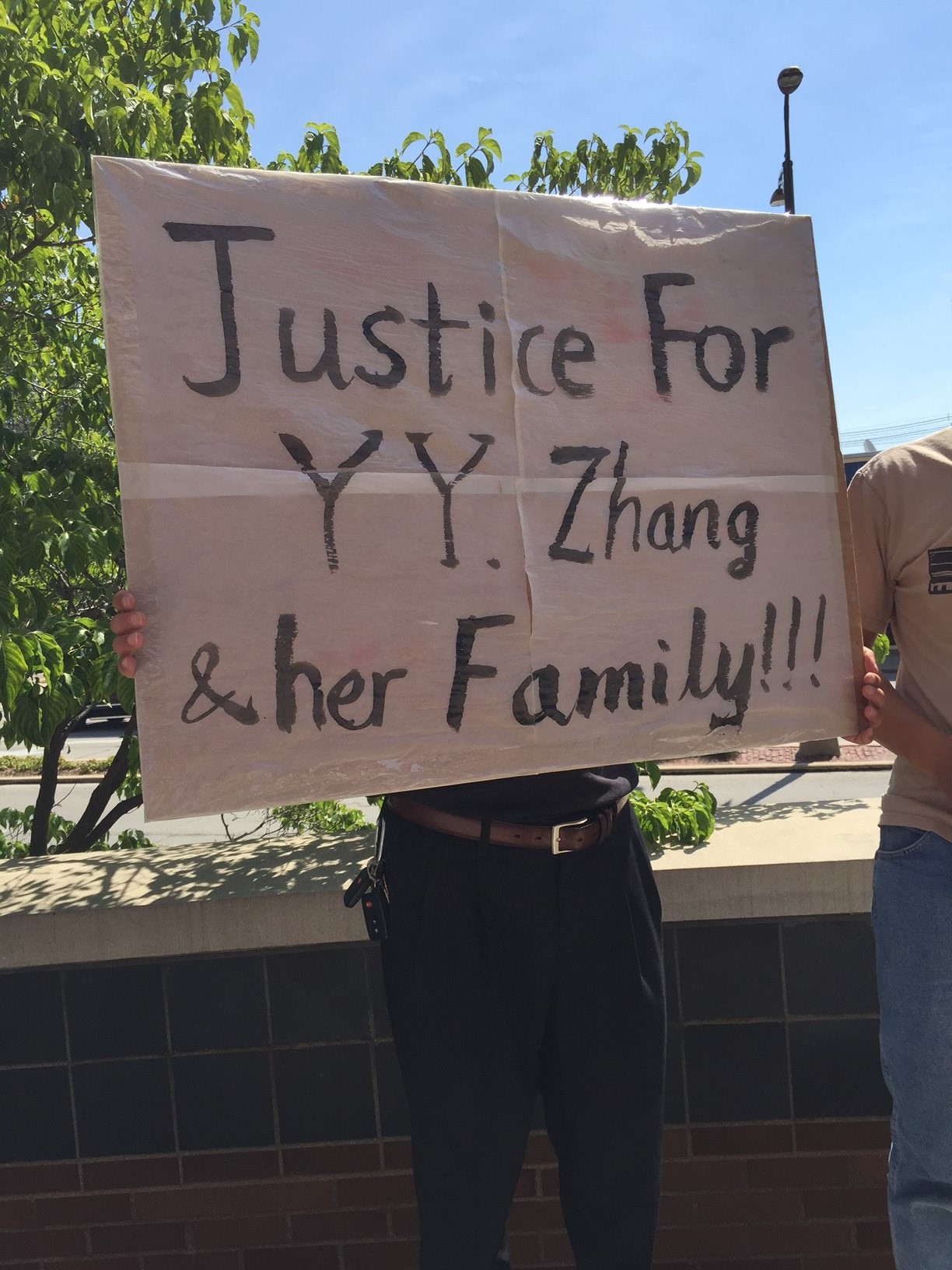 "There are no words that can explain why or how such a terrible thing should happen nor is there anything I might say that will ease the grief of any of you who knew her," Jones said in a statement on Friday. "There will be time for justice and for explanations in the days and weeks ahead. But in this moment, I ask each of you to keep her family in your thoughts and to make our collective focus a celebration of Yingying Zhang's life."
"I ask all of you to help to ensure that Yingying is remembered for her kindness, her gentleness and her smile," Jones said. "This is the greatest gift we can offer as a community to her family and friends."
ABC News' Tim Sotter contributed to this report.