— -- It's been over 150 days since Hurricane Maria slammed into Puerto Rico, but the island still isn't at a level of recovery that satisfies the U.S. Army's top engineer.
"I am not satisfied that people in Puerto Rico should have to wait that much time for power," Lt. Gen. Todd Semonite said Wednesday during an interview at the Pentagon. "But I am telling you, there are no other knobs I can turn to go any faster."
The commanding general of the U.S. Army Corps of Engineers reaffirmed that 95 percent of the island will see energy restoration by the end of March. What comes next is what he dubs the "last mile" -- restoring power to some of the most remote and mountainous parts of the U.S. territory.
"If somebody were to say, 'How come you can't do this in 25 days?' -- we can get 95 percent of this done, in say 6 months, but now we are doing things by helicopter because it is that hard to make some of that happen," Semonite said.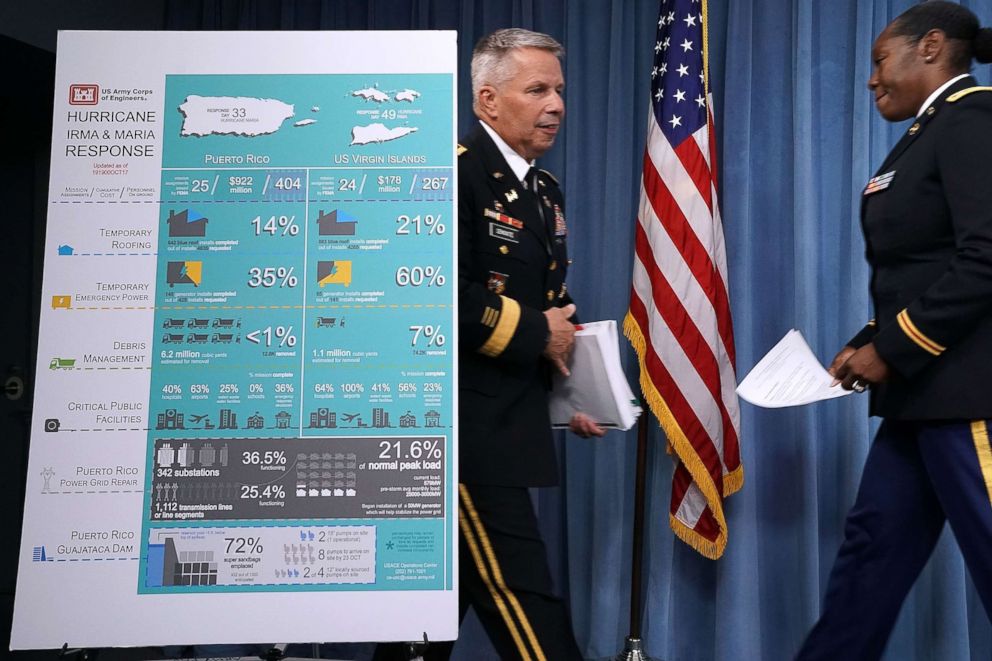 Hurricane Maria plunged Puerto Rico into darkness within hours of making landfall on September 20.
In mid-October, Puerto Rico's governor Ricardo Rossello announced a benchmark of December 15 to reach 95 percent of electricity distribution on the island.
That benchmark was never reached.
"What we don't want to do is give false promises out," Semonite said. "There is no way when I saw this devastation in October that I thought that it was even close to get to 95 percent by December."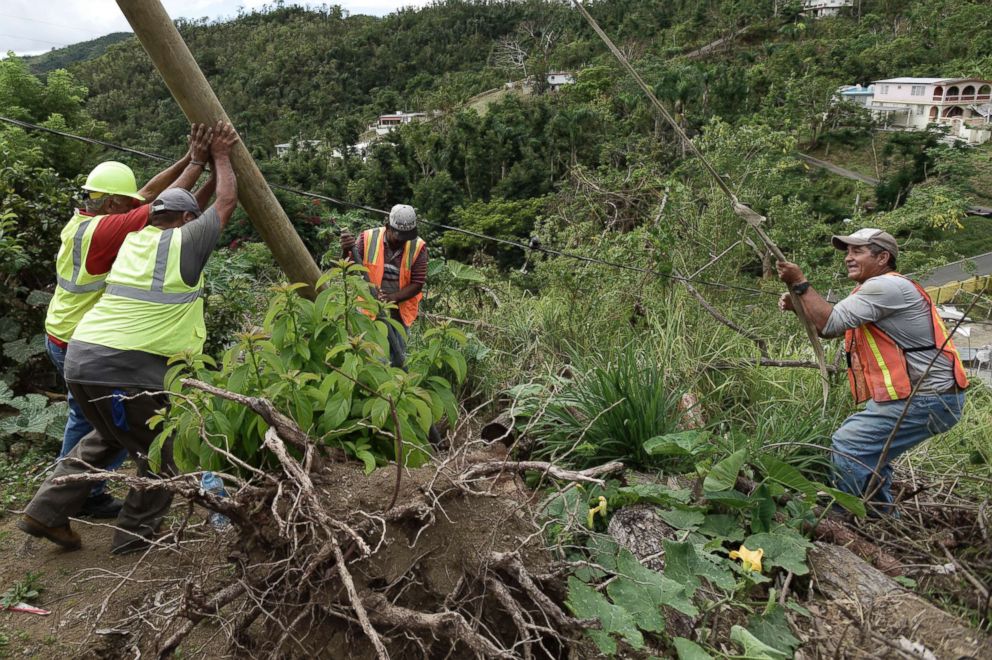 The Army Corps has 262 people currently on the ground in Puerto Rico. The agency, which works under FEMA during its Emergency Support Function response structure, has found itself extending past its usual mission.
"We respond to get things backup to normal," Semonite said. "Rebuilding the generating capability of Puerto Rico was not the Corps of Engineers' task."
To date, 83.8 percent of the island, or over 1.2 million customers, have power on Puerto Rico.
The task of reestablishing power to the island, though, changes as residents leave for the mainland.
"You might see me in 3 months from now and say, 'You are only at 99.6 percent.' Well, I am not going to run electricity up the side of a cliff to four houses that will probably never be rebuilt if that is the case," Semonite said. "I don't want to spend taxpayers' money getting lines to houses that are never going to be rebuilt."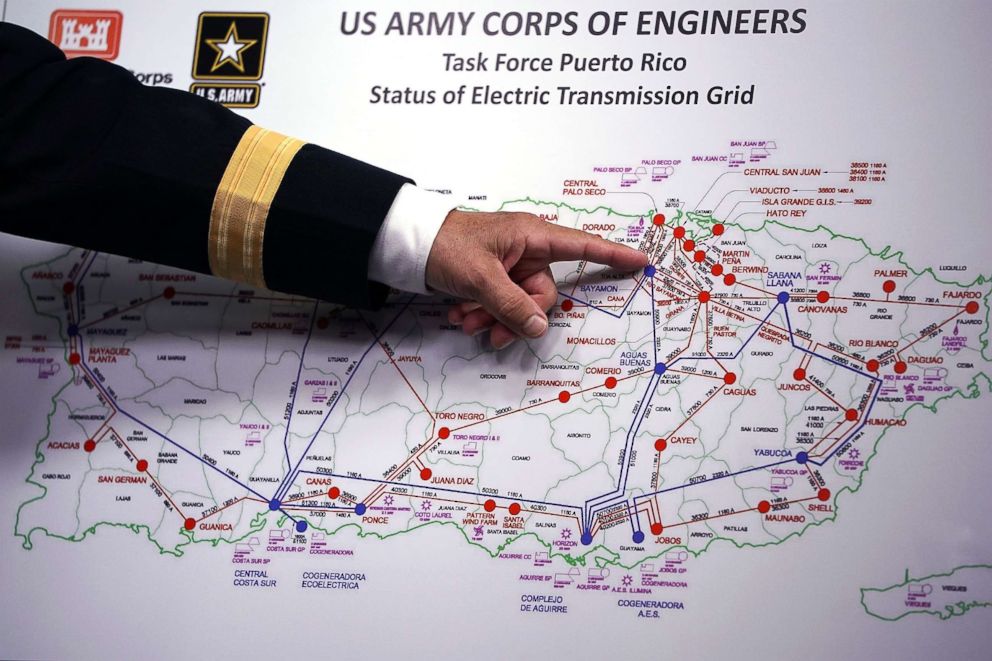 Rossello told ABC News last Thursday that he felt a lack of urgency on the part of the Army Corps of Engineers in getting supplies to the island in order to restore power.
"Two-thirds of the island's recovery on that [electricity] front is in the Corps of Engineers' hands," Rossello said. "I have seen a lack of urgency on that, whether it is on the contracting side or the bringing materials side which is a current problem."
Semonite denied Rossello's claims of a lack of urgency, adding that while he respect the expectations set by the governor for residents, the size of the storm and its aftermath has left a "gigantic mission."
"It is just that the magnitude of the logistical and repair mission is beyond the governor's expectations," Semonite said.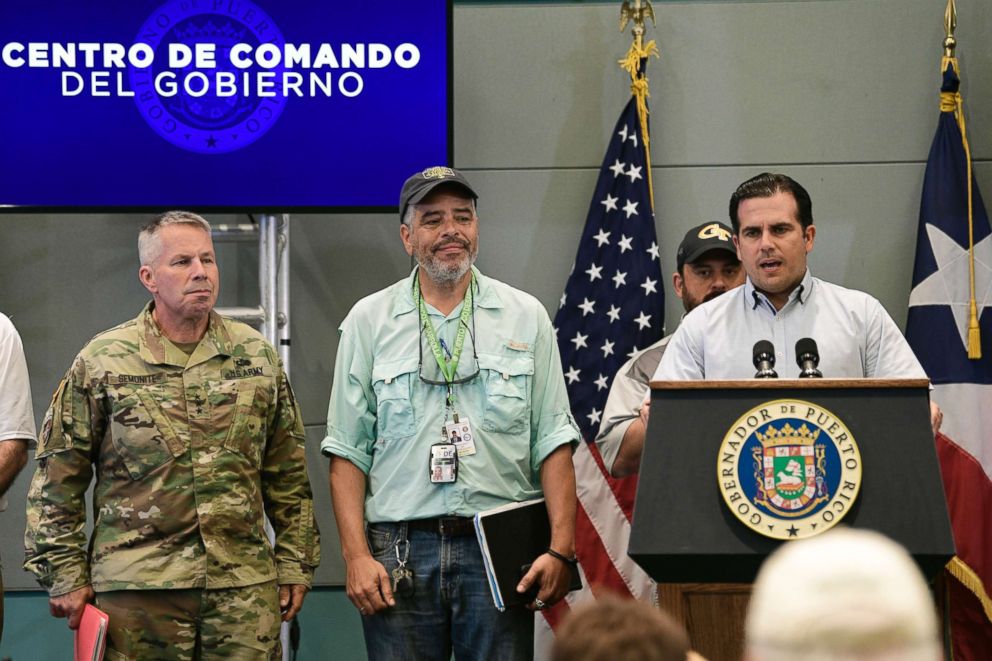 For Semonite, who will mark his 30th year of service with the Army Corps of Engineers in May, Hurricane Maria has taught him several lessons ahead of the next storm. Those lessons include permanently establishing supplies on Puerto Rico and ensuring contracts are pre-written and ready to go when disaster strikes.
"If you are on an island, you've got to be able to think through things, especially when it's on hurricane alley," Seminote said, noting that it is FEMA's call whether that prepositioning would ever happen, not that of the Army Corps.
Yet with things slowly coming back to normal, Semonite is coming to terms with how Hurricane Maria has forever changed Puerto Rico.
"I am coming to the realization," he said, "that it might just be too hard to be able get every single thing that was pre storm."