First responders are working to get much-needed supplies to Southern California mountain communities days after a series of rare winter snowstorms buried the region under mounds of snow.
California Gov. Gavin Newsom declared a state of emergency in more than a dozen counties on Thursday, including San Bernardino County, after the extreme storms stranded thousands of residents.
Among the signs of growing desperation, aerial footage from ABC Los Angeles station KABC captured on Friday a large "Help us!!" sign written in the snow near Lake Gregory in Crestline, in the San Bernardino Mountains of San Bernardino County.
The San Bernardino County Sheriff's Office has received approximately 1,200 calls for service in the mountain areas, Sheriff Shannon Dicus said during a briefing Friday.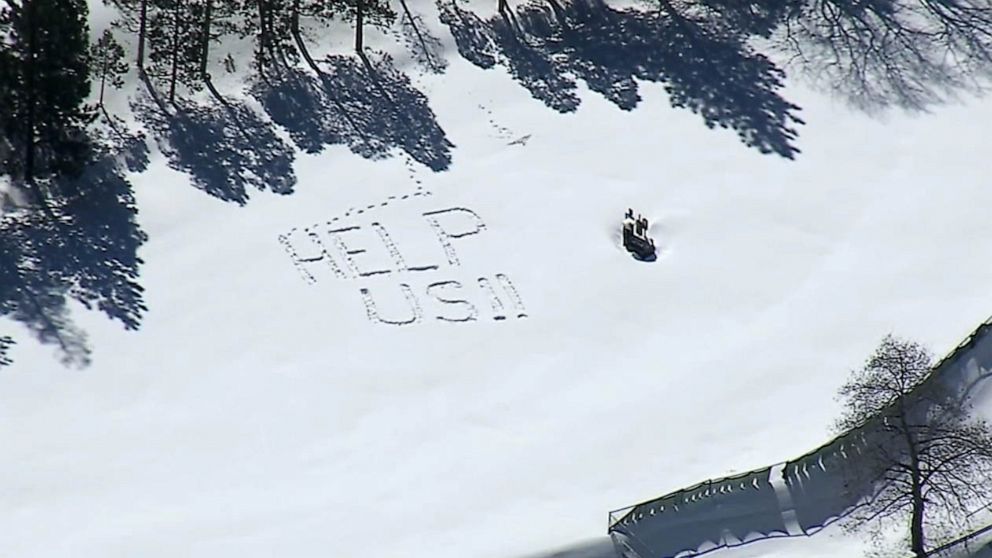 Calls for service have included search and rescues, requests for welfare checks and traffic accidents, Dicus said. Nearly 20 people have been rescued from their homes due to a lack of supplies, he said.
Deputies have assisted several convoys with getting food, gas and other supplies to local grocery stores in the Big Bear area over the past two days -- and more food deliveries were scheduled for Friday in the Lake Arrowhead area, he said.
"As we contact people that are having difficulties with food resources, we have meals ready to eat that we will transfer to them to help them stabilize their food situation and continue with the road operations until they can get to regular grocery stores and have that type of support," Dicus said.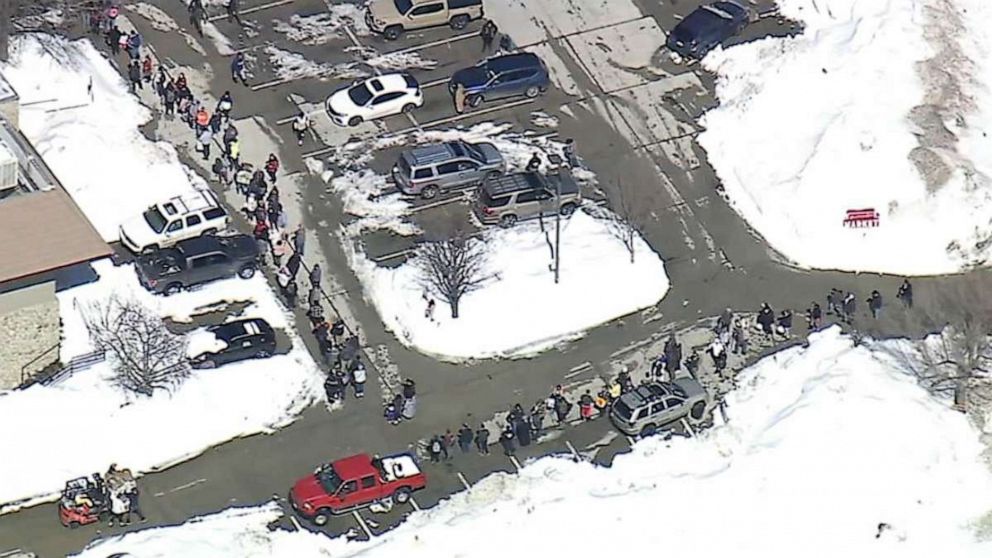 Aerial footage from KABC showed dozens of residents braving treacherous roads to line up for food distribution at a grocery store in Crestline on Friday.
Cassidy and Kasie Ringhofer of Crestline told ABC News that they have helped get food and supplies to stranded Airbnb guests who weren't as stocked up as locals, including giving out eggs from their chickens. They said their friends and family who have shops in the town have walked miles to see if the stores are OK. Some neighbors' roofs have collapsed or cracked due to the snow but they are unable to get out because the roads aren't plowed, they said, describing the situation as "dire."
Some 2.6 million cubic yards of snow have been removed from state routes, officials said Friday. Emergency officials warned residents on Wednesday that it could be 10 days before they are able to get their roads plowed.
The San Bernardino National Forest announced Friday that it will be closed until March 16 due to the "extreme public safety threat."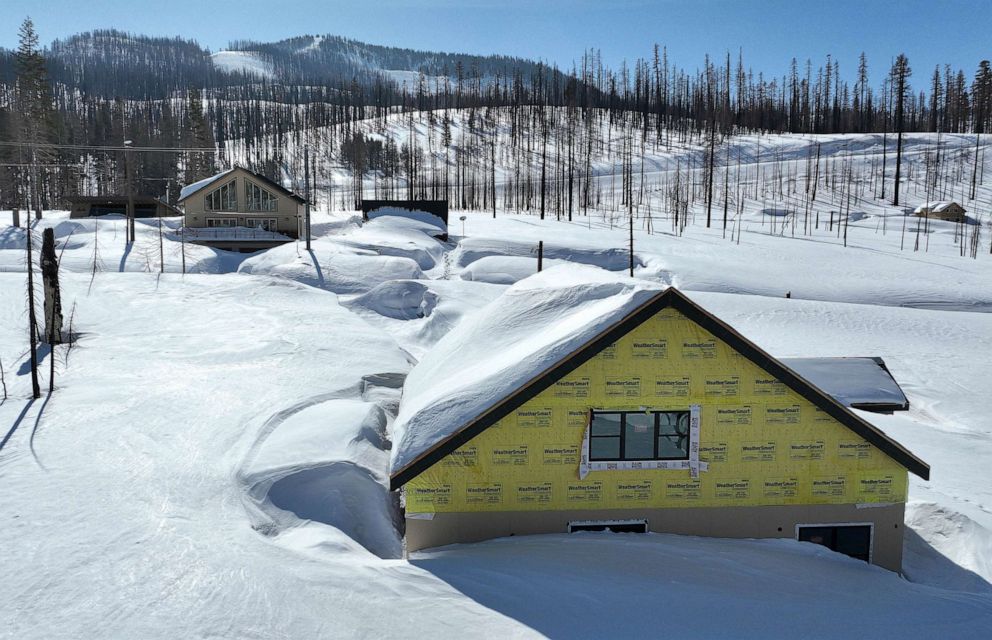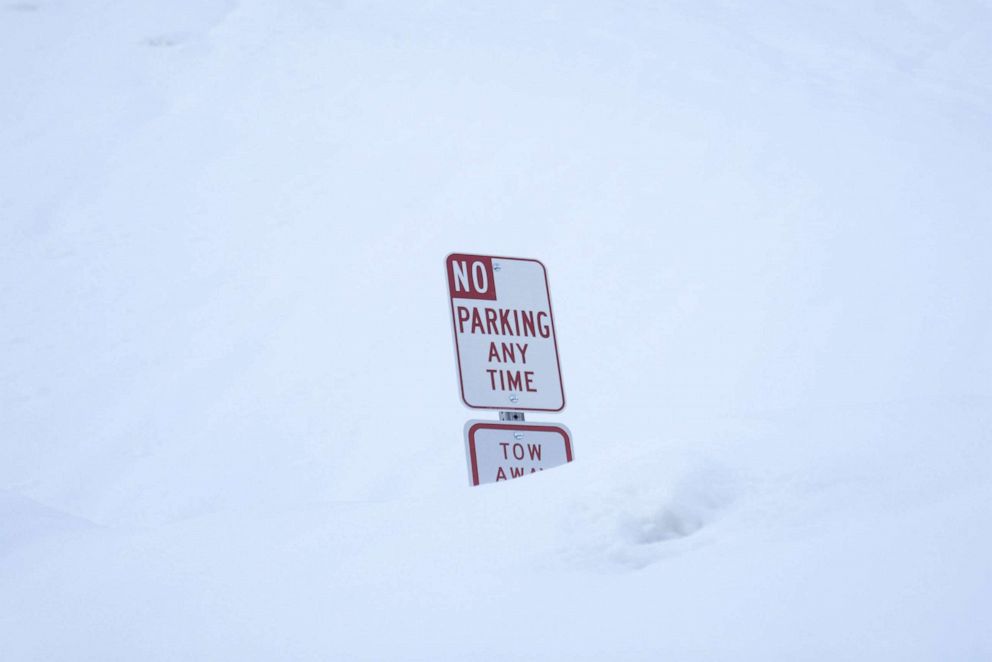 According to National Weather Service San Diego, Running Springs saw a snowfall total of 150 inches over seven days. Big Bear -- where historical records are kept -- saw 82 inches of snow; the previous record for a seven-day period was 58 inches in 1979.
The seven-day total for Lake Arrowhead was 109 inches; the yearly average of snowfall for the community is 22 inches.
ABC News' Matthew Fuhrman, Nicholas Kerr, Jennifer Harrison and Bonnie Mclean contributed to this report.