— -- As Georgia investigators released a video showing sheriff's deputies using a stun gun to subdue a handcuffed 400-pound man who died during a struggle at a jail, the man's distraught mother told ABC News, "I want justice for my son," and voiced suspicion over the scenario authorities say led to his death.
The video of Charles Williams, 30, being hit with a stun gun in the back of a parked police cruiser at the Barrow County Detention Center in January was made public this week by the Georgia Bureau of Investigation, which is tasked with determining if the use of force on Williams was a criminal act.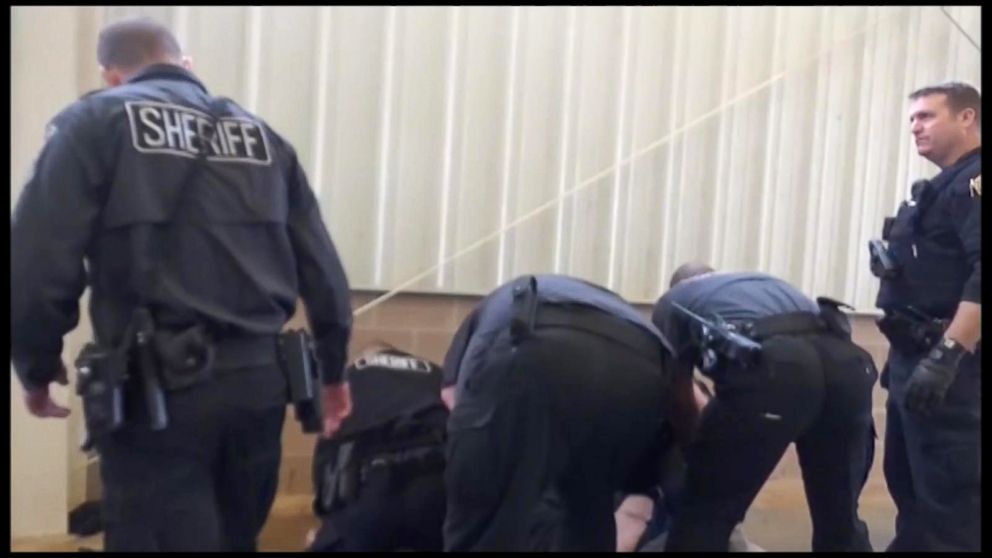 But Williams' mother, Mary Sojka, told ABC News that after watching the video, she believes the force sheriff's deputies used on her 6-foot-4, 400-pound son "was excessive."
"Now, I'm pissed off about the whole thing because of what they did to him," Sojka said in an emotional phone interview on Wednesday. "Now, I'm angry because I don't want this to happen to any other mother."
Williams death occurred on Jan. 27 after he was arrested in Auburn, Georgia, on suspicion of battery on a woman and cruelty to children, the Georgia Bureau of Investigation said in a statement.
The probe determined that Williams was arrested without incident, handcuffed with his hands behind his back and placed in the rear of a police car.
During the 10-minute ride to the Barrow County Detention Center in nearby Winder, "Williams became combative as his transport vehicle arrived at the detention center," investigators said in the statement.
"Once in the sally port of the jail, he began kicking the interior of the patrol vehicle. Williams managed to move his handcuffs from behind his back to his front," the statement reads. "Barrow County Sheriff's Office personnel attempted to talk Williams out of the vehicle, but he continued to be belligerent."
In a nine-minute video released by investigators and viewed by ABC News, a sheriff's deputy tells Williams, "Sir, you're gonna be be tased if you don't cooperate."
The footage, shot with a handheld camera, shows one deputy opening the rear door of the police car, and another crawling through the rear door on the opposite side of the vehicle.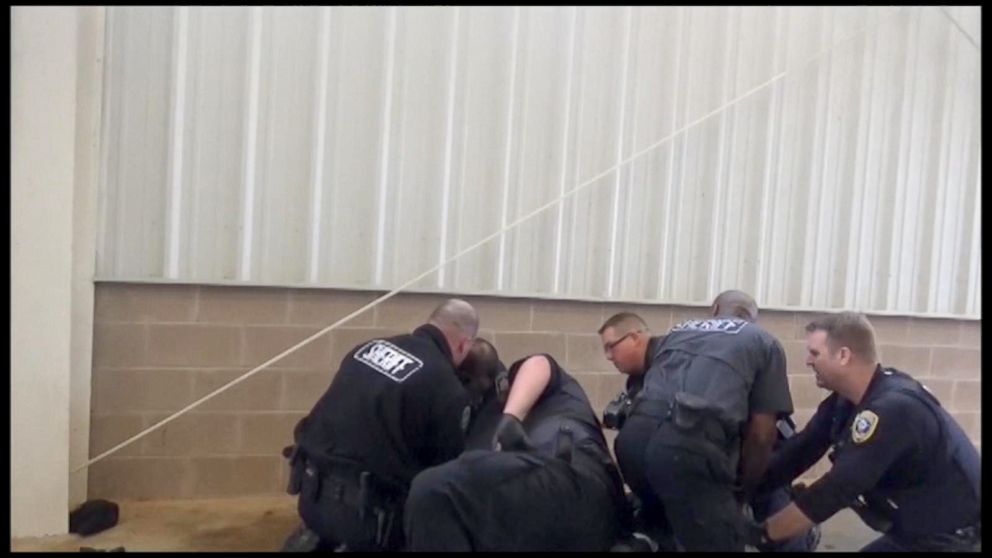 "Tase him!" one of the deputies yells and a stun gun shot is heard emanating from inside the car. Williams is heard in the video screaming and shouting obscenities at deputies, and continuing to struggle and kick as they wrestle him out of the car and onto the ground.
"Calm down," one of the deputies repeatedly tells Williams.
At least five deputies pile on top of Williams and at least one appears to punch him in the stomach, the video shows.
About seven minutes into the video, Williams suddenly stops moving and goes limp as deputies shout at him to "Wake up!" Toward the end of the footage, a deputy shouts, "Start CPR," as sirens are heard in the background.
Williams was taken to Northeast Georgia Medical Center in Gainesville, where he was pronounced dead.
Georgia Bureau of Investigation officials said Wednesday that the probe into Williams death is ongoing. They said an autopsy was performed on Jan. 30, but final results are pending more tests.
"I've been shocked throughout this whole ordeal," Sojka said of her son's death. "They wouldn't even let me go see my son in the hospital. They wouldn't even tell me what hospital he was in. I later found out it was only 10 minutes from my house."
She said she last saw her son several weeks before he died.
"The next time I saw my son, it was at the funeral home and I could only see his face sticking out of a body bag," she told ABC News.
She said her son had no known heart problems or any medical conditions that would have exacerbated his death.
"He was just a big dude. He was a protector of people. He would go out of his way for friends or anybody. He would give his shirt off his back," she said. "I'm gonna miss him picking me up and giving me bear hugs. He was bigger than life. He had a large jovial laugh."
Attorney Rod Dixon, who Sojka hired to investigate her son's death, said there are at least three other videos taken of the incident that resulted in Williams' death, but he says authorities have not allowed him or the family to view them.
Dixon said that through his investigation, he learned that Williams was arrested after he confronted a woman he suspected was abusing her children on the street.
"It's unclear why, but for some reason, he believed that a lady across the street from him was was being abusive to her kids. He went across the street to confront her. The confrontation escalated to the point he pushed her and she called the police."
Sojka said she's not surprised by the circumstances of her son's arrest.
"That's because he was wanting to protect those children, so yes he would have done that," Sojka said. "If he thought someone was in danger, that's the way he was, he'd go and protect that person."
She also said her son had a history of being claustrophobic, and believes that's why be became agitated while confined in the back of a police car. But she said the deputies could have waited for her son to calm down in the back of the police car before trying to remove him and resorting to using a stun gun.
Dixon said he also learned through his investigation that deputies not only shot Williams with a Taser, they allegedly used handheld stun guns on him twice.
The Georgia Bureau of Investigation would only refer ABC News to its statement, which reads, "A Taser was deployed by one of the deputies to gain control of Williams. He continued to be combative and fought with deputies after the Taser was used."
Sojka said she won't rest until she gets satisfactory answers.
"The only thing that's running through my mind is they're hiding things," she said. "I want justice for my son. I do think there was excessive force used on him. How are you going to tell him to 'calm down' if you're punching him and hitting him with a Taser?"