Severe weather and heavy snow will move through the middle and eastern parts of the U.S. over the weekend and into next week as northern California is expected to see relentless rainfall that could last until Wednesday afternoon.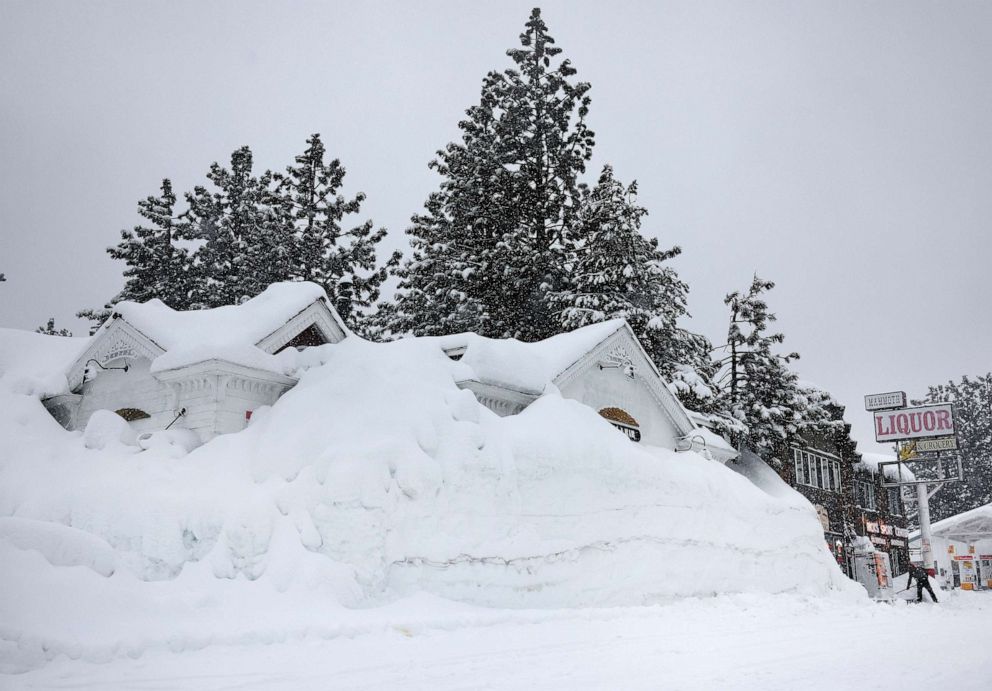 Heavy rain has been soaking a large portion of California, washing out roads and leading to a flash flood emergency in Springville on Friday. In the last 72 hours, 2 to 5 inches of rainfall have fallen in the Sacramento area, through the Napa Valley, and around San Francisco.
This area is seeing a break with just light rain from scattered showers early this morning, however, the area north of San Francisco and south of Eureka -- otherwise known as the North Coast and Sacramento Valley -- will get a nearly continuous stream of rainfall on Saturday from an atmospheric river.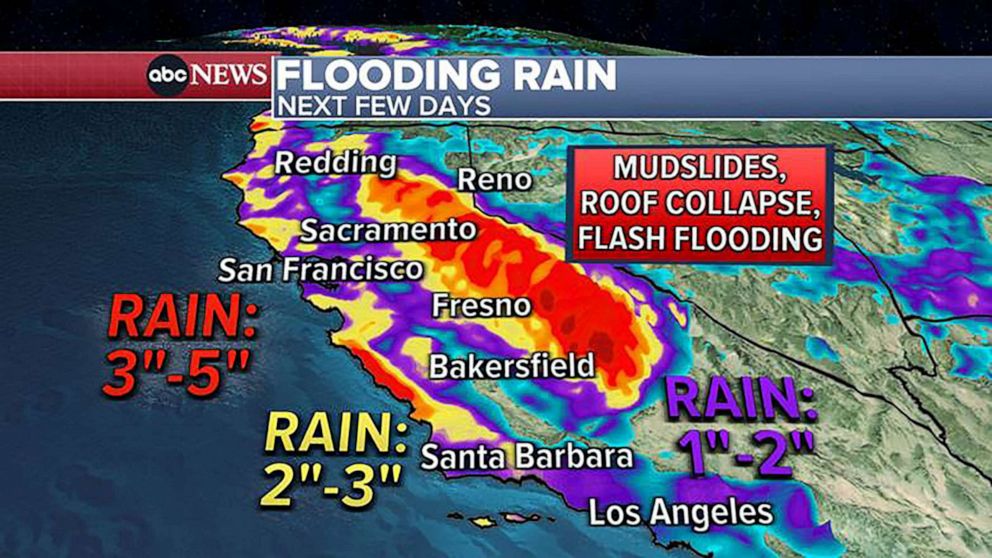 Heavy rainfall could add 6 to 10 inches of rain for northern California by Wednesday. Monday is expected to be the day with the heaviest rainfall and that will come after days of rainfall inundation. As a result, early next week could be worse in terms of flooding and damage than this weekend.
Meanwhile, more than 10 inches of rainfall have been recorded in the Sierra Nevada Mountains over the last 72 hours. Up to 3 more inches of rain are expected in the region through Sunday evening.
When it comes to snowfall in California, northern California has been taking the brunt of it, with the mountain area between Eureka and Redding reporting three-and-a-half feet of snow since Thursday. Further south at Mammoth Lakes, over a foot has been recorded, with more coming down early Saturday.
In the coming days, another 6 feet of snow is possible in the higher elevations of the Sierra.
While there will be a chance for a few isolated showers in southern California on Saturday, most of the rain has ended for this area.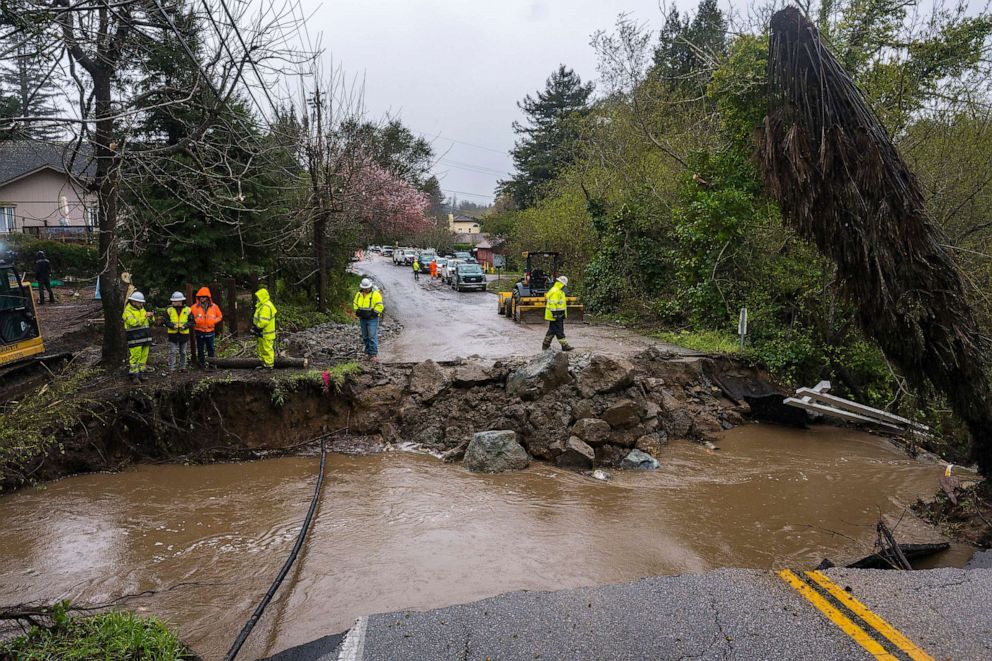 President Joe Biden approved an emergency declaration for 34 counties in California on Friday because of the continuing severe winter storms across the state.
The Department of Homeland Security and Federal Emergency Management Agency can now coordinate disaster relief efforts, while FEMA is "authorized to identify, mobilize, and provide at its discretion, equipment and resources necessary to alleviate the impacts of the emergency."
More than 9,400 people in the state are under evacuation orders due to the "extreme weather" conditions, California Governor's Office of Emergency Services Director Nancy Ward said during a press briefing.
Snow for Midwest and Northeast as well
The next storm moving across the country is already in the upper Midwest. It is bringing heavy snow and blizzard conditions to North Dakota -- snowfall rates of 1 to 2 inches per hour -- and a wintry mix to Nebraska. As the system moves east in the coming days it will bring snow for the North and severe weather in the South.
Large hail is the main risk for severe storms Saturday night, after 10 p.m. ET, mainly in Arkansas. An isolated tornado from a supercell and strong to damaging winds are possible. Nocturnal storms are always more dangerous because people may be asleep. There will be a flash flood risk as well.
On Sunday, the severe threat has a chance to occur during daylight. This will give them more energy, and the severe threat is higher simply because there is a better chance for the development of all three severe hazards – tornadoes, damaging winds and large hail. This area includes Jackson, Mississippi in the morning hours from storms coming off from the night before out of Arkansas. Later in the day, after some redevelopment, major cities include Columbus, Georgia, (11 a.m. to 3 p.m.); Mobile, Alabama (3 p.m. to 6 p.m.); and Tallahassee, Florida ( from 8 p.m. to 11 p.m.). In the East, a separate storm system is moving from the Great Lakes into the Northeast with heavy, wet snow.
North of Manhattan is seeing snowfall on Saturday morning, with the rest of New York State getting snowfall overnight. A rain and snow mix may get to Manhattan briefly Saturday morning, but shouldn't allow for much, if any, accumulation. The rain and snow will clear quickly into the afternoon hours. It will then be dry until Monday, when the next storm system arrives.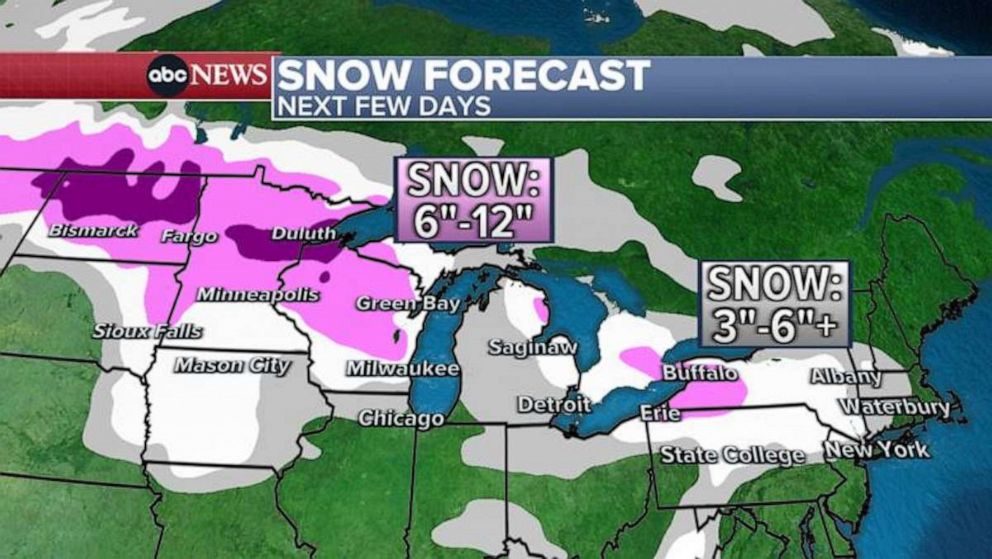 Winter storm warnings are in effect for Colorado, with up to 3 feet of snow possible in the Colorado Rockies over the weekend. The atmospheric river is extending into Colorado with Aspen expecting 6 to 11 inches this weekend. Higher totals are expected in Vail with 9 to 14 inches and Telluride with 14 to 22 inches.
Saturday morning alone, North Dakota is expected to see an additional 6 to 12 inches of snow along with winds gusting up to 45 miles per hour.
The snow will move into Minnesota, Iowa and Wisconsin Saturday afternoon before making its way into Chicago overnight.
The snow will fall as far south as North Carolina by Sunday morning. On Sunday, Raleigh may even get a rain and snow mix.
The snow will continue to push into the Northeast on Monday and Tuesday, bringing heavy snow to the more inland areas of the region. However, it is still too early to know how close the snowline will reach the coast.