— -- Firefighters in Southern California began battling a new wildfire Wednesday that engulfed an area of Los Angeles near the Getty Center and the Skirball Cultural Center.
The brush fire ignited around 5 a.m. CT near 405 Freeway and Mulholland Drive in the Brentwood neighborhood of Los Angeles. More than 350 firefighters were on the scene with helicopters hovering above as the so-called Skirball fire was 5 percent contained as of Wednesday night.
Authorities have shut down northbound 405 for an "undetermined period" as a result of the blaze and ordered mandatory evacuations for parts of the affluent Bel-Air neighborhood, according to the Los Angeles Fire Department.
The smoke can even be seen from space -- the International Space Station shared photos of the fires on Twitter Wednesday.
Los Angeles Mayor Eric Garcetti said the Skirball fire has damaged 11 structures and destroyed at least six structures in the area, all residences, so far. Garcetti has declared a local state of emergency in response to the Skirball fire, which had burned at least 150 acres in Bel Air by Wednesday afternoon, his office said in a press release.
The Los Angeles Unified School District is closing all 265 schools in the San Fernando Valley and the west side of Los Angeles through Friday due to the Skirball fire, the school district said in a press release.
A major Santa Ana weather event with wind gusts between 70 and 80 mph, along with low relative humidity, is to blame for the fire emergency near Los Angeles.
While about 4,600 people have been affected by the fire, some evacuation orders might be lifted Wednesday evening depending on the progress, officials said. Conditions are favorable, but the Santa Ana winds will return this evening, so firefighters are working on making progress before the winds pick back up, officials said.
All residents, especially those in mountainous areas, should be ready to go at a moment's notice, officials said.
Meanwhile, fire crews are still fighting a fast-moving wildfire in Ventura County that officials said on Wednesday night has charred at least 90,000 acres of land -- up from 65,000 acres a day earlier.
Thousands of people have been forced to flee their homes since the flames ignited. The so-called Thomas fire began as a 50-acre brush fire in foothills east of Santa Paula on Monday and it rapidly grew to 10,000 acres in just four hours, authorities said.
Emergency officials originally said a person died in the fire, but later clarified that a dog was killed.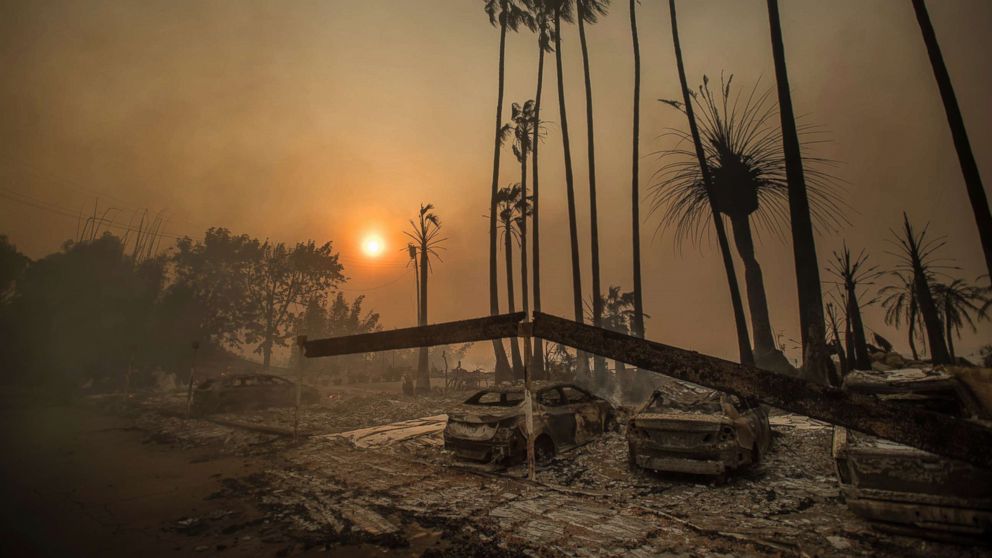 More than 50,000 people from 15,000 homes have been evacuated, officials said Wednesday night, up from 38,000 people on Tuesday. Officials have gone door-to-door to enforce mandatory evacuations.
So far, about 2,500 homes were under mandatory evacuation in Ventura County as the flames moved southwest toward the coast. Officials said several thousand homes in nearby areas were also evacuated because of the Thomas fire, though they cautioned that was a rough estimate.
"We urge you, you must abide by these evacuation notices," Ventura County Sheriff Jeff Dean said at a press conference late Monday. "We saw the disasters and the losses that happened up north in Sonoma, and this is a fast, very dangerous moving fire."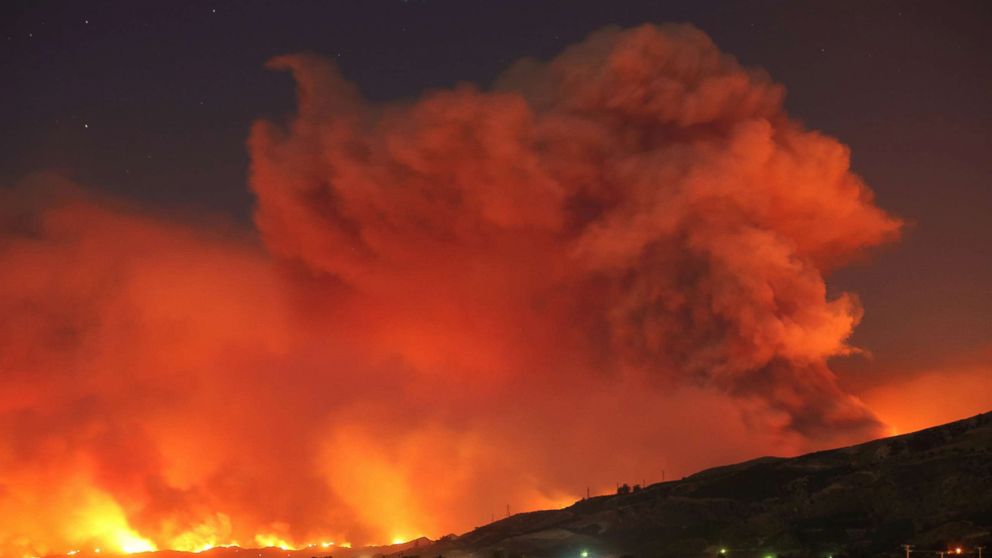 More than 150 structures, including a 60-unit apartment complex, have been destroyed by the Thomas fire and over 12,000 structures are threatened, according to the California Department of Forestry and Fire Protection.
The massive fire has also knocked out power for more than 190,000 customers in Ventura and Santa Barbara counties, according to Southern California Edison.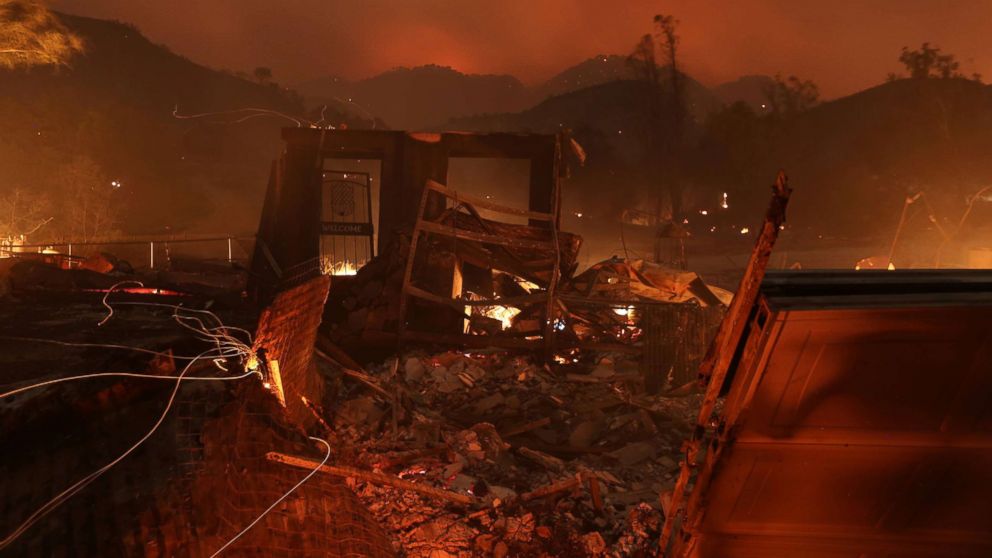 Intensified by strong winds and harsh weather conditions, the Thomas fire is pushing west toward the Pacific Ocean. At 0 percent containment, officials said critical fire conditions are expected throughout the week.
California Gov. Jerry Brown has declared a state of emergency in Ventura and Los Angeles counties.
At a press conference Tuesday, Los Angeles County Deputy Fire Chief David Richardson described the unpredictable conditions that firefighters are facing as they attempt to contain the blaze.
"You can only imagine the impact this weather is having on the fire front," Richardson said. "We're chasing the fire and trying to get ahead of it. And we're chasing multiple fronts."
Firefighters in Ventura County said they were dealing with winds of 30-50 mph -- slightly up from 25 to 50 mph a day earlier -- which they said made it impossible to fight the fire via aircraft.
"The prospects for containment really are not good. Mother Nature is going to decide when we have the ability to put it out, because it is pushing hard with the wind," Ventura County Fire Chief Mark Lorenzen said at a press conference Monday night.
"As far as getting ahead of the fire, that's exactly what we're doing right now, but it's in defense of structure and property right now, not actually trying to put the fire out," he added.
Firefighters are also battling a growing brush fire in the Kagel Canyon area above the Sylmar neighborhood in Los Angeles that has scorched over 11,000 acres since Tuesday morning.
Hundreds of firefighters and a number of water-dropping helicopters were on scene as the so-called Creek fire remained at 0 percent contained. The Los Angeles Fire Department said homes in the affected area have been damaged, without providing an exact number.
At least seven firefighters were injured while fighting these flames. The extent of their injuries was unknown but are believed to be not life-threatening, officials said.
More than 150,000 people were affected by evacuations related to the Creek fire, officials said.
Another wildfire that began in Santa Clarita on Tuesday morning has burned 7,000 acres, spreading across the Los Angeles County line into Ventura County.
At 5 percent contained, the so-called Rye fire has not damaged any homes but has prompted school closures and the evacuation of 1,300 people, according to the Los Angeles County Fire Department.
Overall, more than 4,000 firefighters are battling these four wildfires in Southern California. Authorities say strong offshore winds and dry conditions are hampering efforts to contain these blazes, which have collectively scorched over 83,000 acres.
ABC News' Matthew Fuhrman and Michael Kreisel contributed to this report.