A black bear cub that was severely burned when a wildfire roared through her habitat in Northern California is receiving a fishy treatment that officials and veterinarians hope will heal her quickly so she can be released back into the wild.
The yearling female cub was found alone on Aug. 2, lying in ash and unable to walk on her burned paws, in an area near Whiskeytown, where the Carr Fire ignited last month before scorching tens of thousands of acres across Shasta and Trinity counties. Wildlife officials who were notified of the injured animal tranquilized the cub and transported her three-and-a-half hours to the California Department of Fish and Wildlife's investigations lab in Rancho Cordova for treatment.
"Generally speaking, an animal that has survived a fire and is walking around on its own should be left alone, but that wasn't the case here," said Jeff Stoddard, environmental program manager of the California Department of Fish and Wildlife. "In addition to her inability to stand or walk, there were active fires burning nearby, and with the burn area exceeding 125 square miles and growing, we weren't sure there was any suitable habitat nearby to take her to."
Dr. Jamie Peyton of the University of California, Davis Veterinary Medical Teaching Hospital, arrived at the lab on Monday to assess the bear's burns before deciding on a treatment plan in collaboration with wildlife officials. The young cub has third-degree burns on her paws and feet.
"Her injuries are pretty severe," Peyton told ABC News during a telephone interview Thursday. "She's a smaller bear, so she potentially can't run as fast [from fire]."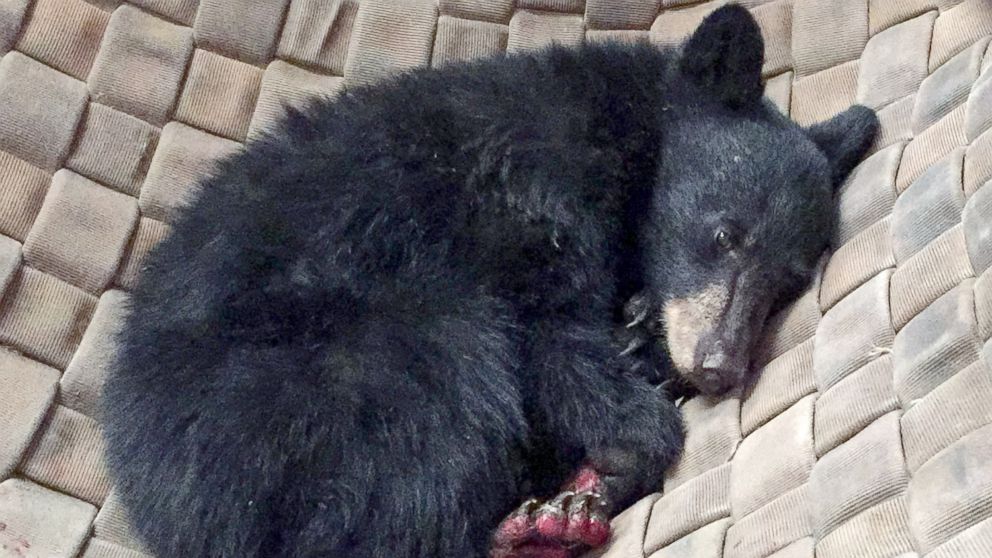 Earlier this year, Peyton used an experimental treatment involving sterilized tilapia skins to heal two adult black bears and a mountain lion cub that were injured in the Thomas Fire in Southern California. The fish skins were treated with sterilizing agents and used as bandages, stitched onto the healthy tissue surrounding the burns after the area was cleaned. The process removes any fish smell.
Tilapia skin has two types of collagen that promote faster healing. It also provides direct, steady pressure to wounds, keeps bacteria out and stays on much better and longer than any type of synthetic bandage.
The treatment, which is popular in Brazil, was a success. The bears became well enough to survive on their own and were returned to their natural habitat. The mountain lion cub made a similar recovery but was too young to release back into the wild, so he is living at a wildlife rescue and care center in Sonoma County, according to the California Department of Fish and Wildlife.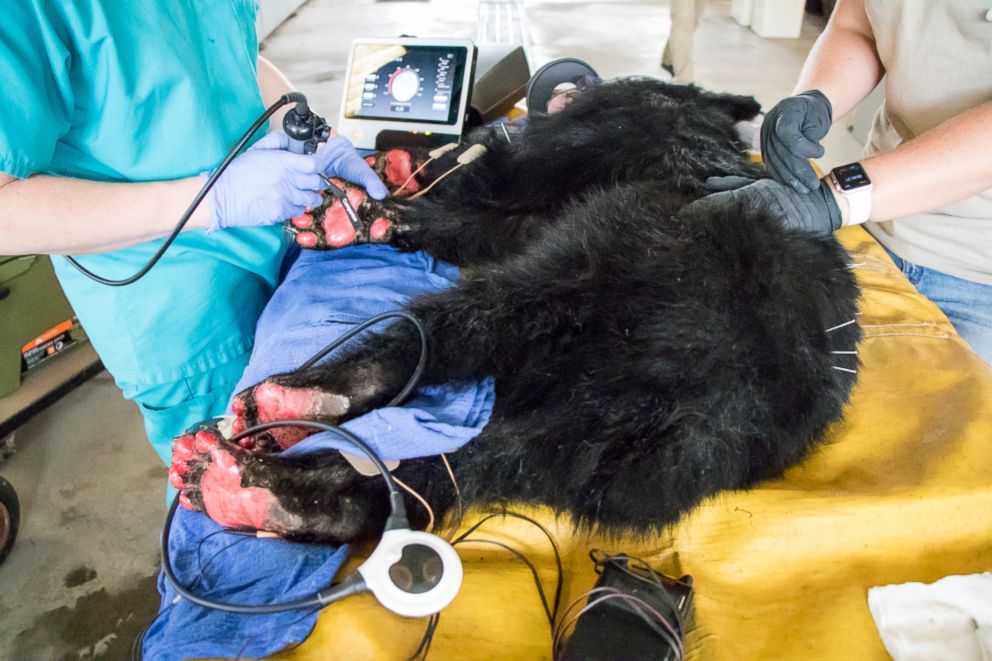 Peyton is now treating the bear cub with the same method -- the third bear to ever receive the experimental treatment.
"These wild animals definitely hit home to how devastating the fires are to people, their pets, but also these wild animals that wouldn't survive without our help," Peyton told ABC News.
Although the bear cub has burns more severe than the two adult bears found last winter, Peyton said the cub has an even better chance at a full recovery because she's younger and it's summer, a time when bears are most active.
"I do think that we'll be able to get her through this and to keep her comfortable," Peyton told ABC News. "She definitely is feisty."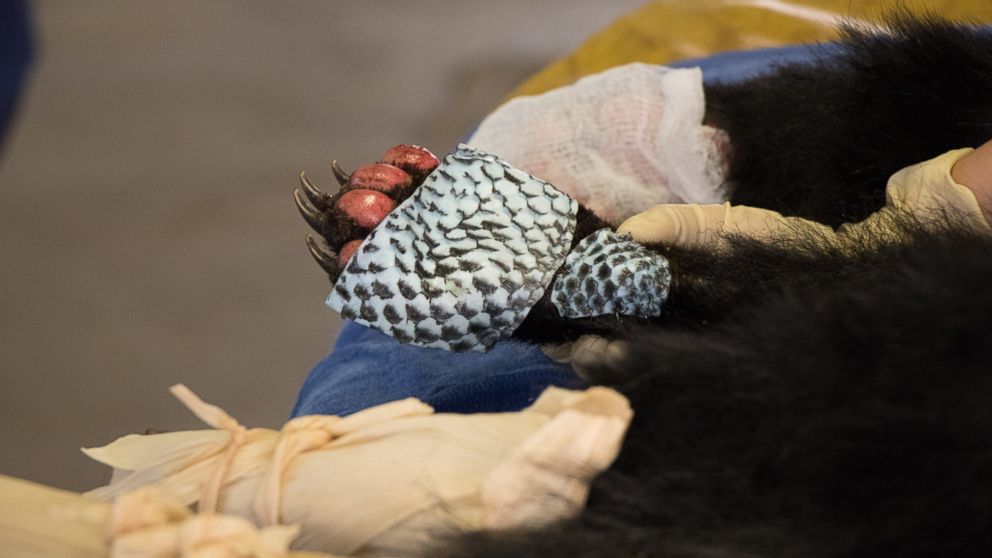 Before applying the fish skins, Peyton said she noticed how much the little bear was licking her wounded paws and she was worried the cub would try to remove the biological dressings. But once the tilapia skins were sutured on, the bear left her wounds alone, which Peyton said is evident of pain relief.
"Animals lick and bother things that hurt them," she told ABC News. "That's what's really profound, that you can put this biological bandage and they leave it alone."
The experimental treatment also includes the application of antibiotics and pain salve, laser treatments and acupuncture for pain management.
Dr. Deana Clifford of the California Department of Fish and Wildlife, who is the lead veterinarian in charge of the cub's care, said they are optimistic that the treatment will be successful.
"She's very healthy other than her burned paws, but she's also very active," Clifford said. "We'll need to monitor her closely and adjust treatment as necessary, but we're optimistic that she'll make a full recovery in due time."