— -- After an Ohio State University student plowed into a crowd at the school Monday and then stabbed several people, witnesses said that the chaotic scene "didn't really seem real" and that a responding police officer who confronted the assailant "saved lives today."
The incident happened just before 10 a.m., when the suspect, identified as Abdul Razak Ali Artan, struck pedestrians with a car, officials said. He then got out of the car and used a butcher's knife to cut several people, according to the officials.
An officer then shot and killed the alleged assailant. Eleven people were taken to local hospitals, officials added.
Sophomore Jacob Bowers, 20, was sitting on a bench listening to music before class, he said, when he saw a man pull "a large knife" and start "chasing people around trying to attack them."
"Luckily there were so many people, he couldn't focus on one target," said Bowers, who did not witness anyone getting stabbed. "I saw the police officer take down the stabber. He saved lives today."
He said he did not hear the assailant say anything, "which was almost scarier."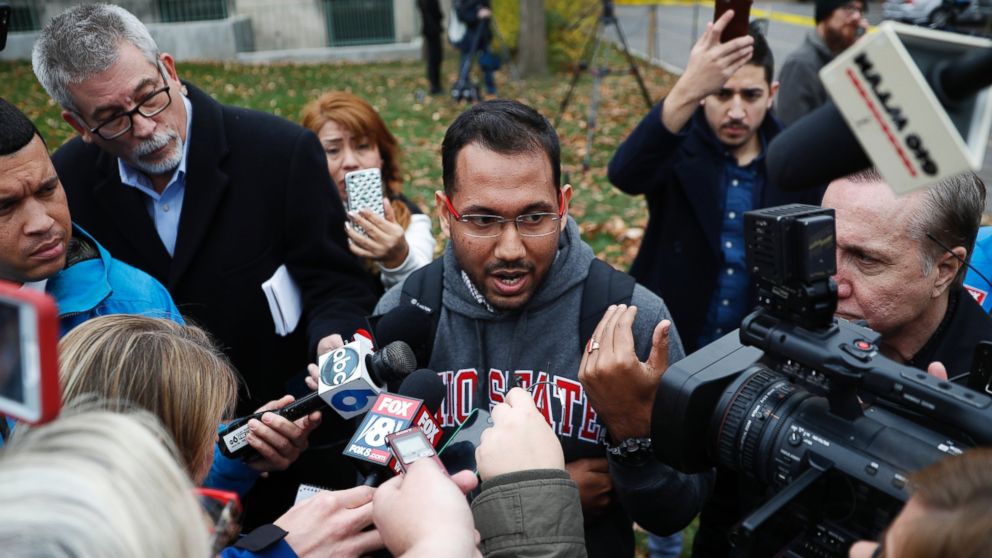 Student Bryan Temin told ABC News he was walking home from work when he saw a crowd of people exiting a school building. He said he then saw a car, which he believed to be a Honda Civic, pull around the building and accelerate into the crowd.
"At first it didn't really seem real," he said.
"When I saw one kid get struck and sent through the air, I knew that this was a real thing," Temin said. "And then I saw him crash into the little brick wall right outside of Watts Hall, and then everybody started scattering."
He said, "The driver of the car got out, and I saw a weapon — would look to be either a pistol or a knife."
"And I didn't really stick around to see the rest of it," Temin added.
Kendrick Price, an academic adviser at OSU, told ABC News that he ran to his second-story office window after hearing screams. He saw a person running toward police who was then shot multiple times, he said.
The incident was reported by OSU officials as an active shooter shortly before 10 a.m. Less than two hours later, OSU police said the scene was secure, and police lifted the shelter-in-place alert.
OSU said in a statement that the "injuries include stab wounds, injury by motor vehicle and other injuries that are being evaluated."