— -- The Texas woman who spent five days stranded in the Arizona desert reunited with the first responders who saved her life.
Amber VanHecke, a 24-year-old college student from Denton, Texas, was sightseeing by herself near the southern rim of the Grand Canyon when her GPS instructed her to make a wrong turn, leading her through increasingly tough terrain. Her car ran out of gas and she lost internet service, stranding her in the desert for 119 excruciating hours.
Two weeks after she was rescued, ABC News "20/20" brought her and first responders, trooper paramedic Edgar Bissonnette and Jonah Nieves, a member of the Air Rescue team with the Arizona Department of Public Safety, together for an emotional reunion.
"Y'all kept making jokes to help me and try and calm me down, and, I really appreciated that," VanHecke told them.
"I'm pretty impressed with your survival skills," Bissonnette said.
"It was pretty awesome," Nieves added.
As a joke, the two men presented VanHecke with a gas gift card for her car.
"So, Edgar and I wanted to get you a little something. A small little gift," he said. "We want you to come out to Arizona eventually… But, we want you to do it on a full tank of gas, this time. So here's a gas card."
"Thank you. I'll make sure to fill up," VanHecke said, laughing.
An experienced Girl Scout and outdoor adventurer, VanHecke had planned a spring break trip to drive from Texas to the Grand Canyon. She had traveled by herself numerous times before and visited other national parks including Yosemite, Yellowstone, Sequoias and Redwoods.
"I planned out my itinerary, had it posted on Facebook and stuff and off I went with some non-perishables and water," VanHecke said of the trip she'd been planning since January.
She left her campus in Denton and spent a day in Carlsbad, New Mexico, before driving to the Grand Canyon the next day.
During her drive, she followed her GPS from a highway to a dirt road. But she eventually came across a more primitive road with grass and cacti.
"The problem was, the road wasn't there," she recalled. VanHecke said that eventually her GPS stopped working entirely when she lost internet service and her car ran out of gas.
A GPS industry spokesperson had told ABC News "20/20" in a previous story that, "It is important for drivers to keep in mind that GPS devices are to be used as navigational aids only....It is the responsibility of drivers to exercise common sense."
Early on after getting lost, VanHecke was able to briefly get through to a 911 dispatcher but the call dropped.
"And that was the first moment I felt true panic," she said.
The second day of being stranded, VanHecke, who had packed a good supply of food and water in her car, made a huge "HELP" sign out of rocks as well as a signal fire hoping that a helicopter or small plane would see her distress signal.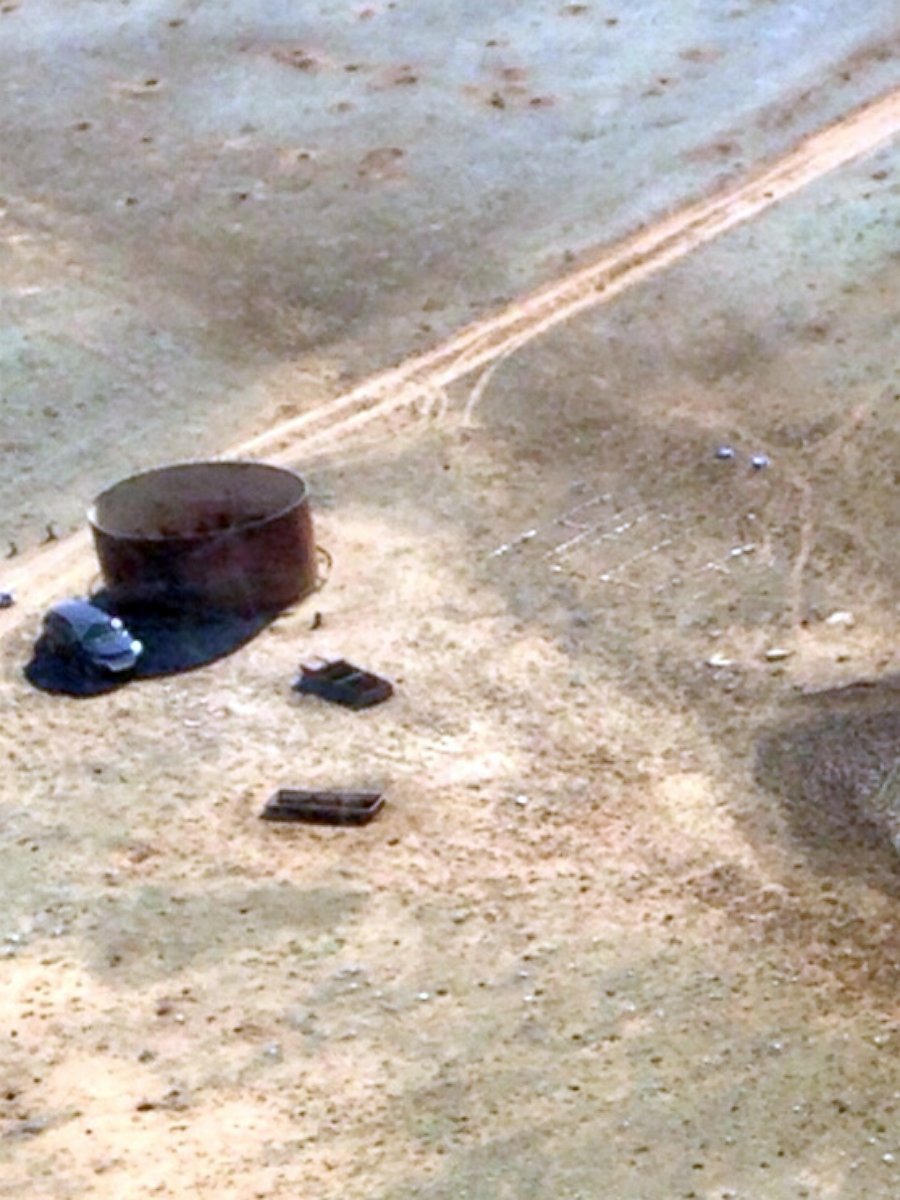 She initially thought a search party would be sent after her, but it soon became apparent that she might be on her own.
"I felt very disconnected from just everything and everyone. I was like, 'Is there even a search out?' at that point that question crossed my mind," said VanHecke, who made video diaries documenting her ordeal. "But apparently there was a miscommunication somewhere and no one was looking for me at all."
Around VanHecke's fourth day in the desert, a truck passed by as she sat off to the side of road in her car.
"I chased them as far as I could," she recalled. "[But] they didn't hear me and they didn't see me."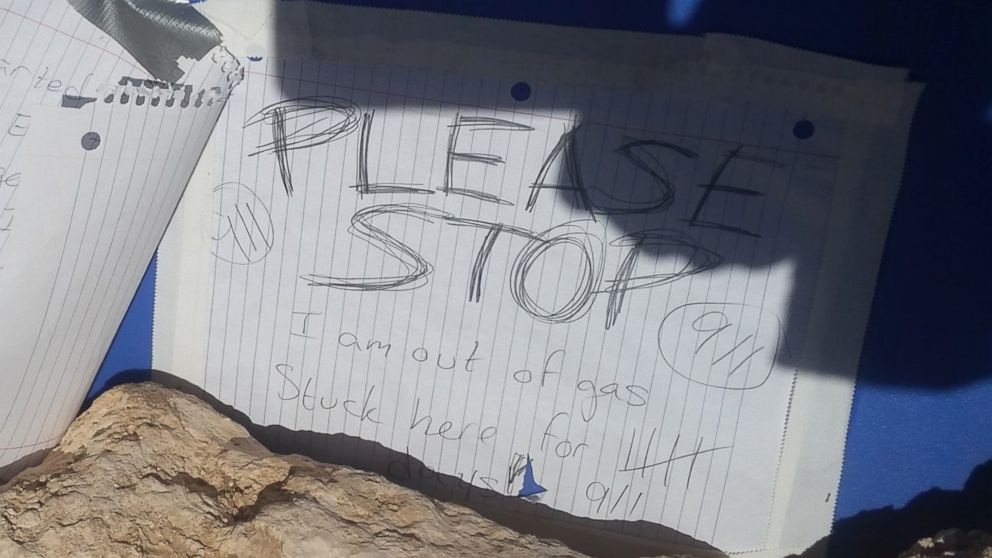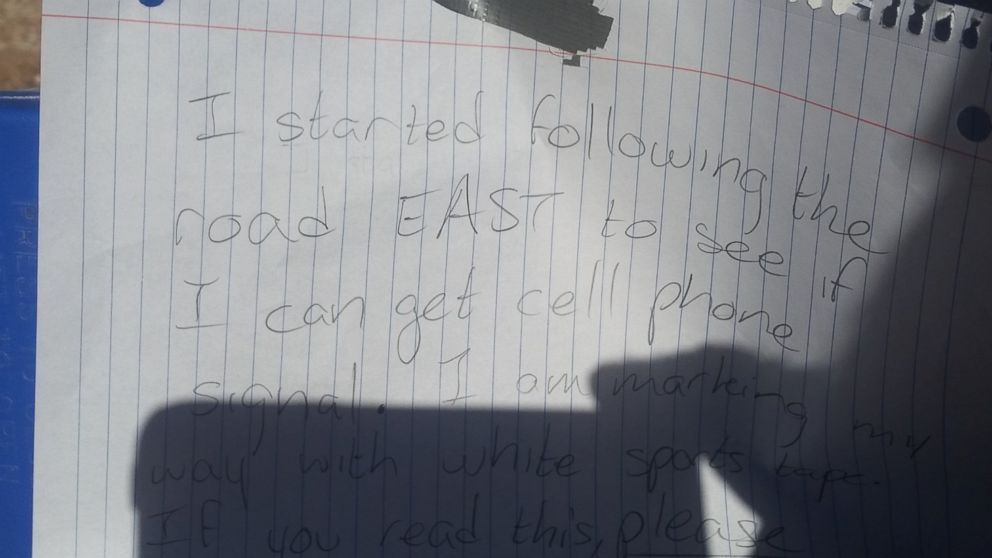 Vanhecke described herself as "feeling pretty hopeful" when she woke up on March 17, the fifth day she was stranded. She began to hike away from her car in hopes of finding cell service, calling 911 every few minutes during the hike.
Nearly 11 miles into that hike, she finally got through to a 911 operator.
"I immediately stopped where I was because I didn't want to lose it," she said.
When that call cut out and VanHecke could not get a signal again, she walked back towards her car hoping her brief call had, this time, done enough.
A helicopter rescue crew spotted VanHecke's car along with a giant help sign that she made out of rocks. Before she left on her hike, VanHecke had left a note at her car explaining that she was walking east. Rescuers soon found VanHecke on the road just a few miles away from her car.
"When they told us, woman stranded in the desert… 5 days. I had a very distinct image of what the patient was going to be like," Bissonnette said to VanHecke during their reunion. "When I saw you walking, 'I was like, is this? That's why I think my first question was, did you call? Did you need rescue? Are you a tourist?'"
"She did a lot of things that helped her survive," Nieves said. "Those notes were clues and those clues led us to where she was."
VanHecke was treated for exposure and dehydration. One day after being rescued, VanHecke resumed her sightseeing.
When asked how she kept it together, VanHecke said, "I had stuff to do."
"Besides, I couldn't do that to my sister or my mom or my dad," she said. "I just felt like I had a lot unfinished, but I just wasn't going to give up."
ABC News' Sean Dooley and Kelly McCarthy contributed to this report.