A man fulfilling his bucket list was one of the seven people killed when a World War II-era plane crashed at Bradley International Airport near Hartford, Connecticut.
The vintage Boeing B-17 crashed minutes after takeoff on Wednesday. The pilot had called air traffic control to report an issue with an engine, according to the National Transportation Safety Board. The plane then crashed at the end of a runway while trying to land, hitting a de-icing facility and sending plumes of smoke into the air.
Witness saw work being done on one or two engines prior to takeoff, according to the NTSB, which is investigating.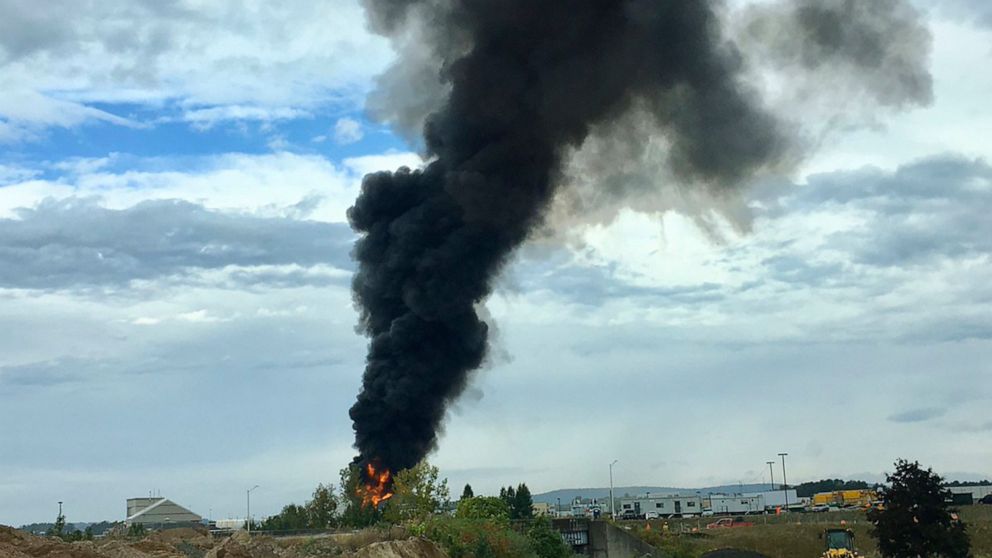 Among those killed was Robert Riddell, a loving husband and devoted new grandfather who was a World War II history buff. He was fascinated by this plane, and flying in it was on his bucket list, according to his wife.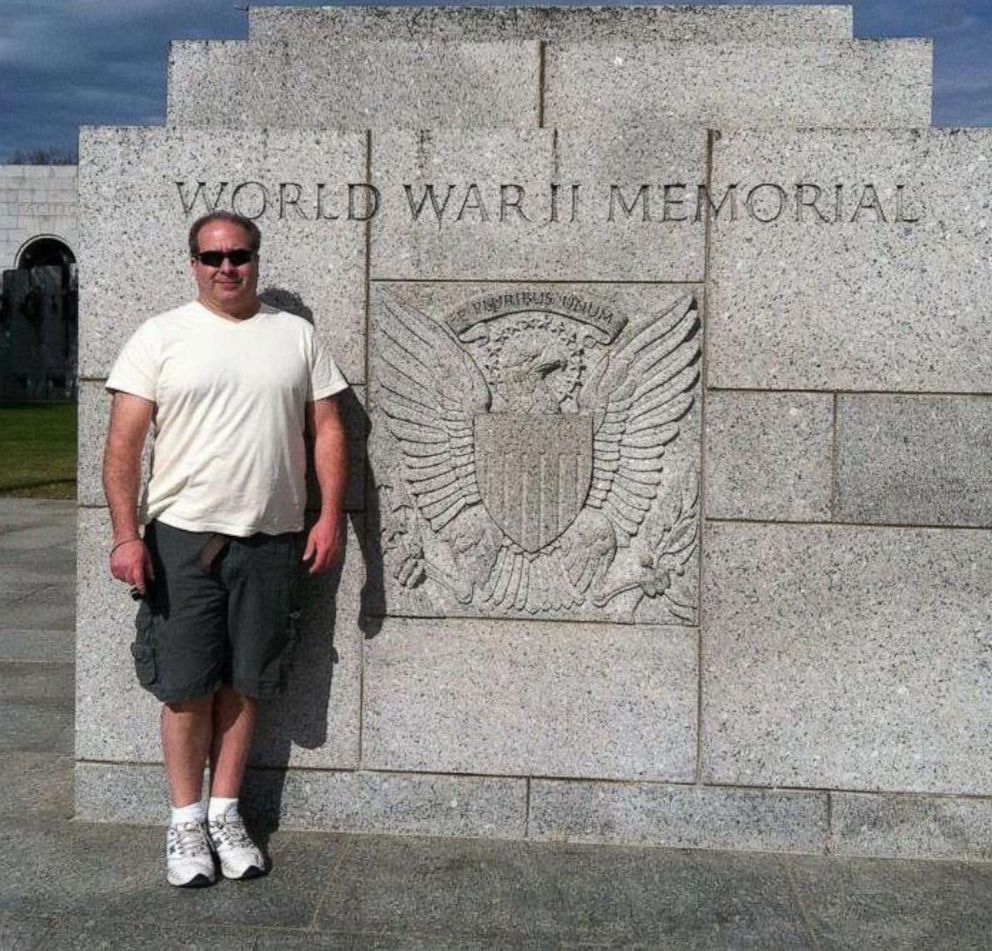 "He was really excited about it," Debra Riddell told ABC News. "This was really important to him."
Debra Riddell, who was at the airport to watch, said her husband was texting her from the plane before takeoff.
"He said it was getting warm in there. He said, 'This doesn't bode well,'" Debra Riddell said. "It could've been a concern, but he didn't express that to me."
He continued to text her from the air, telling her they were headed back to the airport. She asked her husband why, and he replied in his final text: "turbulence."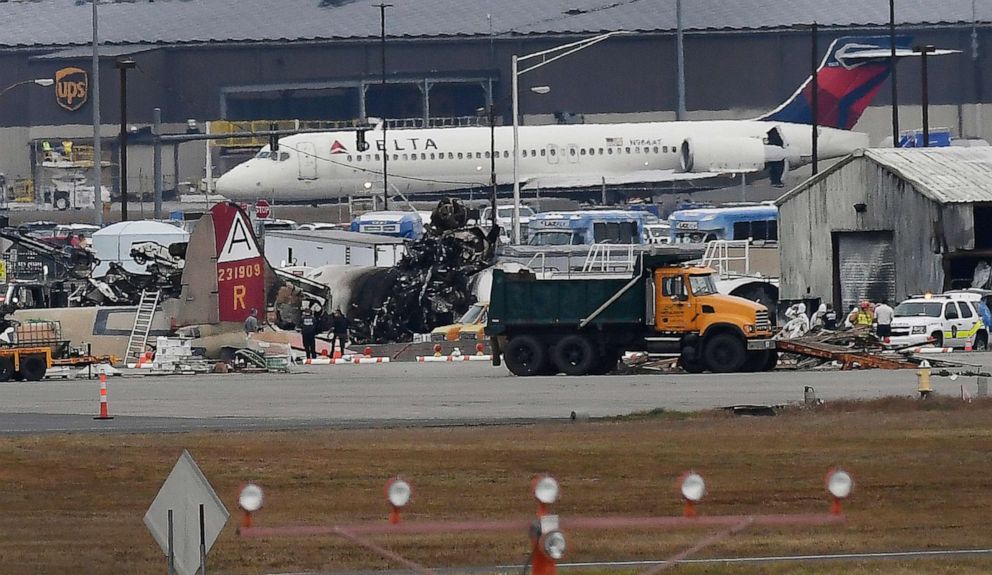 The plane made impact 1,000 feet from the threshold of the runway and hit 30 approach lights, which are on breakaway poles, according to the NTSB.
"I was just in shock" as the plane burst into flames, said Debra Riddell. "I just started screaming and crying."
"He loved his kids beyond words ... family was everything to him," Debra Riddell said.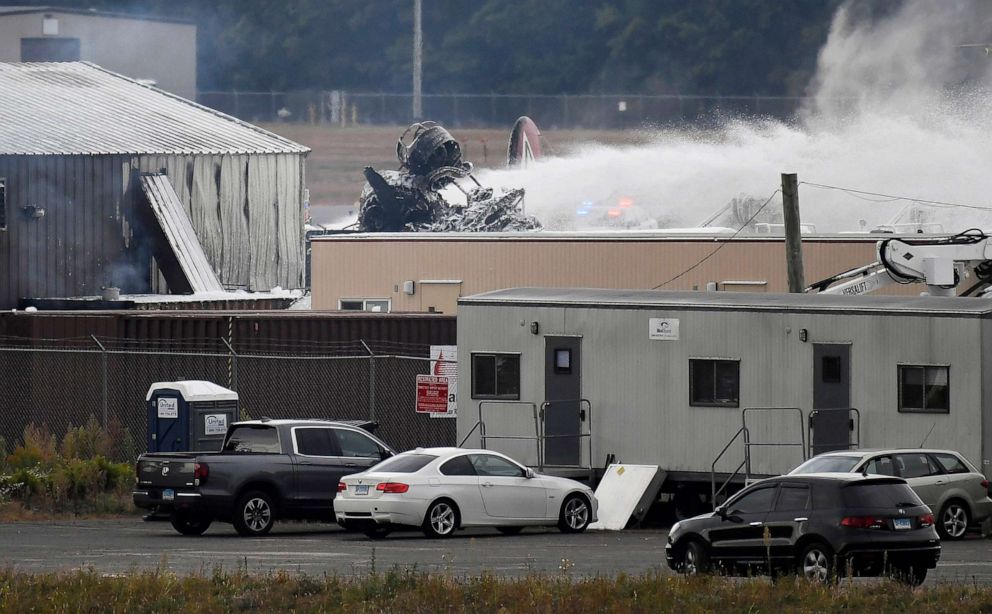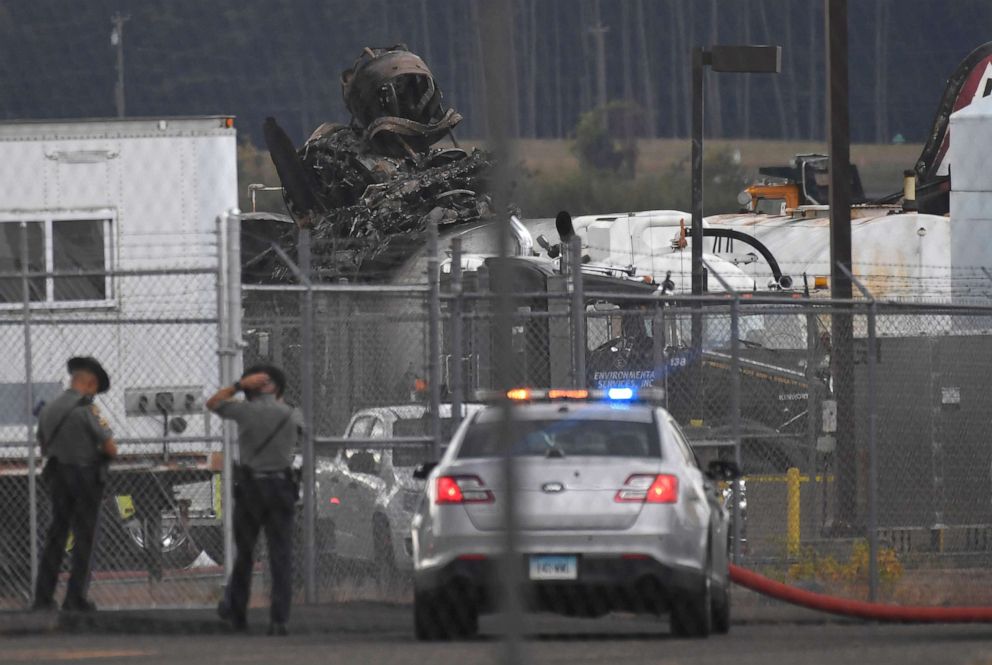 Also among those killed was Gary Mazzone, a longtime member of the Vernon, Connecticut, police department, according to Lt. Bill Meier.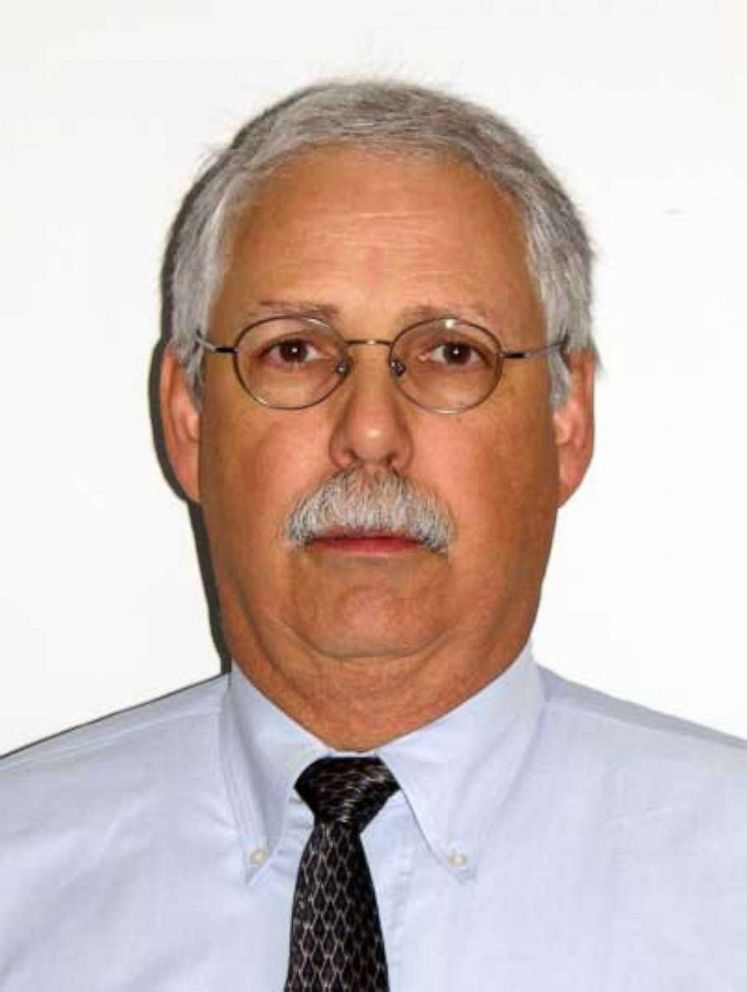 Mazzone served the Vernon Police Department for 22 years before retiring in 1998, Meier said. He then worked as an inspector within the Connecticut Division of Criminal Justice, from which he retired in January.
"Captain Mazzone had a distinguished career and was a graduate of the FBI National Academy," Meier said in a statement. "Captain Mazzone spent over 42 years in law enforcement serving the town and the state. He had a special relationship with Special Olympics Connecticut and is a member of their hall of fame."
"Please keep Captain Mazzone and his family in your thoughts and prayers," Meier said.
Thirteen people were on board: 10 passengers and three crew members, officials said.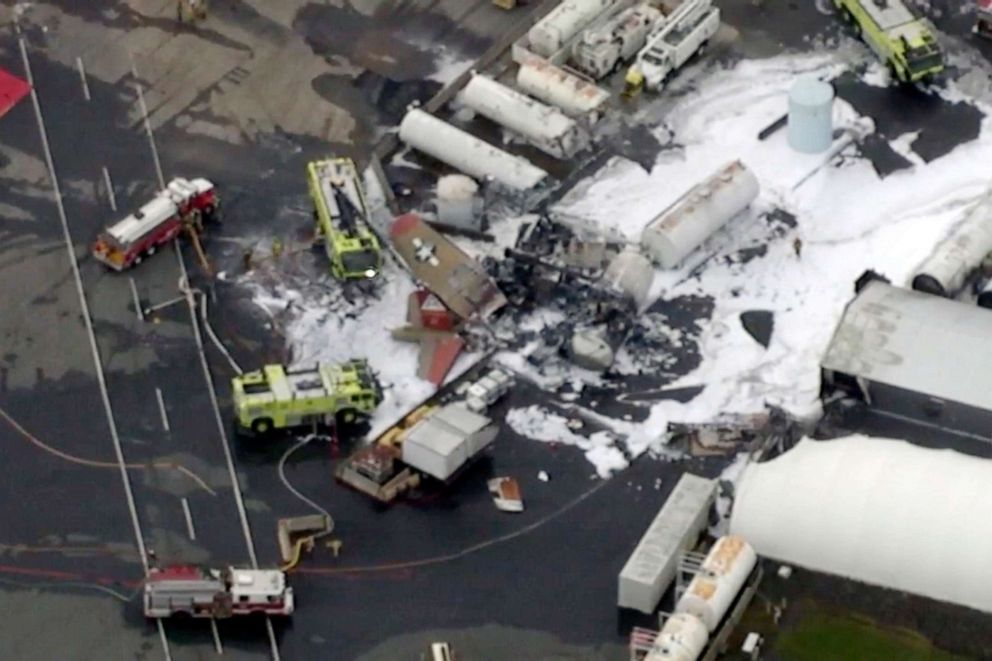 Passenger David Broderick, 56, was identified as deceased, and passengers Gary Mazzone, 66, and Robert Rubner, 64, are presumed dead, the Connecticut State Police said Thursday.
Pilot Ernest McCauley, 75, and co-pilot Micheal Foster, 71, are also presumed dead, police said.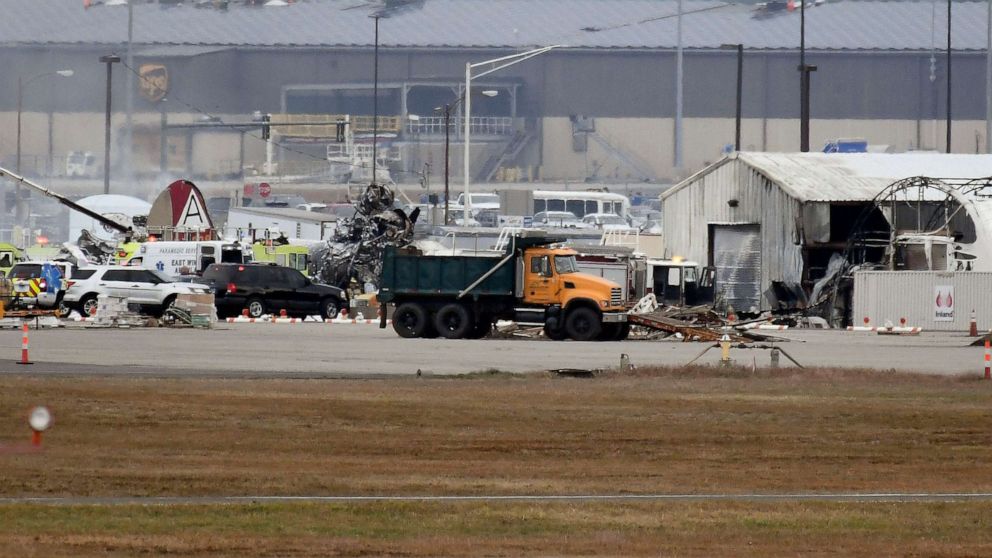 A member of the Connecticut Air National Guard, Chief Master Sgt. James Traficante, was on board and was able to open a hatch on the plane which allowed passengers to escape after the crash, Capt. Jennifer Pierce told ABC News.
Traficante is recovering at home after being released from the hospital.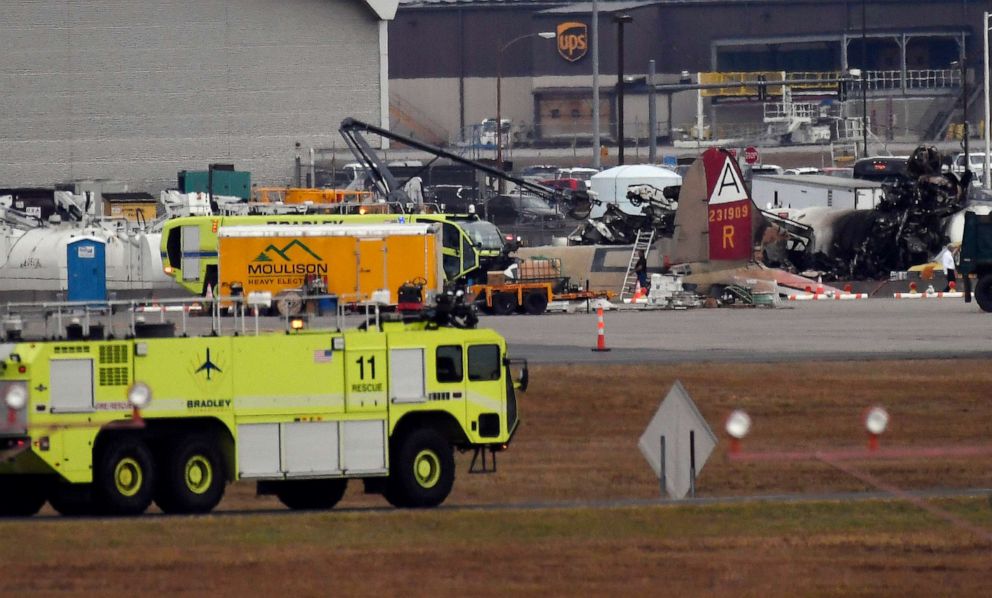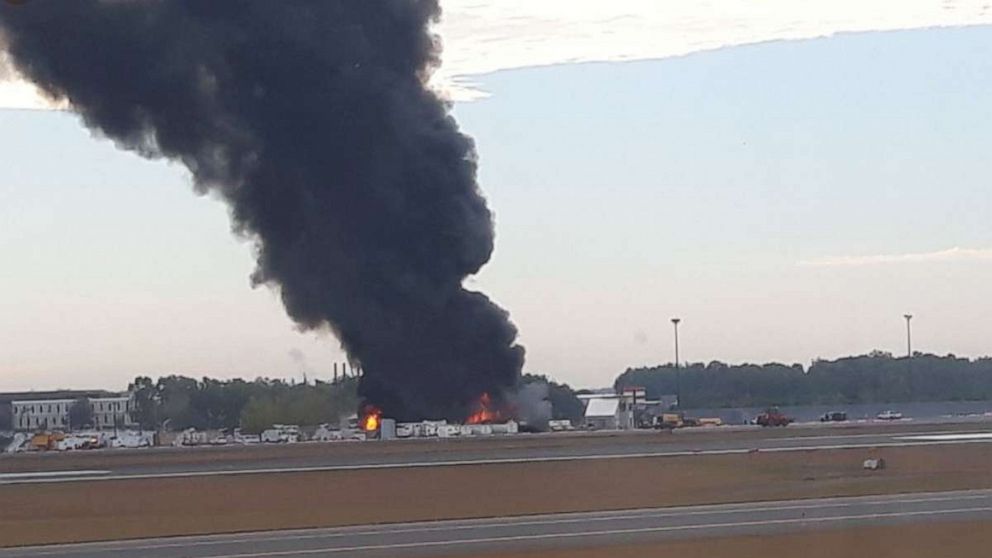 The other survivors were: passengers Andy Barrett, 36; Linda Schmidt, 62; Tom Schmidt, 62; Joseph Huber, 48; Andrew Sullivan, 28, an airport worker injured on the ground; and flight engineer Mitchell Melton, 34.
Melton was previously in the Army and Air Force, where he was an aviation mechanic, and was working on the vintage plane, said his relative Tori Boykin
Bradley International Airport -- the second largest in New England -- shut down immediately after the fiery crash. The airport reopened later in the day.
The World War II plane was civilian registered, according to the FAA, and was part of the Wings of Freedom tour, according to ABC New Haven affiliate WTNH.
McCauley had flown for the Collings Foundation, which holds the Wings of Freedom tour, for over 20 years, and he had 7,300 hours in the B-17 -- the most time of any B-17 pilot in the country, according to the NTSB.
The plane was involved in an accident in 1987, when it overran a runway in Pennsylvania, and was involved in a 1995 incident when landing gear failed to deploy, according to the NTSB.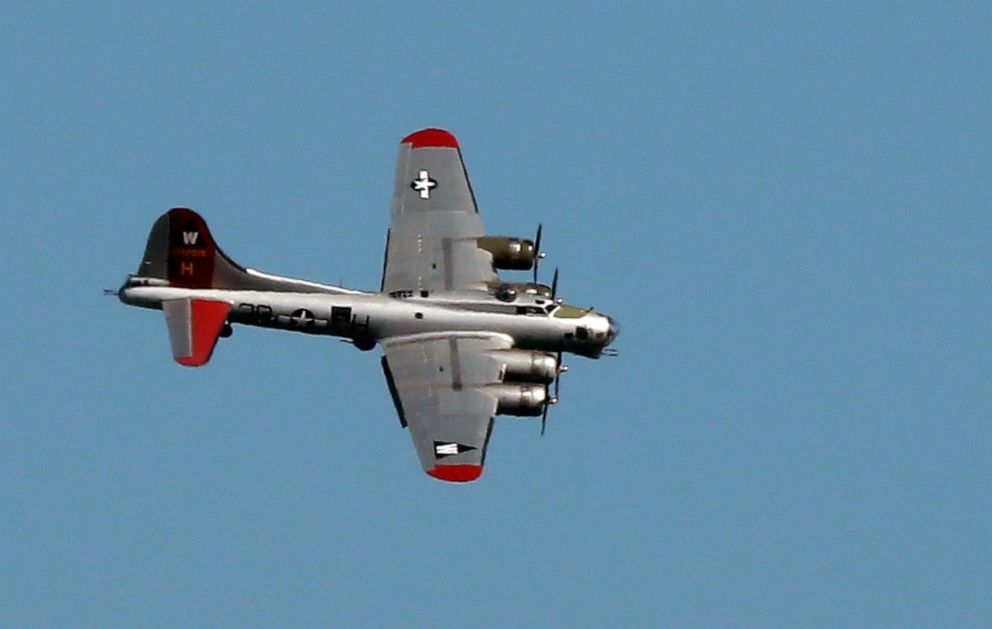 Officials with the Collings Foundation said in a statement: "Our thoughts and prayers are with those who were on that flight and we will be forever grateful to the heroic efforts of the first responders at Bradley Airport. The Collings Foundation flight team is fully cooperating with officials to determine the cause of the crash of the B-17 Flying Fortress."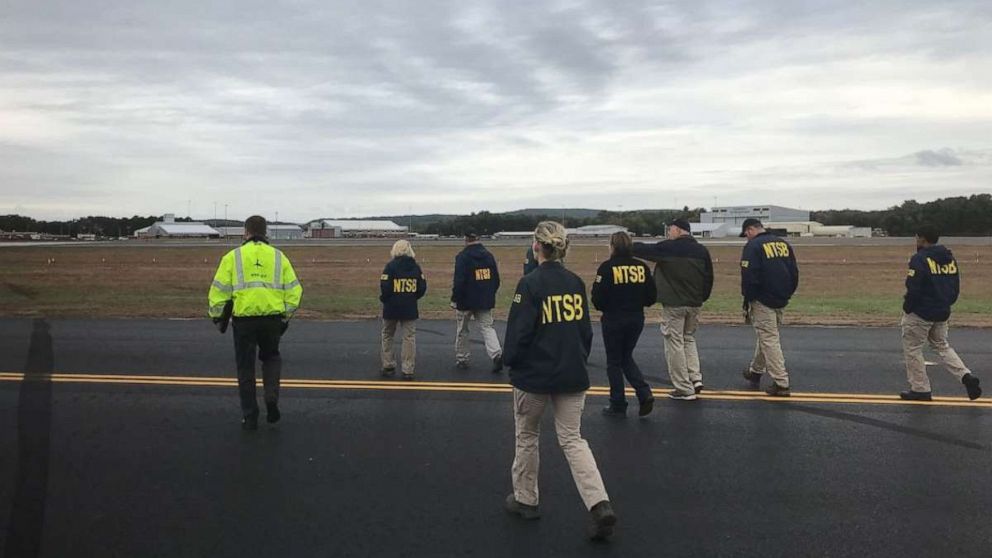 ABC News' Whit Johnson, Aaron Katersky, Christine Theodorou, Jason Kuang, Matt Stone and Alyssa Acquavella contributed to this report.